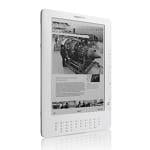 Amazon Kindle DX is the bigger Kindle reader offering a larger display, more storage, and an easy to use keyboard. The addition of global wireless to Amazon Kindle DX means that Kindle fans in over 100 countries will now be able to use this device in their home country....

Google has unveiled its first branded mobile phone called Google Nexus One, a superphone running Android 2.1 the latest version of Google's Android OS for mobile devices. Although Google has in the past collaborated with manufacturers like HTC and Motorola to launch Android phones, the Google Nexus One will...

Nokia 2710 Navigation Edition will bring Nokia maps and GPS navigation to emerging markets. Armed with a GPS receiver with A-GPS support and free lifetime navigation license, the Nokia 2710 Navigation Edition is the cheapest Nokia mobile phone with navigation features. Aside GPS Navigation, Nokia 2710 Navigation Edtion is...