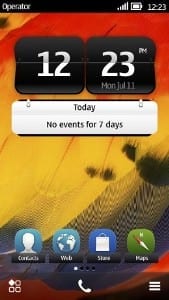 Symbian Belle is the latest update of the Symbian OS. Nokia has already announced four phones namely the Nokia 600, Nokia 603, Nokia 700, and Nokia 701 to be launched with Symbian Belle. Nokia also stated that current Nokia Smartphones models compatible with the Symbian Anna will also be getting Symbian Belle updates. Here you will find Nokia phones models upgradable to Symbian Belle. Where to Buy Nokia Phones Jumia.com.ng from ₦3,000.00 Buy Now Symbian Belle comes with a number of improvements like an improved user interface with widget redesigns, movable & resizable widgets, six customisable homescreens (3 more than Symbian Anna),...

The long awaited cloud biased laptops from Google, Google Chromebooks have finally gone on sale in the United States. Google Chromebooks are now available for pre-order at Amazon and Bestbuy in the United States and starts shipping from June 15, 2011. Google Chromebooks are laptops running Google Chrome OS built for a new computing philosophy called cloud computing where your software and data reside securely on the cloud (web) instead of in local storage.Where to Buy LaptopsJumia.com.ngfrom ₦18,495.00 View Offers Konga.comfrom ₦44,900.00 View Offers The first set of Google Chromebooks will be coming from Samsung and Acer. Acer and Samsung Chrome...

Microsoft has finally released Windows 7, the long awaited Windows operating system that will replace the infamous Windows Vista, and hopefully put Windows XP to a well deserved retirement. Microsoft has put a lot of effort in Windows 7 to make it a better operating system. Unlike Windows Vista, Windows 7 is available for desktops, notebooks, and netbooks.Where to Buy Original Windows OSJumia.com.ng from ₦15,500.00 View Offers Konga.com from ₦23,500.00 View Offers Windows 7 is available in three major versions, the Windows 7 Home Premium, Professional, and Ultimate. Buy Microsoft Windows 7 Ultimate Windows 7 comes with a new taskbar that makes managing...