Konga, Nigeria's largest online shopping mall, is gearing up for its busiest shopping day of the year, Yakata, the Nigerian equivalent of 'Black Friday Deals'. The main event will run from November 11 to December 13, when the online marketplace will slash prices on tens of thousands of consumer goods. Yakata, which literally means 'when something big falls in a big way', was started by Konga in 2013, to give Nigerian online shoppers the benefits of huge discounts on leading consumer goods. Last year, at its peak, the company was processing over 100 laptops an hour from its Lagos-based headquarters, and...

Konga, one of Nigeria's leading online retailers have shared some interesting data about the success of its Yakata sales during Black Friday. The data presented in the form of an infographics offered some amazing facts and figures, but more importantly shows how far online shopping has grown in Nigeria. One amazing fact disclosed by the founder and CEO of Konga.com is that the retailer sold 500% more items on the two days of Yakata sale than they sold the whole of 2012. What makes this more amazing is that Konga magaged this feat without experiencing server disruptions and outages like...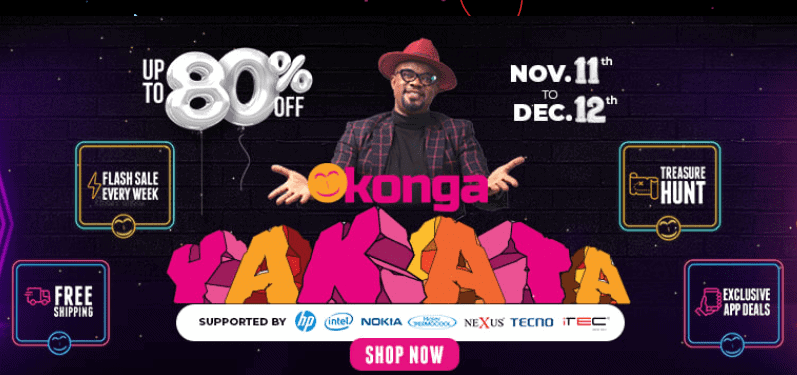 Konga, one of Nigeria's leading online retailer, will be opening the 2021 Christmas shopping season with the 9th edition of its Yakata Sales. Konga's Yakata Christmas sale starts early on November 11, 2022 even before Black Friday, which is actually December 10, 2022. Grab Deals Here Konga calls the Christmas sale 'Yakata' to signify the huge fall in prices that consumers will be getting during the period. The Fall Yakata Christmas sale at Konga is equivalent to Black Friday and Cyber Monday discount sales in the United States. Last year, Konga took over 79,000 orders during the Yakata sale with over...