Currently, the heat is the reason for the season. That has increased the rate at which people prefer cold products to warm/ hot ones. If that, or any other reason, then puts you in the market for a new refrigerator, here are some of the best refrigerators to buy in 2023.
Where to Buy Refrigerators
Jumia Nigeria – See Offers | Jumia Kenya – See Offers | Jumia Ghana – See Offers
The list below has taken everything into consideration. Right from the price ranges to the functionality and solidness in engineering, we have made sure to include only the best and coolest (all pun intended) options in this list.
Without further ado, let's dive right in.
The Best Refrigerators for 2023
1. Haier Thermocool HRF-200 BLUX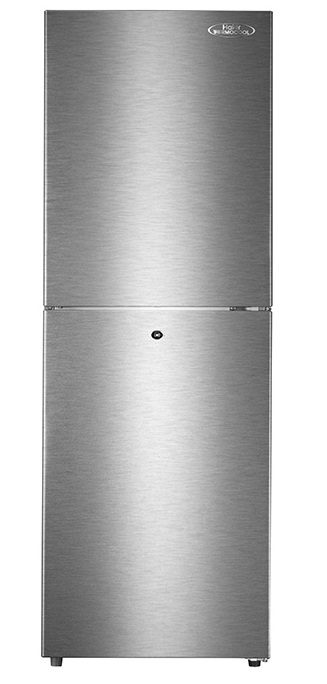 Designed by Haier Thermocool, this refrigerator is capable of holding a volume of up to 250 Litre. Coming with a double-door design, the top freezer refrigerator makes sure to pack the features of a fridge and freezer into one.
Speaking of freezers, it is worthy of note that the HRF-250 BLUX offers a larger than average freezer space for its size. It offers a 50 litre freezer space that can go as high as 95 litres making it one of the best refrigerators you can buy right now. The refrigerator lose heat faster with super fast cooling technology. Items in this refrigerator are also kept cool and fresh up to 100 hours after a power outage.
That singular feature makes it a welcome introduction to the Nigerian market where we have issues of interrupted power supply. If you live in a shared space, you can ensure your items in the refrigerator remains safe since there is a lock and key system built into the design.
This model is also one of Haier Thermocool's energy efficient models boasting of 35% energy savings. Price starts at around 255,000 Naira.
2. HiSense RD-49WR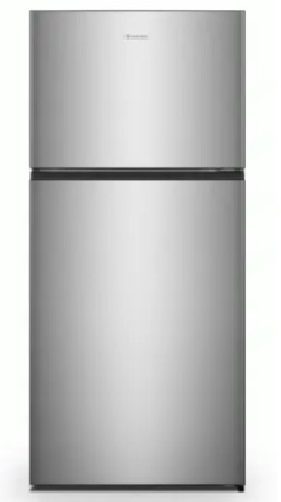 Available in silver, the HiSense RD-49WR is a refrigerator that would take up to a volume of 375 litres before it reaches its full capacity. The top freezer refrigerator has been developed with a lot of features in mind, all aimed at giving the user the best experience while using the appliance.
For one, this unit ships with a Multi-air flow system that guarantees the exchange of heat in faster and more efficient ways. What that simply translates to is that there would be Super Freeze and Super Cool functions enabled on the unit. It is also non frost
Likewise, the refrigerator has been designed to emit low noise. Constant humming of a fridge can sometimes be unsettling, but that is not to be worried about here. Other features that are notable include the touch button controls, an alarm system rigged to the door of the fridge and also, optimisations to make the model an environmental-friendly one. Price starts at around 220,000 Naira.
3. LG GC-269VL Refrigerator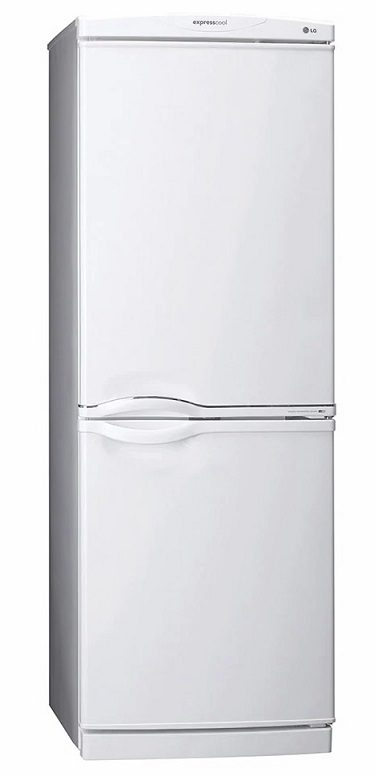 If there is one thing LG excels at, it is making appliances for the home. Opting for a bottom freezer design on this model, the LG GC-269VL offers a more accessible freezer. It is one of the best refrigerators your can buy right now if you are looking for a bottom freezer design.
Standing at a height of 1560 mm, capacity is surely not an issue for the unit which can hold as much as 227 litres. Containing multiple tempered glass shelves for separation of food classes in the fridge, an internal lighting system was also thrown into the mix.
What would be most important to someone wanting their cold/ fresh food/ drink is the compressor, of which LG used the linear type. You also get triple ice tray for making ice. Price starts at around 199,000 Naira.
4. Samsung 400L RT49 Refrigerator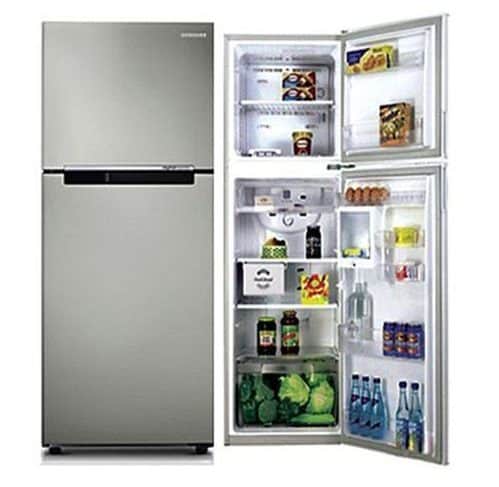 This is one of the best refrigerators available from Samsung. Offering a sizeable 396 litre capacity, the Samsung RT49 is a great option if you need capacity. With a 10 year compressor warranty, the refrigerator promises a reliable experience.
Digging deeper, the freezer unit is an award-winning, power saving unit. Not only would it make sure the food in it is well preserved, it would also do that while consuming the least possible energy. Other features on the side are two wire baskets and an all-aluminium interior.
To sweeten the deal, this is one refrigerator you might not need to worry about getting a stabiliser (AVR) unit for. It features tempered glass shelves and no frost operation. Price starts at around 450,000 Naira.
5. Samsung RS64R5111M9/UT Side by Side Refrigerator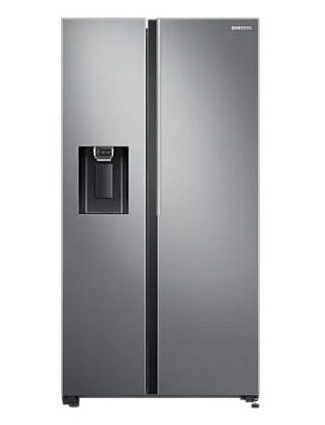 Going for a elegant and premium design is the only way Samsung can go for this side by side refrigerator model. The Samsung RS64R5111M9/UT is one of the best refrigerators if you are looking for a side by side model. The 660 Litre capacity means you can cool a lot in this fridge.
Out of the box comes a Samsung RS64R5111M9/UT refrigerator, sporting a digital inverter compressor and working to satisfy any type of cooling preferences you could have. Unlike everyday compressors, the digital inverter compressor starts and keeps working with whatever kind of cooling demand you had in mind.
The user is even given the option to change the cooling conditions to about seven different options as they see fit. On the back of that, the unit still manages to utilise lesser energy for cooling your products and emits less noise.
To give you peace of mind on what you are getting, Samsung has slapped a 10-year warranty claim on the compressor in each unit that goes out from stores.
6. Skyrun BCD-85HC Refrigerator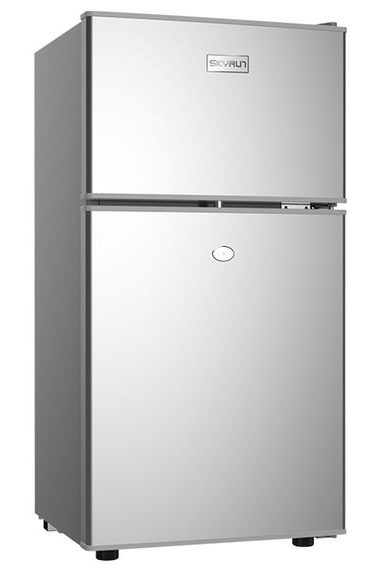 The Samsung BCD-85HC is one of the best refrigerators if you are looking for a compact double door design. It is also affordable at less than 80,000 Naira. The refrigerator has a 70 litre capacity with a top mount freezer design.
It boasts of energy efficiency and fast cooling operation. Price starts at around 67,000 Naira.
7. Skyrun BCD-118HC Refrigerator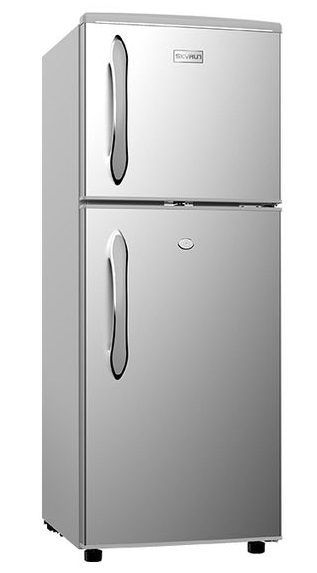 The Skyrun BCD-118HC is one of the best refrigerators if you are looking for affordability and value for money. It offers fast cooling and energy efficiency boasting of A++ rating. It offers 118 litre capacity consisting of an 84 litre fridge capacity and a 34 litre freezer capacity.
8. Hisense RF205DRB Refrigerator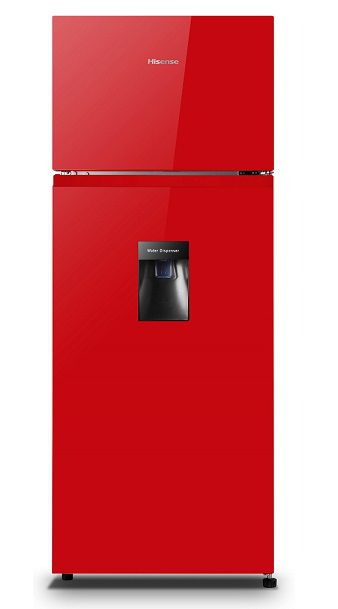 The Hisense RF205DRB will be noticeable in any space. Its popping red colour makes sure of that. You get fast cooling and freezing on this unit as well as frost free operation. The 205 litre refrigerator also offers a built-in water dispenser making it a great convenience.
The refrigerator offers low noise and retains cooling for prolonged periods of power failure. Price starts at around 155,000 Naira.
9. Skyrun BCD-145A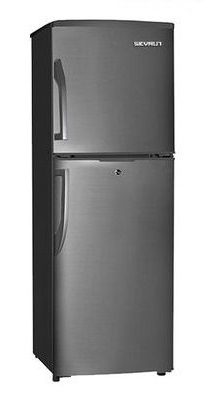 This is another affordable and value for money option from Skyrun. The Skyrun BCD-145A offers 138 Litre capacity.
One door, two doors, side by side, top mount freezer, bottom mount freezer, and so much more. This list has done a rundown of nearly all the categories refrigerators out here might fall into. As a plus, the list has also done one more – brought you only the most trusted names in that category. Before the year runs out, which of these best refrigerators to buy in 2023 would you be getting?
Related Topics
Paschal Okafor
is
NaijaTechGuide Team Lead
. The article
Best Refrigerators to Buy in 2023: Top Picks from Top Brands
was written by . The article was last modified:
January 3rd, 2023