Poollotto Token (PLT) is a revolutionary generation of lottery token-based smart contracts enabling global community-driven lottery pools and automating and securing the payment process.
PLT is designed to bring the lottery experience to a new level. Through its use of blockchain technology, PLT ensures that every transaction is secure and transparent. PLT is the perfect way to revolutionize the lottery experience.
If you are eager to dive into the exciting world of Poollotto Coin (PLT) and maximize your chances of winning up to $100,000, in this step-by-step guide, we will walk you through the process of buying and using Poollotto Coin to participate in the thrilling Metalottery game.
Get ready to embark on your crypto-lottery journey and unlock Poollotto Coin's potential!
Step 1: Set up Your Crypto Wallet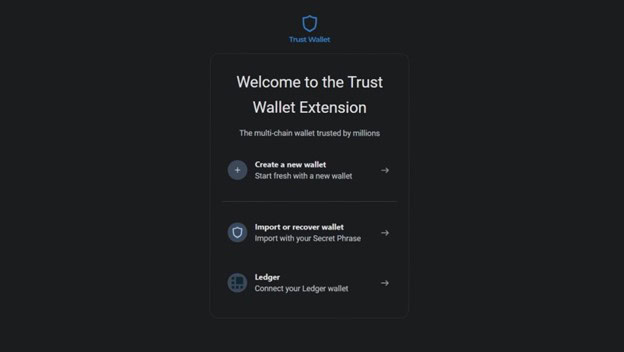 To get started, you'll need a crypto wallet that supports the Binance Smart Chain. We recommend Trust Wallet or Metamask as reliable options. Install the wallet of your choice and add our smart address to securely set it up by following the provided instructions.
Step 2: Buy some BNB (Binance Coin)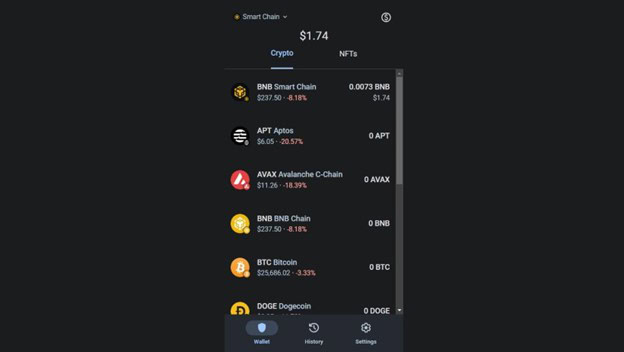 - Advertisement -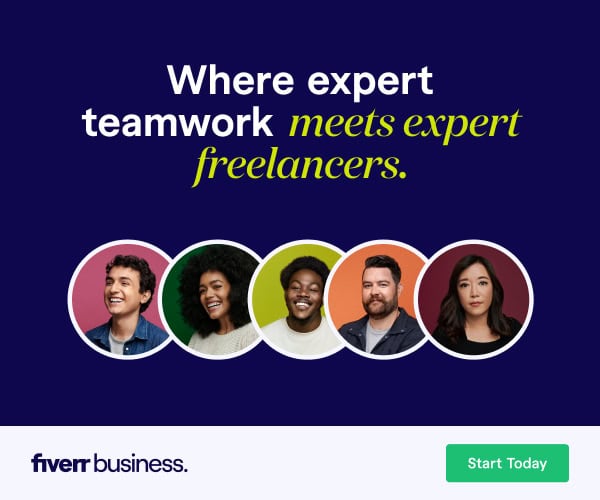 To participate in transactions and purchase Poollotto Coin (PLT) on Metalottery, you'll need BNB (Binance Coin). BNB serves as the network charge of the Binance Smart Chain (BSC) and enables seamless interactions with smart contracts and decentralized finance (DeFi) applications.
By holding BNB, you get to seamlessly buy your tickets to play on our website. The importance of your BNB is that to swap to PLT and successfully buy a ticket on our website, you will be charged a network fee in BNB form. This is for smart contract transactions. However, the BNB charge is very low. It is lower than $0.5
Acquiring BNB is simple: visit a reputable cryptocurrency exchange like Binance, complete the registration process, deposit funds, and buy BNB. Having BNB in your digital wallet allows you to engage in seamless transactions, such as buying PLT tokens and participating in exciting lottery games on Metalottery.
Step 3: Connect Your Wallet to the Metalottery Website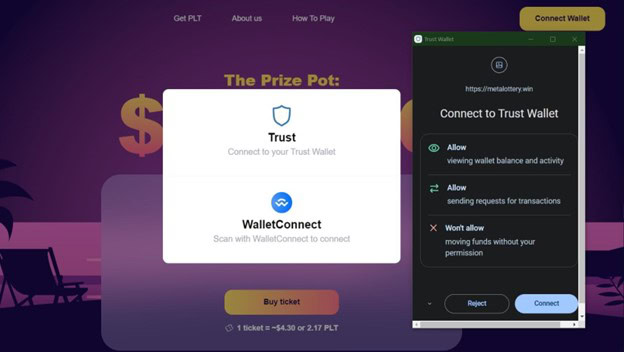 - Advertisement -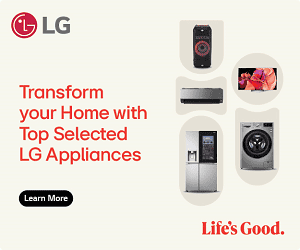 Once you have your crypto wallet and BNB ready, visit the Metalottery website and click on the "Connect Wallet" button. Select your preferred wallet provider (Trust Wallet or Metamask) and follow the prompts to connect your wallet securely to the Metalottery platform.
Step 4: Swap BNB for Poollotto Coin (PLT)
After connecting your wallet, navigate to the "Swap" section on the Metalottery website. Follow the provided instructions to swap your BNB for Poollotto Coin (PLT). This conversion will enable you to use PLT for Metalottery games and increase your chances of winning big!
Step 5: Play and Win Big with Metalottery!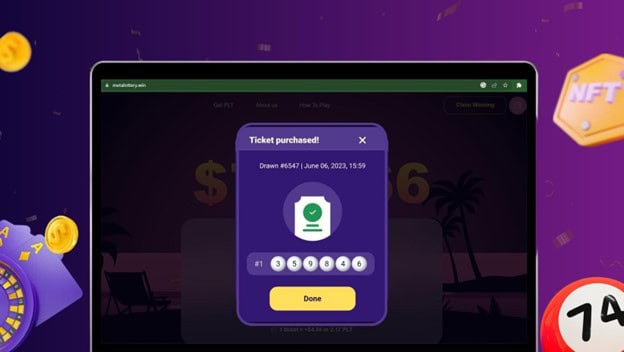 Now that you have your PLT tokens, it's time to embark on an exhilarating Metalottery experience.
Follow these simple steps to maximize your winning chances:
Purchase Your Tickets: Buy your lottery tickets using your PLT tokens. Each ticket costs approximately $5 USD in PLT value, and you can buy up to 100 tickets per transaction.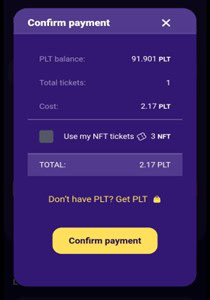 The Winning Numbers: Each ticket is assigned a unique 6-digit number, consisting of digits from 0 to 9. Match consecutive digits from left to right to claim your prize.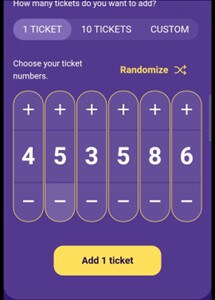 The more, the merrier: the longer your chain of matching numbers, the bigger your share of the prize. Increase your chances by matching more numbers and boosting the overall prize pool.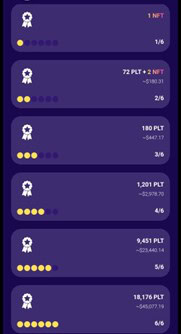 Trust in Fairness: Rest assured, Metalottery employs Chainlink's VRF (Verifiable Random Function) for secure and unbiased results, ensuring a level playing field for all participants.
Share the Rewards: If multiple tickets match the same number of digits, the prize pool is shared among all the winning tickets, increasing excitement and rewards.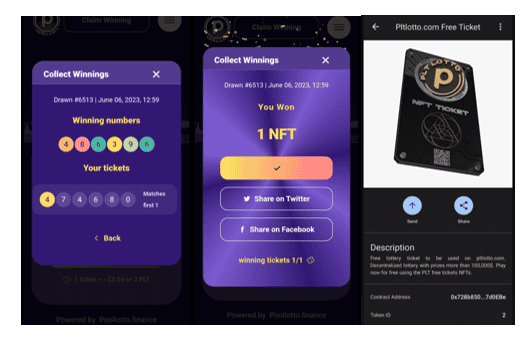 Step 6: Await the Announcement and Claim your Winnings after Placing your Bet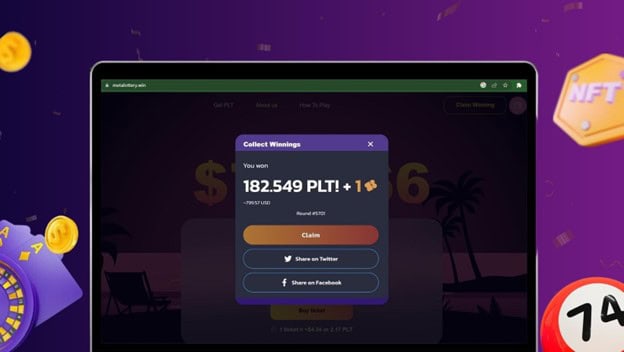 Eagerly await the winning number announcement. If luck is on your side and your numbers match the drawn ones, congratulations! You're a winner.
Follow Metalottery's instructions to claim your winnings, which will be credited directly to your connected wallet.
With Metalottery, your path to winning huge PLT prizes is just a few steps away. Don't miss out on this thrilling opportunity to make your dreams come true. Start playing today and be one step closer to your fortune!
Conclusion: With this comprehensive step-by-step guide, you now have the knowledge and tools to buy and play with Poollotto Coin (PLT) on the Metalottery platform. Remember to always play responsibly and enjoy the crypto-lottery excitement.
Sign up on www.metalottery.win today and win up to $100,000 while having an unforgettable time in the world of Poollotto Coin!
Related Topics
Paschal Okafor
is
NaijaTechGuide Team Lead
. The article
How to Play the Metalottery Game with your Poollotto Tokens (A Comprehensive Guide)
was written by . The article was last modified:
June 12th, 2023