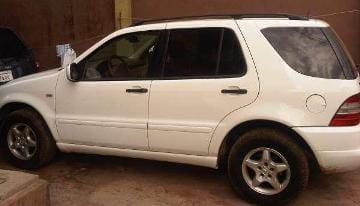 A 2001 model Mercedes Benz M Class (ML 320) SUV is available for sale at the NaijaTechGuide Auto Trader for a price of N1,700,000. The seller is located in Ojodu, Lagos, visit the NTG Auto Trader to contact the dealer. Vehicle FeaturesSome features listed by the seller on the listing page are shown below. Visit the listing page at the NaijaTechGuide Auto Trader for details. 6 Cylinder Engine 2-Wheel Drive ABS Leather Seats Automatic Transmission Price: N1,700,000 Visit NaijaTechGuide Auto Trader for more details of the 2001 Mercedes Benz M Class For Sale as well as to contact the seller. Disclaimer: Listing this vehicle should not be misconstrued...

Mercedes-Benz C-class is a budget luxury sedan. In and out the C-class looks stylish, add this to her good performance, safety, and full features and C-class becomes a great choice. C-class 2008 may come as C300 or C350 models depending on engine capacity. Mercedes-Benz C300 may come as either sport or luxury trim. Mercedes-Benz C300 is equipped with 3.0 litre V6 engine with a six-speed manual transmission system. C300 has an option of a seven-speed automatic transmission system. C350 receives her power from a 3.5 litre V6 mated with a seven-speed automatic transmission system. If you require more power/performance, a...

In this page, we have provided a list of authorised Mercedes-Benz cars dealers in Nigeria. Phone numbers and main addresses of these Mercedes-Benz dealers are provided. Although most of the addresses are Lagos based, these Mercedes-Benz dealers may also have showrooms in other major cities like Port Harcourt, Abuja-FCT, Kano, Kaduna, Enugu, Onitsha, and so on. Scroll down to view the Authorised Mercedes-Benz cars distributors list. Mercedes-Benz cars are noted for their superior engineering and high emphasis on quality, safety and driving pleasure. Authorised Mercedes-Benz distributors in the country offer warranty on any Mercedes-Benz car you buy. Mercedes-Benz cars dealers also offer...