You can check your 2016 JAMB UTME result within 96 hours of sitting for the examination. This is because JAMB has now improved on its computer based testing (CBT). Your UTME 2016 result will be sent via SMS to your mobile phone 30 minutes after you finish the test....

When a couple of years ago JAMB introduced online registration for its then UME examination, a lot of Nigerians were happy. This was because JAMB online registration made it easy and convenient to register for JAMB examinations. That is why we think that the requirement by JAMB from 2012...

With JAMB 2016 UTME CBT test holding between February 29 and March 14, 2016, Post UTME 2016 for various institutions should be on your mind. For 2015 (last year), the official Post UTME cutoff mark was 180 for Universities and 160 for Polytechnics. We expect a similar cutoff mark...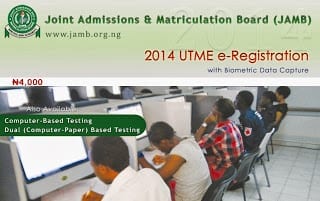 JAMB UTME 2014 Result have been released. Check UTME Result 2014. UTME computer based test (CBT) will start on Saturday, May 17 and end on Saturday, May, 31 2014. Registration for UTME has ended. JAMB Direct Entry Registration is still ongoing Online. Where to Buy JAMB UTME Practice Questions Jumia.com.ng₦1,000.00 View...