Nokia PC Suite is a software from Nokia that allows Nokia phones or devices to connect with a computer running the Microsoft Windows OS. The Latest version is version 7.1. Nokia PC Suite 7.1 will be replaced by the latest PC Suite from Nokia called the Nokia Suite (formerly called Nokia Ovi), because of its ability to interface Nokia mobile phones to other computer platforms, not just the PC. If you own a Nokia phone, then you should seriously consider downloading the Nokia PC Suite or Nokia Ovi Suite for your device. The mobile phone can be connected to the PC using Bluetooth, Infrared, or Bluetooth.
Where to Buy Nokia Phones
Jumia.com.ng from ₦8,500.00 Buy Now
Nokia PC Suite is available on CD, but the easiest way of getting the latest virus-free version is to download directly from the Nokia website. Once download is complete, open the downloaded file to initiate the installation. Once Nokia PC Suite installation is complete, you can start communication between your mobile phone and your PC.
One of the most popular feature of the Nokia PC Suite is enabling you to use your Nokia phone as an internet modem for connecting your PC to the internet. Another is the ability of backing up your phones content as well as syncing your contact, calendar, etc. Other features of the Nokia PC Suite include managing files, application installation, image storage, video transfer, etc.
At the Nokia PC Suite download website, you will find the Nokia PC Suite user guide. Download the user guide for details on how to use the Nokia PC Suite.
Nokia PC Suite or Nokia Suite
Nokia Suite is ideal as it supports all latest features from Nokia. However, you need to think twice before going for the Nokia Suite. If you are using an older Nokia phone, it may not be supported by the Nokia Suite.
In such a situation, Nokia PC Suite will be ideal. Another reason why the Nokia PC Suite may be favoured is that it is light about 40MB compared to 87MB for the latest version of the Nokia Suite (V3.3). This may be important if you are downloading online from a slow network as is the case in most parts of Nigeria.
System requirement could also be a reason for installing the Nokia PC Suite over the more recent Nokia Suite. Nokia Suite 3.3 requires a Pentium 4 computer with at least 1GHz processing power and 1GB RAM. If your system cannot support this, you should download the Nokia PC Suite instead.
Nokia PC Suite features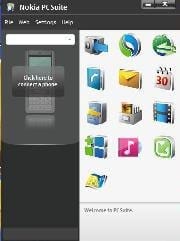 Nokia PC Suite comes with features to help make the best of your phone. Here are some of them:
Connecting to internet with your phone
If your phone has a built-in internet modem, the Nokia PC Suite can be used to connect your PC to the internet. The Nokia mobile phone and the PC are connected together with Bluetooth, USB, or Infrared.
Backing up phone content on PC
One great feature of the Nokia PC Suite is that it allows users to make backup copy of their Nokia phone content on their PC. This ensures you do not lose important data when your phone memory goes bad or you lose your Nokia phone.
Imagine your memory card going bad, all your music, videos, photos, and data will be lost. With the Nokia Content Copier on the Nokia PC Suite you can backup contents on your mobile phone to your PC.
You can choose what you want to backup: user files in phone memory, user files in memory card, messages, contacts, notes, calendar, etc. It is a good idea to backup your mobile phone content with the Nokia PC Suite before updating your Operating System.
You can use the Nokia PC Suite to restore the contents to the same phone model from which it was backed up or import to another phone model. Note that not all content types can be restored.
Other features of the Nokia PC Suite
Other features of the Nokia PC Suite include:
Synchronising data between your Nokia phones and your PC
Installing application to your Nokia phone from your PC
Transferring Video files between phone and PC
Transferring images from your phone to PC
Sending messages from a PC
Managing phone content on a PC
Read Nokia Phones Articles
Paschal Okafor
is
NaijaTechGuide Team Lead
. The article
Nokia PC Suite for Nokia Phones to PC connection
was written by . The article was last modified:
August 8th, 2023