Microsoft released Windows 8 Developer Preview a couple of weeks ago to developers as they prepare for a possible commercial launch of their next OS late 2012. Yes, while most of us in this part of the world are still stock to Windows XP, which Microsoft will stop supporting by April, 2014, the company is planning to launch its third OS since Windows XP. Here, we will be showing some of the highlights of Microsoft's next Windows Operating System, the Windows 8 OS.
Where to Buy Original Windows OS
Jumia.com.ng from ₦15,500.00 View Offers
Konga.com from ₦23,500.00 View Offers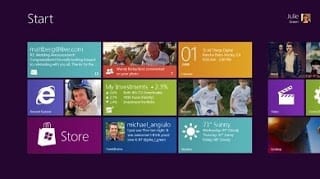 Join us after the break for highlights of Windows 8 OS:
Need more info about Windows & Software?
Ask any question about Windows OS and Software in general at our Software forum or share your insight and knowledge.
You can also connect with us by:
Like us on Facebook | follow us on Twitter | Join us on Google+ | Join our NECO Forum board
Since Windows XP, Microsoft has released two OSes, the Windows Vista, which was hugely criticised for not meeting customer expectations and the current Windows 7, which recently exceeded Windows XP in global market share. Windows 8 is the next iteration of the popular Windows platform, promising a more secure platform, a modern UI, faster boot and performance, as well as support for both Intel/AMD and ARM-based chips.
supports a wide range of devices
Windows 8 will support ARM based devices as well as traditional Intel/AMD devices. So, you will have Windows 8 on your PC, Smartphone, and tablets. However, this should not be misunderstood to mean that the same Windows 8 OS will work on any device. What will happen is that there will be a Windows 8 built for every device.
So do not expect a Windows 8 for say Intel/AMD to work on an ARM platform. Also apps built for a particular platform may not just work on devices built with a different platform. They may have to be ported first for the new platform.
Windows 8 can also run from a USB flash drive using the Windows To Go feature. Connect the drive into a USB 2.0 or USB 3.0 interface, and you can boot and start Windows 8 from a flash drive.
Faster Boot with Secure Boot
The first thing you will probably notice, when you turn on a Windows 8 device, when they become available, is the faster boot time. Most reports give Windows 8 a less than ten seconds boot time. I actually saw Windows 8 startup in about 7 seconds in a video.
The fast boot time is achieved through innovative engineering in the OS core as well as by speeding up POST. Windows 8 machines will not just run the BIOS firmware like its predecessors; instead a new firmware called the UEFI (Unified Extensible Firmware Interface) will replace BIOS as the preferred firmware for Windows 8. UEFI is used to achieve a faster POST, contributing to Windows 8's fast boot time.
UEFI also improves security on Windows 8 through a secure boot feature, which ensures that only digitally signed OS components are loaded during booting, reducing the likelihood of rootkits and other boot-time malware being loaded. This will help Windows 8 be more secure against hard to remove boot time malware. Note that Windows 8 will still be able to load on devices with BIOS firmware.
A new Interface
Once your Windows 8 device completes its boot, you will see the new Start menu. The Windows 8 Start menu contains what Microsoft calls a Metro UI, which consists of tiles for applications with support for live updates. You click or touch a tile for an application to open it. Tiles with live updates can be updated with new information appearing on the tile.
For example an email application may display the sender, timestamp, and the subjects of your latest emails as well as the number of unread emails in your inbox. Applications for following stocks, news, weather info, and social networking can also make use of this live update feature of the Windows 8 Metro UI.
Windows 8 is a touch-first OS. So, it is built from the ground up for touchscreens. However, it will support mouse and keyboards.
Windows OS Articles
Paschal Okafor
is
NaijaTechGuide Team Lead
. The article
Microsoft Windows 8 OS Highlights – Software
was written by . The article was last modified:
May 23rd, 2016