Jumia will be offering amazing Black Friday deals to consumers across Africa. For 12 days Jumia will spoil consumers in Nigeria, Kenya, Ghana, Egypt, Morocco, Cameroon, Ivory Coast, and many other African countries with juicy Black Friday deals.
Black Friday Sales for 2016 will start on Monday, November 14 in multiple countries around Africa and culminate in the biggest deals on Black Friday, November 25.
Where to find Black Friday Deals for 2016
Jumia Nigeria – Click Here | Jumia Kenya Click Here | Jumia Ghana – Click Here
However, deals will not be available for the whole 12 days in all countries. For example, while Jumia Kenya and Jumia Nigeria will be offering discounts for the whole 12 days, Jumia Ghana will have deals for three days: November 25 to November 27.
Each Day's deals will focus on a particular theme with themes being different across countries. For example, while Jumia Nigeria's Black Friday Sale starts with deals on Home Appliances, Jumia Kenya kicks off Black Friday with discounts on Baby Care products.
Here is the schedule of Black Friday deals from Jumia Nigeria: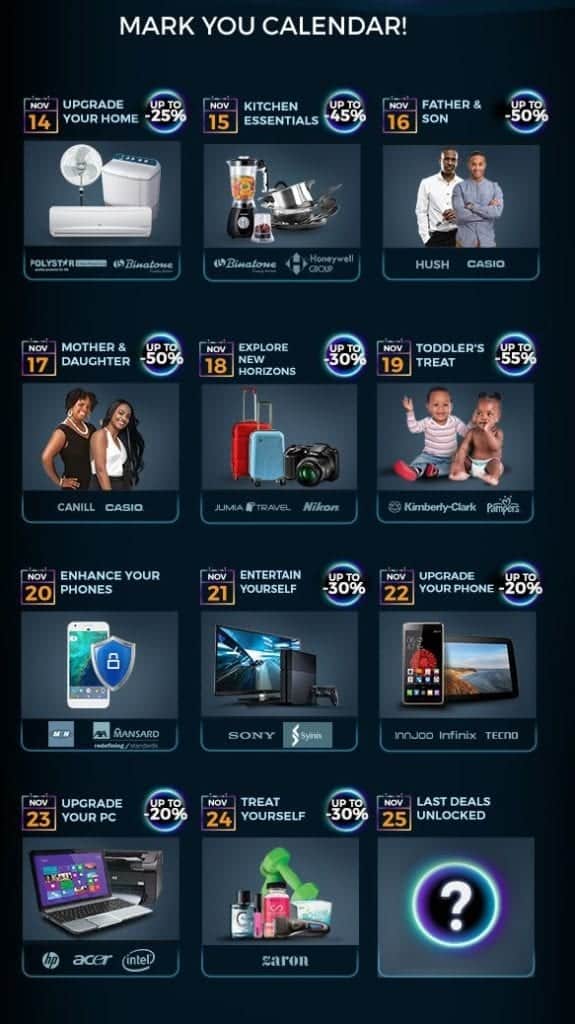 Here is the schedule of Black Friday Deals from Jumia Kenya: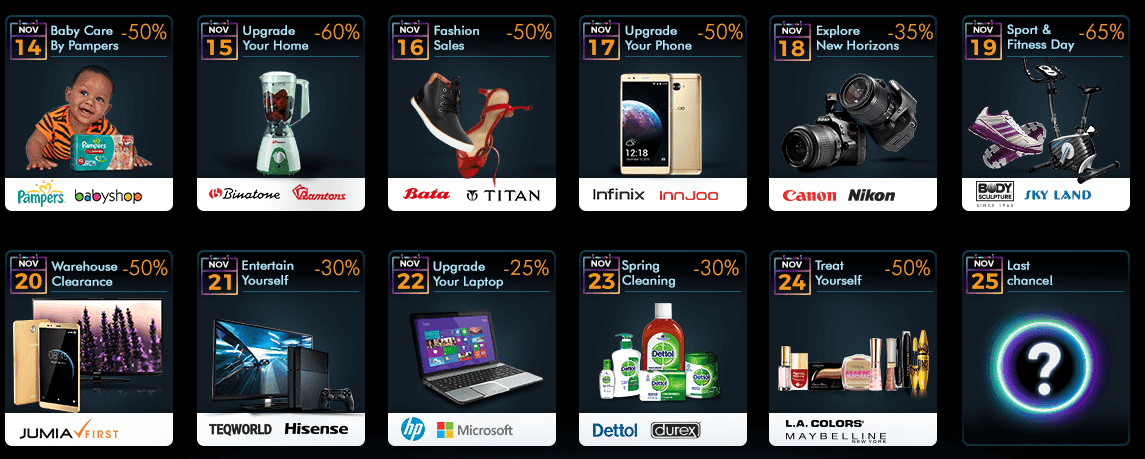 Jumia Ghana will be announcing its schedule for Black Friday sales on November 18. We will update this section of this article once that happens.
Top brands to feature in the deals include Intel and HP for deals on Laptops, Printers, and possibly tablets; Innjoo, Infinix, and Tecno for deals on smartphones and tablets; Polystar, Hisense and Binatone for discounts on Home and Kitchen Appliances.
You will also get deals on Sony products like the Sony PS4 as well as discounts on Nikon and Canon Cameras. Of course, there will also be deals on fashion, baby care products, Beauty products, and lots of other categories.
Buying products from Jumia on Black Friday is easy, just select the product(s) you and want and go to checkout. You can either pay online immediately with your credit card or mobile money, or you can defer payment to when the items are delivered by using the Pay on delivery option.
Your order will be delivered to your doorsteps or you can also choose a pick-up location were you can go to collect your order items.
Here is Jumia Nigeria's guide on what you need to know about Black Friday deals, it will also work for consumers in other countries. You can follow the links we provided for the different countries.
Getting Ready for Jumia Black Friday Deals
Nigeria – Click Here | Kenya Click Here | Ghana – Click Here
More on Black Friday Deals
Black Friday Deals 2016 from Jumia in Nigeria, Kenya, Ghana
was last modified:
November 12th, 2016
by