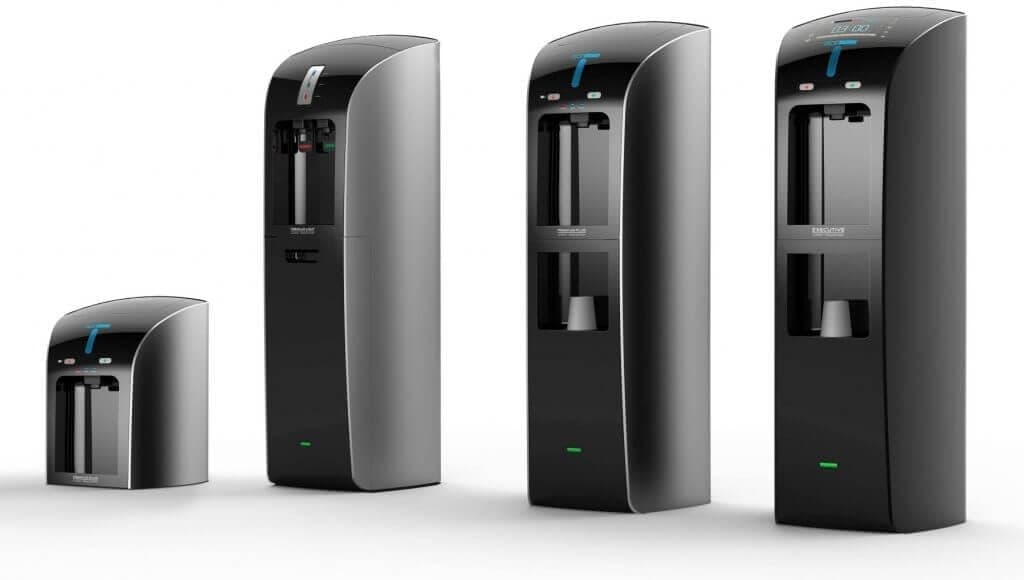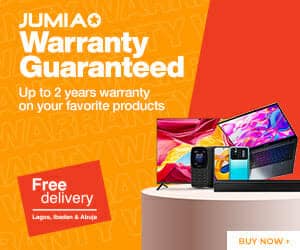 Whether it is in the home, office, or any other related space, drinking water is always needed. What is sometimes more important than just water is the condition the water is in. If you are left languishing for cold water or hot water and not having access to it, it might be time to consider getting yourself a water dispenser.
All you need do is plug the unit in and you can get cold and hot water anytime you want without having to wait at all. Cool, right?
Then, we've got something for you. How about we look at some options to help you come up with the best water dispenser to buy?
1. Nexus Water Dispenser NX-016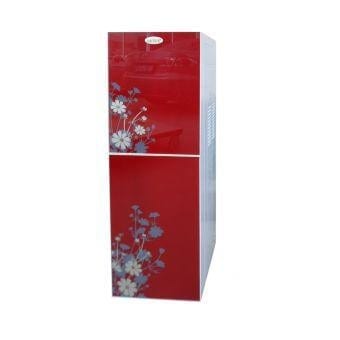 Available in a variety of colour option to match the décor of whatever space you have intended it for, the Nexus Water Dispenser NX-016 is one that literally blows hot and cold.
The water dispenser is able to supply the user with both hot and cold water at the same time. That makes it a perfect fit for people who don't like to wait to get their water. Coming with an auto temperature control function, the unit will hold the hot and cold water at desirable levels for consumption and the best utility.
The dispenser is fitted with hi-quality, steel water tanks. Due to the low susceptibility of steel to holding bacteria, water in the tank is kept safer for longer time frames. Fitted with a freezer compartment of its own, the unit is equally ideal for a serene environment owing to the low noise technology embraced in the design.
2. AKAI Water Dispenser with Fridge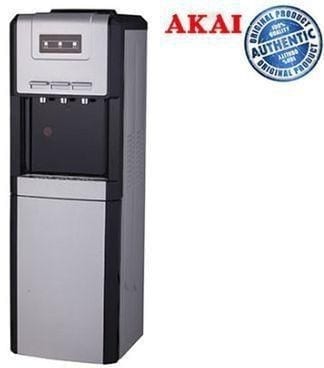 Most water dispensers that we have seen come with two taps. The first thing that stands out in the AKAI Water Dispenser with Fridge are the three taps on the front.
Instead of dispensing just hot and cold water, the tap also maintains the last tap for water kept at normal temperature. To ensure you always get clean water from any one of the taps, the dispenser has been fitted with sterilisation protection. That is in addition to the unit being designed with toxic-proof materials.
A heating element is used to raise the temperature of the water while a small fridge is included in the setup for the cooling process. Additionally, the dispensing buttons are very easy to push. Overall, the sturdy unit is durable and promises to serve the user(s) for a long time.
3. Polystar Water Dispenser with Fridge and Freezer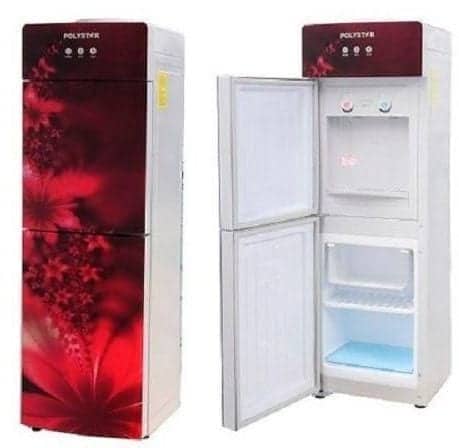 Polystar knows it would be poor to have beauty and no brains, so they did not just deal with aesthetics on their Water Dispenser with Fridge and Freezer unit. Supplying both hot and cold water, the unit is also involved in the sterilisation of the water dispensed. Rated as a low energy consuming unit, it can remain plugged in for long periods and not drive up power consumption bills.
The unit accounts for spillage with the aid of a collector. This collector, as well as the taps, are protected by a door design. There is a second door below this one plays house to a freezer section in the unit. That kind of design makes it stand out from the rest on this list.
On top of that, the unit promises durability and reliability over time. Interested buyers should know that they can pick this unit up in at least three (red, blue and solver) colour options.
4. CWAY Ruby 2S BY87 Water Dispenser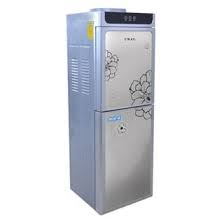 With the CWAY Ruby 2S BY87 Water Dispenser, you would be killing two birds with one stone: styling your office with one of the most beautiful water dispensers there are, and fulfilling more than the base need for getting a water dispenser in the first place.
Offering cold and hot water too, the unit also features a two-door design. The top door is house to the taps and a collector to prevent spillage. The second door packs a freezer unit for any other food item the user might want to keep there
Limited to a colour option of silver only, the dispenser impresses with a high cooling capacity and replaceable pencil puncture option.
5. Eurosonic Dispenser with Freezer ES-282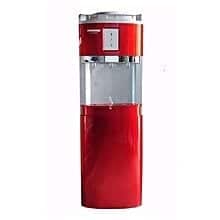 Even though the name already gave away the freezer compartment as one of the major selling points, the Eurosonic Dispenser with Freezer ES-282 has so much more to offer.
The red and silver water dispenser still features three nozzles that would dispense hot, cold and lukewarm water. It has a very high heating capacity and an even better cooling capacity. That is followed up by the 550w-rated heater which would still maintain a good standard of operation under low voltage conditions
6. Midea Dispenser YL1331S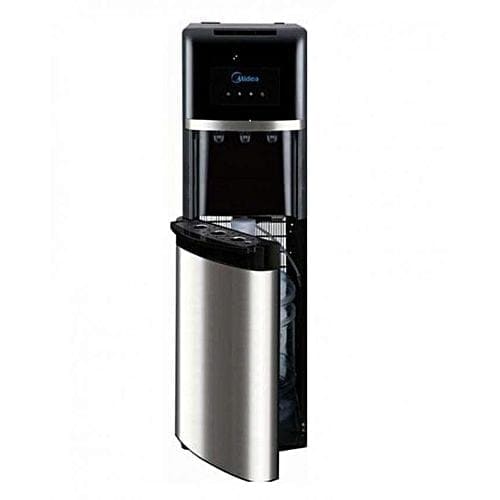 An inbuilt tank of 20 litres in the Midea Dispenser YL1331S is enough to hold water that would be consumed in two to three days. In that time, you need not worry about accumulation of germs or algae as the stainless-steel tank has been well treated against such occurrences.
Like the option above, you will also find three faucets on this unit. Where it stands out is the addition of a double safety device for the prevention of system overheating.
For more comfort, there is also a high-efficiency compressor cooling system worked into place. One of the things we loved most was the child safety lock on the hot water faucet. That further makes it suitable for home use with less worry about hot water accidents.
7. Restpoint Dispenser with Refrigerator (RP-WS100S)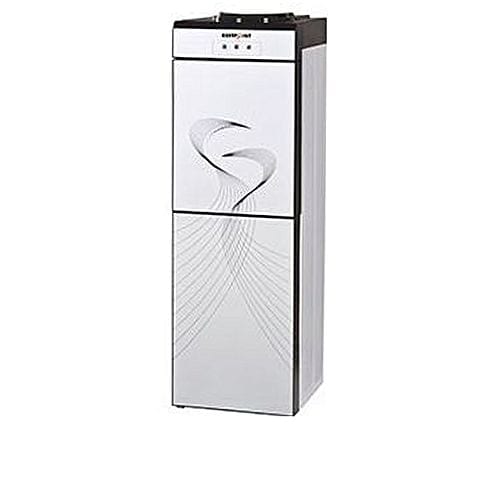 Just like most water dispensing units, the Restpoint Dispenser with Refrigerator will also give you access to hot and cold water. What makes it stand out is that it lets you set the temperature you want for your water. Unlike the others which would rather go with standard automatic settings, you are responsible for how hot or cold your water is with this unit.
The tank is able to use any of 3-gallon and 5-gallon tanks. The manufactures also claim that the unit bundles an advanced anti-bacterial technology to fight pathogens in the water.
The highly durable unit has a cooling power of 90W, combined with a heating power of 550W and an overall power rating of 640W. Did we mention that this unit also has a child lock in place for the hot water tap?
Of seven options, which do you consider the best water dispenser to buy for your home or office? We will like to know why that was your final pick too. See you in the comments.
Related Topics
Paschal Okafor
is
NaijaTechGuide Team Lead
. The article
7 Picks of the Best Water Dispenser to Buy for Your Home and Office
was written by . The article was last modified:
March 11th, 2021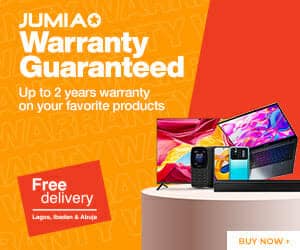 NaijaTechGuide may receive financial compensation for products/services purchased through affiliate links on this site. See
full Affiliate Disclosure Here