Whether you are a stay at home mum/dad, working-class, bachelor or in any other class of life, doing laundry should be the least of your worries. We know how scary it might be, watching your dirty clothes pile up and not seeing the free time to fix them in sight. With a Washing Machine your problem could be over. We share some of the best washing machines in this article.
Instead of enriching the pockets of laundry businesses and dry cleaners every time, you can get the best value for your money by going for a suitable washing machine.
It saves you the stress of having to wash, the money you would have otherwise spent for the service and gives you the convenience of being able to do your laundry anytime.
If you are thus in the market for a great option, here are the top washing machines to buy to care for your every need.
15 Best Washing Machines to Buy in 2023
1. LG Fully Automatic Top Load Washing Machine (WM1666)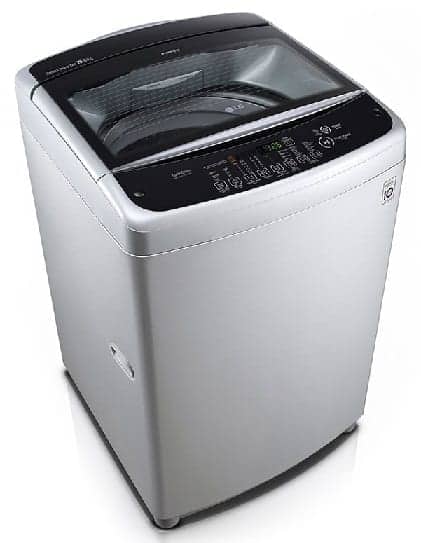 One look at the WM1666 from LG is enough to make you agree that this machine is not here to joke. The 16kg laundry load capacity makes great for large households or even commercial purposes.
- Advertisement -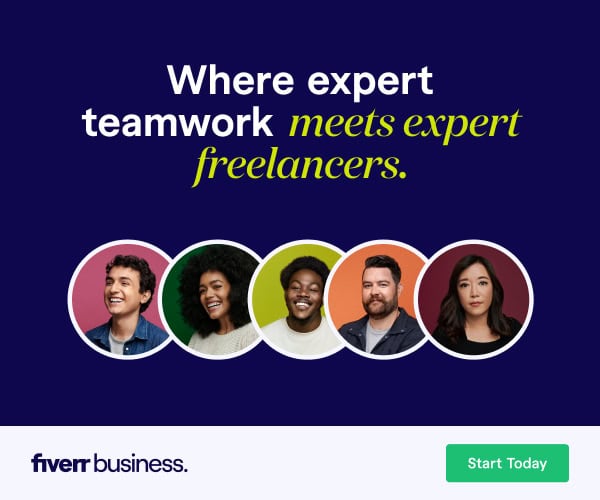 LG WM1666 also takes great care of the clothes with Smart Motion and Smart Inverter that offers 3 different types of motion for an optimize wash. The function of this is to regulate the wash time of the clothes.
This it does by accounting for various available factors such as water, detergent, water temperature and hardness, among other things.
The drums in the machine are powered by a Direct Drive technology. Thus, a lot of movement occurs in the machine with as little moving parts as possible. In the end, that ensures minimal damages to the unit.
Of course, this unit will consume more power than the average washers. The good news is that, for its size and capability, it is still a very energy-efficient piece of equipment.
- Advertisement -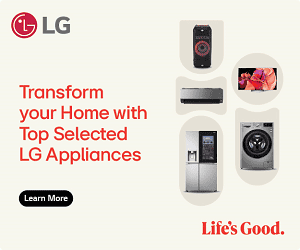 The machine features Auto Start, which means that if you are washing and there is power failure, once power is back on the washer will start washing exactly where it was before the power outage.
2. LG Front Load Washing Machine (WM3488HW)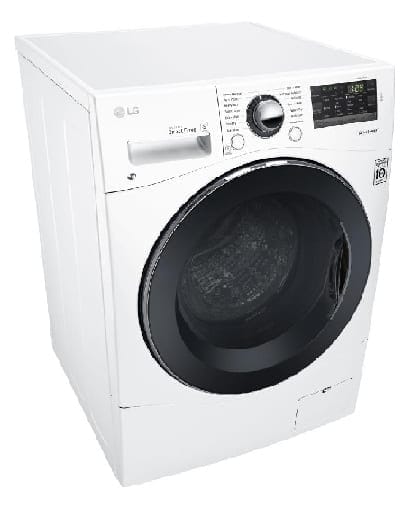 This fully automatic washer offers 2.3 cu ft of space and incorporates a washer and a dryer. It sports 6Motion technology that 6 different motions for a thorough wash.
The washer does not require any external venting, because it uses ventless condensing to dry clothes. You get 14 wash programs and 8 wash options ensuring every fabric type is covered.
LG WM3488HW is rated 120V, 60Hz with an Inverter Direct Drive Motor that has a 10 year warranty and delivers 1400 rpm. The front loader offers SmartDiagnosis for diagnosing faults.
3. Hisense WDBL1014VT Front Load Washing Machine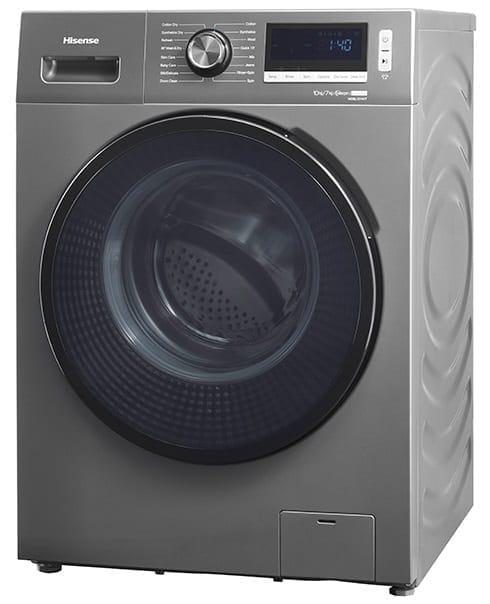 This washing machine is a washer/dryer combo that can wash up to 10kg of laundry and dry up to 7kg of laundry. It is also gorgeous in the eye with premium looking Titanium finish.
Hisense WDBL1014VT offers 16 wash programs (12 for washing and 4 for drying). Included in these is a 60 minutes wash program that will wash and dry your laundry in 1 hour.
This is a quick wash function that washes up to 1kg of clothes for 15 minutes and drying for 45 minutes. A great feature for when you are in a hurry and need to wash and dry and outfit you want to wear right away. You also get a pause and add function that enables you to pause washing within the first 10 minutes of a wash cycle in order to add more laundry.
The inverter motor is designed to run at an optimum speed for the laundry load. This saves energy and runs runs more quietly.
4. Giantex 9.92 Lbs Automatic Top Load Washing Machine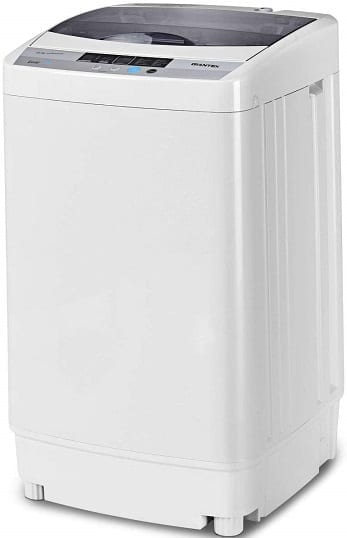 This is compact fully automatic washer can hold up to 1.34 cu.ft and wash up to 9.92lbs (4.5kg) of laundry load. The machine offers 10 wash programs and 8 water level.
This washer washes and spins very well and economizes water and detergent. One major complaint of buyers is that the included hose are short and the hose will probably not match your faucet.
You will have to do some shopping to find a longer hose and an adapter that will connect it to your faucet.
$249.95
$319.99
in stock
as of 9th December 2023 2:40 am
Last updated on 9th December 2023 2:40 am
5. LG F4J6TMP0W Front Load Washing Machine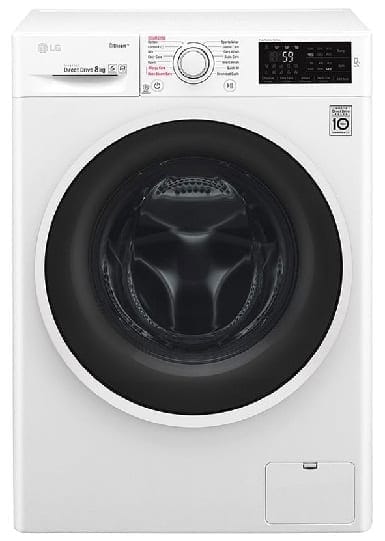 It takes only one look to agree that this washing machine is nothing short of a powerhouse. The unit features an 8kg washer and a 5kg dryer.
It offers 6 Motion Direct Drive (DD) technology that moves the wash drum in different directions with 6 different types of motions that ensures your laundry is ultra clean. The inverter Direct Drive motor comes wit 10 years warranty.
The machine has an allergy care cycle that creates a stream of steam that gently sanitizing your clothe eliminating 99.9% of allergens.
LG F4J6TMP0W sports Smart Diagnosis which makes troubleshooting issues easy. The NFC Tag On feature enables you connect to your washer via your smartphone. While connected, you can download new wash cycles or diagnose and solve problems on the washer.
6. HiSense Front Load Washing Machine WM WFDJ 7010S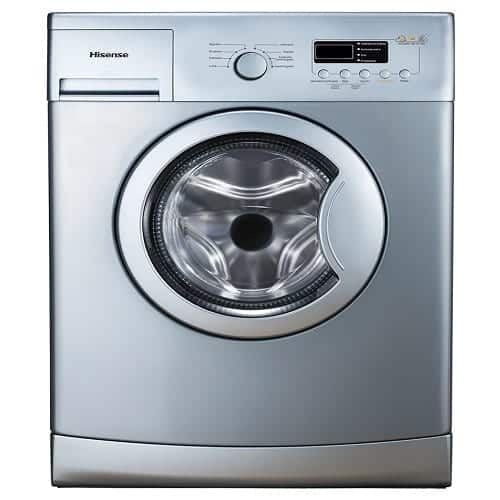 HiSense also stuck with a 7kg capacity on their WM WFDJ 7010S model. Quite frankly, that will be able to handle your laundry efficiently – either as a whole or in batches.
Looking past the volume, one will see that the unit also comes with Smart Wash technology that calculates the load and determines the right amount of water and detergent needed. The machine will even automatically adjust the temperature of the water to ensure better dissolution of detergent.
Should you start the laundry process and see that you forgot some items, you will be covered under the 'Stop and Reload' program.
The Hisense Front loading unit is made with convenience in mind, allowing the user choose just about any type of detergent for use.
7. Giantex 17.6lbs Twin Tub Washing Machine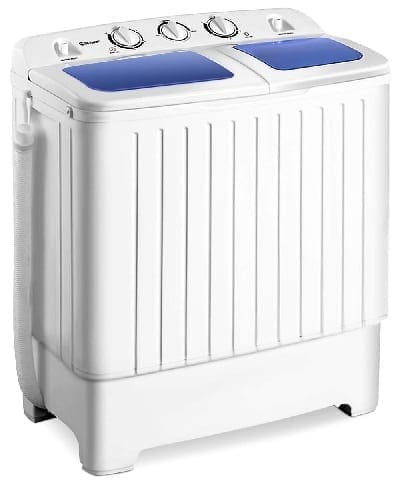 This is another portable washer that will be easy to move and store, which great for camping, dorms, and consumers with limited space.
The 17.6lbs (8kg) capacity is divided into 11lbs (5kg) and 6.6lbs (3kg) between the washer and the spin dryer. You get separate timers for washing and spinning with the washer timer capable of up to 15 minutes wash cycle and the spinner timer built for up to 5 minutes.
The portability and affordability of this twin tub combines to make it one of the bestselling washers on Amazon US. For more of the bestselling washers on Amazon, click here.
It is rated 120V / 60 Hz with 400W total power consumption (260W for washer 140W for spin-dryer).
$179.98
$194.99
in stock
as of 9th December 2023 2:40 am
Last updated on 9th December 2023 2:40 am
8. Hisense 8KG Top Load Washing Machine (WTCT802)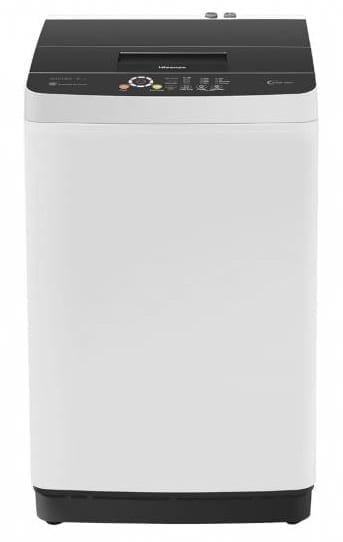 The first standout thing about this machine is that it would take as much as 8Kg of load. That makes it suitable for a larger household or someone who would like to use theirs for business purposes.
Likewise, the top loading unit makes it possible to wash whites and delicates separately, uses spin operation to ensure uniform distribution of the laundry and comes with a high water optimisation build.
Speaking of water optimisation, you get as much as 8 water level selections with this unit. Coupled with the solid build associated with HiSense's products, the choice justifies making this list.
9. Midea 7kg Front Load Washing Machine (MFE70)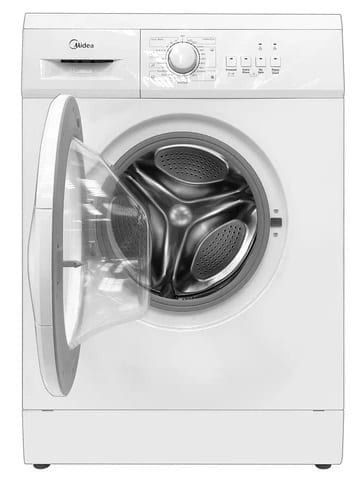 This fully automatic front loader has a 7kg capacity and would be great for a small to medium sized household. The machine is versatile offering up to 23 wash programs.
The design is compact measuring about 59.5cm wide with a depth of 49cm and a height of 85cm. This means it could great for homes with limited space.
It is however bulky, as most front load washers are with a net weight of 61kg. So, this is not an appliance you can conveniently move. You need to have a fixed space for it.
10. Binatone BWM-046 Top Load Washer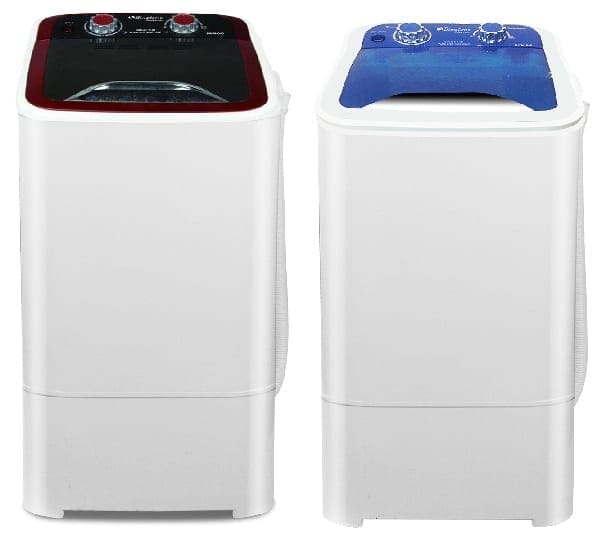 This is one of the most versatile portable washer combining a 4.6kg washer and 2.0kg spinner in a very compact body. This distinguishes it from most mini compact washers that lack the spin drying function.
There is a detachable spin dryer tub that is attached into the washer tub for spin drying. You detach the spin dryer tub when you want to wash and attach it back for spin-drying.
Binatone BWM-046 is rated 220V – 240V, 50Hz with a total power consumption of 360W (240W for the washer and 120W for the spin-dryer).
11. LG 7.5kg Automatic Front Load Washing Machine (WM 2J3QDMPO)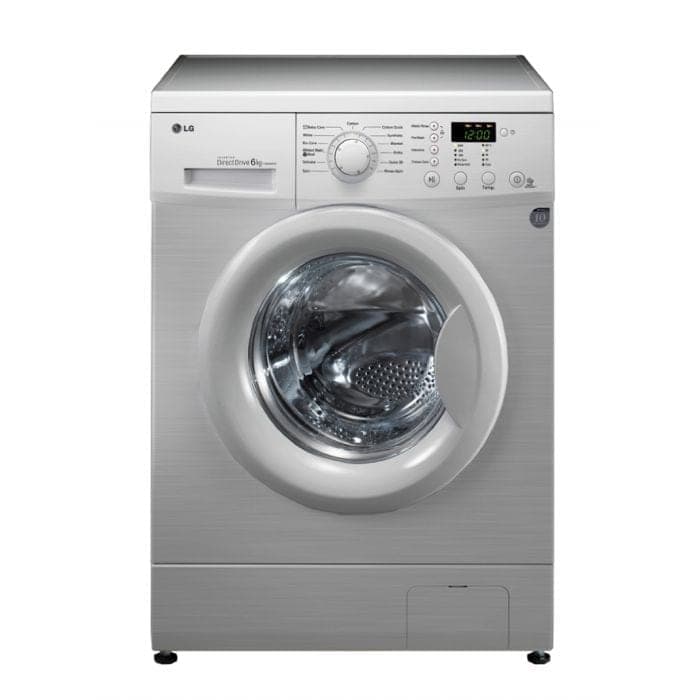 LG's Front Load Washing Machine with model number WM 2J3QDMPO offers a modest 7.5kg capacity for a large volume of clothes at once.
The roller jet is very powerful in swishing the clothes around the tub, but it also does one more. Due to the internal design and setup of the unit, the roller jet will also make sure the clothes don't get all tangled up. That contributes to the proper treatment that the machine will give your delicate clothes.
If you are concerned about increased power bills, now is the time to drop such thoughts. Built with an efficient energy saving technology, this washing unit will fit in with any lifestyle the owner leads.
12. Midea 10kg Twin Tub Washing Machine (MTA100)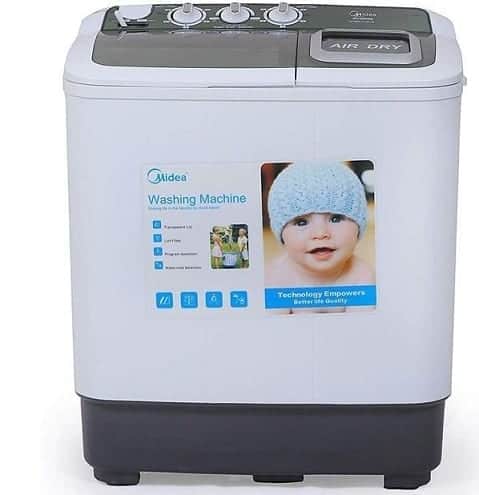 Midea sure knows how to please the market. Offering twin tubs on the MTA100 makes the washing process even more interesting.
While the first tub holds as much as 10kg of fabric at once and removes even the toughest of stains from them, the other tub (4.6kg spin dryer) will drain as much water from the fabric as possible.
Gone are the days when you had to wait long hours for your clothes to get dry. As a plus, the spin-dryer feature will come in handy on a rainy/ not-so-sunny day
Going further, the unit has support for regular and heavy washing. Asides everyday fabric, tough materials like bedsheets, duvets and curtains can be thrown into the top loading unit.
Available in colour options of white only, you should know that the MTA100 only ships with a cold-water connection.
13. Nexus 9.2kg Top Load Washing Machine (NX-WM-9SASB)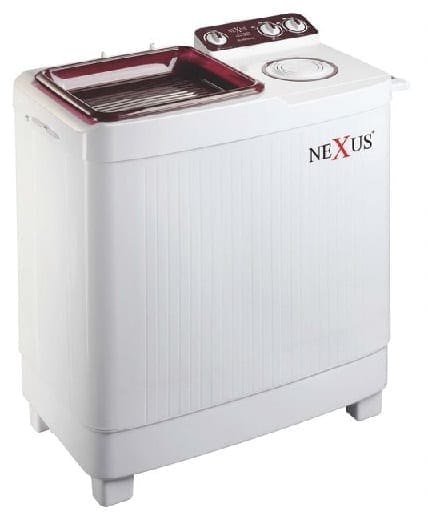 This 9.2kg semi automatic twin-tub washer offers 2 wash programs. You get a Gentle wash program for your delicate fabric and a Normal wash program for washing tougher fabric like bed-sheets, jeans, etc.
It also comes with safety features like child's lock, a removable lint filter, a transparent lid, and a rat mesh.
14. Polystar Washing Machine 6.5Kg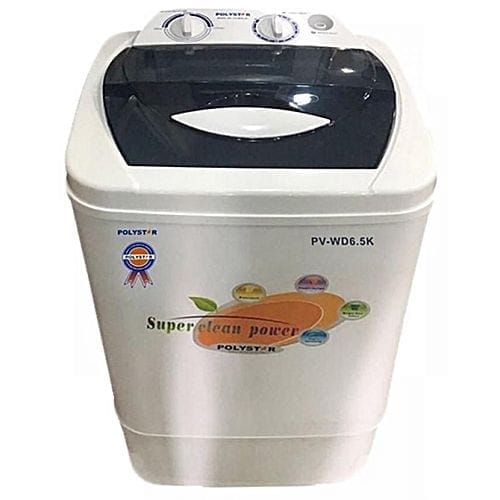 The Polystar Washing Machine 6.5Kg promises to hold a capacity of 6.5kg at any one time. The top loader machine is made with a plastic exterior which does not do anything to affect its durability or strength.
Inside the unit, there is an allowance for a 220v power source and frequency of 50Hz. Likewise, the unit packs impressive features such as a low power consumption, waterproof technology and a magic filter screen to boot.
15. Haier Thermocool Semi-Automatic Washing Machine TLSA06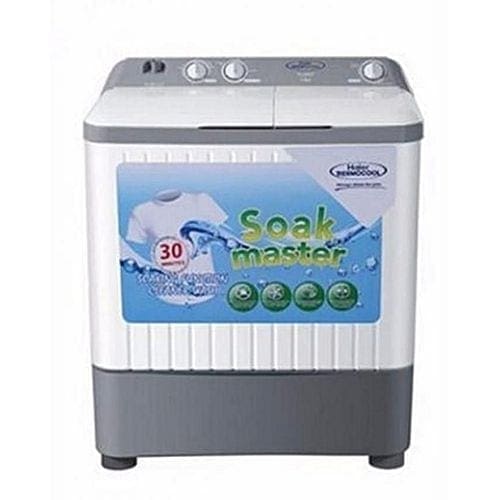 Made of plastic too, the very durable Haier Thermocool Semi-Automatic Washing Machine TLSA06 is built to withstand rust from constant contact with moisture.
The unit also gives the user an option to pre-soak their clothes for up to 30 minutes before washing kicks into full swing. On top of that, the white washer features a child lock mechanism that keeps the buttons locked, preventing kids from disrupting whatever laundry plan you have set in place.
The special feature we noticed on this unit is the magic lint collection. As the name implies, it gets all the lint from your laundry and puts them all in one place. That aids easy cleaning and maintenance of the machine, supporting the longevity of the unit's life.
We hope you agree that we could not have been more right about these being the top washing machines to buy. If you've got one of these already, let us know how you feel about it. Got a great one that didn't make the list? Let us know why you think yours is so special.
Related Topics
Paschal Okafor
is
NaijaTechGuide Team Lead
. The article
Best Washing Machines to Buy for your Laundry Needs
was written by . The article was last modified:
January 2nd, 2023