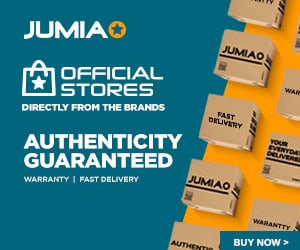 Maybe you don't know that your website's web copy is far more important than you realize. However, the design, copy forms actually form the foundation of your brand. How you describe your agenda and your brand leaves a palpable impression on the customers. What customer perceive of your brand relies highly on your web copy.
Web copy, on the other hand, is also crucial to convey the product information to the viewers. The customer is always interested to know how the product is going to benefit them.  Unfortunately, many e-commerce stores send hours in the optimization of their website design but completely ignore the web copy which leads to poor conversions.
E-commerce site's speed is also a very important factor which helps the conversion rate. A great internet s required to keep the stores updated at all times. Xfinity deals provide packages are available for the enterprises so that they constantly keep their stores updated.
The relationship between the Web Copy and Conversion Rate:
Well, if you're running an e-commerce store, some startup, or marketing agency then you're going to face the following three biggest challenges:
Informing Visitors:
Educating the visitors about the products in your store and unique features you offer.
Evoking people's emotions:
One of the other major challenges is to make people desire for your product and to persuade them to visit more often.
Fostering:
Nurturing a long-term relationship with the visitors by implementing a brand's values. And also giving importance to customer's values.
No e-commerce store manager can't deny the fact that they were the prominent challenges they faced. Well, they can be managed. You'll be a little surprised to know that these challenges can be met by creating a smart copywriting. And it isn't absolutely unusual to improve the web copy to increase the conversion rate by 2x to 3x.
For example:
Freckle Time increase their conversion rate to 2.4x by simply making changes into its copy
Invesp also increased the conversion rate for the BlogTalk radio and Oreilly to 90% by just focusing on web copy and value proposition into the site throughout.
Encyclopedia Britannica also increased their conversion rates by changing their web copy of sales page
There is a direct relationship between the conversion rates and web copies. A better copy of landing pages or other pages leads to greater conversion rates.
The obvious question you must be wondering is how can you improve the e-commerce copy? Well, we can most certainly help you with that. Following are the four ways you can use to get better conversions:
1. Write your Targeted Personas down:
Sketch the profile of your targeted customers based on your brand's persona. It will greatly help you craft a focused high converting copy.
Nearly all of your targeted customers will fall into one or more of the following persona types:
This persona type is detail oriented and mostly supported by logical and methodical arguments. A customer with a logical persona will not most certainly examine the offer before hitting the "buy" button. 40-45% of the people fall into this category.
Impulsive persona type involves the people who are spontaneous and are always ready to take chances. This persona is prone to the people who take quick decisions and are only focused on benefits while buying something. 30-35% of people fall into this category.
The people with this persona are quite concerned by the well-being of other people. They will only buy a product if it is also of benefit to other people besides their selves. 15-20% of people fall into this category.
Such people are mostly contained rational personalities and are focused on self-improvement. They rank themselves to a high standard of integrity and want you to value it too. 5-7% of people fall into this category.
How to write according to each customer Persona?
You need to decide what sort of personalities you're going to target and form your web copy accordingly.
Most of the e-commerce stores target the logical persona and form their web copy keeping in mind the following factors.
Features Emphasis
Include the details, especially technology used to develop the products
Avoid ambiguity
2. Use more power and action words:
The usage of power words which could evoke the audience into action must be used in web copies. These words do the work of a magic and stir the people to the core and motivate them to act right away.
The easy words elevate a copy from beyond to extraordinary. These words turn the boring article into an interesting one.
Here is a sample: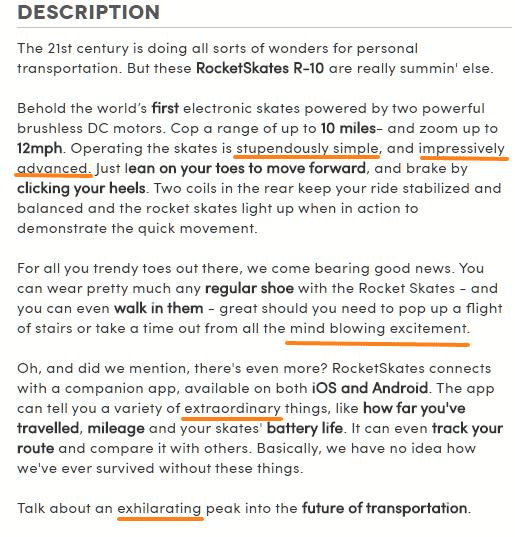 These words made the web copy compelling.
Action words motivate the people to take an action whereas power words only show strength and support the action words to form a thoughtful and meaningful content.
They are simple words but have a deep impact like add, act, take etc.
3. The right Formatting:
A study shows that people don't read your page at first rather they scan it. Eye-tracking studies by Nielsen showed that people scan e-commerce page in F-shape i.e. left column is read first then to the right.
No one will read the content unless it is formatted right.
Following factors can help formatting e-commerce web copyright:
Follow hierarchy while providing information:
Define the very basic and most important information at the very start so that people develop an interest in the content. The less information should be further down the page.
Follow a two column layout:
Two column layout contains photo on the left and all the important details on the right. People have already developed a thing for this convention and usually look for an image on the right.
Use bullet points to provide information as this breakdown the information and people find it easy to read.
And most importantly the use of keywords into the copy.
4. Don't you forget about Unique Pages:
Unique pages have a unique place in web copies. Your homepage, mission statement page, about us page and others are the unique pages of your site. These pages contain distinct information and content, unlike other pages.  Optimizing the copy of your unique pages can greatly affect the conversion rate.
Related Topics
Paschal Okafor
is
NaijaTechGuide Team Lead
. The article
4 Ways Copywriting Can Boost E-Commerce Conversion Rates
was written by . The article was last modified:
October 12th, 2019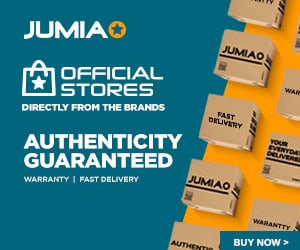 NaijaTechGuide may receive financial compensation for products/services purchased through affiliate links on this site. See
full Affiliate Disclosure Here