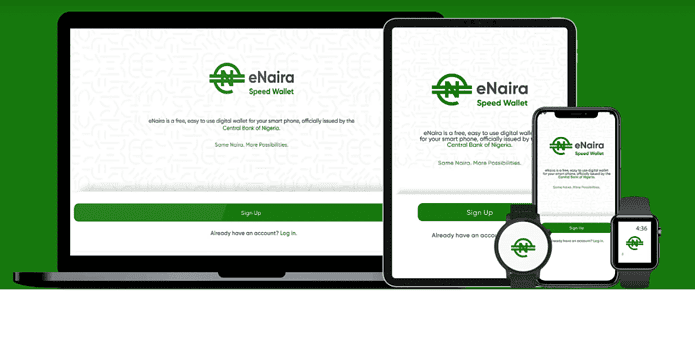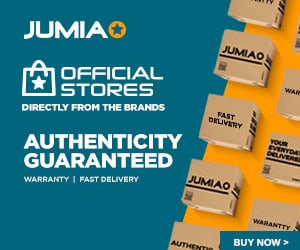 eNaira is more or less like a digital version of the physical Naira. It is a Central Bank Digital Currency (CBDC) issued by the Central Bank of Nigeria (CBN) and will exchange 1:1 to the physical Naira. The eNaira was launched by Nigeria's President flanked by the VP and CBN Governor on October 25, 2021 and will circulate in parallel with the physical Naira as legal tender in Nigeria. 500 million units of the eNaira were issued at launch.
The new digital currency is built on a Distributed Ledger Technology and is aimed amongst other things to improve financial inclusion, encourage diaspora remittances, and facilitate a more efficient and cost effective cross-border payment. It is one of the first CBDC to be launched by any government (The first in Africa).
Each unit of the eNaira is backed by an actual physical Naira and is a liability of the CBN, making it a lot moneylike and safer than cryptocurrencies.
Why eNaira?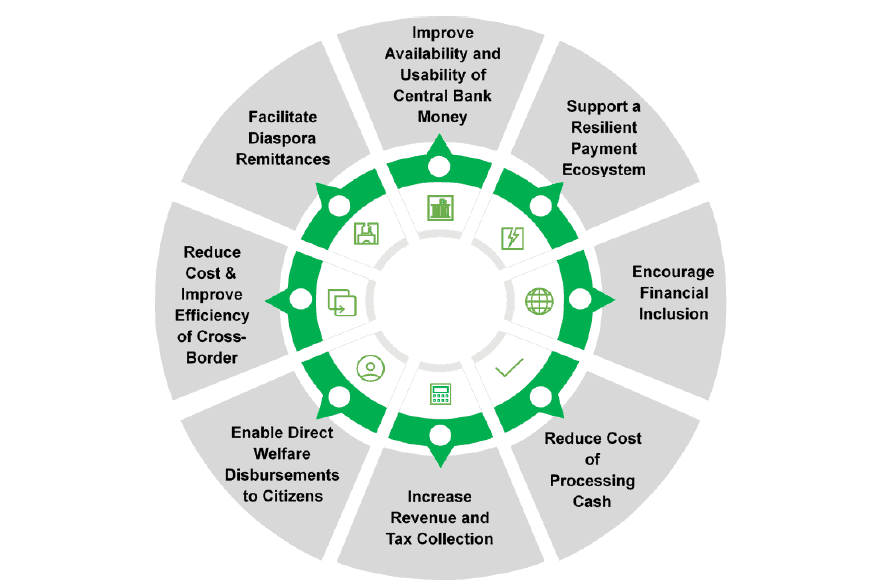 Nigeria has one of the most advanced payment infrastructure in the world. Once you have a bank account, you can send money to any account holder in any bank in any part of Nigeria and they will be able to access the funds in under a minute.
However, the operative word is "once you have a bank account". This is where things get sketchy. While Nigeria's payment infrastructure is good, a lot of Nigerians still do not have access to it due to a lack of bank account.
According to a 2020 report by EFInA, 36% of adults in Nigeria representing a huge 38 million people were financially excluded. This means Nigeria still has a long way to go in giving all Nigerians access to its payment infrastructure.
This is where solutions like eNaira come in. With just a phone number anyone can get an electronic wallet that gives them access to financial services, though the entry level wallet that requires just a phone number is limited to a daily transaction limit of 20,000 Naira and a daily cumulative balance of 150,000 Naira.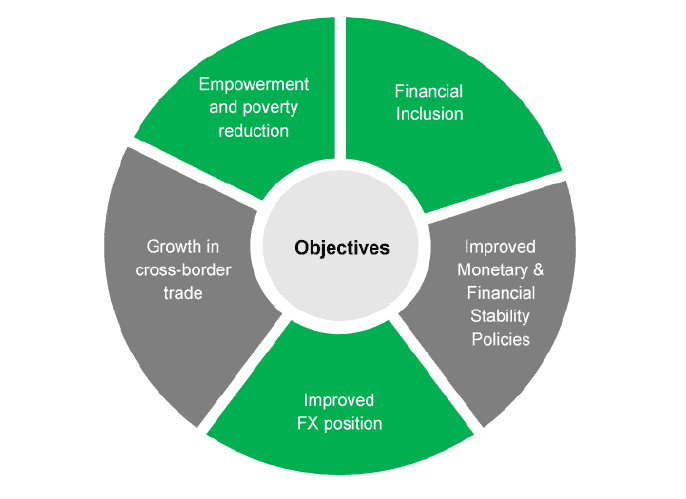 Receiving money from abroad is a major pain point of individuals and businesses in Nigeria. Designed with interoperability in mind, the CBDC if well managed can be a great solution for remittances and foreign inflows.
The CBN's stamp of approval, assumption of liability, and the record immutability of the Distributed Ledger Technology can go a long way to help create confidence around the digital money as a secure means of sending money to Nigeria. The simple technology also means transaction costs will be very attractive.
What is eNaira?
eNaira is a Central Bank Digital Currency (CBDC) built on a Distributed Ledger Technology as a medium of exchange and a store of value in Nigeria. It is issued by the Central Bank of Nigeria (CBN) and will exchange 1:1 to the physical Naira. This means that 1 Naira will always be equal to 1 eNaira. The new digital money will circulate alongside the Naira as legal tender in Nigeria.
How Does eNaira Work?
The eNaira is built on a two-tier CBDC architecture. This architecture ensures that the CBN is not in direct competition with the banks and financial institutions and facilitates mass availability and adoption of the digital money by tapping into the existing payment infrastructure.

While the CBN (in the first tier) will be responsible for issuing the new digital currency as well as managing the wallet and a central ledger of all transaction, the financial institutions and other licensed partners (in the second tier) will serve as nodes on the network for processing payment and handling and fulfilling other financial needs of the end users as well as ensuring record immutability.
So, while the CBN will be interfacing with financial institutions, the financial institutions will be interfacing with the end users. To facilitate this interface, the CBN provides API access to financial institutions and payment processors to enable them interact with the central ledger.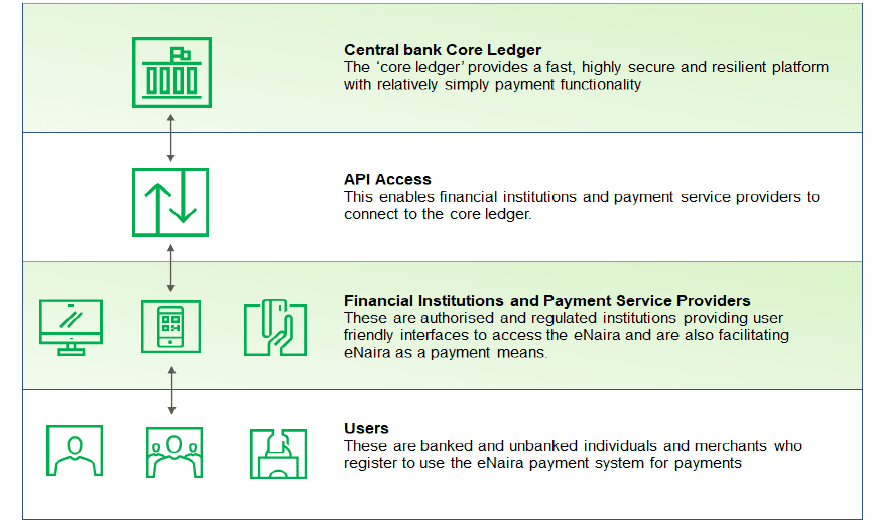 Though the funds still resides at the CBN, the central bank will not be dealing with customers directly. The banks and financial services providers will take up this role. This is why you are required to select a bank when setting up the eNaira wallet app. However, in the long run people without bank accounts will also be able to access eNaira via authorised agents.
eNaira is based on a Blockchain Distributed Ledger Technology powered by enterprise grade Hyperledger Fabric. This setup ensures a secure, scalable, and customizable platform. Each unit of the eNaira will have a unique identity and cannot be duplicated or faked.
How to Get eNaira
1. Download the eNaira Speed Wallet app. The app is available on the Google Play Store and the Apple App Store. To download on the Play Store, click here and for the App Store click here.
2. Select your Preferred. This bank will be responsible for processing your transactions.
3. Enter your Details and Authenticate BVN. You would be required to enter details like First Name, Last Name, Date of Birth, State of Origin, and eMail. Your details should match your BVN details.
4. Fund your eNaira Wallet. You can fund your wallet by transferring from your bank deposit to your Speed Wallet. You can also receive from another wallet holder (Peer to Peer) or from an authorised agent.
eNaira Wallet Tiers and Transaction Limit
There are two types of eNaira wallets. There is the Individual wallet for personal accounts and a Merchant wallet for registered businesses and corporate account holders.
The Individual wallet is divided into four tiers. While the first two tiers are targeted at the unbanked, the other two tiers require a bank account as a result BVN.
Individual Wallet Tiers and Limit
Tiers
Category
Requirement
Daily Transaction
Limit
Daily Cumulative
Balance
0
Non-Bank Account Holders
Telephone Number
(Awaiting NIN Verification)
₦20,000
₦120,000
1
Non-Bank Account Holders
Telephone Number
(NIN Verified)
₦50,000
₦300,000
2
Bank Account Holders
BVN
₦200,000
₦500,000
3
Bank Account Holders
BVN
₦500,000
₦5,000,000
Source: Central Bank of Nigeria
Merchant Wallet Tiers and Limit
The Merchant wallet requires a corporate account as will as BVN, TIN (Tax Identification Number), and bank confirmation. The merchant wallet has no transaction or balance limit.
eNaira Transaction Costs
One of the advantages of eNaira is the low transaction costs. Transfers of ₦5,000 and below will attract a transaction fee of just ₦10, while transfers between ₦5,001 to ₦50,000 will attract a ₦25 fee. Transactions above ₦50,000 will attract a ₦50 transaction cost. However, the CBN is waiving all transaction cost for 90 days starting October 25, 2021.
Conclusion
eNaira puts Nigeria at the cutting edge of electronic payment and digital currency technology. The current version of the currency is still quite basic, but since it is built on a highly scalable and configurable distributed ledger technology, the full potential of the technology will be unleashed as more features and upgrades are implemented.
In addition, the CBN's adoption of a two tier architecture means that financial institutions and other licensed partners can build innovative features on top the DLT based on market demands.
Since banks, financial institutions, and payment processors are consumer-facing they are more experienced in handling customers and are more likely to add features that will lead to mass adoption of the eNaira.
For more information about the currency, you can read the eNaira Design Paper here.
Related Topics
Paschal Okafor
is
NaijaTechGuide Team Lead
. The article
eNaira Nigeria's Official Digital Currency backed by the Naira
was written by . The article was last modified:
November 2nd, 2021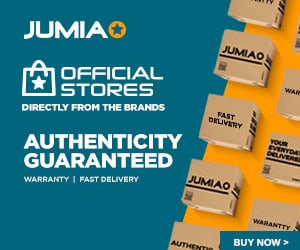 NaijaTechGuide may receive financial compensation for products/services purchased through affiliate links on this site. See
full Affiliate Disclosure Here