If you're looking for a guide on a perfect and safe place to trade (buy and sell) cryptocurrencies then you're on the right page. We will share the best platforms where you can buy and sell bitcoin and other cryptocurrencies in 2023.
In this article, I'll be answering your question and relieving you of the stress of searching further.
Bitcoin and other cryptocurrencies have been widely adopted for trade both on exchange platforms and physical platforms like stores.
Because of the high volatility in the use of Bitcoin and other cryptocurrencies, a lot of exchange platforms have been established for the buying and selling of Bitcoin and other cryptocurrencies.
However, this makes the hunt for a cryptocurrency marketplace difficult.
For instance, some of these platforms are used for fraudulent activity, after paying or buying, you won't be credited the paid Bitcoin or cryptocurrencies.
Some platforms are genuine in their trading activity but their charges and commission are too much. After buying and trading, the worth of cryptocurrency and Bitcoin that will be credited to your wallet will be too small.
This article aims at directing you to the perfect place to buy Bitcoin and cryptocurrencies so you will not run into any issues.
Without delay let's just get started from Binance.
1. Binance

Binance is one of the largest trading platforms now in 2023 because of its low charges and support policy.
Binance is a Bitcoin and cryptocurrencies exchange platform aimed at simplifying the task of buying and selling cryptocurrencies. This platform is one of the best places to buy and sell bitcoin and other cryptocurrencies.
It was launched in July 2017 by Changpeng Zhao when he left Okcoin. He started the platform with an initial capital of $15 million gotten from fundraising during an initial coin offering.
Today, Binance holds over $74 billion worth of cryptocurrencies in its reserve. The company also handled over $34 trillion in crypto trading in 2021.
Binance makes it easy for you to know when to buy and sell bitcoin and other cryptocurrencies because it offers you an overview of the recent market price of all the cryptocurrencies it supports.
It does this in the form of a technical analysis chart (for pro traders) by showing the price movement of the cryptocurrency you want to trade (buy or sell) either in weeks, days, months, and even minutes and seconds.
It also shows you the price change in percentage. This is for people who aren't traders but which to buy or sell.
Binance offers you a wallet when you sign up. This wallet holds your coin for trading (buying or selling) cryptocurrencies.
Unlike some Crypto exchange platforms whose policy do not support Nigeria, Binance has a peer to peer trading market that makes it easy to trade (buy and sell) and withdraw directly to your local bank account.
This makes Binance one of the best Bitcoin Exchanges for Nigeria. Binance is one of the best beginner friendly Crypto Exchanges with a Binance P2P Marketplace that offer the most exchange options and a user friendly experience.
2. Coinbase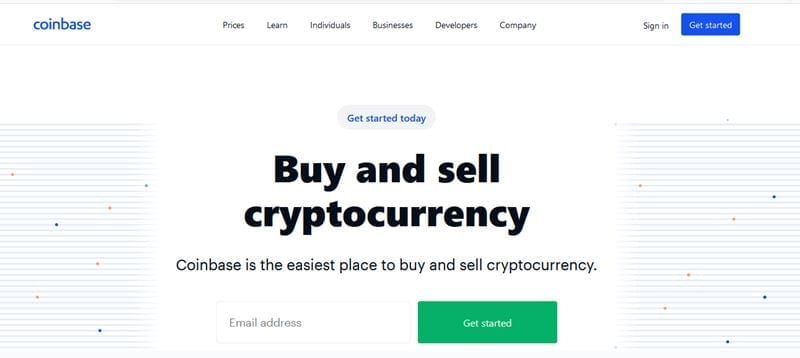 Coinbase is a popular platform for buying and selling Bitcoin and other cryptocurrencies. Coinbase supports almost all the available cryptocurrencies.
It was founded in the year 2012, July 20th by Armstrong Brian and Fred Ehrsam. The major idea of creating this platform was to ease the stress of looking for a means to buy and sell cryptocurrencies.
But presently, it has extended from being just an exchange platform to also have a crypto wallet.
In terms of security, Coinbase is very secured with two-way authentication. It is very difficult for blackhats to gain access to your Coinbase wallet.
Presently, this Bitcoin and cryptocurrencies exchange platform has over 33,000,000 users. It is one of the most widely used exchange platforms for buying and selling cryptocurrencies.
Coinbase supports almost all the available cryptocurrencies starting from Bitcoin to Altcoins and also supports almost all the country except Nigeria.
Recently they updated their policy to exclude Nigeria from their support list because of the restriction by the Central Bank of Nigeria prohibiting Nigerian Banks from offering their banking platforms to Bitcoin and other cryptocurrencies traders.
3. Yellow Card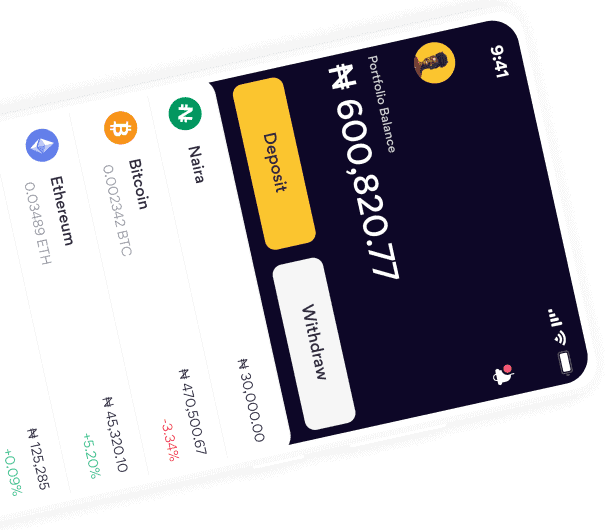 Yellow Card is an American VC-backed crypto exchange with operations in over 13 African countries including Nigeria, South Africa, Cameroon, and Tanzania. In Nigeria, Yellow Card enables you buy and sell Bitcoin and USDT with Naira.
The Yellow Card exchange has now introduced Know your Customer (KYC), which makes it more compliant with international best practices for financial services providers. The introduction of peer to peer trading means it is not limited by the restrictions in crypto trading by the Central Bank of Nigeria.
One of the exciting feature of the new Yellow Card app is the buy USDT in Naira feature. With an amount lower than 1,000 Naira, you can buy USDT (Tether), a stablecoin pegged to the USD, making it a great way to save in dollar.
The Yellow Card App is available for both Android and iOS. Just visit the Google Play Store or App Store to download the app.
4. Prestmit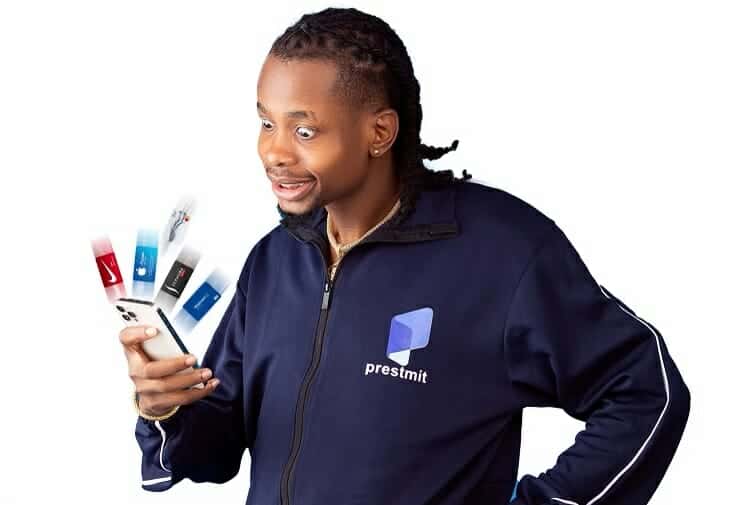 Prestmit is an over-the-counter cryptocurrency exchange application available for both web and mobile users. Prestmit supports multiple cryptocurrencies including Bitcoin, Dogecoin, Litecoins, Tether, etc. Having been in existence since 2019, Prestmit has, over the years, proven to be one of the best apps to sell cryptocurrencies easily in Nigeria and Ghana.
The Prestmit platform is equipped with autonomous transaction procedures, making it very simple for users to exchange their crypto for fiat. Available fiat options include naira and cedis. On Prestmit, transactions are automatic, and crypto received to the user's wallet are automatically credited to the user's fiat wallet with no manual intervention required.
Above all, Prestmit also allows users to buy bitcoins using gift cards, making it the only crypto trading application in Nigeria that offers this flexibility.
Feel free to download Prestmit App on PLAYSTORE and APPSTORE for the best of crypto transactions.
5. Kraken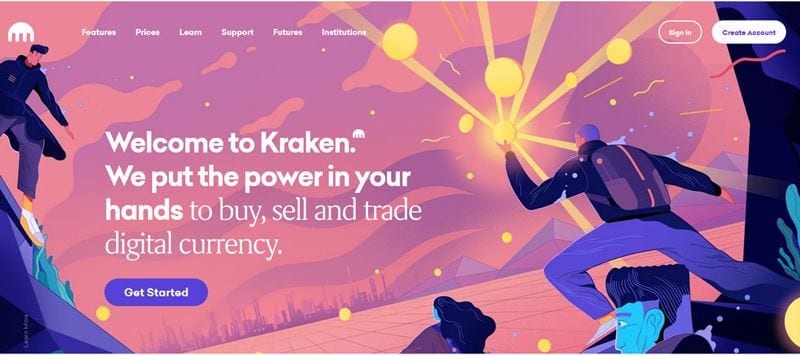 Kraken is another great platform for buying and selling cryptocurrencies. Though not popular but has over 5-star reviews from its current users.
It is a San Francisco-based company and was established in the year 2011 but officially started operation in 2013. It is owned by a registered establishment – Payward Inc managed by co-founder Jesse Powell.
Kraken was initially established for only just the trading of Bitcoin. But over the years with the evolution and value-added to other cryptocurrencies, it now supports 17 different Altcoins in addition to Bitcoin.
Kraken has been reviewed to be completely safe as there is no record of hacking or misplacement of coins.
But it is known for its high charge fees but in exchange and withdrawal.
From the onset even before the ban on a cryptocurrency exchange in Nigeria, its policy has never supported Nigeria.
6. Gemini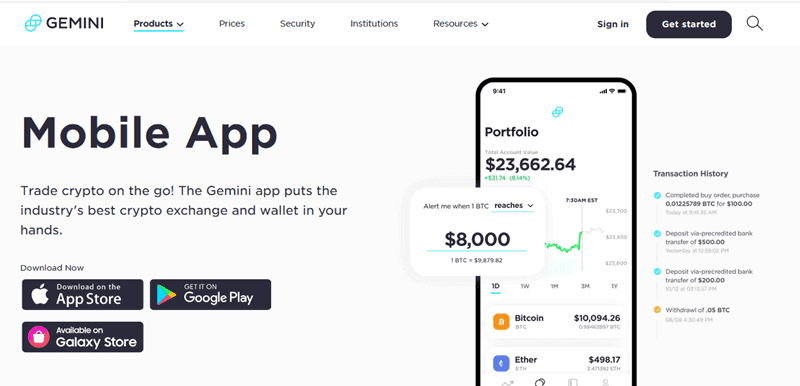 Gemini Trust company is a digital exchange company that allows the exchange of digital currencies and stocks. These currencies could be in Fiat rates or Cryptocurrencies.
It was founded in the year 2014 by Tyler Winklevoss and his brother Winklevoss. The idea was to create a secured platform where digital assets can be traded and exchanged thereby liberating the public from the stress of having to go to a physical-digital establishment.
It has a secured wallet that has never been bridged from the day it was established. This digital currency exchange platform is considered to be one of the best and most secured platforms available.
The only downside to this platform is that they have a high fee placed on any exchange done. They often charge 0.05% or 1.49% depending on the assets being traded. At times they have a fixed fee of $0.99 on any exchange done.
This platform happens to be one of the many platforms that don't support traders from Nigeria. To be able to trade with them, you need to have an international mobile number.
7. eToro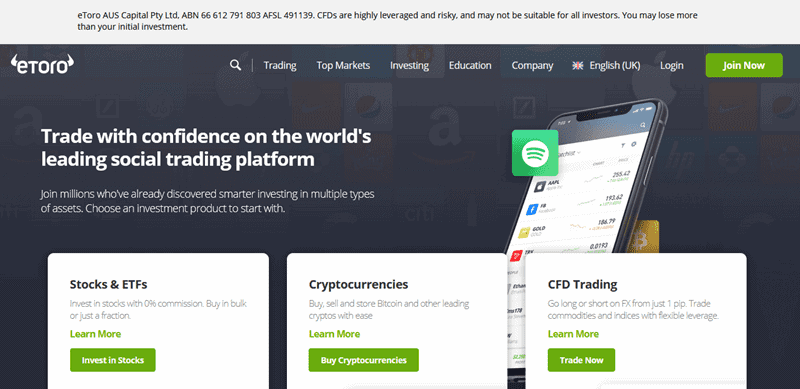 eToro is a cryptocurrency platform operating on two different purposes – Trading and investing.
It was established in the year 2006 in Tel Aviv Israel by Yoni Assia, Ronem Assia, and David Ring for the purpose of investment.
eToro served as a broker for investment. Along the line, lots of people started giving bad reviews of losing their money to this investment platform so they added cryptocurrency exchange to help build the company.
Presently, eToro is recognized as a cryptocurrency exchange platform with a low standard record in the exchange aspect.
It charges $5 on every successful withdrawal on the platform and zero dollar fee for investing.
It is being regulated by FCA, CYSEC, and ASIC so it is safe for both trading (buying and selling) and investing.
From the onset till date, their policy doesn't support Nigeria but there are promises from them that in the nearest future, Nigeria will be welcomed with arms opened wide.
8. Robinhood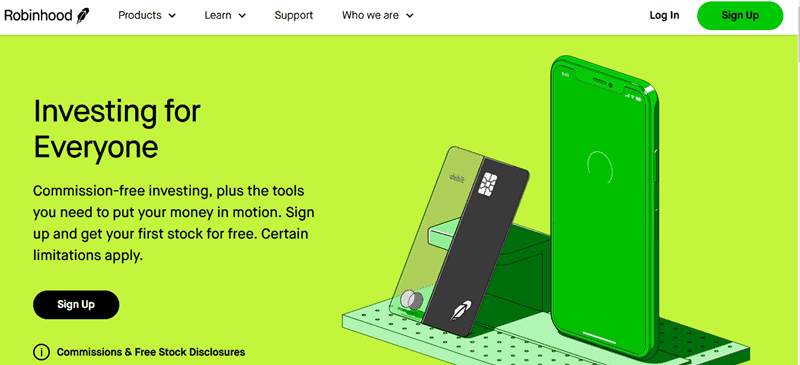 Robinhood is another great trading Platform that allows you to buy and sell bitcoin and Cryptocurrency and other stock. You can trade your Cryptocurrency asset to other stock available like fiat currency.
It was founded in 2014, managed by Co-founder Baiju Bhatt. The founder once recorded to the press that his motive behind establishing this exchange Platform was to liberate the high cost of exchange fees found in other Platforms.
Trading on this platform is free and attracts zero percent commission no matter the stock and assets traded. They make their profit by indulging in the trading activity just like other traders.
They have a secured wallet that allows you to transfer your assets or stock to it but you cannot transfer from the wallet to another wallet. Every transaction is done there and sent directly to your local bank account.
Up until recently, Robinhood used to allow Nigerians to trade freely without having to look for means like faking identity just to bypass their policy. But recently due to the ban by the federal government of Nigeria, they no longer accept Nigerians.
9. Luno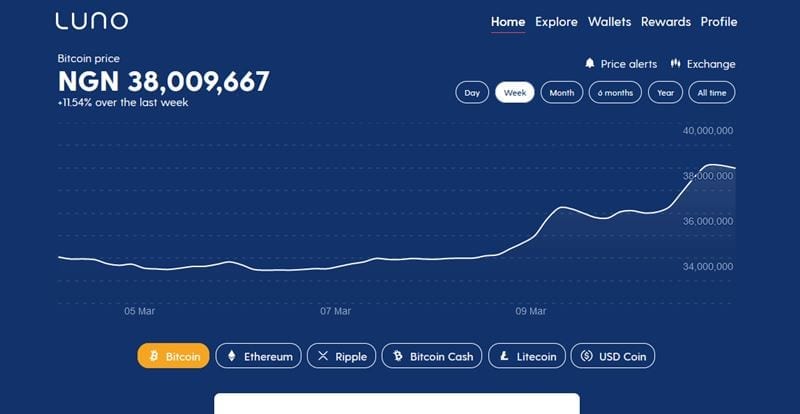 Luno is a digital platform for buying and selling cryptocurrency, storing cryptocurrency, and easy means of paying for services.
Luno (initially known as BitX) was founded in the year 2013 by Marcus Swanepoel, Timothy Swanex, Carel Van Wyk, and Francisco Paul.
The initial purpose of Luno was to make it a crypto wallet for storing cryptocurrencies because it is completely safe.
But in the long run, it added trading (buying and selling) features for Bitcoin and cryptocurrency. Trading with Luno is strictly at your own risk because it is not completely legalized to trade by any jurisdiction.
In terms of service fees, it offers a flat rate for certain withdrawals and at times $0.
Luno policy used to support Nigeria until CBN's new ban on cryptocurrencies.
Right now, there are two main ways of using Luno.
The first is to continue your activity with Luno and don't worry about withdrawing until CBN revokes its ban.
The second means is to fund your Luno wallet from another external wallet and also withdraw by sending your coins to any external wallet.
10. Coinmama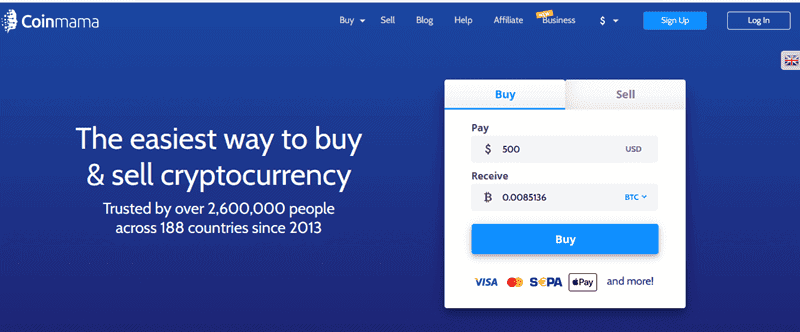 Coinmama is among the list of crypto platforms that changed its initial form to suit the current trend in the world of cryptocurrency.
It was founded by Nimrod Gruber in the year 2013 with the mindset of simplifying the way people buy Bitcoin only.
This was because when the company was being raised, Bitcoin was top and leading in the cryptocurrency market.
Recently, they have included exchanges for other top Altcoins to diversify their reach and catch up with the current trend in the crypto market.
Trading with this platform is risky because they don't have any wallet for traders. You make purchases and buy coins directly with your crypto wallet on this platform.
With this system of operation, you stand the risk of either getting your wallet hacked or writing your wallet address wrongly.
Before now, Coinmama did not allow Nigeria to buy crypto directly but through a third-party means that they provided.
But currently, because of the ban by CBN, Nigeria is now on the restricted policy on Coinmama.
11. BlockFi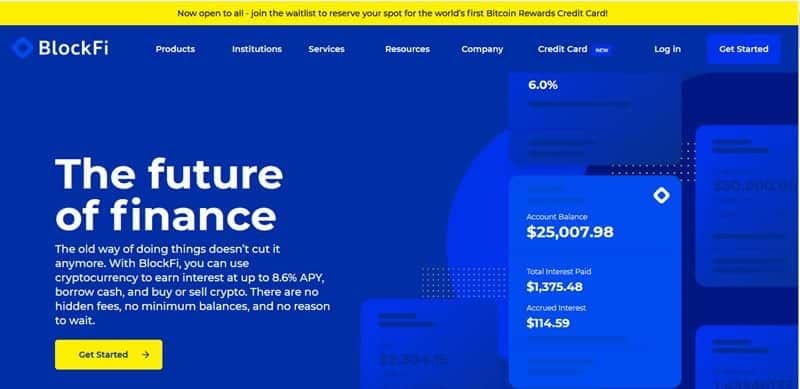 Blockfi is not a platform to actually buy cryptocurrency because it doesn't deal in selling cryptocurrencies. Though at times they decide to sell the generated Bitcoin and cryptocurrencies.
This platform was established in the year 2017 by Zac Prince and Flori Marquez and is located in New York.
Blockfi is a digital investing platform for investing in Bitcoin and cryptocurrency. It was not established for the selling and buying of cryptocurrency.
Though the company can decide to sell off most of its generated Bitcoin and other cryptocurrencies at a cheaper rate.
In terms of security, it wouldn't be wise to say that this platform is 100% secured because it was once hacked even though the CEO claims there was no stolen fund.
Either for the purpose of trading (buying and selling) or investing, this platform doesn't support Nigeria.
12. Bisq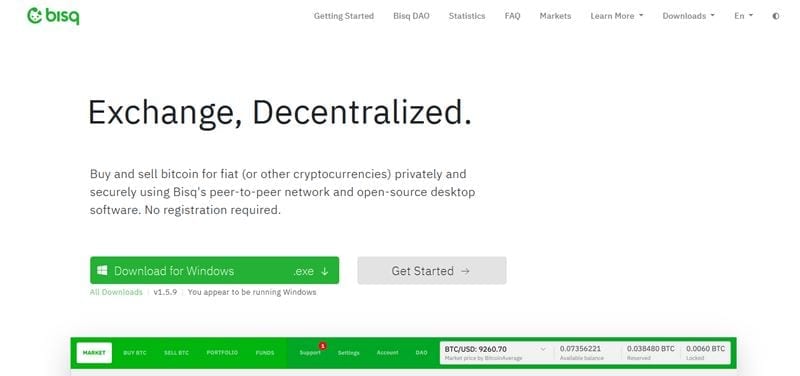 Bisq is a desktop means of local Bitcoin trading. It is a peer-to-peer means of trading supported by the community.
This platform was founded by Bisq Application for the purpose of fostering communication amongst peers.
To be able to trade with Bisq, you need to install the software and run it locally on your laptop only.
This platform offers you a local wallet address that enables you buy and sell bitcoin and other cryptocurrencies that is not safe because it has no regulations guarding the trade and no strong security.
Before you go on trading, you'll have to deposit money into your wallet or transfer coins from another wallet.
This type of trading offered by this company is only available for peers in the same community.
Unfortunately, the policy of Bisq doesn't support Nigeria as there's no Bisq community in Nigeria.
13. Remitano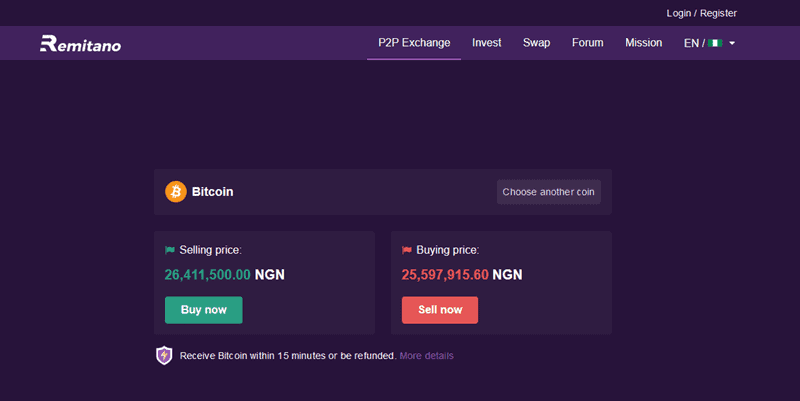 Remitano is an online peer-to-peer exchange through escrow. It allows you to trade any digital assets in the presence of an administrator. All exchanges are made in the knowledge of the administrators.
This platform was founded in 2015 and it's a Seychelles-based company founded and led by a company – Babylon Scholars limited. The main idea was to make it possible for countries down on Cryptocurrency usage and exchange to be able to trade and make money off Cryptocurrency.
This platform is considered to be one of the most secure even though it doesn't have its own Wallet. It allows you to buy and sell bitcoin and other coins using other secured wallets like a Binance wallet. All the saving and storing transactions will be done in your wallet.
Remitano supports over 30 countries of which 15 are African countries. Nigeria is amongst the 15 supported countries so it's possible to trade on this platform.
14. Kucoin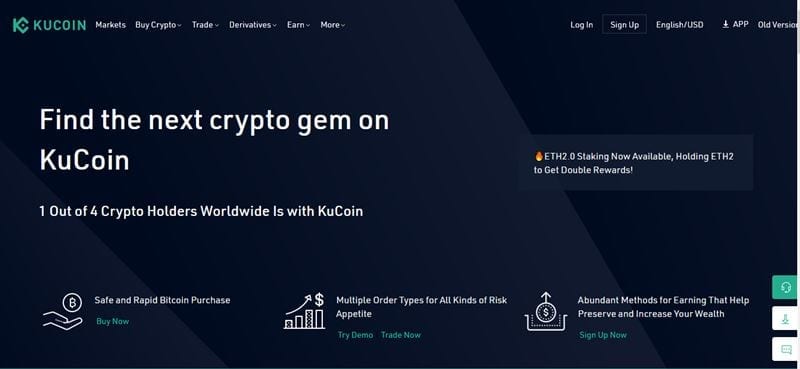 Among the ever elongating list of cryptocurrency exchange platforms, Kucoin happens to be recognized as one of the best.
Kucoin was founded on September 15, 2017, by Michael Gan, Eric Don, Top Lan, Kuet Li, John Lee, Jack Zhu, and Linda Lin.
From the onset, Kucoin has been a great platform supporting the trade (buying and selling) of Bitcoin and fast-growing Altcoins like Tron (TRX) and Ripple (XRP).
This platform offers you an instant and safe wallet whenever you want to trade or make an exchange.
From the records, this platform is one of the best because it has never been hacked and there have been no recorded cases of fraudulent activities.
The only challenge you might face using this platform is their high charge. They charge over 3% of your coin whenever you're buying or withdrawing.
Kucoin policy used to support Nigerians until the cryptocurrency restrictions by the CBN.
15. Quidax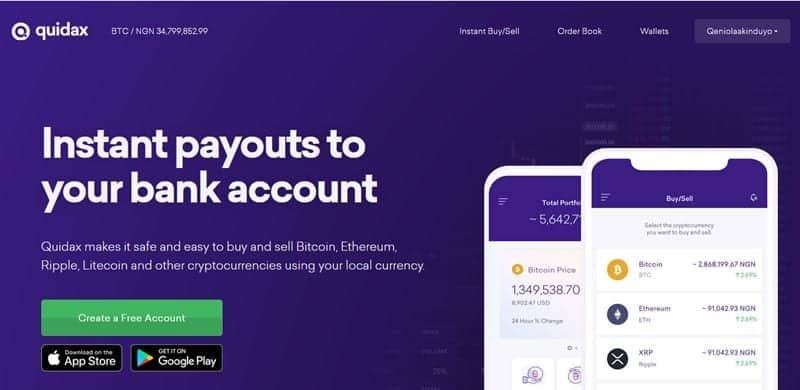 Quidax is an exchange platform whose aim Is to Bridge the gap between Nigeria and cryptocurrency.
Quidax was established in 2017 by a Nigerian by the name Bauchi Okoro. It was established with the intention of making cryptocurrencies available for Nigerians to trade in Naira.
Though this platform is not yet popular and used by almost all traders in Nigeria, the reviews from those already trading with this platform suggest that this platform is genuine and safe.
Quidax has its own customized, secured and easy-to-use wallet that it offers to all its traders.
It is secured to date and has zero record of ever being hacked, mishandled coins, or disrupted in the working process.
Before now Quidax was available to all Nigerians as it's the main motive of establishing the platform. But due to the recent restrictions on cryptocurrencies transactions in Nigeria, no transactions involving Nigeria are accepted in Quidax.
16. Patrica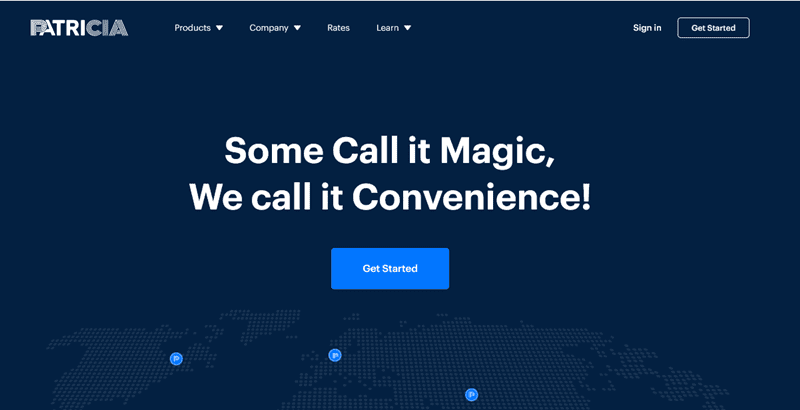 Patrica is not a trading platform but a digital wallet that interacts with blockchain to provide you with access to trading in Cryptocurrency. It allows you to buy and sell bitcoin and cryptocurrency directly on the blockchain through the wallet.
It was founded by a Nigerian Hanu Fejiro Agbodje in the year 2017 with the vision of making trading of Bitcoin and exchange of gift cards possible and secure.
Every transaction is done using the wallet and it's very secure because it was commissioned and still being covered by the Central Bank of Nigeria. There have been no record cases of hacking, fraud, or illegal activity done on the wallet.
Up until now it was made for just Nigerians and supported Nigerians but due to the ban by CBN, Nigerians are no longer supported in its trading policy.
17. Bitpanda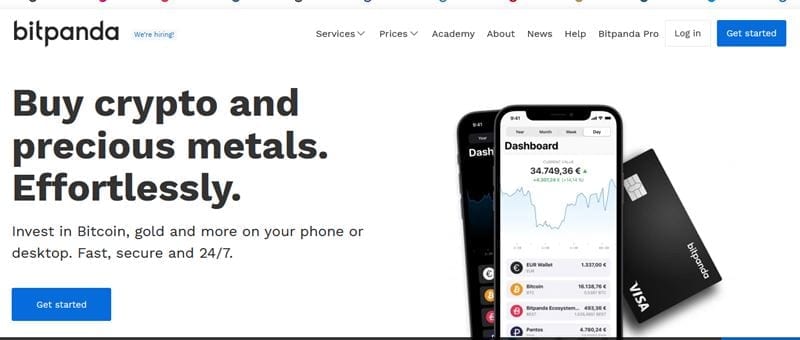 Bitpanda is an Australian-based cryptocurrency exchange Platform. Bitpanda offers two types of Trading.
It was founded by Eric Demuth in the year 2014 to facilitate the buying and selling of cryptocurrency.
Bitpanda offers two types of trading – Newbies Trading and Bitpanda Pro trading.
The newbies trading experience can be best described as an exchange where you directly buy and sell with the platform and its available funds.
You don't need to have any prior experience in trading to be able to use this type of trading. This is one of the best places to buy Crypto
In Bitpanda Pro trading, you are expected to trade with peers. You offer your coin to be sold at a certain amount and if the amount is accepted by another trader, he'll buy your coin.
This form of trading requires you to be able to trade like a professional so you don't end up losing all your coins.
Bitpanda has its own wallet for trading disregarding the form of trading you wish to engage in. It has been recognized as one of the most secure Bitcoin exchange platforms. Even before the ban by CBN, Its policy did not support the traders from Nigeria.
18. Cex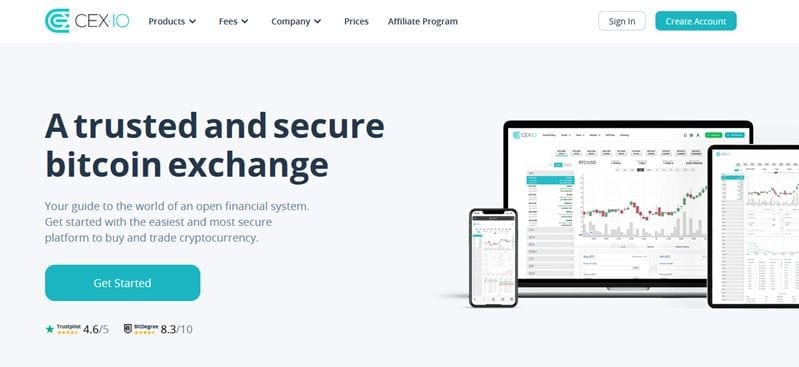 Cex unlike most crypto exchange platforms is a multifunctional platform that supports exchange between Fiat, coins, and stocks.
Cex was founded in the year 2013 by Oleksandr Lutskevych for the sole purpose of making exchange simplified for both beginners and advanced traders.
Cex has a trading option and interface that makes trading easy for newbies. It also has a sophisticated and complex interface for advanced trading.
This platform supports deposits from almost all the available types of currencies. You can as well decide to fund your trading directly from an external wallet.
Just like deposits for trading, withdrawal is also possible in different currencies and different means. You can decide to get your withdrawal in the form of coins, Fiat or gift card.
Cex has its own customized and safe wallet for easy trading and storing of trading assets and profits.
This platform is fully safe and regulated for trading.
19. Local Bitcoins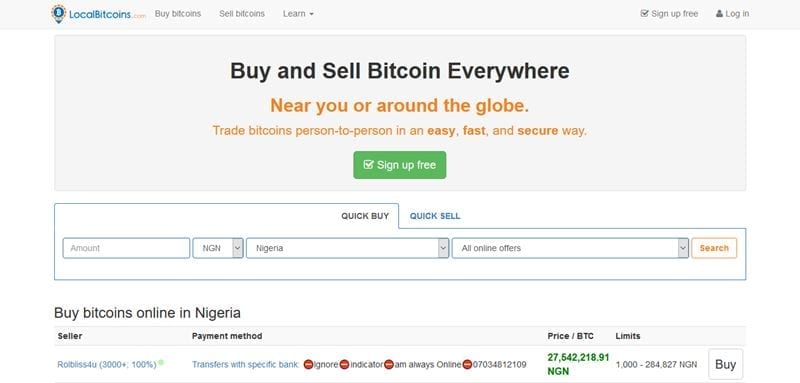 LocalBitcoins is a leading platform for peer-to-peer trading where you trade locally in the presence of an escrow. The platform serves as an escrow and gives you the opportunity to trade with your peers in your local currency.
LocalBitcoins was founded in June 2012 by Jeremias Kangas with the motive of making exchange possible for everyone who wishes to buy and sell bitcoin and crypto in any country. It has over 110,000 active traders and a volume of 1,400 – 3,000 Bitcoin is traded daily on the platform.
This platform has its own personalized website for trading and charges a small amount when you deposit on the wallet or deposit to the wallet.
This platform is completely regulated and hence it's completely safe coupled with the fact that there have been no negative reviews from people using this platform.
LocalBitcoins supports Nigeria as it's a P2P means of trading. Even with the current ban by CBN trading on this platform is still supposed for Nigerians.
20. Coinburp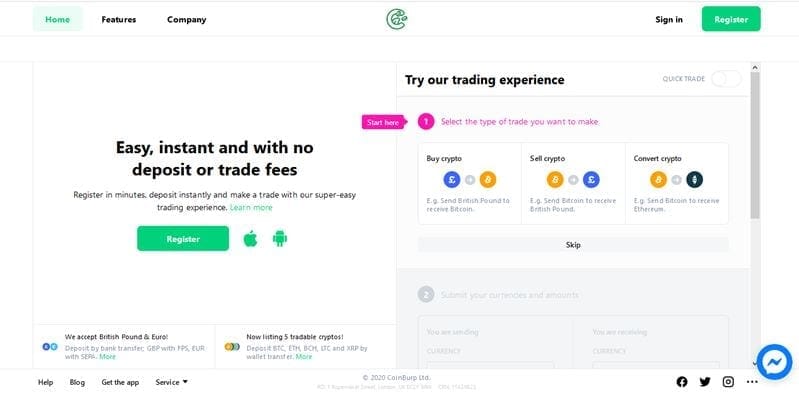 Coinburp is actually a growing cryptocurrency exchange Platform situated in London. This platform was founded by Peter Wood in 2015 with the vision of making trading easy for newbies.
Peter felt new traders find it difficult to buy and sell bitcoin and crypto because the available trading Platforms are complicated and comprehensive for professional traders. So he decided to establish this platform with his focus placed on the simplicity of the trading interface.
At the moment trading with this platform will be very risky and impossible because it's a local trading Platform functioning in London.
It has no wallet and it's not completely safe.
This platform does not support any other country except London for now.
Though they promise to extend the coverage to other countries including Nigeria once they go international.
21. Bitcoin IRA
Bitcoin IRA is a self-directed retirement investment platform. It allows you to invest in assets, stocks, and Cryptocurrency is one of the major assets they allow you to invest in. It's a complete investment platform.
It was established in the year by Johannes Haze and Chris Kline. The main idea was to establish a platform that allows you to invest in your retirement. It's the first platform that allows Americans to invest.
The platform has no wallet of its own but collaborates with an Agency to provide wallets for its traders. The wallet is fully secured by investment commission because the assets stored in the wallet are for long-term investment only.
Bitcoin IRA is one of the many platforms that still doesn't accept Nigerians as has no plan to accept Nigerians. Though you can invest by getting yourself a foreign mobile number.
How to Buy and Sell Bitcoin and other Cryptocurrencies
Buying and selling of Bitcoin put together makes up the exchange or trading of Bitcoin and other Cryptocurrencies.
Trading as a newbie can be very risky because you can end up losing your coins to fraud platforms or incurring a loss. The platforms enable buy and sell bitcoin and crypto in a safe as can be environment.
To avoid trading in fraud and scam platforms, I've been able to analyze some of the major exchange platforms giving you a basic overview of each. All you need do is to go through and decide on which suits you.
Whether you're interested in selling and buying crypto for just the purpose of exchange and no intention of making a profit, or your intention of becoming a trader is to make a profit, you definitely need to follow certain guidelines.
The below tips will help you trade like a professional.
The first step is to decide on the coin you want to trade with. Know your coin, make research on the coin and understand how the price moves before deciding to trade with it. You ought to have a comprehensive knowledge of your choice of coin.
2. The second step is to choose the platform you want to trade with. You need to understand the platform you choose. You ought to have sound knowledge of the trading, withdrawal, and deposit process of that platform.
3. The third step is to buy when it's cheap and sell when it's expensive. There are two means for determining when to sell and buy Bitcoin and other Altcoins – Percentage display and chart calculation.
The percentage display is very common and it's available in almost all the crypto exchange platforms. It shows you in percentage how much the price of a particular coin has risen or fallen in price.
The rise is indicated with a positive or plus sign and the fall is indicated with a negative or minus sign
The other means of determining when to buy and sell is by reading charts.
These charts are available in platforms that offer advanced trading and peer-to-peer trading. This helps in determining the change in price given a specified duration of time.
While reading the chart, you must watch the candlesticks, if it's green, it indicates a rise in Price, if read a fall in price.
Certain indicators like MACD and RSI can be employed to aid the reading of the chart.
How to trade Bitcoin and other cryptocurrencies in Nigeria
Trading was a lot easier than it is now because of the ban by CBN stopping banks from facilitating Bitcoin and Cryptocurrency trading through their platforms.
Disregarding that, there are ways to still trade in Nigeria. The first means is to trade with a platform that supports P2P means of trading. Trading platforms like Binance will be the perfect option here.
The second means is to continue trading with your favorite platform. Once you decide to withdraw, you either sell the coins locally or send them to an external wallet.
Final Verdict – Best Places to Buy and Sell Bitcoin, Cryptocurrencies
Before you decide to trade on any platform, you ought to critically analyze each platform if you can flow well with their mode of operation especially now that CBN has banned cryptocurrency trading for Banks in Nigeria.
I strongly believe that with the laid down guide, you'll be able to make a wise decision on the best platforms to buy and sell bitcoin and crypto.
Related Topics
Paschal Okafor
is
NaijaTechGuide Team Lead
. The article
Best Places to Buy and Sell Bitcoin, Cryptocurrencies in 2023
was written by . The article was last modified:
July 29th, 2023