Are you looking for a reliable and secure Windows hosting? Perhaps you are having a lot of problems with your current host and searching for a replacement. In this article you would find details about Windows Server hosting as well as learn about some of the best Windows hosting services you can use in 2023.
Like the name suggests Windows hosting is a web hosting solution where your website and apps runs on a Windows Operating System as against Linux which is the default operating system deployed by hosting providers. It is the recommended hosting solution when you are building your website and apps with Microsoft technologies like ASP.NET.
While most web hosting companies specialize on Linux hosting, which is usually the default hosting solution for many hosting companies, some of the best hosting companies also offer Windows servers enabling you deploy your websites and applications based on Microsoft technologies in the most efficient way.
Now let us take a look at some of the best Windows hosting providers:
7 Best Windows Hosting Services for 2023
1. Talohost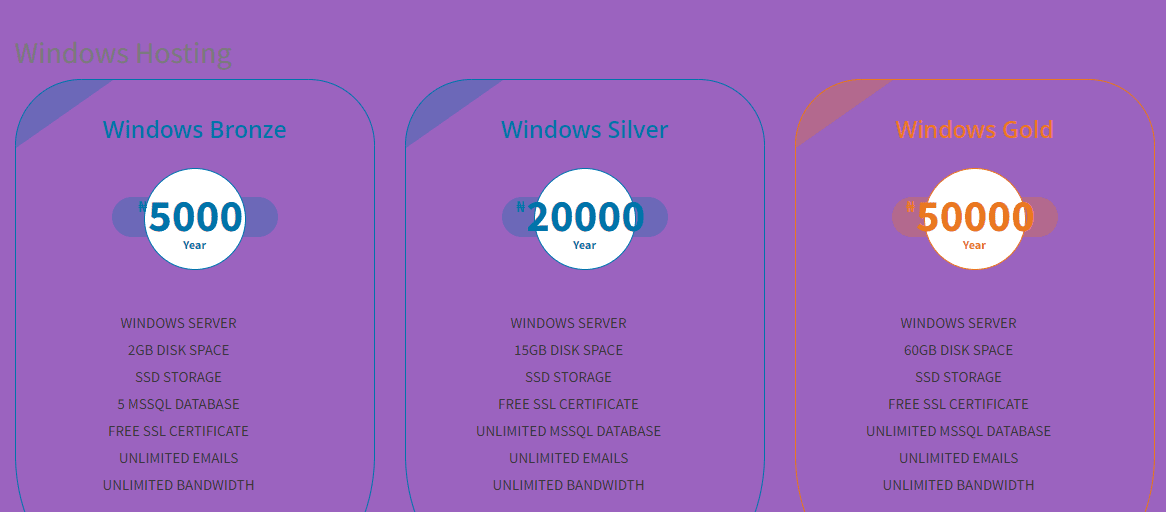 Talohost is one of best affordable shared hosting services provider in Nigeria and offers a couple of affordable Windows hosting plans as well. With as little as 5000 Naira you can host your project on the entry level Windows Bronze hosting plan for one year.
This entry level plan is great for beginners and offers unlimited bandwidth and emails with 2GB of fast SSD storage and up to five MSSQL databases. For more demanding projects, Talohost has the Windows Silver plan that offers 15GB SSD storage and the Windows Gold plan offering 60GB SDD storage.
Both plans offer unlimited MSSQL databases as well as unlimited bandwidth and emails. One great plus of hosting your project with Talohost is that they offer free SSL certificate on all plans, which improves the security of your website and can also boost your search engine ranking.
Aside offering affordable Windows hosting, Talohost also offers other affordable hosting services and you can buy domains at the cheapest prices with .com domain going for just ₦5,700.00.
The company also offers the cheapest rates for .ng, .com.ng, and other Nigeria ccTLD domains. You can register a .com.ng domain for just ₦1,200.00.
For details and pricing of this and other hosting services provided by Talohost, click here.
2. Liquid Web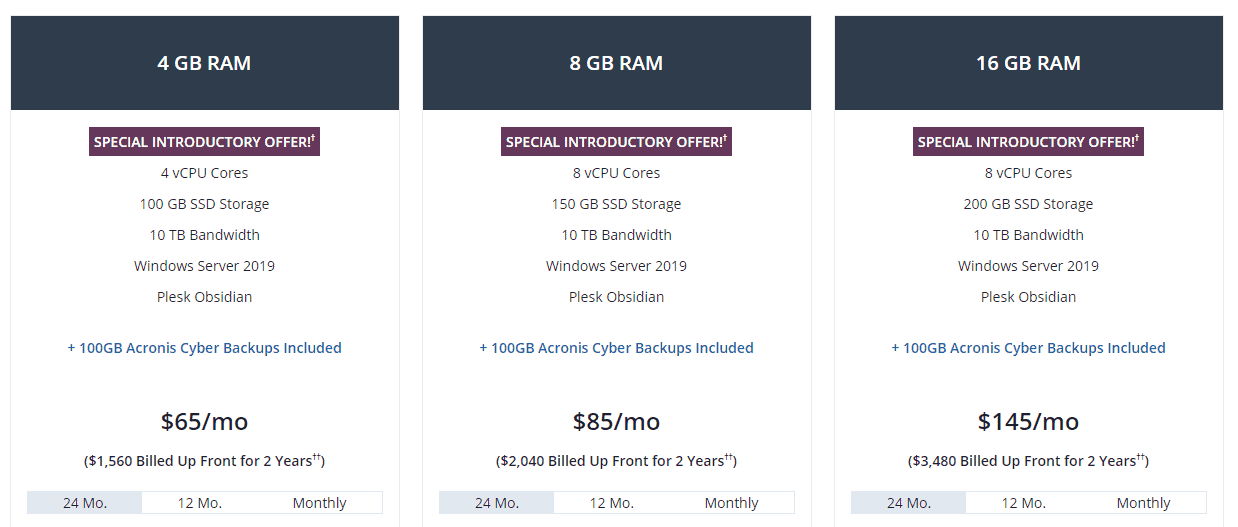 Liquid Web offers a managed Windows hosting service with a versatile lineup of solutions to handle all types of project requiring Windows and MSSQL server.
You can choose cloud based VPS and dedicated Windows hosting plans running on Windows Server 2016 and 2019. The company also boasts of SQL Server 2016, 2017, and 2019. The fully managed solution comes with Plesk for control panel.
Liquid Web is reliable with proactive monitoring, network-level DDoS protection, and 100% network and power uptime guarantees.
Price starts at $65 per month if you pay for 24 months, $90 per month for a 12 months plan, and $134 per month if you choose to pay monthly. This is one of the best Windows hosting services if you are looking for a reliable and scalable enterprise solution.
3. GoDaddy
GoDaddy is another provider of affordable Windows hosting. Despite being affordable, GoDaddy boasts of 99.9% uptime and 24/7 all year support. You get 24/7 security monitoring and DDoS protection. You also get options for both MSSQL and MYSQL databases.
Run ASP.NET, ASP, .NET Core, and SQL Server on Windows Server 2019 and IIS 10. You also get a versatile solution that supports technologies like Python and Perl. Price starts at $5.99 per month for the 3 year plan and $8.99 if you choose a monthly plan.
4. HostGator
HostGator is one of the best Windows hosting services if you are looking for flexibility. The company offers an affordable personal plan which starts at $4.76 per month for a 3 year plan. This entry level plan offers unmetered disc space and unmetered bandwidth.
HostGator also offers an Enterprise plan for projects requiring more resources. The Enterprise plan starts at around $14.36 per month for the 3-year plan.
You get a versatile Windows hosting solution running on Windows Server 2016 / IIS 10 Server and MSSQL / MYSQL with support for ASP, ASP.NET, PHP, SSICurl, GD Library, MVC 5.0, and AJAX.
5. InterServer
Interserver is a leading provider of Windows hosting solutions, with over 22 years experience in the industry. The company offers a versatile solution that enables you build websites and applications using technologies like ASP.NET, MSSQL, PHP, Perl, and Python.
Coming at $8 per month InterServer supports unlimited MSSQL and MYSQL databases as well as offers one-click installation for popular building platforms like WordPress, Joomla, Drupal, Magento, Oscommerce, Zen cart, CodeGuard, and more.
The plan comes with free SSL certificates and if you already have your site running on another hosting service and want to move it to InterServer, you get free website migration.
6. AccuWeb
The Beginner ++ plan positions AccuWeb as one of the best Windows hosting plans if you are looking for an affordable fully managed shared Windows hosting solution. At a price of just $3.49 per month on this entry level plan, the Beginner ++ is a very beginner friendly plan.
If your project require more resources, you can go for the Professional ++ and the Turbo ++ plans which go for $8.99 and $13.99 per month respectively.
The service offers Windows 2016 Server and IIS 10 and you get free SSL certificates and free daily backup for all websites hosted on your plan. There is also support for technologies like ASP.NET, .NET Core, PHP, Microsoft SQL Server, WordPress, and more.
7. Hostwinds
Hostwinds is one of the best Windows hosting solutions if you are a high demand user. However, the fully managed Windows VPS is adaptable to various use cases with plans ranging from $16.99 per month for one CPU to $574.99 per month for 16 CPUs.
Hostwinds boasts of powerful, fast, and secure Windows Servers (Windows Server 2012, 2016, and 2019). It also boasts outstanding reliability with 99.9999% uptime. You also get an enterprise grade Firewall.
Windows Hosting FAQs
What is Windows Hosting?
Windows Hosting is a web hosting solution where a website or application is deployed on a server running on the Windows Operating System. It is the best choice when you are developing your websites and applications using Microsoft technologies like ASP, ASP.NET, MSSQL, MS Access, and others.
The best Windows Hosting services providers will also offers support for open technologies like PHP and WordPress.
While Windows is the most popular OS on desktop computers, it does not manage the same popularity on servers as Linux is the most popular OS for hosting solutions because it is open source and more affordable.
Why go for Windows Hosting?
The best reason to go for Windows Hosting is if you are building your website and application using Microsoft programming solutions like ASP, ASP.NET, .NET Core, IIS, MSSQL, Microsoft Server, Microsoft Access, and more.
It is also great for beginners because Windows is the most popular operating system for desktops it is also likely that most beginners are going to be building their first website or application on a Windows machine with the Microsoft IIS server.
As a beginner, you may want to deploy on a platform you are already familiar with. This is where this hosting solution comes handy.
What to Look for when Picking a Windows Hosting Service?
The key here is to make sure that the hosting provider supports all the Microsoft Technologies that you will be needing for your project to be successful. At the very least make sure it supports technologies like ASP, ASP.NET, .NET Core, IIS, MSSQL, Microsoft Server, and more.
For more powerful solutions, you may also need support for Microsoft Access, C# (C sharp), Visual Basic, Remote Desktop, Microsoft Sharepoint, and Microsoft Exchange.
Aside making sure that a given technology is deployed, you should also ensure that the version of the technology that your project requires is supported. For example if your project requires Windows Server 2019, it will be a good idea to ensure that the version is available from the hosting provider.
Most hosting companies will have a list of supported features on their website. If you need any clarification, it is a good idea to contact the support of the hosting provider just to be sure before making any financial commitment.
If you want to build with open and non-Microsoft technologies like PHP, WordPress, Magento, etc also ensure they are supported by the web hosting provider.
Conclusion
Windows hosting is the recommended choice when building your websites and applications with Microsoft technologies like ASP, ASP.NET, .NET Core, IIS, MSSQL, Microsoft Server, Microsoft Access, and more.
The best Windows Hosting services will offer a combination of power, versatility, and affordability.
Related Topics
Paschal Okafor
is
NaijaTechGuide Team Lead
. The article
Best Windows Hosting Services Providers for 2023
was written by . The article was last modified:
July 20th, 2023