U-Mo is a mobile money service from UBA. The UBA U-Mo Mobile Money service is accredited by the Central Bank of Nigeria (CBN) and powered by Afripay, a subsidiary of the UBA Group. UBA U-Mo is a mobile money service, similar to the yet to be launched M-Teller mobile money service from eTransact, which enables users make and receive payments as well as conduct other financial transactions with their mobile phone.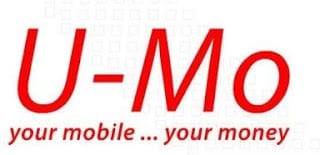 UBA U-Mo enables you create an e-wallet on your mobile phone for handling your transactions like MTN Mobile Money. So, it turns your phone into a wallet. With the value on your U-Mo account you can pay for goods and service, top-up your phone, and transfer and send money to friends, family, and colleagues.
UBA U-Mo requires a Java enabled phone. However, the MoU between Glo and Afripay will enable all Glo subscribers irrespective of their type of phone to access the U-Mo mobile money service. Note that subscribers to other networks can still use the U-Mo mobile money service, but will have to download and install a Java application first, steps that will not be necessary for Glo subscribers.
The beauty of U-Mo mobile money is in its simplicity. Because it is not a bank account, but an e-wallet, you do not need too much requirement to use it. You can even open a U-Mo account by just filling a form online. You do not even need to have a UBA account or any bank account for that matter.
How will U-Mo mobile money service work?
The UBA U-Mo mobile money service requires registration. You can register online or via a U-Mo agent or at a UBA branch. After registration, you will receive a confirmation SMS. You then need to download and install the U-Mo Java application. However, Glo subscribers will not require the Java app if and when their MoU with Afripay becomes operational.
Then finally, activate your U-Mo mobile money e-wallet by creating a PIN that enables you secure your transactions. Then you need to visit a U-Mo agent outlet or UBA branch to fund your U-Mo Mobile Money e-wallet. If you tie your UBA account to your U-Mo e-wallet, you will be able to fund it with funds in your UBA bank account.
Once funded, you can use your U-Mo mobile money e-wallet to pay for goods and services, pay your utility bills, and buy airtime topup. UBA U-Mo also enables you to send money to anyone with a mobile phone (Glo, MTN, Etisalat, Airtel) whether or not they are registered users of U-Mo. You can also transfer money from your U-Mo e-wallet to your UBA account.
If for any reason, you need cash, you can withdraw funds (cash) from your U-Mo mobile money e-wallet from any U-Mo agent, UBA branch, or UBA ATM machines. U-Mo, users can also request money from other users using the Send-Me-Money feature.
Unregister recipients of U-Mo transfer can cash it at U-Mo agent locations and even at UBA ATM machines.
Supported transactions on U-Mo mobile money service
Here are some services currently advertised by U-Mo as supported:
Save money/Cash-in
Move money from bank account to U-Mo
Send money/Transfer
Send money from U-Mo to bank A/C
Withdraw from agents/Cash-out
Withdraw from ATMs / Cash-out
Request money: "Send-Me-Money"
Check balance and statement summary
Change PIN
Buy airtime for self or others
Pay utility bills e.g. electricity, DSTV, rent etc
Pay for goods in stores
Pay salaries, pension contribution
etc
U-Mo could be a Success
UBA U-Mo could be one of the most serious steps at mobile money service in Nigeria so far. Getting the support of Glo, one of Nigeria's leading mobile operator will be key to its success. To the best of my knowledge the other mobile money service, M-Teller is yet to announce any partnership with any mobile operator.
Partnering with a mobile operator will eliminate the need for downloading and installing the Java application on a phone. This is key, as majority of Nigerians, especially those within the primary target market for the U-Mo mobile money service, do not even own a Java enabled phone.
This will enable the mobile money service to be housed on the SIM as a network service, making it easier and more convenient. The implication of this deal is that any Glo subscriber irrespective of their phone can access the U-Mo mobile money service. Afripay should also involve other mobile operators if possible.
Another key ingredient which could be handled by the Glo deal is agents. The MoU means that Glo agents can also serve as U-Mo agents and with the spread of Glo dealership, U-Mo will be all over the place almost immediately. Hence people can easily find agents to deposit and withdrawal of funds.
Although the partnership between Glo and Afripay handled two critical ingredients for success, it did not handle one key ingredient, merchant support. Yes, with the Glo deal, U-Mo mobile money service could succeed as a local money transfer service, but to replace my wallet it has to be acceptable to merchant as a means of payment for goods and services.
Yes, of what use is a wallet, if I cannot buy anything with the funds in it? Remember, the attempt to resurrect coins failed because merchants won't accept it. So, support of merchants is a critical ingredient for success.
Afripay should sell the U-Mo mobile money service to merchants, starting with organised merchants like shopping malls, supermarkets, stores, cars and home appliances dealerships, schools, hospitals, services industry, etc and scale up to road side shops, and markets. Security of the platform will also be important.
In addition, UBA has made the platform 'open'. So, you do not need to own a UBA account or any bank account at all or be tied to any network to use a U-Mo mobile money e-wallet. For me, a non-restrictive and all inclusive platform is always better.
If all these are handled well U-Mo mobile money e-wallet might just succeed. For me it is the best effort so far. Hope it works.
For more information about the UBA U-Mo mobile money service, visit the U-Mo website.
More on Mobile Money
Paschal Okafor
is
NaijaTechGuide Team Lead
. The article
UBA U-Mo Mobile Money e-wallet Service
was written by . The article was last modified:
December 13th, 2021