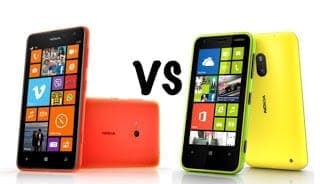 Nokia Lumia 625 is the successor of the Nokia Lumia 620. You probably already know that with a 4.7-inch display, the Nokia Lumia 625 features the biggest screen of any member of the Nokia Lumia line. But aside a bigger screen how is the Nokia Lumia 625 different from Lumia 620? This article attempts to compare Nokia Lumia 625 and Lumia 620.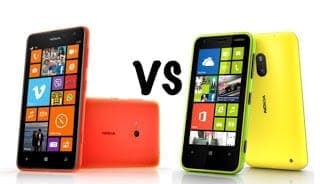 Compared to the Lumia 620, the Nokia Lumia 625 features a larger display, faster internet with LTE, a more powerful 1.2GHz dual-core processor, a better video camera, better battery life, a slimmer design, Bluetooth 4.0 + LE, and more. In all, Nokia Lumia 625 is a great upgrade; however Nokia Lumia 620 is cheaper. We were also not able to spot NFC in Lumia 625 specs sheet.
---
The Best Discounts of the Day
For Exclusive Coupons Codes, Click Here
Trending Deals and Promos
---
The Display
Nokia Lumia 625 offers a larger display adding nearly 1-inch diagonal over Lumia 620's 3.8-inch display. The Lumia 625 features a 4.7-inch Touch Display. The two displays have similar 800 x 480 pixels resolution, suggesting that due to the inferior 201 ppi compared to the 246 ppi of the Nokia Lumia 620, the Lumia 625's display could offer a less brilliant view.
However, because Lumia 625 spots a big screen, consumers will view it from a longer distance, which will compensate for the inferior ppi. Both smartphones offer super-sensitive touch display that can be operated with the nails or while wearing gloves and improved view under sunlight, but Nokia Lumia 625 is protected with tougher Corning Gorilla Glass 2.
The Camera
Nokia Lumia 625 and Lumia 620 offer similar cameras on the surface. Both are 5 megapixels camera, but Lumia 625 can record full 1080p HD compared with 720p HD on its predecessor. There are also software and hardware improvements to the Lumia 625's camera. Both cameras spot VGA front facing camera.
The Internet
When it comes to cellular internet, the Nokia Lumia 620 is no match to the Lumia 625. While the former can only manage HSPA+ with download speed of up to 21 Mbps, the Lumia 625 offers 4G LTE with up to 100 Mbps. Even when the Nokia Lumia 625 sees an HSPA+ network, it can handle download speed of up to 42 Mbps, putting Airtel and Etisalat HSPA+ networks to good use.
The Wi-Fi capability of the two devices is similar. They both offer Wi-Fi hotspot.
The Design
Both phones are built on the same polycarbonate shell. The Nokia Lumia 625 is nearly 2 mm slimmer, but is wider and taller to accommodate the bigger display. It is also heavier. Nokia Lumia 625 comes with a more powerful processor, offering a 1.2GHz dual-core processor compared to the 1GHz dual-core processor in the Nokia Lumia 620.
Both smartphones feature 512MB RAM, Windows Phone 8, and Adreno 305 GPU. Nokia Lumia 625 comes with Bluetooth 4.0 + LE.
Battery Life
Nokia Lumia 625 comes with a bigger battery offering 2000 mAh capacity compared to 1300 mAh on the Lumia 620. As a result, Lumia 625 boasts of longer battery life with up to 552 hours standby time as against 330 hours for Lumia 620. Nokia Lumia 625 also offers better talktime offering 15 hours 12 minutes against 9 hours 50 minutes.
There you have it. The core differences between Nokia Lumia 625 and Nokia Lumia 620. The Nokia Lumia 625 is no doubt a better phone and a worthy successor. The only reason that anyone would go for the Lumia 620 is that it is cheaper or if you just want a smaller more compact smartphone.
More on Nokia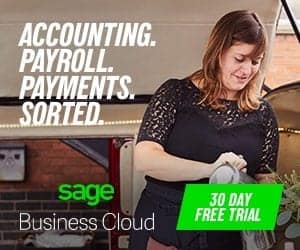 NaijaTechGuide may receive financial compensation for products/services purchased through affiliate links on this site. See
full Affiliate Disclosure Here