AliExpress.com is an online shopping mall owned by China's top online marketplace, Alibaba.com. On AliExpress, you will find thousands of top Chinese exporters and suppliers selling millions of products at low wholesale prices. This article will guide on how to buy on AliExpress.com.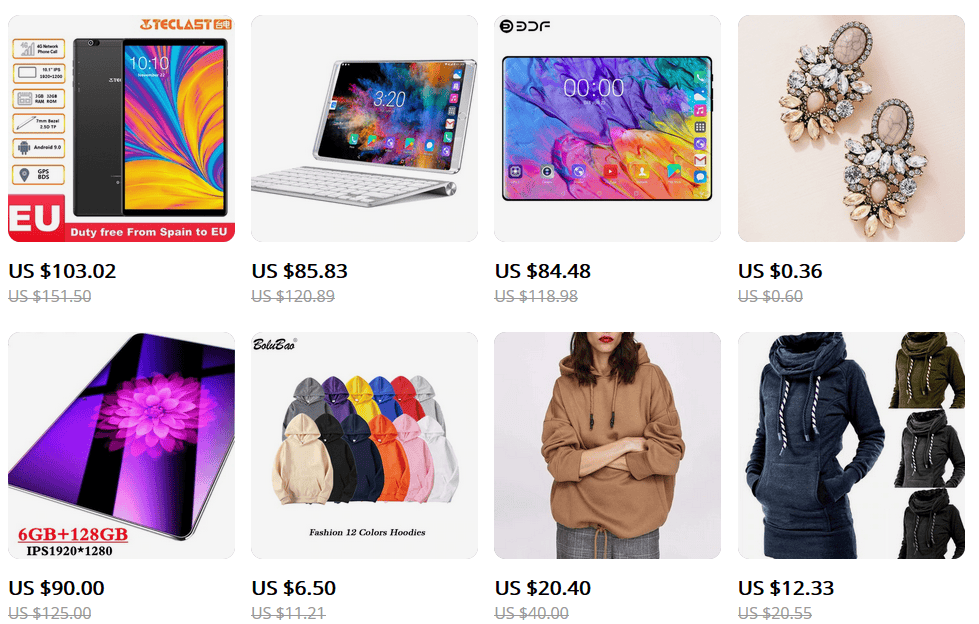 On AliExpress you will find mobile phones, tablet PCs, laptops, clothes, shoes, watches, and more at wholesale prices whether you buy just one item for personal use or you buy in volume to retail in your country.
Before we go into details on how to buy products on AliExpress let us inform you about what you need to shop on the online shopping mall.
What you Need for AliExpress Shopping
To Shop on AliExpress, you need five things:
1) Money: Enough Money to pay for the product or products you wish to buy as well as pay for shipping and if required import/custom duty.
2) A Means of Payment: Having money in the bank is not enough, you need to be able to make payment online. Mastercard and Visa debit/credit cards are recommended means of payment. You can also make payment via Wire Transfer, Western Union, Web Money, and Maetro Debit card.
3) Internet Access: AliExpress.com is an online shopping mall, so you need internet access to shop on the website. You can use a secure cyber cafe or preferably your own personal internet access to order products on the website.
4) AliExpress Account: Just click on the Create an Account link on AliExpress to create your free account. You can also signup during an order.
5) A Means for Receiving your Order: When you order a product online it will be delivered to a physical address or the nearest post office.
If you have all these, congratulations, you are well equipped to buy products on AliExpress.com.
To Discover Bestselling in Fashion Click Here
How to Buy on AliExpress
Here is a brief guide for beginners starting out on AliExpress. As you continue to shop on the site, you will gain experience and form your own methodology.
1. Identify the product(s) you want to buy
Before shopping on AliExpress draw up a list of what you want to buy. There are some benefits in buying related products at once as there is a good chance that the same supplier will offer all the products.
Buying multiple products from the same supplier enables you consolidate shipping cost and save your overall cost.
If you have no idea what to buy, just visit AliExpress.com and wander through the product categories.
If you have a particular product in mind, just do a product search. With over 20 million products on the website, it is very unlikely that your search will not turnout something.
2. Identify a Good Seller or Supplier
Finding a product on AliExpress is not a problem, finding a reliable seller is where to put most of your attention. AliExpress has a rating system for suppliers, stores, and sellers to help buyers identify sellers with good reputation.
On the product page, you will see the Seller rating of the store offering the product.
This is a good way to identify reliable suppliers on AliExpress.com. A store positive feedback score of 90% or more is a good place to start.
To read the experiences of other sellers, click on the feedback link on the product page.
3. Check the Features and Specs
Once you are on the product page of your chosen seller, go through the features and make sure it is what you want.
On the product page, you will see the specs, features, and photos of the product. You will also see the price and possible discounts as well as the shipping method and shipping cost.
Want to Buy Mobile Phones on Wholesale Prices on AliExpress Click Here
4. Confirm any Issues
If there is any aspect of the product that is not clear to you, contact the seller for clarification. For example, you may wish to confirm whether a tablet features 3G/4G internet or just Wi-Fi.
You may also make a request to the seller. If a seller only ships via post office, you may prefer speedy and more reliable services like EMS and DHL.
To contact a supplier on AliExpress.com, just click on the Feedback tab on any product page of the supplier and then click on the Contact Now link on the left sidebar to leave a message. Communicate with the seller and confirm the features of the product.
Never assume anything, if you are not sure of any details of a product, contact the seller to confirm.
Doing this will come in handy if any dispute arises as a result of the transaction. Contact the seller only through AliExpress messaging channels.
5. Order the Product
Once you have sorted out all the grey areas, you can now order the product. If you have multiple products to buy, click on the Add to Cart button on the product page of each product.
After adding all products to the cart, you can then click on the Buy Now button.
Note that products ordered from different suppliers on AliExpress will be shipped separately hence separate shipping cost. However, all orders from a supplier will be shipped together with shipping cost consolidated.
Aliexpress supports the following payment methods on its website:
Visa, MasterCard, Maestro, Discover card and Diners Club card, American Express, Wire Transfer, Webmoney, Yandex.Money, Western Union, QIWI, DOKU, Mercado Pago, Boleto, bancontact, TEF, iDeal, Giropay, Sofort Banking, Carte Bancaire (Carte Blue), Przelewy24, SMS Payment in Russia (MTC, MegaFon, Beeline, TELE2), Cash Payment (Euroset, Syvaony, Russian Post), and AliExpress Pocket.
If you order via the app, here are your options:
Visa, MasterCard, Maestro, Discover card and Diners Club card, American Express, QIWI, Boleto, bancontact, iDeal, Przelewy24, SMS Payment in Russia(MTC, MegaFon, Beeline, TELE2) and AliExpress Pocket.
Do not pay any seller directly outside the AliExpress as such payment will not be covered by Buyer protection. Paying through AliExpress ensures that you can get your money back if the item is not delivered or if the wrong product is delivered.
6. Track your Order
If your order is successful, the supplier will then make arrangement to ship the products. This can take from 1 to 7 days depending on the supplier.
Once the supplier ships the product, a tracking number will appear in the transaction area of your AliExpress account.
With the tracking number you can track the progress of the order on the shipping company used to ship the goods eg. DHL, EMS, etc.
7. Receive your Order
With the tracking feature you will know when the products get into your city. If you use services like DHL, EMS, or Fedex, the product will be delivered to your doorstep.
However, if the product requires custom duty or other taxes, you will be required to pay the duty before you collect the product.
8. Check the Quality of Product Delivered Before Confirming Product
Like stated earlier, AliExpress has a buyer protection system and hold on to your payment until you confirm delivery of the order. Only then will your payment be released to the seller.
This is why you must open the parcel and check if the delivered item is exactly what you ordered before confirming delivery. Because, if you confirm delivery before, it becomes more difficult getting your money back.
Ordering from AliExpress.com is easy and safe, just follow the steps given here. You can also leave more tips if you have used AliExpress.
Hot Products on AliExpress
More on AliExpress.com
Paschal Okafor
is
NaijaTechGuide Team Lead
. The article
How to Buy on AliExpress.com from Alibaba
was written by . The article was last modified:
July 13th, 2021