A Software for large, medium and small scale organisations/enterprise (A Payroll Software with a Difference)
Living in the digital era and managing your business payroll manually is unnecessary and inefficient especially when you have salaries to process for a good number of staff, tax payable to compute, deductions and employee's liabilities to calculate.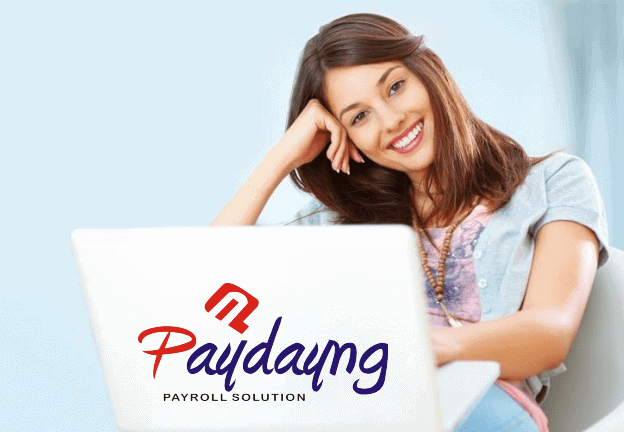 Currently, there are numerous payroll software solutions available in Nigeria to assist business owners in this particular task. To help you address your specific payroll concerns, we will be reviewing PayDayNG payroll solutions.
If you need information about your payroll maintenance services or you want Magnet Consulting to manage your payroll system, call 01-4542116, 08084708847. Visit the Magnet Group blog for more tips on managing your payroll.
PaydayNG Payroll software is software that helps HR managers to perform payroll, deductions and tax related functions effectively
It tracks all activities of an Employee in an organization. So, it is not just an ordinary payroll software.
Why Paydayng Payroll Software
Here are a few reasons to choose a Paydayng as your preferred payroll management software for your business:
It is a web application
User friendly interface for your payroll management
It is customizable
World wide access, No virus, Access via mobile device, Easy to update
Quick Data Migration
Integration with Biometric Device or Existing System
Multiple Companies and Location support
Powerful reporting
Export to Excel/PDF/Word for all list and report
Benefits of PayDayNG Payroll Solutions
Here are some of the highlights that makes PayDayNg the best Payroll software for your business:
1. Employee Information
Employee personal details, contact details, qualification, Emergency details, guarantor details e.t.c
Employee Payment method
Employee transfer, promotion and separation
Employee history record and lots more
2. Time Management (Attendance + Shift)
Attendance Calendar management
Real time data from Biometric/Swipe card device/ Face recognition system
Attendance month setup to take into account the cut off provision- pay salary on date 1st of every month e.t.c
Attendance can be imported through excel sheet
Employee shift rotation facility
Flexible and regular shift types with night shift functionality
Dynamic off-day/ week-off setup according to state, Branch, Employee Grade/Cadre or Employee specific
Timing policies for grace period, late hours, working hours e.t.c
Set any working day to non – working day and vice versa in case of riots e.t.c
Employee overtime management
3. Payroll Processing
Leave management
Loan and Advance management
Loan and Advance EMI deduction automatic and displayed in salary slip
Loan rescheduling, stop payment and settlement options
Interest on loan calculation if required
Allowance Earning/deduction can be defined
Dynamic salary formula creation
On attendance and non – attendance pay heads
Salaries reprocess and posting features
4. Recruitment
PayDayNg Payroll Management Software can also help businesses in their recruitment:
A Web-based automated system for recruitment process
It helps your recruiters and recruitment Managers to easily manage the candidate resumes, posts jobs to various sources, shortlist eligible candidates, manage candidate Interviews and send offer letters
HR/Admin can decide the interview panel for each recruitment process individually and rating for each process with interview date and time.
5. Training
PayDayNg Payroll Software will come handy in training management in the following ways:
All details regarding the training to be conducted viz. date, time venue, budget, Candidates participating, alert to each participant irrespective of branch, department etc can be decided here.
Training Calendar that shows all the upcoming training scheduled
If training is conducted by external/internal source then the details of the external/internal source can be entered here.
Employee feedback
Shows history of all training conducted and score of each participant/s and lots more.
6. Performance Management system
Key result area and key performance indicator defined
KRA Evaluation setting
HOD and Employee appraisal score
Competence report and lots more
7. Statutory deduction
Automatic calculation of PAYE deductions in accordance with PITA as amended by 2011 Amendment act.
Employers and employee pension contribution deduction
NSITF, GLI, NHF and other statutory deduction.
PaydayNG Payroll Software provides Employee and Manager Self-service such that employee can:
Apply for Leave
Employee Asset requisition
Make Loan/Advance requisition
Submit suggestions
Submit survey, feedback, self-evaluation e.t.c
View training calendar
View Employee profile information
Download salary slip
View attendance details
View Leave application approval/rejection and Leave balances
The payroll software has
A Role based privileges easy to setup for employee role and authority
Separate Dashboard for each employee and manager
Dashboard
Here is a sneak peek of the dashboard of the PayDayNg Payroll Software: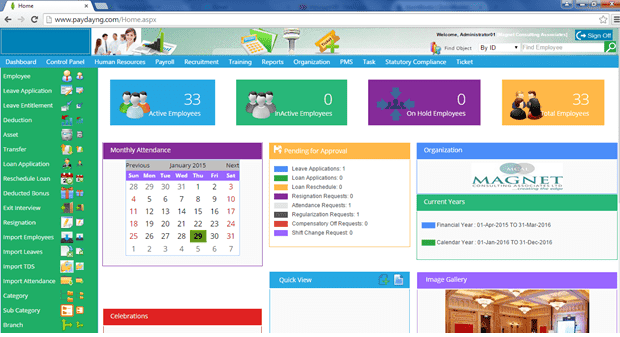 If you need more information about your payroll maintenance services or you want Magnet Consulting to manage your payroll system, call 01-4542116, 08084708847. Visit the Magnet Group blog for more tips on managing your payroll.
Related Topics
Paschal Okafor
is
NaijaTechGuide Team Lead
. The article
Best Payroll Software System In Nigeria – PayDayNg
was written by . The article was last modified:
March 12th, 2019