Front load washing machines are usually the ones that do all the heavy lifting. Even manufacturers promise that they have a better wash rate and power consumption efficiency than other designs.
While that is debatable, one thing that is sure is that they are usually great to look at. On top of the aesthetics, they also have a proven track record of service.
If you are looking for a great front load washing machine to make a choice from, you are at the right place.
Best Front Load Washers for 2022
1. Midea 7kg Front Load Washing Machine (MFE70)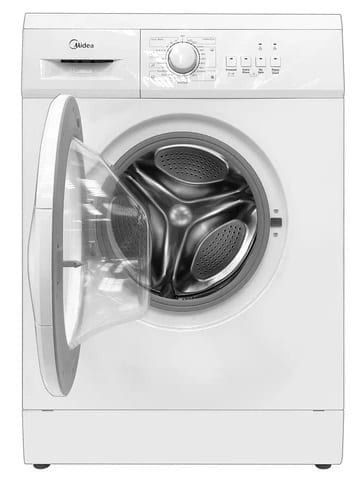 This fully automatic front loader has a 7kg capacity and would be great for a small to medium sized household. The machine is versatile offering up to 23 wash programs.
The design is compact measuring about 59.5cm wide with a depth of 49cm and a height of 85cm. This means it could great for homes with limited space.
It is however bulky, as most front load washers are with a net weight of 61kg. So, this is not an appliance you can conveniently move. You need to have a fixed space for it.
It is rated at 220V – 240V, 50Hz with a power consumption of 1950W. It spins at 1000 RPM delivering enough power to keep your laundry clean and fresh.
The Midea MFE70 also features a child lock function to prevent kids from opening the lid.
2. LG Front Load Washing Machine (WM3488HW)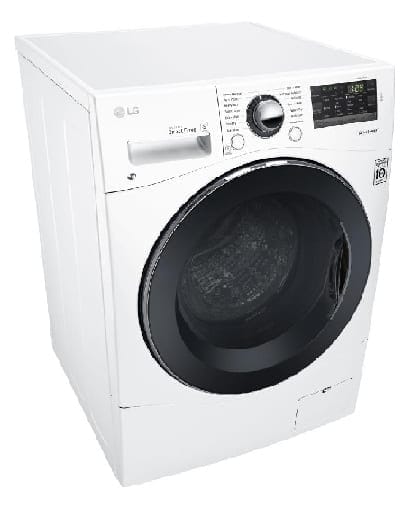 - Advertisement -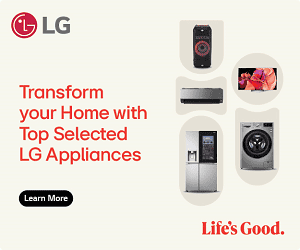 This fully automatic washer offers 2.3 cu ft of space and incorporates a washer and a dryer. It sports 6Motion technology that 6 different motions for a thorough wash.
The washer does not require any external venting, because it uses ventless condensing to dry clothes. You get 14 wash programs and 8 wash options ensuring every fabric type is covered.
LG WM3488HW is rated 120V, 60Hz with an Inverter Direct Drive Motor that has a 10 year warranty and delivers 1400 rpm. The front loader offers SmartDiagnosis for diagnosing faults.
$1,633.00
in stock
4 new from $1,633.00
as of 30th November 2023 4:12 pm
Last updated on 30th November 2023 4:12 pm
3. Haier Thermocool 5KG Front Load Washing Machine (HW 50-1010)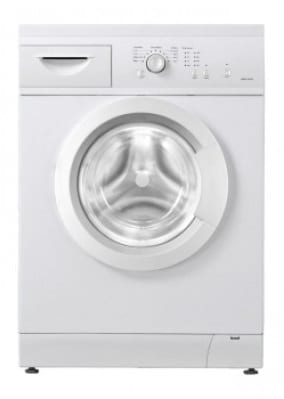 The massive Haier Thermocool Front Load Washing Machine looks like it will be able to handle more than 5kg, but that is not the case.
It makes up for taking a good deal of space by incorporating a wave drum technology that ensures faster and cleaner wash on fabrics.
Asides that, the unit supports that the user selects the spin speed they find comfortable for their laundry. The unit is safe from interference from children with the addition of a child lock system.
To compensate for the interrupted power supply that is common in the country, this unit carries a memory system that remembers wash settings.
When the lights come back on, it resumes your wash automatically. Designed with attractive colours to fit different home decors, the washing machine will handle all your laundry needs in 30 minutes or less.
4. LG 7.5kg Automatic Front Load Washing Machine (WM 2J3QDMPO)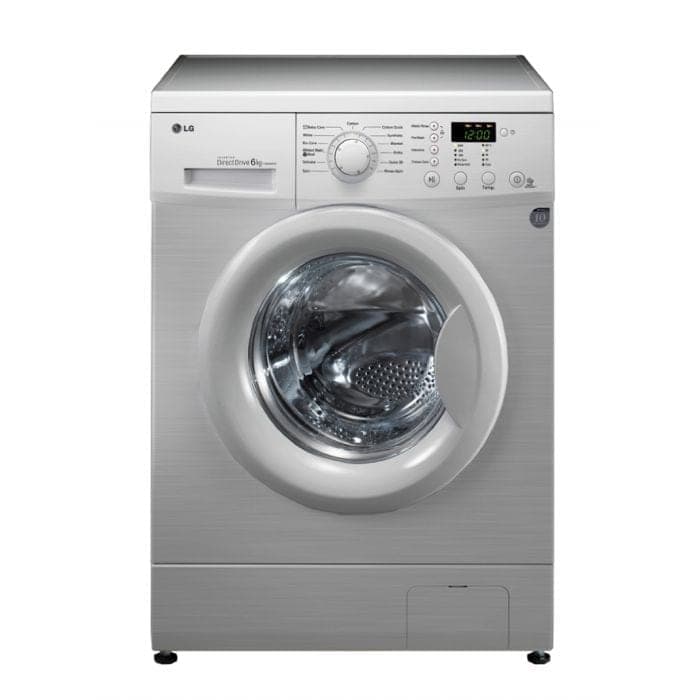 LG's Front Load Washing Machine with model number WM 2J3QDMPO offers a modest 7.5kg capacity for a large volume of clothes at once.
The roller jet is very powerful in swishing the clothes around the tub, but it also does one more. Due to the internal design and setup of the unit, the roller jet will also make sure the clothes don't get all tangled up. That contributes to the proper treatment that the machine will give your delicate clothes.
If you are concerned about increased power bills, now is the time to drop such thoughts. Built with an efficient energy saving technology, this washing unit will fit in with any lifestyle the owner leads
5. HiSense Front Load Washing Machine (WM WFDJ 7010S)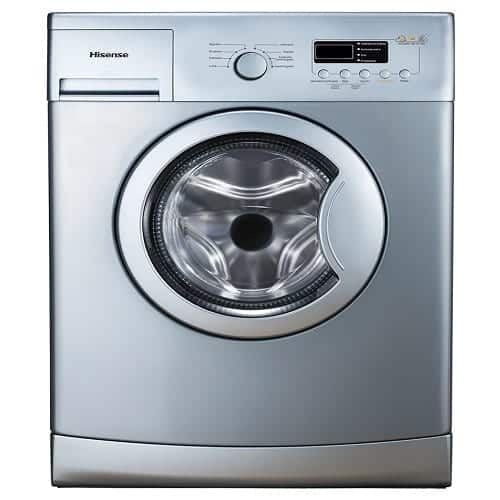 HiSense also stuck with a 7kg capacity on their WM WFDJ 7010S model. Quite frankly, that will be able to handle your laundry efficiently – either as a whole or in batches.
Looking past the volume, one will see that the unit also comes with Smart Wash technology that calculates the load and determines the right amount of water and detergent needed. The machine will even automatically adjust the temperature of the water to ensure better dissolution of detergent.
Should you start the laundry process and see that you forgot some items, you will be covered under the 'Stop and Reload' program.
The Hisense Front loading unit is made with convenience in mind, allowing the user choose just about any type of detergent for use.
6. Nexus 7kg Front Loads Washing Machine (NX-WM-FL07W12D1)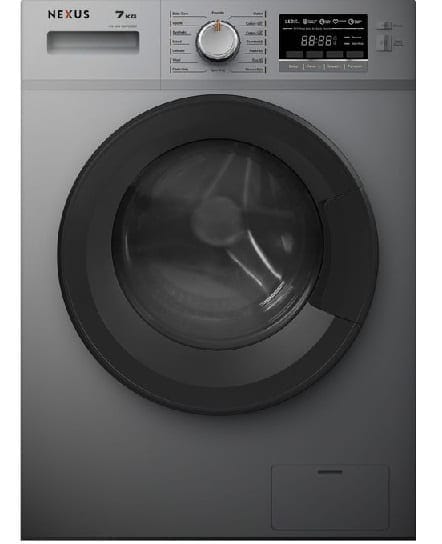 This front load washer boasts of high efficiency in the utilization of water, energy, and detergent. You get 11 wash programs to handle different types of fabric.
It also comes with safety features like child's lock.
7. Polystar 6KG Front Load Washing Machine (PV-TWF6KG)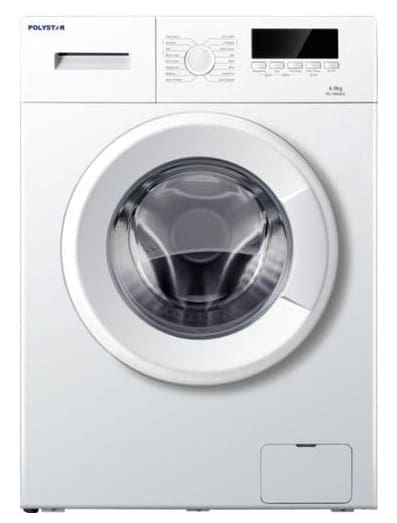 Users of the Polystar PV-TWF6KG model will agree that at 1000 revolutions per minute, the unit delivers on the promise of efficiency.
Child lock features are shipped with the package, but that is nothing compared to the system of 16 wash programs available for washing. Simply put, there is no better way to ensure proper care is taken of your fabric while it is swirling around in a pool of soapy water.
The unit comes with dedicated inlets for hot and cold water. With a wide opening door, the inside is guaranteed to take as much as 6kg of load. For those that are concerned about the environment, know that this is an eco-friendly unit.
This is an automatic washer that will wash, rinse, and spin.
8. Scanfrost Front Load Washing Machines (SFWMFL-6000)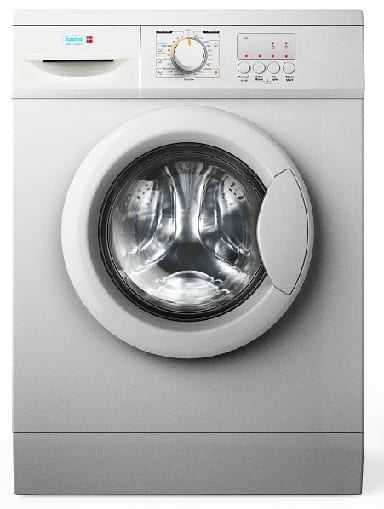 For a small household, this Scanfrost Front Load Washing Machine which can take as much as 6kg of clothes at once is ideal.
The unit is a decent wash companion, featuring as many as 23 different wash function controls. That helps you select how the machine handles different types of fabrics you throw at it for the best treatment.
Coming in a silver finish, the neutral colour is sure to sit down well with most home décor options.
One through five, and we can nearly bet that you found something that caught your fancy. If you will be going for any of these front load washing machines, do let us know which (and why that is your ideal choice) in the comments box.
More on Washing Machines
Paschal Okafor
is
NaijaTechGuide Team Lead
. The article
8 Best Front Load Washing Machines for Better Laundry
was written by . The article was last modified:
July 8th, 2022