When choosing an accounting software for your business, no matter the scale of such a business, there is surely a lot of things to consider.
With the rate at which technology has advanced in the past couple of years, one of the things that you should not trade for anything is the ability of your chosen software to support online / cloud-based services.
That is the only way to ensure your accounting data and books can be accessed from anywhere in the world, provided there is an internet connection and internet-enabled device like a mobile phone too.
For those that are in the market for a new accounting software, here are the best online accounting software (cloud-based accounting software) you can look to this 2022 and beyond.
1. Sage Business Cloud Accounting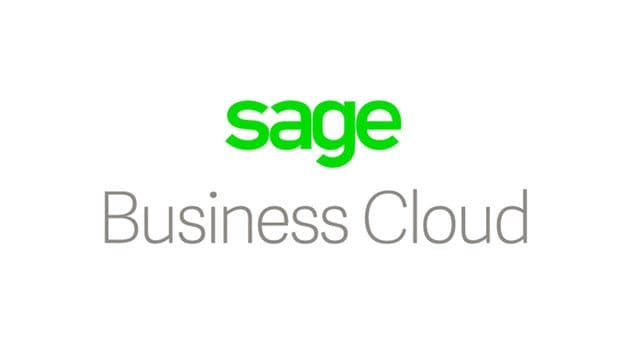 Formerly known as Sage One (and still branded as such in countries like Nigeria, Kenya, South Africa, etc), the Sage Business Cloud Accounting is the go-to cloud-based accounting solution for small businesses with millions of small businesses under its belt.
It is one of the best accounting software for small business and allows you back up and send your accounting data to the cloud in real time.
Sage Business Cloud Accounting supports multiple mobile platforms, which means you can leave the office and access your space from the cloud with an Android or iOS device. With this accounting software, you can literally take your office on the road with you, allowing you to make quick references at needed points in time.
Sage Business Cloud starts at $10 per month. You can get more features for $25 per month. It the United Kingdom, you will get the software for £11 per month. The accounting software comes with a 30-day free trial. For details, Click Here.
In Nigeria, the Sage Business Cloud Accounting software (formally known as Sage One) goes for 70,200 Naira per year or 6500 Naira per month. You also get a 30-day free trial run. For details, Click Here
Sage Business Cloud Financials (formally Sage Live) a version of the software Integrated with Salesforce at offers invaluable insight about how your business is performing.
2. Sage One Accounting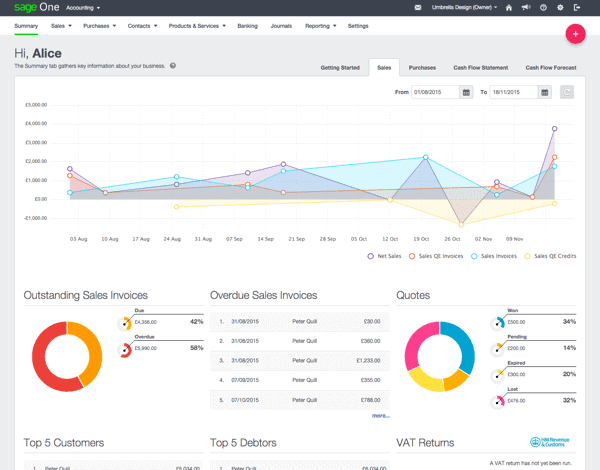 - Advertisement -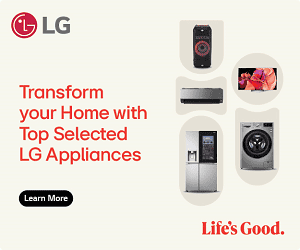 While, Sage 50cloud is a hybrid solution that combines desktop and cloud, Sage One Accounting (now Sage Business Cloud Accounting in some countries) is an entirely cloud based accounting software solution.
Sage One is also better suited for small businesses, while Sage Cloud can handle all sizes of businesses from small to large enterprises.
The more attractive pricing of Sage One also makes it attractive to small businesses. Sage One used to be the online Sage business cloud solution for businesses in Nigeria, Kenya, and South Africa, but Sage Business Cloud Accounting is now available in these countries.
Annual subscription for the online accounting software currently stands at 70,200 Naira. You can also subscribe monthly at 6,500 NGN. For details, Click Here
3. Sage 50cloud Accounting Software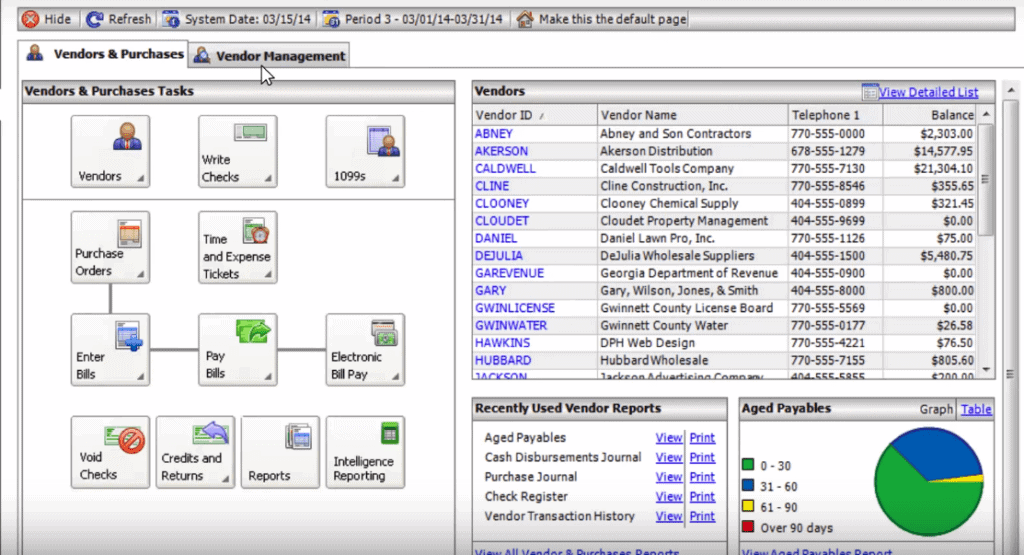 The Sage 50cloud Accounting software is a web-based accounting solution which is targeted at small business and their owners. The software has been around for many years for the desktop platform as Sage 50 Accounting software and in that time, has been able to cater to no less than 3 million businesses across the globe.
They have set their foot strongly in the accounting market and are constantly innovating in a way that will help your small business grow bigger in no time.
The software manages more than just accounting tasks, going on to include invoicing and payroll management features in its overall offering. Taking on tax management and inventory tasks too, you will have more time on your hands to be productive in other things.
Sage 50cloud is a cloud based accounting solution for anytime anywhere access. Available on desktops, the software can also be accessed from the comfort of your mobile devices (iOS and Android). Sage 50cloud is available in countries like the United States, United Kingdom, Canada, Australia, France, etc.
Monthly subscription for Sage 50cloud online accounting software starts at $44.97, £20, and $30.74 (CAD) in the United States, United Kingdom, and Canada respectively. For details, Click Here
4. Xero Online Accounting Software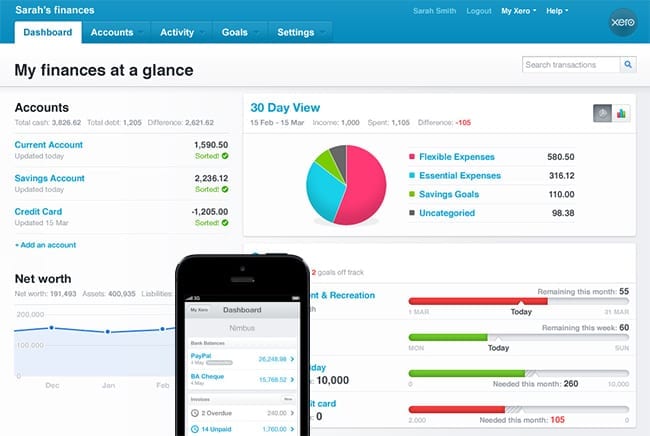 Servicing some 1.2 million businesses worldwide, Xero Accounting software is another online accounting software platform that you can consider getting invested in. They also offer multiple services alongside the basic accounting.
For one, the software will help you manage bank reconciliations, allowing you to import your bank statements and manage your expenses/ income from there. On top of that, the same software has been equipped with invoicing, bookkeeping and so much more.
Starting at just $9/ month, you will find the Xero dashboard and administration functionalities very impressive.
5. FreshBooks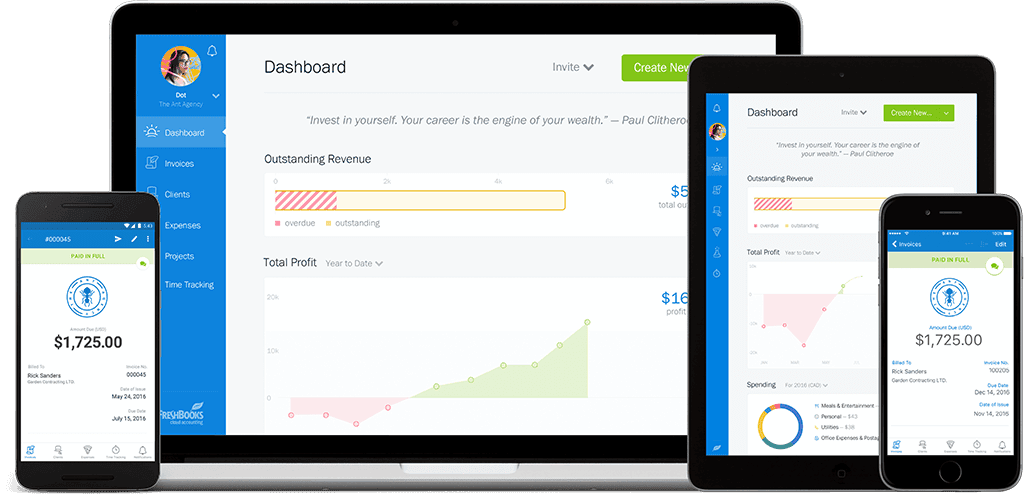 Yet another solution for small businesses, FreshBooks literally takes a huge chunk of the work off your hands and lets you invest that time in doing other productive things for your business. With a fully automated platform, FreshBooks handles the paper trail of your business effectively.
The intuitive platform also organises all expenses according to where they should naturally fall in, tracks time and follows up your clients about invoices, ensuring you get paid faster on all fronts.
With its servers based on the cloud, you can always access your data from anywhere you are at any point in time
6. Zoho Books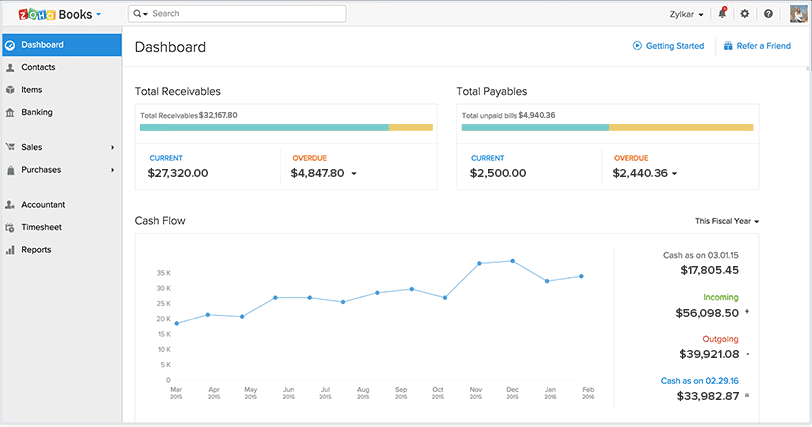 Zoho Books makes the marriage of your bank account and cash flow tracking very smooth, you don't have to worry about taking out the calculator again.
After linking the platform to your business bank account, it gives you real-time updates on how money comes into your bank and how it leaves. That allows you assign a purpose to every transaction as it happens. At the end of the month, you can then take advantage of the templated reports section for this app to generate a visual interpretation of your money's movement.
As an added function, Zoho Books has a habit of invoicing clients on your list, categorising your bills in the same place and tracking such bills.
To cap it all off, this is the software that markets itself as an easy-to-use cloud accounting tool. So, you know your data is not only secure in the cloud but also easily accessible from anywhere
7. QuickBooks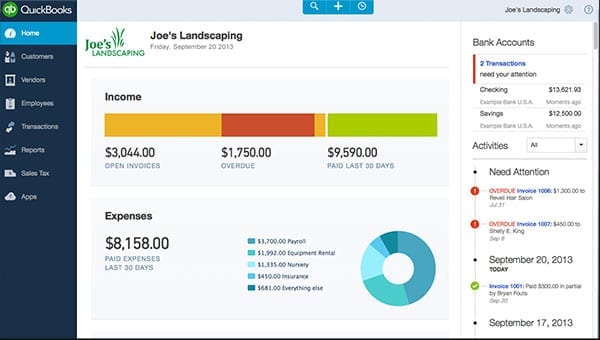 With four tiers of pricing available to the user, Quick Books promises to be one of the most flexible accounting software options for small business owners. The software has been designed to help small businesses keep their finances organised in one place making for easy referencing and decision making.
The platform also allows you connect to your bank account, making it easy to import and categorise all transactions that happen within the said account.
The mobile version of this software is not only important for checking your accounting details from anywhere. You can also use it to take photos of receipts and invoices which can then be stored on the QuickBooks Mobile app. At any time, you can generate dozens of reports which helps you determine your standing at that point in time.
Should you be interested, you can start enjoying use of this platform from as low as $5/ month.
That's a wrap on our list of best online accounting software. Hope you found it useful? Which is your favorite online accounting software?
Related Topics
Paschal Okafor
is
NaijaTechGuide Team Lead
. The article
Best Online Accounting Software for Businesses 2022
was written by . The article was last modified:
February 12th, 2022