Picking the best accounting software for your small business is a very important decision to make. You will want to choose one that is highly usable, flexible enough that it fits your need, adaptable to your industry and giving you the best value for money like Sage One (now known as the Sage Business Cloud Accounting).
With the sheer number of accounting software out there, it is an understandably hectic task to finally focus on one.
However, one of the best offerings you can go for is that provided in the Sage One Accounting software pack. To help you be sure this is the right fit for your business or otherwise, we have provided a review.
In here, we will show you everything you need to know about the software before you make your first payment. Ready?
What is Sage One Accounting?
Sage One Accounting is a business software that is targeted at small businesses with the aim to help them perfect all areas of their financing to aid easy and smooth operations. The firm has a strong base in Africa already, but that is just a tip of the iceberg – mainly because they have branches in other continents of the world too.
Sage One has always delivered on its promise of bringing ease to the money and financial processes of a business. That dedication is shown in the numbers with their software now covering no less than 3 million small businesses worldwide. That is further testament to the fact that they are doing something right and you might want to get in on it too.
Note that Sage One is now called Sage Business Cloud in some countries like the United States, UK, and Europe, though it is still branded as Sage One in a number of countries like Nigeria, Kenya, South Africa. Visit Sage website for details of Sage Business Cloud.
For details about Sage One in Nigeria, Click Here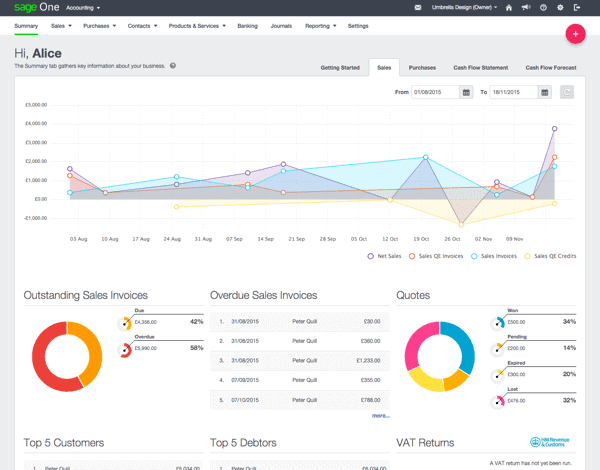 Sage One Accounting Features
If you are looking for an accounting software that gives you the best value for your money, we will recommend this package for you. We call it package because it is more than just a software. Part of the functionalities that comes with every bundle of the Sage One offering are:
Accounting
As the name implies, it would be very improper if this software did not offer at least basic accounting. The good news is that it does more than offer basic accounting.
Depending on the sophistication of the user, you will be able to engage the accounting software when creating your Profits and Loss accounts, preparing balance sheets, managing business tax, basic cash accounting and generation of relevant reports to mention but a few
Invoicing
If it has been a challenge for your small business to properly invoice clients in the past, a part of the platform allows you do this.
Sage One offers a neat set of templates for cooking up actionable templates so that late payments from clients due to invoice setup becomes a thing of the past for you.
The software enables you automate your invoices.
Invoicing in bundled into the main accounting software.
Payroll
One of the things we love the most about the service is its payroll offer. Using this will help you improve your human resource management even more.
You can customise the payroll service any way you want, allowing you account for various facets of employee rewards – loans, vacations, bonuses, allowances and of course, basic salary.
Pros
Tailored to the needs of small businesses
Comes with thorough setup tools
Automates processes when setup
Aids department/ cost/ project tracking
Reports generation is top notch
Good value for money
Supports flexible user permissions
Usable on multiple platforms/ operating systems
Cons
User interface is not the latest
Reports are not largely customisable
Payroll software is sold separately and the cost depends on the the number of employees in the business's payroll. Subscription starts at ₦712 monthly or ₦7700 annually for two employees, then ₦1752 monthly or ₦18,900 annually for five employees, all the way up to ₦6,653 monthly or ₦71,850 annually for 20 employees.
Off course, if your payroll is more than 20, the software has the flexibility to handle it too.
Sage One Pricing Plan
As popular as Sage One has become in its field, it is amazing how they still stay loyal to their small business market base with highly competitive prices. Of course, they have different packages for various services which the customer can choose from.
The choice you make will be based on the size of your organisation, your needs and of course, pocket. Sage Business Cloud Accounting Software costs ₦6,500 monthly or ₦70,200 annually.
Invoicing: If interested, you can start automating your invoices and getting paid with less hassles.
Accounting: For those that like to use the accounting feature, you'll be able to buy into it
Payroll: The payroll feature is probably the one with the most competitive pricing plan, allowing you pay your members of staff easier by buying at least, a ₦712 monthly subscription or 7700 Naira annual subscription for two employees. Subscription cost increases as more employees are added.
Wrap Up
We would be lying if we said that Sage One was the angel on the market. However, it is the better than most options for your small business needs.
With a slew of impressive features and customer support for your business as it grows, here is one software that is interested in growing your business as much as they love pushing their own brand forward. To Learn more about Sage Business Cloud Accounting and other Small Business solutions from Sage, Click Here.
Related Topics
Paschal Okafor
is
NaijaTechGuide Team Lead
. The article
Sage One Accounting Software Review 2022
was written by . The article was last modified:
February 12th, 2022