A power drill is one of the basic machine tools that every household needs. This appliance is used by many people for drilling holes in some solid materials that include wood and metal. Drills or power drills are mostly used in different fields such as construction, metalworking, woodworking, and other industries.
However, we are going to talk about the power drills which are a common item for every household. If you ever want to make a hole in walls or other materials in your home, using a power drill would be the best idea.
These drilling machines are available in the market and they have various power capacities and sizes. It is undoubtedly a very useful item for houses and industries as well.
Types Of Drilling Machines:
Depending on the needs and requirements, there are many different types of drills. These drilling machines are mostly categorized on the basis of different aspects such as the automatic drilling machines and the manual drilling machines.
The manual drills are mostly used by the hand and are a common item for the houses. They are either electrically powered or with compressed air.
There are many types of manual drilling machines which include Breast Drill, Push Drill, Bow Drill, and others. Depending on the size of the drills, their use and power are decided.
Then again, there are the cordless drills that are not powered by electricity but they have certain rechargeable batteries to help them operate. For those areas that don't have much access to electricity, this one can be a great addition. However, the cordless drilling machines take too much power so you need to make sure that you have spare batteries in case the power runs out.
Pillar Drilling Machine/ Drill Press:
Drill Press is kind of a drilling machine which can be used for stand mounting and it can be fixed to the floor as well. This is done with the help of bolting.
It is also called the pillar drilling machine and the parts that it has which includes the base, table, drill head, column, and the spindle. This particular pillar drill uses an induction motor to make sure that the drilling procedure is complete.
The drill press is a bit lighter than the other options and is more efficient as well when compared to the hand drill. For the convenient and safe positioning, the drill press uses clamping and the drilling operation is pretty smooth due to that.
Radial Drilling Machine:
Radial drill machine is another one of the drilling machines which is used by many industries. This drilling machine helps to put pressure over a maximum area so that repositioning is not required.
The radial drill press uses several dimensions in the manufacturing process. Also, the base plate is varying as well. Drill bits that have different size and thickness are used in order to make large and smaller shaped holes.
This drilling machine is very popular in the workshops, automotive industries, and different garages as well.
Drilling Cum Milling Machine: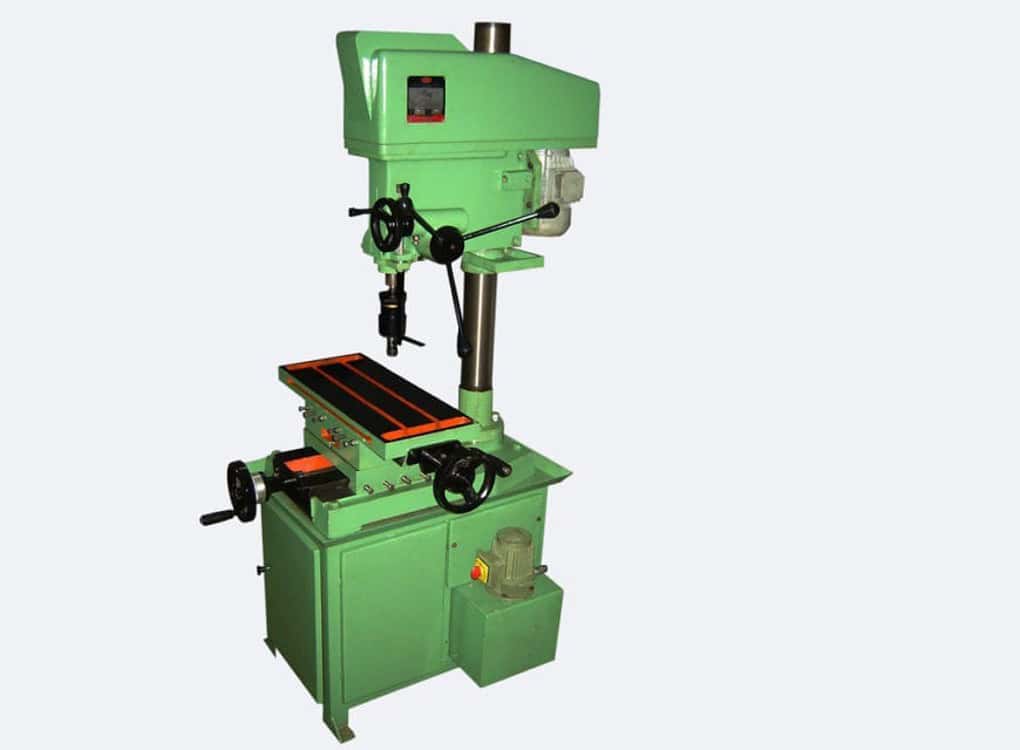 The name itself is an indicator that this drilling machine has its common use in the milling and drilling operations. This machine is pretty light and has got different milling abilities that will save a lot of space. Also, there are some additional functions present here that help in the re-shaping of the materials.
Drilling cum milling machine is used for both drilling and milling operation. This lighter machine has a great option of milling capabilities to save the space including the added functionalities of shaping the materials.
Uses Of The Drilling Machines:
We have already discussed the drilling machine and its types. Now it is time to talk about the various uses of the drilling machines. Well, the most basic purpose of the drilling machine is making holes in the solid materials. Specific industries use different drilling machines for different purposes.
What we mostly use in our day to day task is the pistol grip drilling machine. For plumbing purposes, right angle drilling machine is used. Also, there is the hammer drill which is an electrical one as well. It comes with a particular hammer action as well. Another well-known drilling machine would be the rotary hammer drill which has got a rotational mechanism working for it. The rotary hammer drilling machine is mostly used by the construction industry for various projects.
How To Use The Drilling Machine?
Well, for proper maintenance of the house, drilling machines are a basic necessity. So, it is really important to know how to use a drilling machine. Here are some tips for that.
You need to choose the type of drill that you want. Different situations need different drilling machines for the task to be complete. You need to make your pick before you start the task.
After you choose the drill, the first thing would be holding it. You need to make sure that you are holding it properly. Hold the drilling machine like you would hold a gun.
Marking the drilling depth is also very important. You need to know how deep a hole you want. So, make sure that you have it decided and mark it with a pen.
Also, you need to make sure that you have the point selected in the wall where you want to make a hole. Mark the spot with a pencil and you will be good to go.
So, this is how you use a drilling machine. It is really not that difficult to get a cheap drilling machine. If you know what you are looking for, then choosing then choosing an affordable one will be easy.
Read More:
Paschal Okafor
is
NaijaTechGuide Team Lead
. The article
Where Can I Get A Cheap Power Drill For Home Use
was written by . The article was last modified:
February 19th, 2020