AI image generators have created an endless supply of buzz and noise in the digital art world over the past year. The advent of this technology has revolutionized the way we interact with digital art.
The thought of having AI machines that can spit out images on text prompts in a matter of seconds is enough to pull out a wow from your lips.
Some people have embraced AI image generators to explore their creative freedom from graphics designers to simply anyone in the creative industry.
While others, are having cold feet on this technology because of the fear of being kicked out of their jobs. And also another faction of well-meaning individuals are pointing fingers at local authorities for copyright infringement and ethical concerns.
All these and much more will be dissected in this article from how they work to the best image generators out there.
Keep reading to find out:
What is an AI Image Generator?
In simple terms, AI image generators are software that produces unique images based on the text prompts you feed it with. They are also known as generative models that are based on neural networks, which is a type of machine learning algorithm that tries to emulate the natural human language.
These text-to-image generators have been trained with a large data bank of images which are used to generate new images with text prompts. It's just like arranging pieces of puzzles in the form of words to form whole pictures that match the description of the user prompt.
How does AI Image Generation Work?
You don't have to be a Leonardo Da Vinci to create art anymore or some savvy graphics designer because AI can bring to life varieties of art forms from oil painting to vector illustrations.
Here are the nuts and bolts of the entire process: when you type in your text description, the system compares it with millions if not billions of images littered all over the web using its neural networks in a matter of seconds.
It then comes up with possible iterations which are evaluated by the generative models like Generative Adversarial Networks(GANs) which consist of two neural networks: the generator and discriminator.
The generator creates new images based on the database of images it has been trained with while the discriminator differentiates and tries to identify the generated image that accurately meets your text description.
Another generative model that comes into play is the Variational Auto encoders(VAEs) which are used by AI engines to produce variations of images you entered into the system.
It's just similar to photo editing but this time you don't have to spend much time on the screen but rather input a text description for your image. For example, converting the picture of your dog into an oil painting or animation.
VAEs also work on two neural networks, the encoder which converts the original image into a latent vector, and the decoder which remodels it into different variations based on your text inputs.
Some AI image generators have software filters and photo editors that allows you to fiddle with ideas, cut off rough edges, and beef up your image quality. There are some specific keywords that AI image generators expressly understand and can be used to explore your creative freedom and cut down the number of iterations.
Some of these keywords are sold on platforms but you can also learn them from the constant use of image generators, for instance, 4K, photorealistic, cinematic, etc.
How to Create Images using AI Image Generators
AI image generators allows you to wear different hats while knowing little or nothing about drawing, photography, or graphics design. Yes, the tools are easy to use, just jam your fingers on your keyboard and have new images pop up in seconds.
That's more easily said than done because different image generators have unique keywords and Images which they have been trained with over time. Therefore, you will need constant practice to get a hang of it or steal specific keywords to fasten up the process.
However, every AI tool has its constraints in terms of the quality of the image produced and functionality.
Best AI Image Generators
If you're totally sold on text-to-image generators then you will want to keep stock of the best AI image generators out there. There are but a handful of AI image generators and from what we've seen over time in the tech space. It's only a matter of time before more companies roll out their AI image generators because the market is still relatively green.
The best AI image generators include:
1. DALL-E2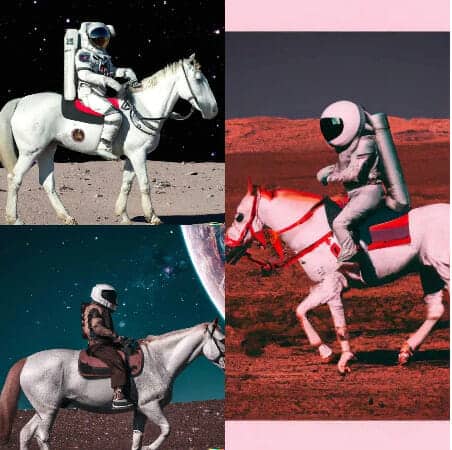 DALL-E2 created a lot of shock waves in the digital art industry when it first came on board last year. It's easily one of the best AI image generators and can create realistic images and the understanding of natural language is unparalleled.
This is a user-friendly tool that hands the artistic paint brush even to an amateur to generate eye-catching illustrations, product designs, and business ideas.
Apart from creating text-to-image prompts, it can expand the image canvas without getting pixelated, and make edits on an existing image, while taking shadows, reflections and texture into context.
It allows you to add and remove elements in an existing image with text prompts. DALL-E2 can also make different variations of an original image uploaded into the system.
Open AI, the parent of DALL-E2 built in a firewall-like system to restrict users from creating abusive, adult, and racist images. They also used advanced methods to prevent users from creating realistic images of famous people.
2. Stable Diffusion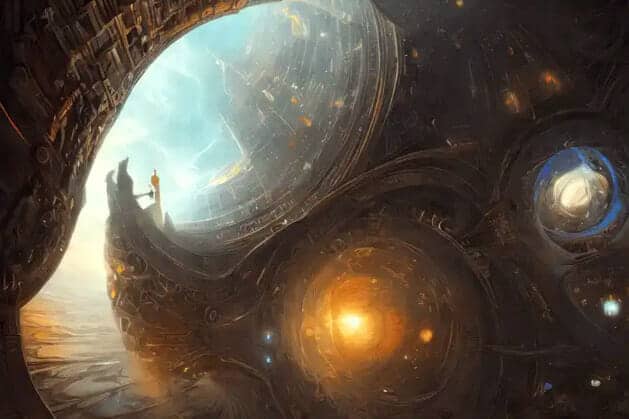 Stable diffusion is an open-source software that allows you to inject life into your imagination with text prompts that produce photo-realistic images.
Although, the quality of your description will determine how close your images are to the real deal. Unlike DALL-E2 there are no fences in creating images of public figures and according to Stable Diffusion, the users are licensed to the AI images provided they don't abuse it.
It also lets you edit original images and make adjustments to your work. Being a free-to-use and open-source code you can run the program on any app with an access like Google Collabs. But your best bet will be using the native DreamStudio to take advantage of the full potential of the AI tool.
3. MidJourney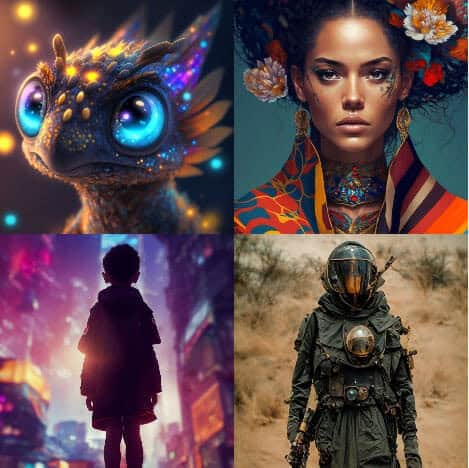 Midjourney is at the top echelons of AI image generators and is unique for its brilliant images that are apocalyptic in nature. They were meant to generate images with a certain generic AI look and style.
You can operate it using a Discord server which could be a hassle when setting up at first, and you will have to join a Discord channel to generate images.
As a testimony to the limitless capabilities of the tool, it was used to win an art competition with the intriguing title "Théâtre D'opéra Spatial". Midjourney creates room for an interactive creative environment, as you can see the prompts and images of other users but may have to wait in line to receive results if the traffic is too much.
4. Craiyon
Craiyon is a free AI image generator formerly known as DALL-E mini. It's a tool for anyone looking to try out AI image generators without any technical know-how or money down.
Craiyon has a web version and mobile app on Google Play Store which you can use to type in your text description and wait a few minutes to receive feedback. The software has a few hiccups in terms of creating realistic human or cartoon faces. You would have to use descriptive and specific keywords to squeeze out images that could compete with the likes of DALL-E2.
There are no boundaries in terms of censored images and you are free to use the generated images for personal and commercial use provided you stick to their terms and conditions. If you happen to fall in love with your design or image you can decide to print it on a T-shirt for the fun of it.
Complications involved with Text-to-Image Generators
These tools as good as they come also have their potential bottlenecks moving forward. As there is a faction of people, pointing accusing fingers at text-to-image generators for copyright infringement.
They believe that art created digitally should not be considered art at all because they are a subtle combination of a variety of other artwork which may be copyrighted. Another big question is who owns the license to the final image produced?
An incident that raised eyebrows was when a certain Jason bagged a prize for best digital art in the Colorado State Fair Arts competition last year using an AI-generated image. It met a lot of tongue-lash from other artists who felt cheated.
This has resulted in Getty images banning the use of AI generated images while on the contrary Shutter Stock has struck a deal with Open AI to incorporate DALL-E2 in its site.
Since there are no rules to keep the use of AI image generators in check, it gives room for inevitable abuse in producing biased, stereotypical, and pornographic content. For example a "businessman" text prompt will 9 out 10 times appear as a white man in a suit.
Some text-to-image generators allow users to create images of celebrities which can be misappropriated to produce deep fakes to spread false information or scam unsuspecting individuals. It will be difficult to tell which image is fake or real as the technology advances.
Uses of AI Image Generators
AI image generators have a good number of use cases for both individuals and businesses. It has gifted an artistic nous to everyone who has enough patience to run permutations with words. Here are some benefits of this fascinating tool:
Create vector illustrations, animations, 3d models, logos and other forms of graphic designs.
Produce realistic images, without the need to endlessly scroll through stock images.
You don't need to be an artist to create paintings, pencil or ballpoint sketch.
Edit images without the hassle of a learning curve.
Reproduce variations of an image in no time.
Crypto enthusiasts can develop NFTs with ease.
The cliché quote, "your only limitation is your imagination"
Conclusion
Okay, let's look at the big picture.
There are still questions left unanswered in terms of copyrights and if the AI was trained with Licensed images. But this technology is not going away anytime soon and could get scarily better at making real-world-like images.
With the entrance of the open-source Stable Diffusion into the scene creating more bubbles in the digital art industry. It's only a matter of time before some other companies join in and AI gets good at connecting the dots with text descriptions.
It's going to help businesses to create images and designs cheaply, but traditional artists, photographers, and designers can't be replaced by AI. Because there is that unique personality and creativity that springs up from our innate human genius.
We just have to put these tools to good use to better reshape our lives.
Related Topics
Paschal Okafor
is
NaijaTechGuide Team Lead
. The article
How Do AI Image Generators Work?
was written by . The article was last modified:
March 4th, 2023