Home
Tags
Surround Sound System
Tag: Surround Sound System

Speakers matter a lot when it comes to the sound quality of your system and you cannot just buy any stereo speaker without checking the sound quality and comparing it with the other stereo speakers. In fact, if you have to buy stereo speakers for your home theater system or your music system then you've got to do a proper research, read speaker reviews and compare the sound quality, the features and the prices with the other speakers. The fact that when we go to the market, we all get confused about which product is for real and comes with a high...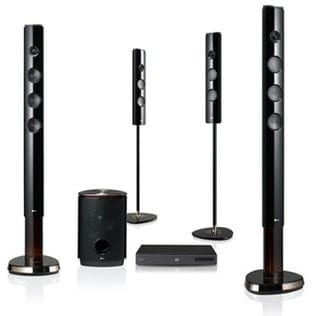 A home theater system (also called home entertainment center) is an assemblage of a wide screen television, a DVD player and a surround sound system is such a way as to give a cinematic experience in the home. The entertainment center is all about high quality sound and video. Where to Buy Home Theatres Jumia.com.ng from ₦15,295.00 Buy Now A home theater from the definition above consists of 3 major components. We will now go through all the components one after another. WIDESCREEN TV The wide screen television is an essential component of a home entertainment center. These TVs display movies in more realistic...

Choose a surround sound system with 6 or more speakers for your home theater system. Test the performance of the speakers at the store. You may also buy a home theatre sound-system with DVD player if you do not have one.Where to Buy Home TheatresJumia.com.ngfrom ₦15,295.00 Buy Now Konga.comfrom ₦15,600.00 Buy Now You can read product reviews; compare prices and features at Amazon before you buy. Home Theatre Related Topics:What is a Home Theater LG Champaign home theater Buy your home theater from SIMS Nigeria Buy Guide for Home Theater Home Theater Brands Buying a DVD Player for your Home Theater Buying a widescreen TV for your Home...