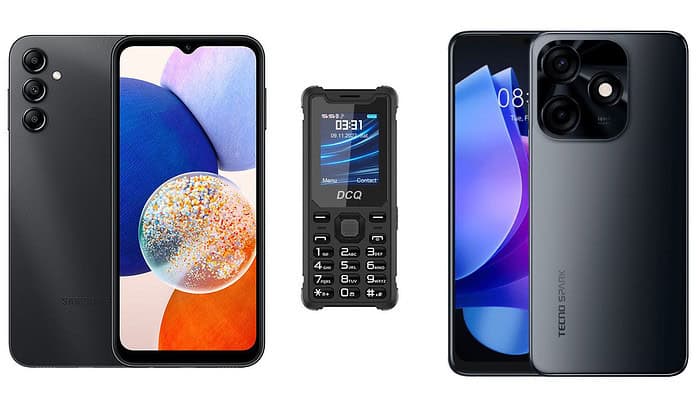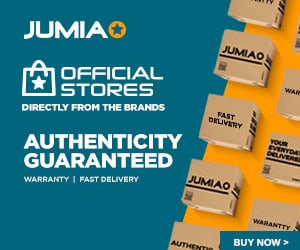 Mobile phones now come with lots of features that buying one could be a major challenge. There are also different categories of mobile phones with each promising a unique experience. This article is a generic buy guide that will provide information on what you need to consider before you buy a mobile phone. You will also find useful links about mobile phones in general on this page.
Where to Buy Mobile Phones
Jumia.com.ngfrom ₦4,995.00 Buy Now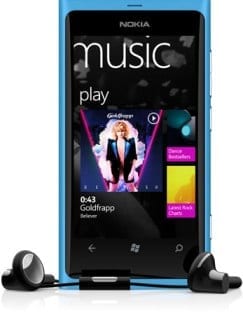 Join us after the break for the full Mobile Phones shopping guide:
Types of Mobile Phones?
First off, let us look at the types of mobile phones in the market. For this article, we will categorise mobile phones into three types namely: Basic phones, Feature phones, and Smartphones.
Basic Mobile Phones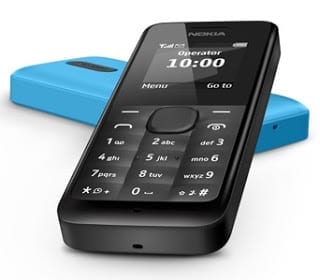 Nokia 105 is a basic phone with dual-SIM support, FM radio, and flashlight.
Basic mobile phones are phones that focus on what mobile phones are meant for: making and receiving calls. They usually lack the bells and whistles like camera, Bluetooth, USB, and most importantly internet access. They support basic features like SMS.
Features like torchlight, modest colour display, and FM radio are also common in good basic phones. Nokia has also included music player, dual-SIM, and support for microSD memory cards in some of their basic mobile phone models. The major difference between a basic phone and other types of mobile phones is that a basic phone does not support packet data internet like GPRS, EVDO, EDGE, 3G, LTE, etc. Basic phones usually cost less than 7,000 Naira in Nigeria.
Smartphones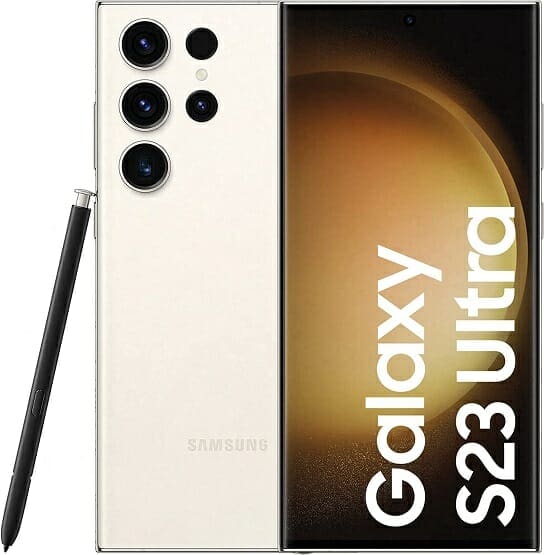 Samsung Galaxy S23 Ultra is the best Android Smartphone of 2023.
My definition of a smartphone is that: a smartphone is a mobile phone that offers the computing capability of a computer. Its major distinguishing factor is that it comes with sensors and support third party apps that increases the functionality of the phone beyond the offering of the manufacturer.
Multitasking or pseudo-multitasking is also a key smartphone feature. Multitasking is the ability to run multiple applications at the same time. For example, you could be browsing the internet while still receiving updates from your Facebook app and you can easily switch between your open applications.
Am sure not everybody will get this definition. Sometimes it is very easy to get confused on the difference between a smartphone and a feature phone. Also the line between feature phones and smartphones are getting blurry with advances in technology. For example a new high-end feature phone is as good as if not better than a low-end or older smartphone.
So a more easy definition is that any mobile phone that runs any of the recognised smartphone platforms or operating system can be assumed to be a smartphone. The recognised smartphone platforms are Android, iOS, Windows 10 Mobile, Windows Phone, BlackBerry, Asha Touch, Symbian, Windows Mobile, Windows Phone, Maemo, Palm, WebOS, MeeGo, and Bada. Smartphone prices starts at around 40,000 Naira in Nigeria. However, Smartphones of less than N40,000 may not offer great user experience. So, beware.
For more on buying smart mobile phones checkout How to Buy a Smartphone
Feature Phone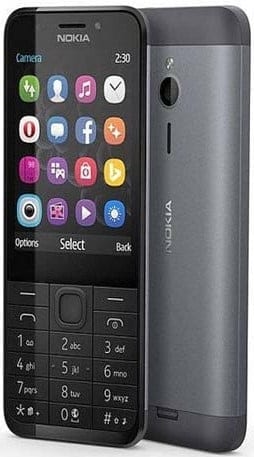 Nokia 230 is a feature phone. It comes with a 2.8-inch display and keypad. It also supports GPRS/EDGE for Internet access.
Defining Smartphones and basic phones above now makes it easy to identify feature phones by elimination. If a mobile phone is neither a basic phone or a smartphone, then it must be a feature phone. Feature phones are internet enabled phones that do not run any of the recognised smartphone platforms.
Like smartphones they also run third party apps written in Java, Flash, or/and for an unrecognised smartphone platform. Nokia Series 40 is the most popular feature phone platform in Nigeria. Prices of feature phones ranges between N7,000 and N25,000 in Nigeria.
Feature phones generally do not run apps developed for a native platform, rather they run Java applications.
See Popular Mobile phone brands in Nigeria and Africa:
What Type of Mobile Phone User are you?
Now that you know the types of mobile phones in the market, you should now identify your mobile phone needs, so that you will know your type of mobile phone. In choosing a mobile phone you need to understand how you will use it. There are about three types of mobile phone users. They are:
Ordinary user
Savvy user
Mobile Worker/Business user
Ordinary user:
An ordinary mobile phone user uses his phone mostly for making voice calls. He may also use it for sending text messages. They may also use it as an alarm clock or calculator. If you use your phone for nothing but the most basic tasks then you are an ordinary mobile phone user.
If you do not get all the buzz about social networking and instant messaging or have no appetite for gaming, then you must be an ordinary user. Ordinary mobile phone users will be satisfied by a basic phone or a low-end to mid-range feature phone or smartphone.
Savvy user:
Savvy mobile phone users are more technology aware. They are always eager to learn and use new technologies. If you intend to use your handset for other non-voice applications like sharing and receiving multimedia contents, sharing and interacting on social networking services, streaming video, making video calls, then you are a savvy users.
If when you see a new feature or service on a friend's phone, you want to have it on your phone, then you must be a savvy mobile phone user. If you want a fully functional mobile phone with all the bells and whistle, you must be a savvy mobile phone user.
However, you must counter balance between what you want and what you need or more importantly what you can afford. You may want a mobile phone with a 13 megapixel camera or QHD Display, but can you afford it or do you need such quality photos or display? Savvy users can choose between a smartphone or a feature phone, depending on their pocket.
So, your target as a savvy user is to buy a mobile phone with as much functionality as possible for your budget.
Mobile Worker/Business Users
Mobile workers and business users need to be in touch with the office and their clients while on the move. So such users need mobile phones with great communications support.
A basic phone may be okay for a small one man businesses, however, businesses that deal with educated people will need a feature phone or a smartphone. This will enable them access and reply emails from customers on the move as well as interact with customers using social networking services and Instant messaging/chat.
Mobile Workers and business users may also prefer mobile phones with full QWERTY keyboard as they make communications faster. Mobile workers and business users that require access to Office tools and enterprise servers while on the move, should go for company approved smartphones.
A mobile worker needs a mobile phone that allows for mobile computing, which may even replace his/her laptop sometimes. These category of business users require secure mid-range to high-end smartphones.
What Data/Internet Speed and Technology?
This question is only valid for users who have chosen a smartphone or a feature phone. Feature phones will usually come with a second generation 2G technology like GSM or CDMA with data support on GPRS/EDGE or CDMA 1x. Mobile phones with 2G technology will offer modest speed up to 256+ kbps.
Smartphones will usually feature 3G or 4G technology like WCDMA, HSPA, HSPA+, LTE, Mobile WiMax, EVDO. These technologies offer faster internet access enabling broadband services like video streaming. They also enable faster download time and come with more powerful browsers.
However, there are some feature phones that come with 3G technologies and some smartphones that feature 2G technology. So, there are exceptions to the rule.
What Cellular Technology?
Once you are sure you need a mobile phone, and made up your mind about the generation, the next step is to choose what mobile phone technology is best for you. In Nigeria today there are two major competing mobile phone technologies, they are CDMA deployed by companies like Starcomms, Visafone and Multilinks, Zoom mobile; and the more dominant GSM deployed by companies like Glo, MTN, Etisalat and Airtel.
GSM networks have a better national spread compared with the CDMA networks in Nigeria. So if you expect to receive calls from outside your state of residence most of the time then a GSM phone will be a good choice.
CDMA networks (Starcomms, Visafone, Multilinks) now have high-speed CDMA EVDO in addition to the more widespread CDMA One network.
GSM networks (Globacom, Airtel, MTN, Etisalat) now run high-speed UMTS/HSDPA networks with some now deploying even faster 4G LTE. Overall, GSM is more popular. So, when in doubt, go with GSM.
Dual-SIM or Single SIM
A dual-SIM mobile phone will enable you use up to two mobile networks on your phone. This enable you take advantage of best deals for calls and data.
For example, one network may offer better call rates while another may offer better rates on data. Dual SIM mobile phones will enable enjoy the best of both worlds.
Dual SIM mobile phones also make sense in countries with less reliable mobile networks. You will not lose communication if one network goes out of service.
Memory Capacity
On-board memory is usually a big deal if you intend to buy a smartphone. A mobile phone with a large enough memory will usually run smoothly with less lag.
It is usually a good idea to start with a mobile phone with 1GB of RAM. Today mobile phones offer as much as 6GB RAM with 3GB RAM and 4GB RAM now standard for high-end smartphones
Mobile Phone Styles
There are 3 popular styles for mobile phones. They are block/candybar, flip, and slide. Since pictures speaks a thousand words we will show the three styles in picture.
Block/Candybar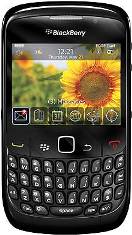 Slide Phone
Flip Phone

There are other variants like swivel, two way slider, etc. Flip and slide mobile phones carry lots of features in a very compact size. Block/candybar phones are more robust (rugged), because they have less moving parts. New flip phones appear to be scarce these-days.
What is your budget?
The prices of worthy mobile phones starts from 4,990 Naira (10 USD) in Nigeria. Prices of mobile phones depend on a number of factors like number of features, user experience, and design quality. The more features a mobile phone has the more expensive it becomes.
Your objective is to define your budget and find a mobile phone that offers you as much features as possible for your defined budget. Put emphasis on your 'must have' features. It is also important to be careful here as this is where fake phones come in. Fake and substandard phones promise lots of features at ridiculously low price, but will end-up disappointing you.
So, if the price is too good to be true, it is probably a fake or substandard phone. For example, if a phone priced at less than N10,000 claims to have an 8MP camera or more, it is probably a fake or substandard mobile phone.
Your Taste
A mobile phone may be more than just a communication gadget to you. You may want to use your mobile phone to express your style or showoff your wealth and status. You may also want a mobile phone that will attract attention to you. The choice is yours.
Buy from authorised shops
When buying a mobile phone in Nigeria, make sure you buy from an authorised mobile phone dealer or shop. A lot of consumers now buy their mobile phone online. If you in Nigeria, reputable online stores like Jumia and Konga are a great place to buy genuine mobile phone.
Authorised shops deal directly with the manufacturer or a major distributor of the manufacturer, so they offer warranty on any mobile phone you buy from them. Most authorised dealers offers at least one year warranty on mobile phones. You can also buy mobile phones from online stores in Nigeria.
Most of them also have a return policy. A number of them will allow you return a phone within days of buying it for replacement if it develops a fault. Buying from authorised dealers ensures you buy a genuine mobile phone. If a mobile phone does not have local authorised dealers, do not buy their product as you will not have anyone to address your issue if any arises.
Where to Buy Mobile Phones
Jumia.com.ngfrom ₦4,995.00 Buy Now
More Mobile Phone Features
Mobile phones come with lots of features. Here we summarize the most popular mobile phone features to consider:
Screen Size:
Size of display is important. Larger screen size provides more space for your pictures, videos, maps, and other contents. Buy a mobile phone of 4.0 inch and above if you want to view pictures, videos and web pages. Today there are mobile phones of up to 7-inch display. Screen size is measured diagonally.
Mobile phones with 5.5-inch Display to 6.6-inch Display are standard size mobile phones, if you want a extra large mobile phone then, a 6.8-inch Display is a good place to start.
Screen Resolution:
Screen resolution is all about the amount of pixels that make up your mobile phone screen. More pixels (resolution), means sharper, crispier and clearer images. Some popular display resolutions for feature phones and smartphones include QVGA (320 x 240 pixels), HVGA (360 x 480 pixels), VGA (640 x 480 pixels), WVGA (800 x 480 pixels), 720p HD (1280 x 720 pixels), full HD (1920 x 1080 pixels), or Quad HD (1440 x 2560 pixels).
However, basic phones and low-end feature phones usually have less resolution than listed above. More pixels results in a crispier display. So, the higher the resolution for a given display size the better.
Touchscreen display:
Touchscreens are displays that are sensitive to touch. You can open an object by touching the icon on the display. Touchscreens enables users to interact directly with what is displayed on the screen. Some phones with touchscreen eliminate keypad thereby creating more room for a larger display. Most high-end smartphones feature touchscreen.
There are two types of touchscreen phones: resistive and capacitive touchscreen. Capacitive touchscreens are more sensitive to touch and offer better user experience. Most high-end to mid-range smartphones feature capacitive touchscreens with resistive touchscreen now the exclusive reserve of cheap touchscreen phones.
There are also multi-touch displays. Multi-touch displays respond to multiple touch simultaneously unlike ordinary touchscreen phones that respond to a single touch at a time.
Colour screen:
These days colour screens are taken for granted as most mobile phone now offer colour screen. However, these days the battle is in the gamut of colours supported by the display.
A colour screen allows you to view your documents in colour. Colour screens vary depending on the number of colours that they can display. The more colors a screen can display the more realistic the image will look.
Colours can range from a few thousand colors to billions colors. The more color your mobile phone can render the better the brilliance of the display.
Fingerprint Sensor
Fingerprint sensor are a recent technology feature being introduced to mobile phones. This feature enables you unlock your phone by placing your finger in front of a sensor on the front or rear of the mobile phone.
This ensures that you unlock your phone only with your fingerprint, which secures your content. Some smartphones like the Wiko UFeel will even enable you unlock encrypted files and you can setup up to five fingers with each finger setup to unlock a specific action.
Iris Scanner
This is another security feature similar to a fingerprint sensor, but scan the eye's iris. Your smartphone will scan your eyes to unlock your smartphone. Microsoft Lumia 950 was one of the first smartphones to come with an iris scanner.
Tecno Camon C9 is another smartphone that sports an Iris scanner.
Augmented Reality support
Augmented Reality is a feature you should be expecting to be more popular on phones in the next couple of years. Lenovo Phab 2 Pro is the first mobile phone to support the Tango augmented reality feature promoted by Google.
The smartphone uses cameras to create depth sensing and motion tracking. The enables characters to be super imposed on a scene and for interaction with the objects as though they are real.
Augmented reality has a lot of potential in gaming with the popular Pokemon Go game an early example.
Size and Weight:
The size and weight of a handset may also be an issue. Most mobile phones are small in size compared to some years ago. Manufacturers have found innovative methods of making mobile phones look smaller.
Camera phones:
More and more mobile phones now have built in cameras. However, the picture quality is not comparable to a digital camera, but smartphone cameras are catching up. A camera phone will enable you record and share your fun memories. Camera phones of 5 megapixels and above are recommended.
Camera phones with features like autofocus, face detection, image stabilisation, HD video recording xenon/LED flash will come handy, but they don't come cheap.
QWERTY key phones: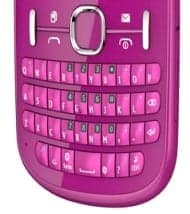 QWERTY key phones gives a key to each alphabet, unlike the standard 12-key keypad where alphabets share keys. Because each has a key dedicated to it, typing with QWERTY key phones is easier and fast. A QWERTY key phone is easy for typing messages and text communications in general.
Because of the ease with-which typing can be done on mobile phones with QWERTY keyboards, they often come with great support for messaging, chat, and social networking. That is why they are also called messaging phones.
Since, the advent of touchscreen phones users now have to make due with onscreen QWERTY keyboards. Mobile phones with physical QWERTY keyboards are now very scarce.
Your only options these days are BlackBerry phones if you need a physical QWERTY keyboard.
What Storage capacity:
Storage capacity is important if you want to download games, mp3 music, store MMS and store data on your handset. If the capacity is low check, whether storage can be extended i.e. If you can buy additional storage. Some smartphones and feature phones come with built-in storage and also offer expansion slot for adding additional storage.
Some mobile phone offer no expansion slot. So, for such mobile phones it is a good idea to buy a model with as much internal memory as you will need.
Some will come with memory extension but non will be included on-board. So, for such phones it is a good idea to buy a memory card while buying the phone. However, some will come with some memory card included.
Expansion Slots:
Memory slots will enable you increase the memory capacity of your mobile phone as the need arises. You have TransFlash, microSD memory extensions.
NFC – Near Field Communication:
NFC (Near Field Communication) is a fast, versatile short-range wireless technology that can be embedded in everyday objects like movie posters, stickers and t-shirts. It is a short-range high frequency wireless communications technology for contactless credit card payments.
NFC can also be used for ticket reservations, faster and easy Bluetooth pairing, reading RFID tags for interactive advertising, Electronic key, Electronic ID, etc. Two NFC enabled devices can exchange data (contacts, music, video, etc) when brought in close proximity. They are used for mobile payment
Gaming:
Gaming is now standard in all mobile phones. However, the level of sophistication of the games depends on your type of phone. Feature phones and smartphones offer a better gaming experience than basic mobile phones. Because of the internet capability and support for third party application, feature phones and smartphones enable you download many more games. So, you will never get bored.
Smartphones running Android and iOS offer more games than most other platforms.
Smartphones also come with sensors like accelerometer and gyroscope enabling you interact with games in exciting new ways. Mobile phones with touchscreen also offer great gaming experience.
While playing an exciting game it is very easy to forget your battery, so always be conscious of your mobile phone's battery.
Battery Life:
The battery life of a mobile phone is the amount of hours the handset can operate with a fully charged battery. Battery life of mobile phones depends on how often you use it and the processing power required by the service you are using.
It also depends on the quality of the network. If the network quality is poor then the mobile phone will spend energy maintaining contact with the network. The energy capacity of a battery may also be a factor.
Smartphones pack more battery capacity and offer battery saver software in order to increase battery life. However, on the average basic phones offer the best battery life.
Mobile TV:
Some mobile phones come with Mobile TV receiver built-in, enabling users to watch encrypted or open mobile TV broadcasts based on the Digital Video Broadcast-Handheld (DVB-H). DVB-H OMA/BCAST is a technology that allows the broadcast of digital terrestrial television and audio to a mobile phone with built-in DVB-H receiver. Services like DSTV mobile require such mobile phones.
A number of mobile phones feature DVB-H receiver. However, due to the faster internet speed and cheaper access Web TV seems to be catching on, leading to fewer DVB-H supporting phones. But, it is possible to use a Mobile TV Bluetooth Receiver to receive mobile TV on a mobile phone with no built-in DVB-H reciever. Note that DVB-H has the added advantage of zero data charges and access charge is normally low.
Bluetooth:
Bluetooth is a technology that allows two electronic gadgets to communicate wirelessly with each-other within a close range. Bluetooth is now a standard in feature phones and smartphones.
Bluetooth will enable you transmit multimedia contents (video, pictures, music, etc.) to another mobile phone or a laptop, desktop computer or any device that has Bluetooth capability. A lot can be done with a Bluetooth enabled mobile phone.
For example a Bluetooth car kit installed in your car will identify when you are near your car. A Bluetooth enabled headset will enable you to receive calls meters away from your handset. You can also use Bluetooth to connect your computer to the internet using your Bluetooth enabled mobile phone as a wireless modem. Bluetooth 4.0 is now common for new phones, while Bluetooth 4.2 is also now available.
FM Radio:
Some mobile phones, especially those built for emerging markets, come with in-built FM radio. You now can listen to music and catch up with latest news summaries with your phone. Some mobile phones will come with an internal FM antenna, allowing you to listen to FM without plugging in the earbud. FM recording is supported in some mobile phones.
Music player
Mobile phones now come with built-in audio media players, with such a device you can playback your favorite songs. If you require a music player look for one that support popular formats like mp3, AAC, & AAC+. You may also require memory extension so also check whether the mobile phone has memory card support and the built-in internal memory capacity of the mobile phone.
Streaming media:
Mobile phones with streaming media capability will enable you receive live broadcasts on your phone. If you download something the whole content must be in your phone before you can view it. If you stream some content you can view them as they are available. Example of video streaming is YouTube.
A mobile phone with Streaming media capability will enable you to watch live sporting events on your mobile phone. The ability of a mobile phone depends on the speed supported by the phone or the mobile network.
Mobile phones with 3G, 4G LTE, or Wi-Fi will offer seamless streaming.
MMS:
MMS stands for Multimedia Messaging Services and is a technology that enables you to send multimedia content across a network to a mobile phone subscriber whose handset has MMS capability. However if the receiver's mobile phone does not have MMS capability they will receive an SMS directing them to a website were they can have access to the message.
MMS feature will enable you express yourself in pictures and even video. MMS is available on internet enabled mobile phones.
Predictive Texting T9:
This is a great feature if you intend to send lots of text with your mobile phone. With predictive text you press each key once to enter any of the letters on a given key. The predictive text software on your handset will then combine your key presses into common words and predict the word you intend to enter.
Sometimes your key combination may result in 2 or more guesses simply select the one you have in mind. With a mobile phone with predictive text you type fewer keys compared to when using the conventional text mode. This is now standard on most phones with 12-key keypads.
WAP:
WAP stands for Wireless Application Protocol and is used to access web pages that are tailored to make the best of the low processing ability of most mobile phones.
If your mobile phone has a WAP micro browser, it can display information like: – flight schedules, newspaper headlines, stock market reports, etc.
Video Player:
Video player features enables you play video files on your mobile phone.
Ring Tones:
Ring tones help you express yourself. A polyphonic or mp3 ring tone sounds better. A handset that will enable you download ring tones is the best. Bluetooth can give you the power to download a ring tone from a friend's phone. Most feature phones and smartphones now have mp3 ring tone capability. This means you can use your favorite tracks in high quality mp3 format for ring tone.
Navigation/GPS:
GPS stands for Global Positioning System. GPS and Navigation is now a standard feature of smartphones and high-end feature phones, which enables you to know your location or find interesting places.
Some of these mobile phones come with built-in maps, making it easier to locate shops, banks, restaurants, and other points of interest near you. In-addition to GPS some mobile phones supports cellular and Wi-Fi positioning.
Multi Band:
A Multi Band handset will operate in more than 1 frequency band. For example, GSM has 4 bands (850MHz, 1800MHz, 900MHz, and 1900MHz). A handset that can operate in all 4 bands will in theory operate in any country with GSM infrastructure.
Multi-Band capability is important if you intend to use your mobile phone outside your country (International Roaming) or you are buying a phone outside the country you intend to use it.
WI-FI:
WIFI stands for WIreless FIdelity. WIFI is a technology that enables you to access a wireless Local Area Network wireless LAN. With a WIFI enabled mobile phone you can access the internet in a wireless hotspot.
VoIP calls:
VoIP stands for Voice over Internet Protocol. This feature if in your mobile phone will enable you to make cheap calls via the internet on your phone.
TV-out port:
A mobile phone with TV-output port will enable you to view your content on a larger screen (TV screen).
USB:
USB 2.0 / USB 3.0 will enable download content from a computer or even another mobile phone.
Mobile phones come with lots of features that this is by no means an exhaustive list. The more features you want on your mobile phone the more expensive the phone will be.
In this document, we have tried to go through those factors you need to consider before you buy a mobile phone.
Need more info about Mobile Phones?
You can also connect with us:
Like us on Facebook | follow us on Twitter
You may also be interested in How to buy Smartphones and/or Buying Nokia phones.
Mobile phone dealers in Nigeria
Mobile phones reviews
Paschal Okafor
is
NaijaTechGuide Team Lead
. The article
How to Buy a Mobile Phone – Buying Guide for Phones
was written by . The article was last modified:
May 16th, 2023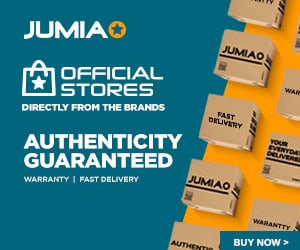 NaijaTechGuide may receive financial compensation for products/services purchased through affiliate links on this site. See
full Affiliate Disclosure Here