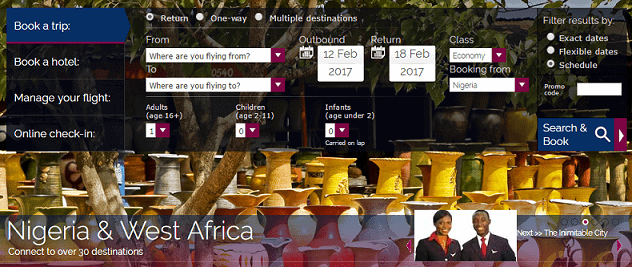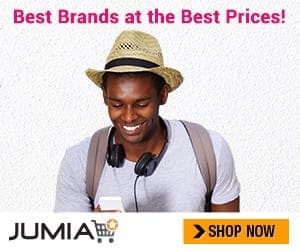 Arik Air is a leading airline in Nigeria and boasts of one of the largest fleet of any Nigerian airline with 26 short, medium, and long range aircraft. You can conveniently book your Arik Airline flight online at the Arik Air Booking platform or you can use a flight comparison site like TravelStart.
Arik Air operates about 150 daily flights operating both domestic and international routes. Booking your Arik Air flights is very easy.
Want to Book Cheap Flights Online? Click Here
The airline offers an online platform for intending travelers to conveniently book and make payment for Arik Air flight.
Online Payment for Arik air fares can be made with most debit/ATM cards. Aside Arik Air, other Nigerian airlines like Dana air and Aero airlines also offer online booking and payment services.
A Book-on-Hold option has been introduced to the Arik Air Booking platform. With this option, you book a flight on the Arik Air Booking platform and make payment via any QuickTeller supported ATM machine, QuickTeller App, or any bank branch nationwide.
You can do your Arik Air Booking directly on this site using the tool here. The tool is powered by TravelStart a site for comparing flights and finding cheap flights online in Africa. You may also do your Arik Air Booking directly on TravelStart, Click Here.
Flight Comparison services like TravelStart will help you find cheap flights online by enabling you compare flight fares across multiple Airlines.
Arik Air Booking is Convenient
Arik Air booking platform makes life easy for travelers. All one needs is an internet connection and you can handle most of their flight transactions with the Airline online.
Transactions supported by the Arik Air booking platform include: flight booking, secure payment, online ticketing (e-Ticket printout), booking management, fares calculation, online check-in, viewing of flight schedule, etc.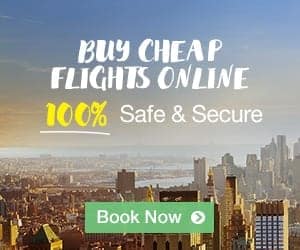 The Airline does not currently support cancellation of flights once confirmed online and rescheduling of flights online. Arik air cancellations and rescheduling can be made via phone or by visiting a local Arik air office.
The Arik air Booking website contains helpful travel information that will be useful to intending travelers.
Booking your Arik Air flight ticket online is simple. Just, visit www.arikair.com, there you can book and pay for Arik air flights.
Just fill-in the book a trip form at the Arik Air booking website, the booking engine will search for and list flights for the period you chose plus the cost of the flight.
You can then complete your booking, make payment and get your Arik Air e-ticket via email or as a print-out.
Looking for Cheap Flights Online? Click Here
Arik Air fly different routes reaching 22 airports in Nigeria like Port Harcourt, Uyo, Kano, Enugu, Kaduna, Calabar, Jos, Ibadan, Asaba, Benin City, Kano, Owerri, etc with Lagos and Abuja as hub.
The airline also reaches 9 air ports in Africa, including Accra, Abidjan, Cotonou, Banjul, Dakar, Johannesburg, Luanda, Douala, Freetown, and Monrovia.
Arik Air flies to London Heathrow and New York JFK. Visit Arik Air flight timetable and route map for details of flight schedule. Arik Air boasts of a fleet of air craft with most of them quite new.
Contact Arik Airline
Arik Air has been taken over by AMCON, though flight services are expected to continue as normal.
At the Arik Air booking website, you will also find contacts of Arik air offices and authorised agents through out Nigeria and in countries where they have operations.
For questions and enquiries, you can call Arik Air customer care on 01 2799999. You can also connect with Arik air on Twitter.
Aside Arik Air, many Nigerian airlines like AirPeace have also deployed ecommerce/ICT tools in their business operations. A lot of them now offer Airline booking, which makes things easy for travelers.
Planning to travel by air? Checkout Arik air booking website at www.arikair.com. Go electronic payment today, fly Arik Air.
Report missing links at our forum, twitter, or Facebook page. Thanks
Articles on Booking Flights Online
Paschal Okafor
is
NaijaTechGuide Team Lead
. The article
Arik Air Booking – Book Arik Airline Flight & Ticket Online
was written by . The article was last modified:
February 11th, 2017