Does your website require a dedicated server? Running and maintaining a server can be pretty challenging and expensive. You do not necessarily need to own and run your own server. Dedicated server hosting is a reliable web hosting solution for businesses and individuals who require a dedicated server without the rigors and complexities of running, securing, and maintaining the server.
This solution also offer a more flexible payment plan for the server and the server resources. With dedicated server hosting you rent a server rather than by outright.his saves a lot of upfront cost that you could focus on building a successful business.
Here we will discuss this hosting solution as well as showcase some of the best dedicated server hosting services available.
Why Dedicated Server Hosting
Sometimes it is necessary to have your application run on a dedicated server. There are a number of situations where this may be necessary. One key scenario is if you want to run some special programme not supported by traditional web hosting companies.
Another could be if your application requires above par security. Dedicating a server to your application increases security since weak security links are minimised.
The hosting solution may also be favoured if your application is resource critical. You do not want to share server resources with other businesses as their performance can negatively affect the performance of your own application.
In general a dedicated server offers more control over your application. You do not need to bend to whatever a web hosting company offers, you can add.
If you need a dedicated server, you may decide to buy your own server, but this is an expensive option and may be even an unnecessary route. Owning, running, and maintaining a server is an expensive business.
First, you need to buy the server for over 650,000 Naira (over $900), then you need backup power as the server has to be always on, you also need people working on shift to manage and maintain the server. Plus, there are other technicalities to deal with.
Going for dedicated server hosting is the way to go. With dedicated server hosting, you still enjoy all the benefits of having your own dedicated server but without the cost, stress, and complexity. You also gain from the experience of the web hosting company.
Dedicated Server Hosting Explained
Dedicated server hosting is more like server renting. You do not pay outright for the server and you don't own the server. You just pay a certain amount monthly to have full control of a server with set server resources. You can choose the processor, RAM capacity, OS, storage, bandwidth, and the speed you want.
For example Liquid Web's entry level dedicated server hosting package offers you a powerful 3.4GHz quad-core Intel Xeon processor, 16GB RAM, 500GB SDD, and 5 Terabyte bandwidth transfer at a cost of $199.99 per month. You can choose between CentOS Linux, Ubuntu, CloudLinux, and Windows.
You can even any OS for that matter. Of course, there is a dedicated server plan for every need. And you can add server resources as your needs grow. For details, Click Here.
You can load any software you want on your server as long the OS supports it and your server meets the minimum hardware requirement. Dedicated server hosting offers you a flexible solution to running your website on a dedicated server.
Best Dedicated Server Hosting Providers
Here are some of the best dedicated server hosting providers to checkout
1. Liquid Web Dedicated Server Hosting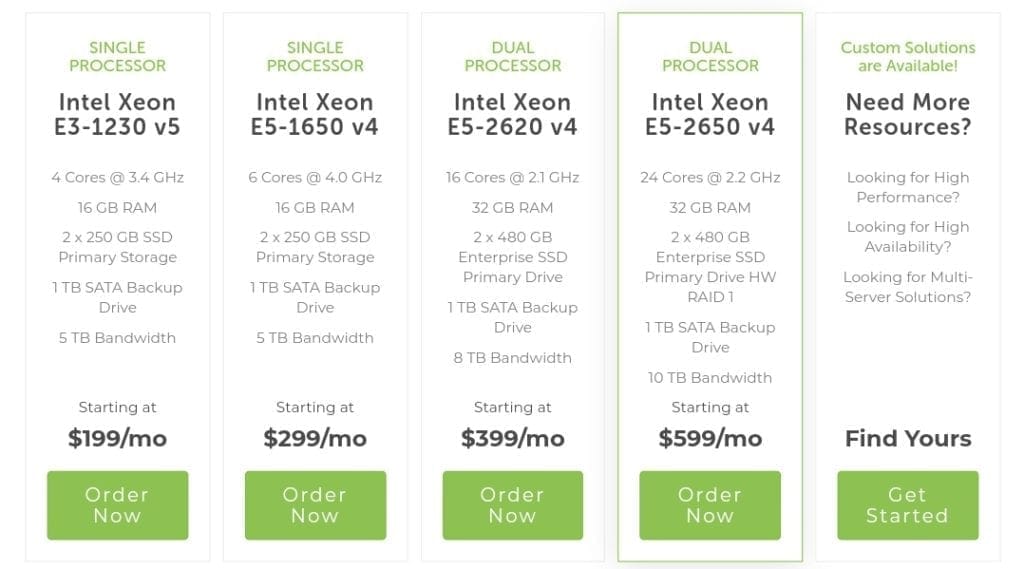 Liquid Web remains one of the best service provider out there. Liquid web has a range of dedicated server hosting plan to lease for your business(es): from the basic single processor server with 4 cores, to the ultra-fast dual processor server with 24 cores.
Liquid Web is one of the Best Dedicated Server Hosting providers with plans starting at $199 per month and climbs up to $599 for the highest plan.
However, if your business or application is more resource intensive, you can speak with Liquid Web's "always-available" customer service support team to customize a dedicated server hosting plan to suit your company or personal needs.
Liquid Web offers their dedicated servers as fully managed, core managed, or self-managed depending on the level of control you want to have on the server.
Like with their VPS Hosting services, Liquid Web offers Cloudflare CDN, Dedicated IP address, DDoS protection, and root access. For details of plans and pricing, Click Here.
2. BlueHost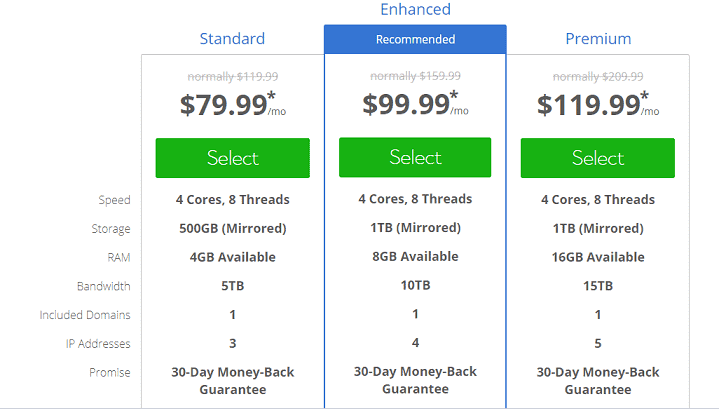 Asides being a household name in web hosting, BlueHost is one of the best dedicated server solutions around. BlueHost offers one of the most affordable solutions and boasts of improved multi-server management, improved cPanel, domain privacy, instant provisioning and extreme speed.
In addition, BlueHost dedicated servers are one of the cheapest to lease, starting at $79.99. Visit BlueHost official website to learn more.
3. InMotion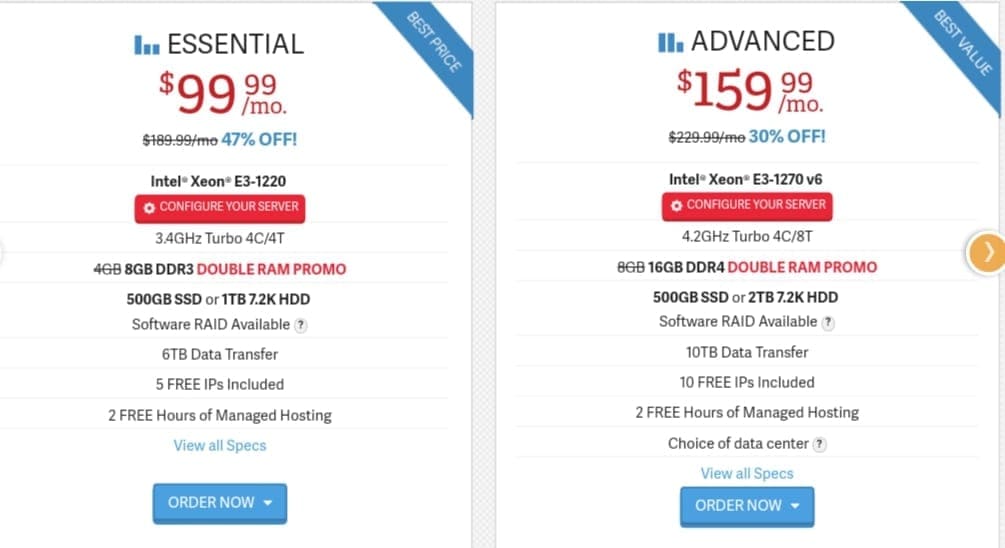 If you need a dedicated server hosting at a low-budget, probably for online gaming, then InMotion's Dedicated Server plans will.be a good place to start. For as low as $139 in a month, you can lease a server to yourself.
This entry plan quad-core Intel Xeon E3 processor with 16GB DDR3 RAM and 1TB SSD. You also get unmetered bandwidth on 1Gbps Tier 1 network and up to 5 dedicated IPs.
The solution is easy to manage with automatic updates and security patches. It also fast, sucure, and reliable with 99.99% uptime. InMotion is based in the United States and the company runs 2 state-of-the-art data centers in the location. For details of plans and pricing, Click Here.
4. HostGator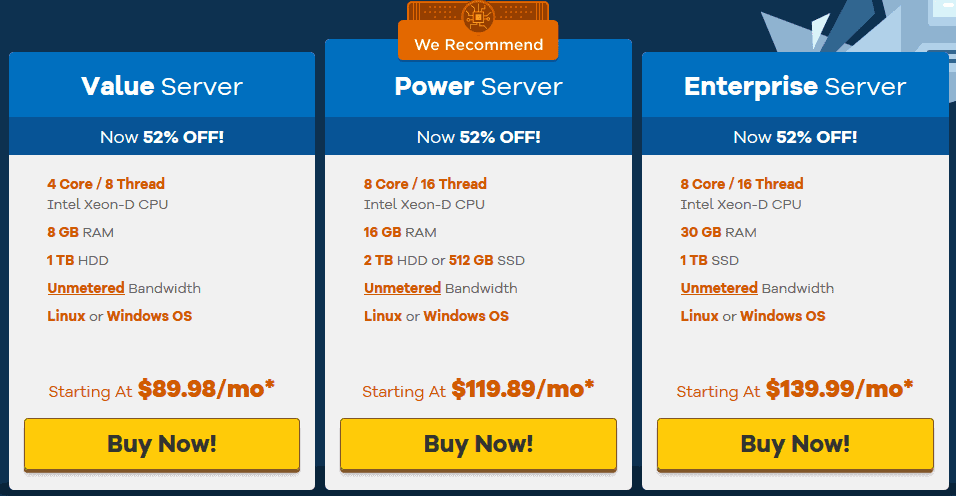 On the basis of price, HostGator offers an attractive entry price with price starting at $89.98 per month for the first term. Note that this comes at a discount of up to 52% for the first term.
You get 3 dedicated IP4 addresses, DDoS protection, full root access, and a fully redundant network. You can chose between a semi-managed service running Linux (CentOS, Ubuntu, or Debian), or Windows and a managed services running on Linux (CentOS) or Windows.
For details of plans and pricing, Click Here.
5. GoDaddy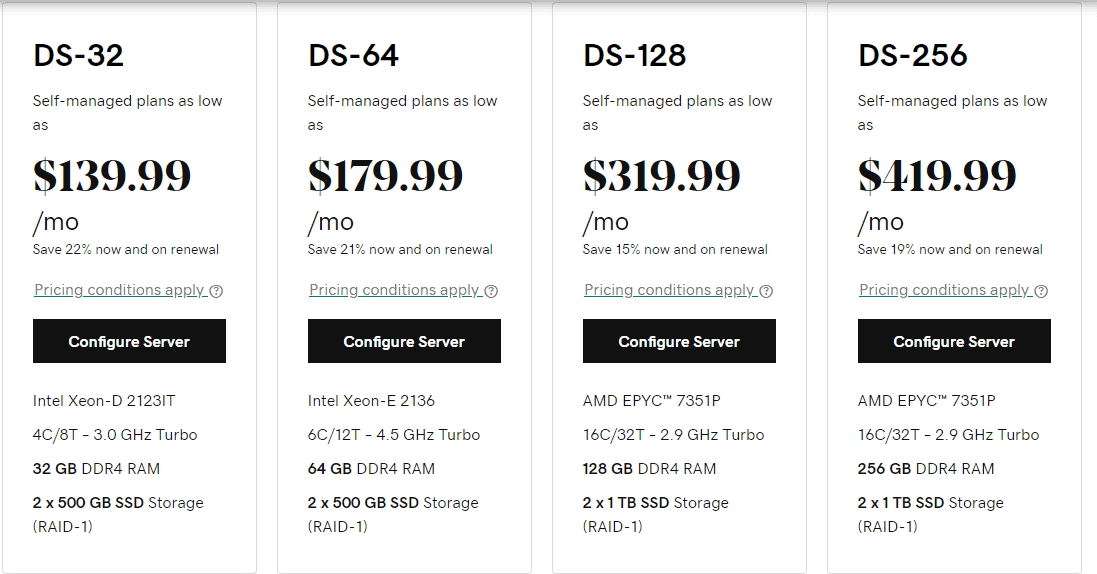 GoDaddy's dedicated servers only support Windows and Linux operating system, with the former more expensive than the latter. All GoDaddy's packages come with daily backup, top-notch security, full root access, and a dedicated team of admin experts monitoring your website round the clock.
For new customers, GoDaddy's cost about $69.99 every month and will cost $169 per month when you renew your plan. The starter plan offers you a 3.1GHz quad-core processor, 4GB RAM, and 3 dedicated IP addresses. For details of pricing and plans, Click Here.
GoDaddy is one of the best dedicated server hosting providers with the option of a self managed hosting offering Linux (CentOS, Fendora, Ubuntu) or Windows, as well as managed and fully managed hosting offering Linux (CentOS) or Windows.
Read More: Kartra Features | Black Friday Hosting Deals | Website Essentials | Web Hosting Nigeria
Dedicated Server Hosting in Nigeria
The dedicated server hosting companies provided above will no doubt serve you well if you live in Nigeria. However, you may prefer to do business with a Nigeria-based business. Here are some of the best Dedicated server hosting providers in Nigeria.
Some of these services have datacentres in Nigeria and in Africa countries like South Africa and Ghana.
Best Dedicated Server Hosting Companies in Nigeria
Web4Africa
QServers
VBHostNet
HostNowNow
SmartWeb
Utiware
Building Website Articles
Paschal Okafor
is
NaijaTechGuide Team Lead
. The article
Dedicated Server Hosting
was written by . The article was last modified:
July 21st, 2023