The kitchen is one of the most important parts of a home, but we put very little interest in equipping it. While we spend thousands of Naira buying the latest gadgets and appliances for our living rooms like large screen TVs and home theatre system, our kitchens remain the way our fathers and our grandfathers' kitchens were with manual appliances. In this article we will suggest a few kitchen appliances that will modernise your kitchen today.
Bread Toasters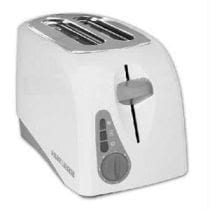 Bread is a common part of today's breakfast. A toaster is an electric appliance that browns bread by applying heat to it making it firmer and more palatable. Toasters are magic appliances for the kitchen. In goes sliced bread and out comes a good looking brownish or golden snack. It is still bread, but more interesting and tasty.
If you or your family are getting bored by bread, a toaster can renew interest. Bread toasters come with a number of slots for placing the bread in the toaster with 2 slot toasters popular and recommended for family bread toasters. A two slot toaster will toast two slices of bread at a time. Bread Toast can be spread with butter or eaten with other filling like jam, sauce, etc.
Sandwich Maker/Toasters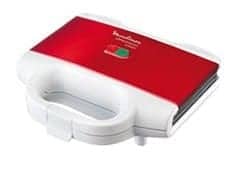 Sandwich maker is another magic appliance for your kitchen designed to make bread more delicious and interesting to eat. It is an electric appliance with internal hotplates for toasting bread sandwich. You place a filling of choice between two slices of bread and place inside a sandwich maker and out comes a healthy and delicious snack for launch or even breakfast.
Microwave Oven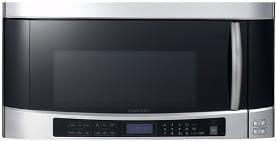 Microwave ovens use the heating effect of microwaves to cook or heat food. Microwave ovens are great for warming and defrosting food. They are also very fast in cooking, making them an asset in the kitchen. A microwave with turn-table feature will rotate the food while cooking leading to more even heating.
Microwave ovens come with different kinds of useful features. For example, a microwave oven with a keep-warm feature will keep your food warm until you are ready to serve it.
Gas & Electric Cookers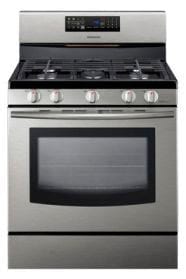 Gas Cookers are probably the fastest way of doing serious cooking. Electric Cookers are the cheapest appliance for cooking at home, but because of the epileptic power supply in Nigeria, they cannot be your only cooker in your kitchen. While you can get cookers that offer only gas cooking or electric cooking, I will suggest you get one with both Gas and Electric Cookers, so you can enjoy the best of both worlds.
The ideal is a Cooker with four gas burners with gas oven and grill and two electric plates (one large and one small). However, depending on your budget and the size of your family, you can buy one with fewer gas burners and one/two electric plate.
Blenders/Mixers & Grinders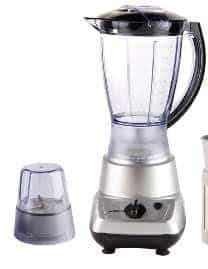 You probably have a blender in your kitchen. A Blender is an electric appliance for mashing and mixing food ingredients like tomatoes, pepper, onions, etc. It can also be called a mixer as mixing is always involved in its use. A blender can also be used for crushing ice and for making smoothies.
Some blending sets come with an additional blender jar with blades designed for dry food ingredients like crayfish, egusi, ogbono, etc. This blender jar is called the grinder. When buying a blender for your home kitchen, buying a set with a grinder is advisable.
Dishwashers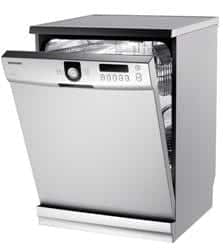 After eating those delicious meals someone is usually left to cleanup. A dishwasher will make life a lot easy for that person. Dishwashers use a stream of mildly hot water and detergent to wash your dishes and utensils, saving you from the hard work.
Dishwashers have capacity for the quantity of dishes they can wash. They also come with different programs for different washing scenarios. You can also control the temperature of the water stream depending on your needs.
Electric Can Openers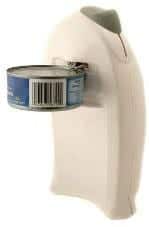 Electric can openers will make opening cans safer and easier. Your canned foods can easily be opened with little or no effort on your part. Some electric can openers also features bottle openers as well as knife sharpers making them very useful appliances in your kitchen and home.
These are some of the appliances that can make your kitchen modern. They can also remove a lot of hard work involved in cooking and cleaning up after.
Air Conditioners Related Topics:
Paschal Okafor
is
NaijaTechGuide Team Lead
. The article
Best Kitchen Appliances for your Home
was written by . The article was last modified:
October 20th, 2019