There are many challenges and risks to shopping online in Nigeria and Africa like poor infrastructure and lack of trust, but one online store has been continuously innovating and finding solutions to these challenges. In this article I will share 5 ways that Jumia is making online shopping safer, reducing the risks, and boosting the confidence of more consumers to shop online.
If you are an online shopping skeptic, read on because this article will also unlock tips on how you can be safe when shopping online. Whether you are shopping for Mobile Phones or interested in Fashion, these tips will keep you safe.
1. Products are Checked for Quality
Jumia has introduced a valued added service called Jumia Express. This is a way for Jumia to tackle the high rate of substandard products at the store. Products that qualify for Jumia Express are labelled with the Jumia Express badge.
Before a product is labelled Jumia Express, the merchant has to physically send the product to Jumia for physical inspection. During the physical inspection, the product is checked for quality and authenticity and are listed with the badge only if they pass.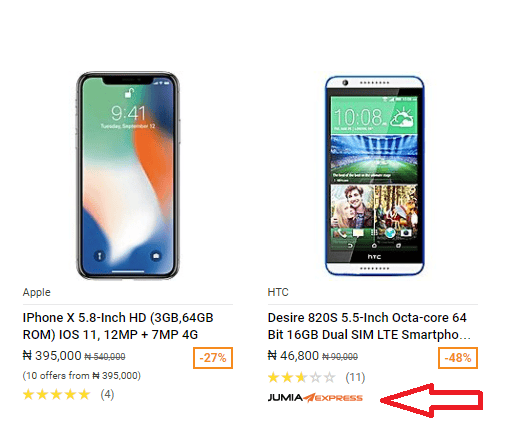 What all this means is that if you want to stay clear of fake and substandard products at Jumia, prioritize your shopping to only (or more of) items that are labelled Jumia Express. Buying Jumia Express products also come with other benefits like cost effective shipping, faster delivery time, and even free shipping in Lagos.
Buying products labelled Jumia Express is a good way to be safe from substandard products and reduce the risk of buying fake products when shopping online at Jumia.
2. Pay When Order is Delivered
Trust is a big issue in Nigeria. This makes a lot of consumers skeptical about shopping online. Online Shopping traditionally involves making payment for an item online and trusting that the merchant will deliver the item you ordered. However, in countries with trust deficit like is the case in Nigeria and some African countries, this becomes a challenge.
Consumers in Nigeria are skeptical about ordering products online because they are not sure they will receive the product. To solve this problem, Jumia introduced Pay on delivery. Just pick the items you want, place your order, Jumia will deliver the items and you pay when you see the product.
Of course, some pundits in Nigeria are kicking against pay on delivery, they prefer Nigerians be forced to pay for items online with their debit cards. I, however share a different view. The customer is king and businesses should adapt to the peculiarities of the market rather than expecting the market to adapt. Even Amazon introduced cash on delivery when it launched in India.
For a business to have the ability to change market behaviour, its offering must be exclusive and compelling enough to make consumers want to leave their comfort zones. Online stores in Nigeria simply do not have such power over retail in Nigeria, everything they sell consumers can buy in Alaba market.
This is why I commend Jumia for retaining the Pay on Delivery option as against Konga that stopped. I believe that Konga will probably have to reintroduce it if they are serious about being a top competitor in Nigeria (As a matter of fact Pay on Delivery will return to Konga on August 1). I believe that rather than stopping it entirely, online stores can use incentives like discounts and cashback to encourage their customers to shop with debit cards.
Jumia in addition can unleash the powers of big data and AI to predict bad customers (i.e. unserious customers that order products just to see whether it will be delivered with no intention of buying), so that they can reduce cost associated with bad orders.
So, if you are still an online shopping skeptic, just try Jumia today. Place your order, Jumia will deliver and you pay on delivery.
3. Seller Rating
Merchants on Jumia are ranked using a seller rating. The sellers are rated on:
Fulfillment Rate: The proportion of orders that gets delivered by seller (Maximum score is 5)
Quality Product: How good the product is (Maximum score: 5)
Shipping Speed: How fast the seller ships an order (Maximum score: 5)
The overall seller rating is the average of these three scores.
The seller rating is located on the right sidebar on the product page.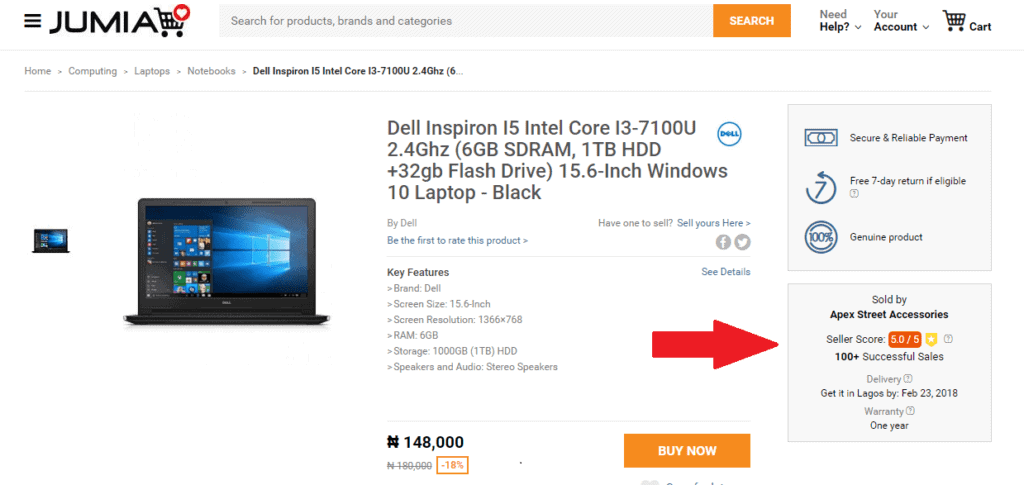 On mobile, you will find it below the Buy Now button.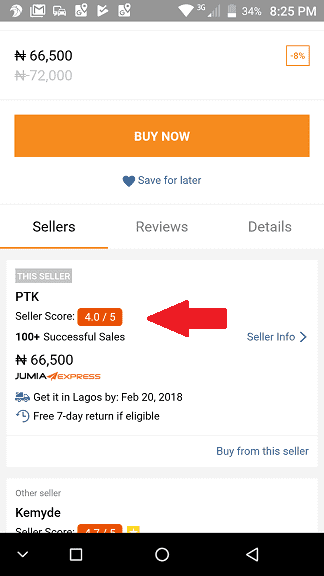 The seller rating is a good way to know sellers that have a good reputation. You will also see the number of orders the seller has successfully fulfilled. This shows that this seller has successfully fulfilled those number of orders, which means they are also more likely to deliver yours.
The seller rating visible on the page is the overall average. To get a more precise breakdown rating of the seller, point the mouse on the overall rating on your computer.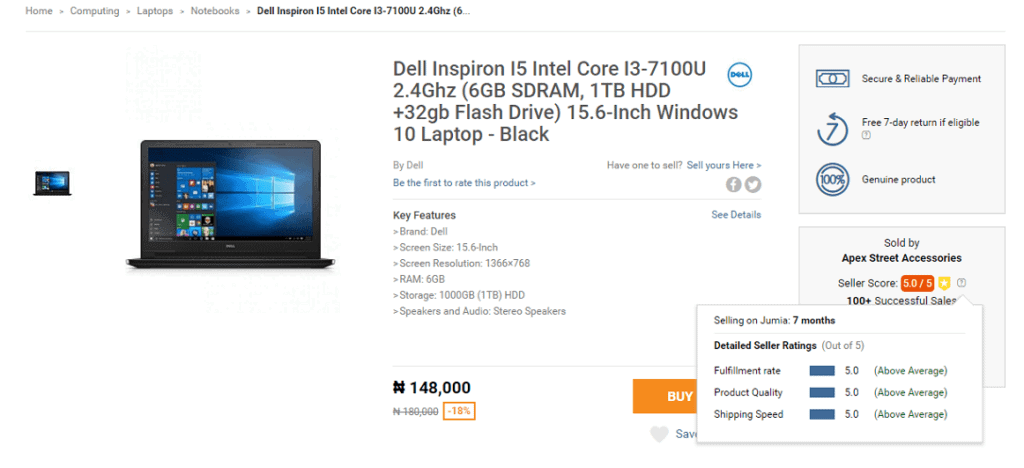 On Mobile, tap on Seller Info link
On the seller rating you will also find how long the said merchant was been selling on Jumia. If a merchant has been selling on Jumia for long, has a good seller rating, and has a good number of successful sales, it shows that they have a good reputation otherwise they would have been banned or blacklisted due to customer complaints. These are the sort of merchants you should be buying from if you want to reduce your risk when shopping on Jumia.
4. Customer Reviews and Ratings
Another way Jumia is combating substandard products and bad merchants at the store is with customer reviews. Jumia Customers can review and rate products they bought or the experiences they had with a merchant. These reviews and ratings help customers stay clear of bad products and bad merchants.
Reviews can be good or bad, but my advice is usually to ignore the good reviews and focus on the bad reviews. Find out the particular issue the customer had and see whether it is something that is important to you. If not you can ignore it.
It is a good idea to read customer reviews before you buy a product at Jumia. This is a good way to stay safe and reduce risk when shopping online.
5. Secured Website
Although this is a no brainer for online stores these days, when you shop on Jumia your communication is encrypted using state of the art 256-bit encryption. This means that when you shop on Jumia your activities are protected from prying eyes with the same level of security as any other world class online store.
Successful businesses solve problems. I have just shown you five ways Jumia is solving your safety concerns about shopping online. I am hoping these will be enough to rekindle your interest in online shopping. Do you have recommendations of more things online stores can do to make you feel safer while shopping online or you just want to share your thoughts? I will like to hear from you.
Related Topics
Paschal Okafor
is
NaijaTechGuide Team Lead
. The article
5 Ways Jumia makes Online Shopping Safer and Less Risky
was written by . The article was last modified:
July 27th, 2018