When buying home appliances and accessories, one thing that should always be considered is space and size. You do not want to get something that ends up taking up more space than it should, creating an unsightly scene. Here we look at the best compact washing machines for when space is limited.
Should you want to buy, say, a washing machine, you are soon to find out that they are some of the biggest home units you can buy. What you might not know is that there are some compact units you can get.
Interested now, are we? Well then, here are some of the best rated compact washing machine units on the market right now. You will also find a couple of compact twin tub models in this listing of best twin tub washing machines.
Best Compact Washing Machines in 2022
Binatone BWM-046 Washer
Kuppet Portable Twin Tub Washer
Costway Mini Washing Machine
Nexus NX-WM-4SASR Washer
Polystar PV-WD4.5K 4.5kg Washer
Scanfrost SFWMTLZK Washer
QASA QWM-55-DX 3kg Washer
Midea MTE100 Twin Tub
LG WP-750R Twin Tub
Midea MTE80 Twin Tub
Haier Thermocool TLW06 6kg Washer
Midea MTE60 Twin Tub
If you want a general guide of buying washing machines, you can read our article about How to Buy a Washing Machine. You can also checkout Prices of Compact Washers. Now, lets us go through the details of the Best Compact Washing Machines you can buy today with prices.
1. Binatone 4.6kg Compact Washer (BWM 046)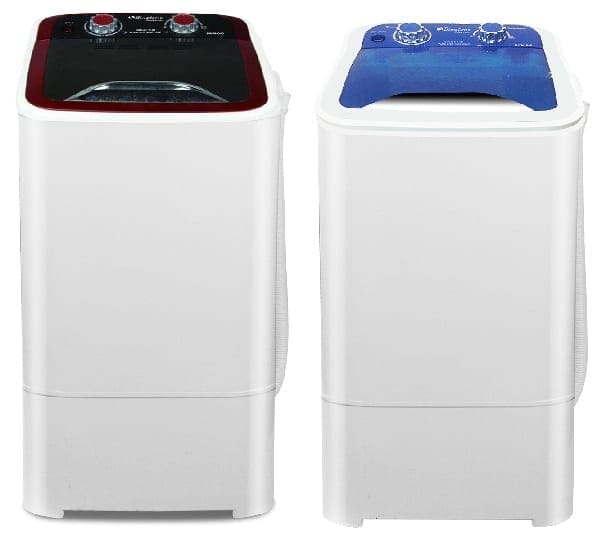 The Binatone BWM 046 is one of the best compact washing machines if you are considering value for money.
Despite being a single tub washer, this machine combines washing and spinning, which is a major distinguishing feature in this category.
There is a spin dryer tub that is attached into the washer tub for spin drying. You detach the spin dryer tub when you want to wash and attach it back for spin-drying. While the washer can handle 4.6kg capacity, the spin dryer is equipped for 2kg laundry load.
The device is rated 220V – 240V, 50Hz with a total power consumption of 360W (240W for the washer and 120W for the spin-dryer).
2. Kuppet 10Lbs Portable Twin Tub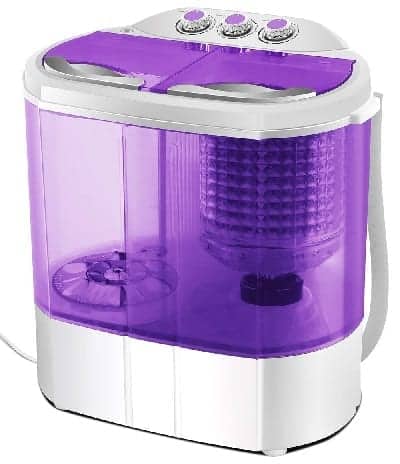 This is a highly compact washer with 5.5lbs capacity washer and a 4.5lbs capacity spin dryer in a twin tub design. The separate timers can handle 15 minutes wash cycles and 5 minutes spinning cycles.
This Kuppet mini washing machine is rated 110V, 50Hz with a total power consumption of 360W (240W for the washer and 120W for the spin dryer).
3. Costway 7Lbs Compact Washing Machine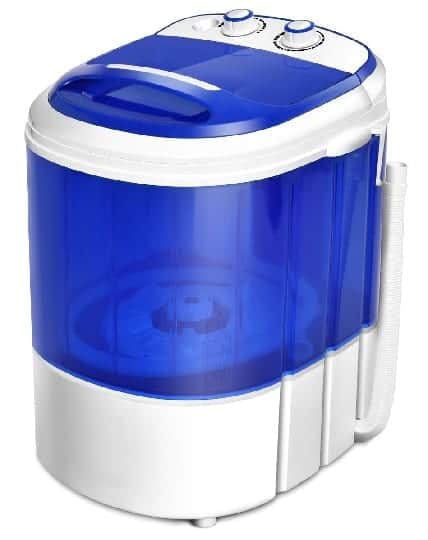 This portable washing machine is as simple as it gets. It comes with just washing capability. There is no spin dryer. The machine has a timer that can be setup for up to 15 minutes wash cycle.
After washing, you can pour fresh water into the tub to rinse. The portability makes it great for dorms, RV camping as well as apartments and homes with limited space.
4. Nexus 4.5kg Single Tub Washer (NX-WM-4SASR)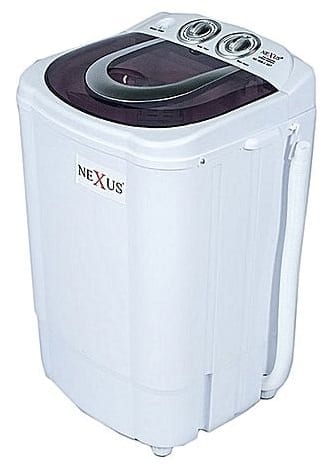 This is a popular compact washer because of its affordability. You get two wash programs, one for delicate fabric and the other for more conventional clothing.
It is rated 220V, 50Hz and sports a lint filter that captures fibre that comes off clothes while washing, preventing them from clogging the drain or getting stuck on clothes.
5. Polystar Washing Machine 4.5kg (PV-WD4.5K)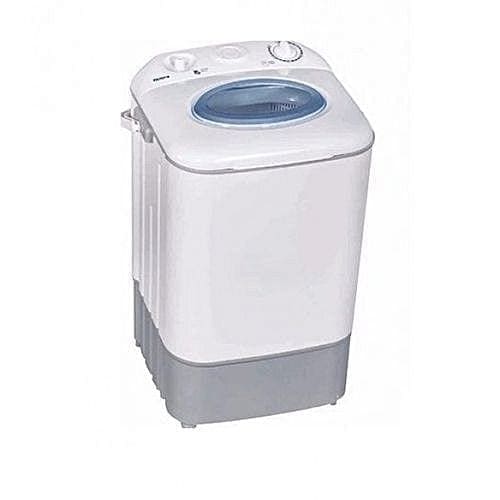 4.5kg capacity of this washing machine is a good capacity for someone living alone in a small space. That is the same thing that Polystar thought when they introduced this portable washing machine.
Operating with a power rating of 220V, the machine is promised to take care of your laundry in as little as 15 minutes. Although it does not come with spin support, the rollers in the washer tub do well to take great care of your clothes.
If you have a power generator, this polystar washing machine is deemed compatible with it, which is a plus considering the unreliable public power supply.
It is also worthy of note that each unit of this compact washing machine is made with ease of operations, considered safe and comes anti-rust plastic for longevity and durability. If you are looking for value for money, at a price of around 19,000 Naira, this is one of the best compact washing machines out there.
6. Scanfrost 6kg Fully Automatic Washer (SFWMTLZK)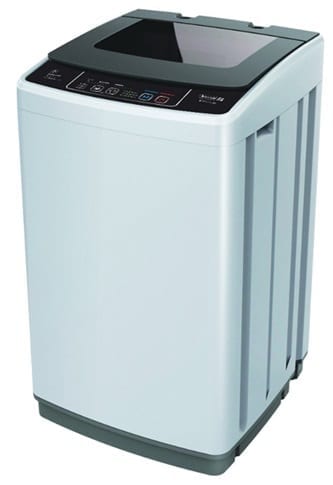 This a premium model and the price is a good clue. It is however a fully automatic model that can handle washing and spinning automatically. You also get water recycle feature and 6 wash programs.
This is one of the best top load washing machines available right now.
The Scanfrost SFWMTLZK features a transparent lid and child lock feature.
7. Century 6kg Twin Tub Washing Machine (CW-8522 B)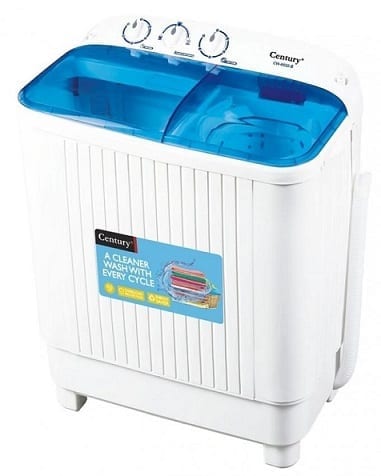 Even though it is a compact washing machine, the Century CW-8522 B is able to take as much as 6kg capacity for washing and 4kg capacity for dry spinning.
It offers in-built lint filter, ease of operation and anti-rust plastic body.
The Compact Washing Machine is also resistant to electric shock (Class 1), comes with a buzzer and timer setup and above all, gives you protection against overloading.
All these makes the Century CW-8522 B one of the Best Compact Washing Machines if you are looking for functionality. It is also one of the best twin tub washing machines.You can buy this machine at around 32,000 Naira.
8. LG 5kg Washing Machine (WP-750R)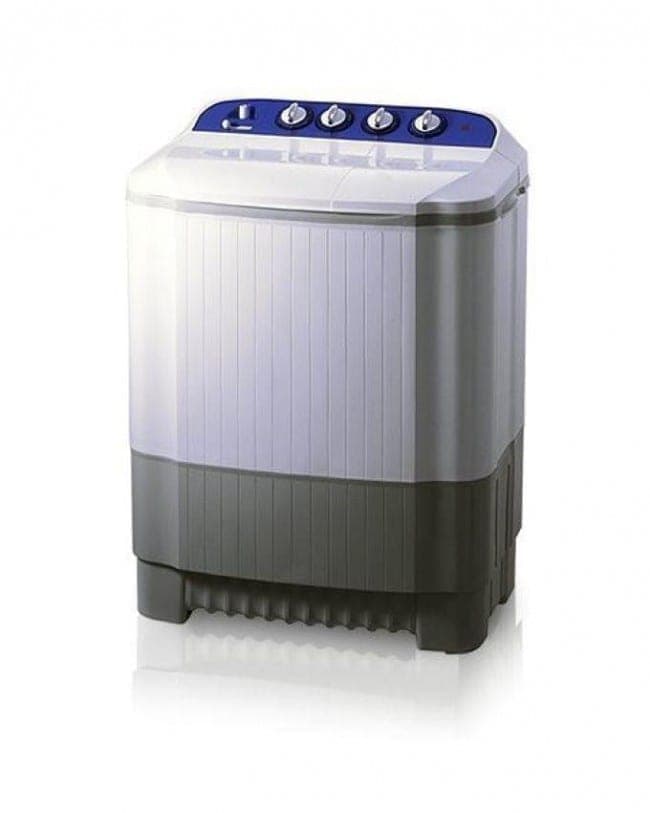 With a carrying capacity of 5KG for washing and 4KG for spin drying, the LG Washing Machine WP-750R impresses for small spaces. Going past the size, it is amazing how this portable washer can still come with a two-tub setup.
There is a powerful roller jet in the wash tub that ensures your clothes get uniformly mixed with the detergent and cleaned out properly too. It has even been specially designed to ensure you don't have to worry about your clothes getting all tangled up anymore.
There is a lint collector in the unit, but that is even bettered by the presence of a water selector. With an overflow filter and energy saving support, this LG unit can easily steal the best rated compact washing machine trophy and run away with it.
9. Midea 10kg Twin Tub Washing Machine (MTA100)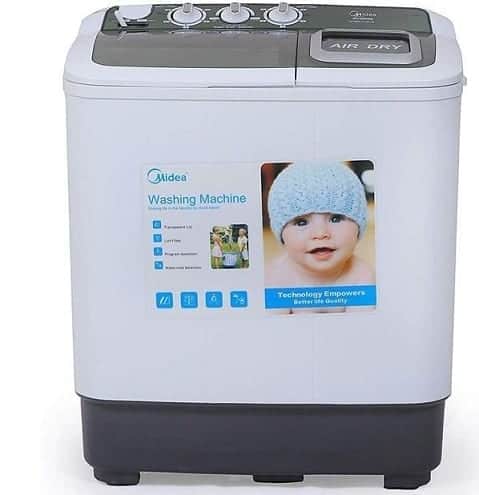 The Midea Washing Machine MTA100 should only be considered if you have a little more space to spare than cramping everything up in a single room.
If that is you, then you should know that this compact washing machine is a sturdy washer that can take as much as 10kg of laundry. It also has a 4.6kg dry-spin capacity.
The Twin tub washing machine offers a super quality build and you will find the slew of controls a fine addition.
Those go on to make sure even the most non-tech savvy can make use of the unit and not have any issues. The far reach of the controls from the front allows for kids control, ensuring they cannot reach out and disrupt the washing pattern you have set.
If you want a more compact twin-tub washer from Midea, you can checkout the Midea MTA60, which has a 6kg washer and a 3.6kg spinning capacity and sells for around 48,000 Naira or the Midea MTA80 with an 8kg washing capacity and a spinner at a price of around 47,000 Naira.
10. QASA 3kg Washing Machine (QWM-55-DX)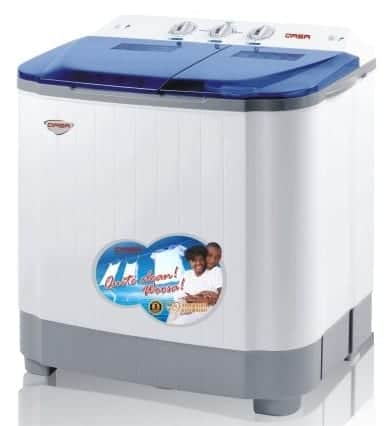 Holding a maximum of 5kg of laundry for washing and 3.8kg for spin dryer, we do not have to repeat that this is a compact unit. Above that, the QASA QWM-81DT2 is one worthy of your home.
You would think so too if you knew that the highly durable unit was constructed of rust-resistant plastic. Even though your unit will come in constant contact with water, it will be able to keep its build and quality over time.
Another thing to be taken into consideration is the way the unit handles its laundry. Unlike some big units, this one properly manages water on your behalf. It also makes sure you don't pay outrageous power bills at the end of the month, all thanks to the efficient power saving feature it carries.
Finally, QASA understands that washing machines are very guilty of shrinking clothes. To that end, they have made sure this one will not make you fall victim to something of the sort. The washer also features a timer and buzzer is a good functionality to earn it a place in our list of best compact washing machines.
We promised you the best rated compact washing machine units you can get for your small spaces, and there they are. Let us know which one you would rather go for and why.
More on Washing Machines
Paschal Okafor
is
NaijaTechGuide Team Lead
. The article
10 Best Compact Washing Machines pick for Small Spaces
was written by . The article was last modified:
July 8th, 2022