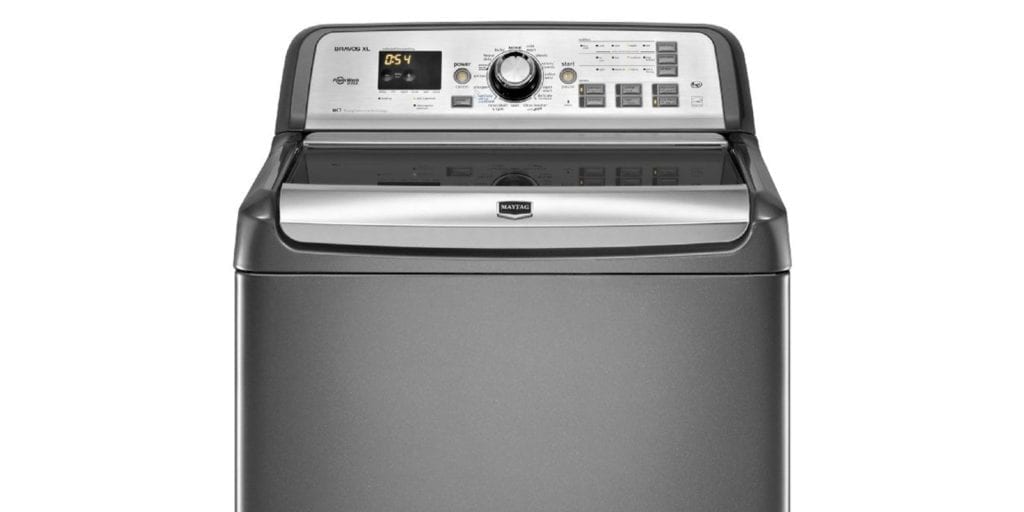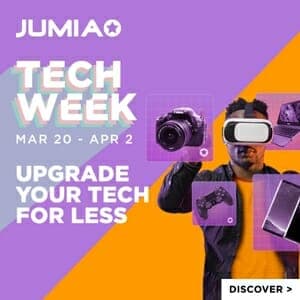 Picking a washing machine to handle your laundry needs is as important as picking the form factor. The most common forms are the top loaders and front loaders. Each unit has its own perks too.
For example, you will find out that the top loaders are generally more reliable. They have been around for a while and thus, tried and tested okay.
Again, the top loading units are usually cheaper than their fancier brothers. When it comes down to the basics, the function of both is to get your laundry done, isn't it?
We could go on, but for the sake of time and space, will stop there. If you have found yourself agreeing with the points above and would like to cop yourself a reliable laundry unit too, here are some picks of the best top loading washing machines to buy.
10 Best Top Load Washing Machines for 2022

1. LG Fully Automatic Top Load Washing Machine (WM1666)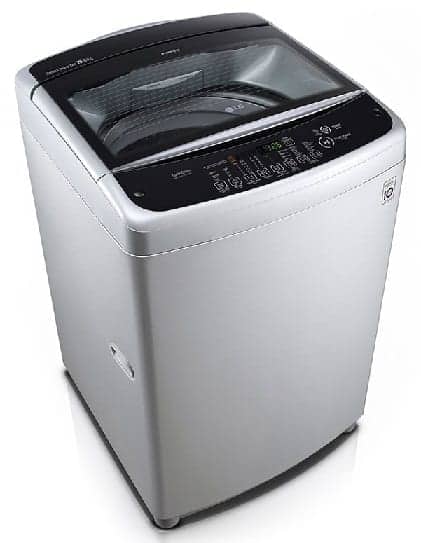 One look at the WM1666 from LG is enough to make you agree that this machine is not here to joke. Before we go on with anything, now is the time to recommend this for those who would like to run a hospitality-related establishment or laundry service.
That is because the unit is capable of holding as much as 16kg of content at once. The top loading unit also takes great care of the clothes with Smart Motion and Smart Inverter that offers 3 different types of motion for an optimize wash. The function of this is to regulate the wash time of the clothes.
This it does by accounting for various available factors such as water, detergent, water temperature and hardness, among other things. The drums in the machine are powered by a Direct Drive technology. Thus, a lot of movement occurs in the machine with as little moving parts as possible. In the end, that ensures minimal damages to the unit.
Of course, this unit will consume more power than the average washers. The good news is that, for its size and capability, it is still a very energy-efficient piece of equipment.
The machine features Auto Start, which means that if you are washing and there is power failure, once power is back on the washer will start washing exactly where it was before the power outage.
2. Giantex 9.92 Lbs Automatic Top Load Washing Machine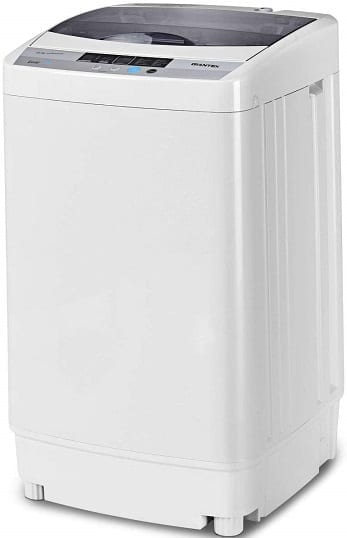 This is compact fully automatic washer can hold up to 1.34 cu.ft and wash up to 9.92lbs (4.5kg) of laundry load. The machine offers 10 wash programs and 8 water level.
This washer washes and spins very well and economizes water and detergent. One major complaint of buyers is that the included hose are short and the hose will probably not match your faucet.
You will have to do some shopping to find a longer hose and an adapter that will connect it to your faucet.
3. ZENSTYLE Fully Automatic Washing Machine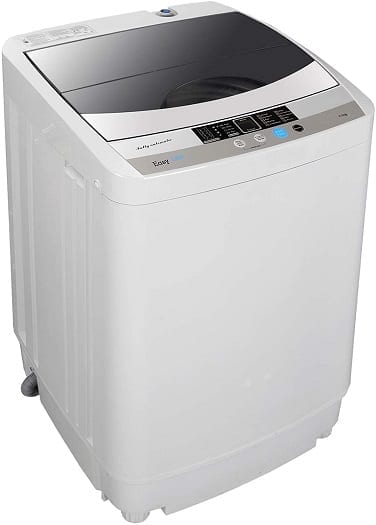 This shares a lot the the Giantex machine above. Just like Giantex washer, this machine is fully automatic with 10 wash programs and 8 water level selection.
The compact washer will wash, rinse, and spin. The capacity is 4.5kg so, the loading capacity can be considered limited for large house. However, you can always spread your washing over several wash cycles.
This machine is rated 110V, 60Hz and consumes up to 240W while washing and up to 210W while spinning.
4. Hisense 8kg Automatic Top Load Washing Machine (WTCT802)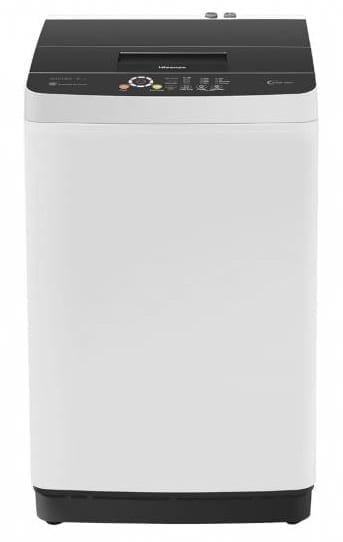 This is a fully automatic washer that will wash, rinse, and spin your clothe with little or no manual assistant. Just connect the appropriate water inlets to a water source and the drain to a sink and choose the appropriate wash program and the Hisense WTCT802 will do the rest.
The front loader has 10 water level selection and can even do the level selection automatically by estimating the weight of the laundry and taking in the appropriate level of water for the load.
It includes a lock function to handle tampering from children. It has two water inlets for hot and cold water, a self diagnosing function, and a self-cleansing function.
5. Scanfrost 6kg Fully Automatic Washing Machine (SFWMTLZK)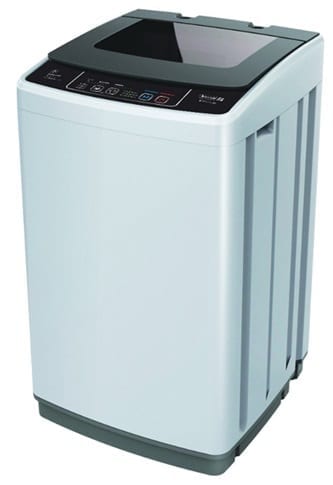 This is another fully automatic washer that will wash, rinse, and spin. It two water inlets for hot and cold water and a drain outlet during water recycle or at the end of the wash cycle.
Scanfrost SFWMTLZK has a transparent lid and offers 6 wash programs and 6 water level selections.
6. Haier Thermocool 8kg Twin Tub Washing Machine (TLSA08)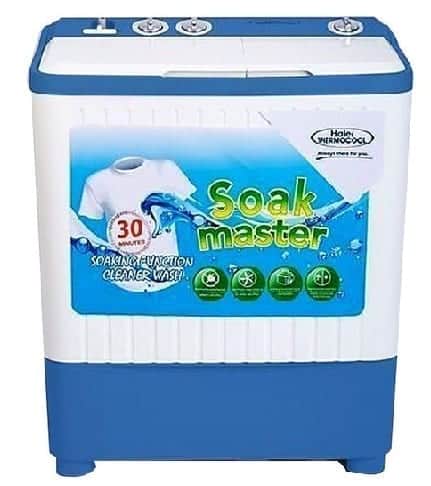 The Nigerian market is a place where power outage remains one of the biggest problems. Thermocool took that problem into consideration when building users the TLSA08, so much that the machine would save current washing information in the case of a power outage and resume when the lights come back on.
The machine even offers a soak feature that allows the fabrics rest in a 'soak' position for up to 30 minutes before it kicks into laundry proper. The twin tub features an 8kg washer and a 6kg spin dryer. It is one of the best twin tub washing machines you can buy right now.
Under the standard programming, the machine will be able to recommend to you the ideal level of water to be used for each laundry process.
That will be supplemented with information on the amount of detergent to use likewise. As if that is not enough goodies on one unit, the machine still offers the required time the wash process would take.
Available in a number of different colour for picky buyers, here is one unit you can leave your laundry with as you go about doing other things.
7. Midea 10kg Twin Tub Washing Machine (MTA100)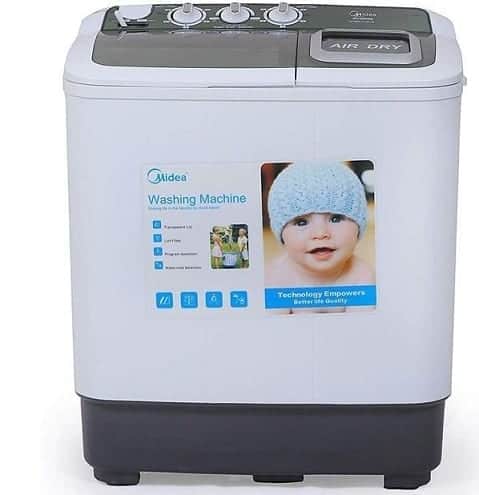 Midea sure knows how to please the market. Offering twin tubs on the MTA100 makes the washing process even more interesting.
While the first tub holds as much as 10kg of fabric at once and removes even the toughest of stains from them, the other tub (4.6kg spin dryer) will drain as much water from the fabric as possible.
Gone are the days when you had to wait long hours for your clothes to get dry. As a plus, the spin-dryer feature will come in handy on a rainy/ not-so-sunny day
Going further, the unit has support for regular and heavy washing. Asides everyday fabric, tough materials like bedsheets, duvets and curtains can be thrown into the top loading unit.
Available in colour options of white only, you should know that the MTA100 only ships with a cold-water connection.
8. Binatone BWM-046 Top Load Washer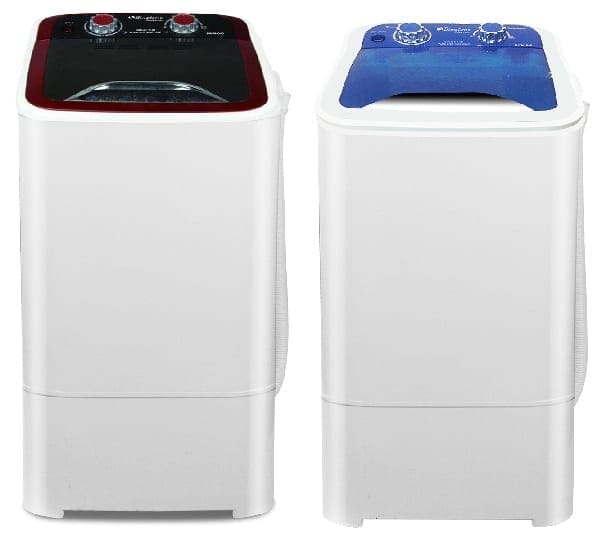 This is one of the most versatile portable washer combining a 4.6kg washer and 2.0kg spinner in a very compact body. This distinguishes it from most mini compact washers that lack the spin drying function.
There is a detachable spin dryer tub that is attached into the washer tub for spin drying. You detach the spin dryer tub when you want to wash and attach it back for spin-drying. This is one of the best compact washers you can buy today.
Binatone BWM-046  is rated 220V – 240V, 50Hz with a total power consumption of 360W (240W for the washer and 120W for the spin-dryer).
9. Polystar Top Load Washing Machine (PV-WD6.5K)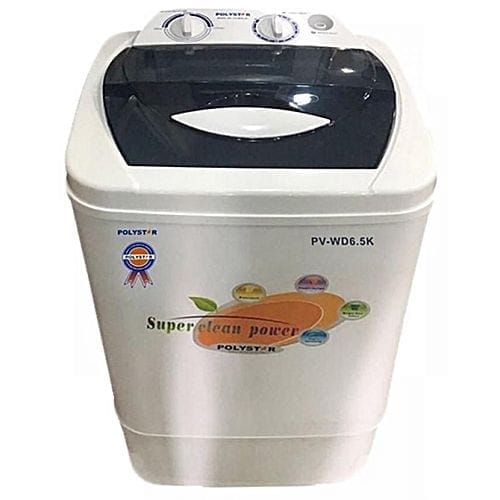 What makes the Polystar Top Load Washing Machine BF16 a candidate for this list, asides the obvious reason of it being a top loading washing machine, is its suitability for more than one-person use.
It can take up to 6.5 kg of content (water and clothes) at once and wash them all to satisfaction. The washing unit comes with energy and water saving technology to help manage resources better.
It also features a quick wash feature, has a clean wash program and comes with support for a normal wash too. On top of that, the plastic on the body is built to withstand nearly anything you throw at it. Due to the constant contact the unit will have with water, special considerations have been made to ensure all parts were made with anti-rust material.
There is a magic filter in the mix that would remove lint from the washing machine for easy cleaning. Finally, this unit operates with low noise and is compatible with operation on generator power.
10. Scanfrost Top Load Washing Machine (SFSANTTD6)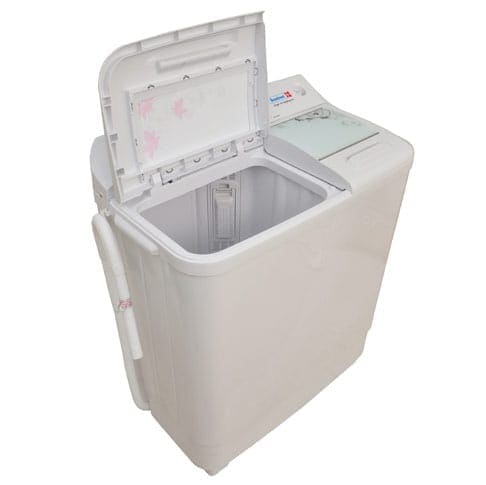 A feature that cannot be missed on the Scanfrost Top Load Washing Machine has to be the presence of two tubs. One of the tubs will serve the aim of washing your laundry while the other is reserved for spinning.
The 6.8kg capacity unit ships with non-detachable covers that makes it ideal for safe washing, especially when there are kids around. To further encourage energy saving, the tub allows you run in your own hot water for the washing process.
On the control panel are knobs which allows you set the wash parameters. You can choose different settings for how smooth or heavy the fabrics to be washed are and how long you will like them to wash for.
Likewise, a spin timer lets you control how long the fabric spends in the other tub. To get rid of excess water, the washing machine features an in-built drain pump and outlet pipe to get the job done.
Its hard to disagree with this being a collection of some of the best top loading washing machines to buy, is it not? Now that you know, which of these units would you be going for?
Related Topics
Paschal Okafor
is
NaijaTechGuide Team Lead
. The article
Best Top Load Washing Machines for Homes and Businesses
was written by . The article was last modified:
July 8th, 2022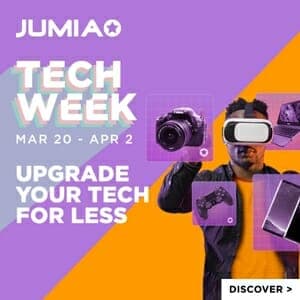 NaijaTechGuide may receive financial compensation for products/services purchased through affiliate links on this site. See
full Affiliate Disclosure Here