Looking for the best VPS hosting in 2023? Look no further! Whether you're running a small e-commerce store or managing a growing online community, a VPS hosting solution can provide you with the power, flexibility, and security you need to succeed.
However, there are many options to choose from, making finding the best VPS hosting provider a daunting task. That's where we come in. In this article, we've done the research for you and compiled a list of the top VPS hosting providers for 2023.
Below, we will be taking a closer look at their features, performance, customer support, and pricing, in order to help you make an informed decision and find the perfect VPS hosting solution for your needs. So, let's dive in and discover the best VPS hosting in 2023.
Best VPS Hosting Providers
Listed below are some of the best VPS Hosting websites to subscribe to in 2023, as well as their plans and pricing.
1. Hostinger VPS Hosting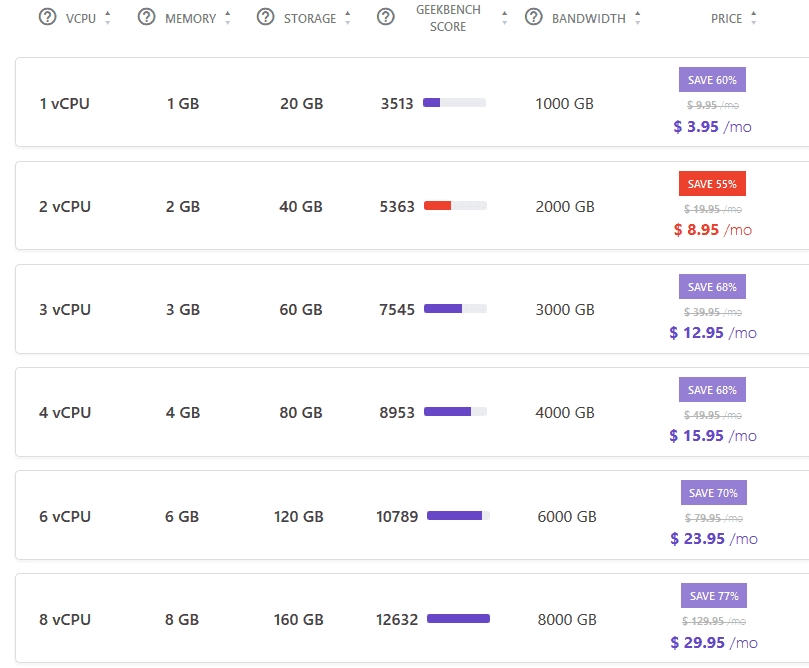 Hostinger is well known for affordable web hosting. The company's $0.99 web hosting is very popular for beginner bloggers. This is why it is no surprise that Hostinger is also offering one of the most affordable VPS Hosting plans starting at $3.95 per month for the first term and $9.95 when renewing.
Hostinger Virtual Private Servers offer fast SSD, dedicated IP address, full root access and IPv6 support.
For details of plans and pricing, Click Here.
2. BlueHost VPS Hosting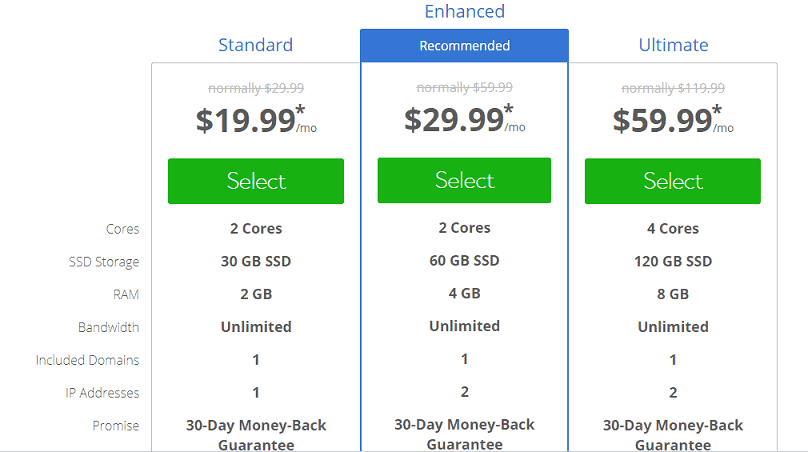 For as low as $19.99, you can get your website on BlueHost's virtual private servers. And this is good for small businesses looking to improve site power, flexibility, and have a bit more control over their websites.
Bluehost also offers one of the best VPS hosting for WordPress. For details of plans and pricing, Click Here.
3. HostGator VPS Hosting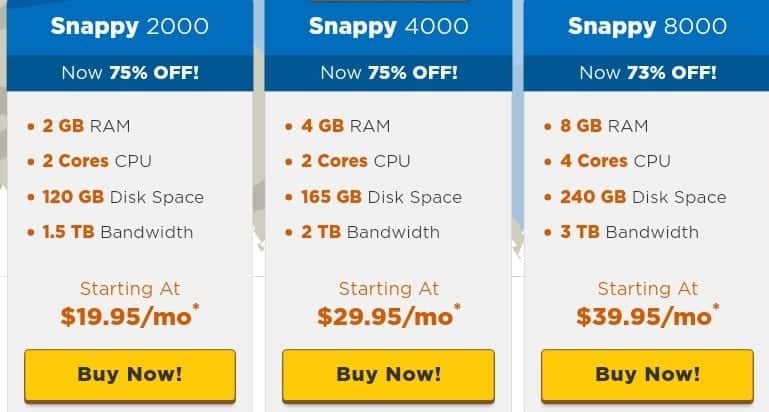 HostGator is another great option if you are shopping for virtual private servers for your website. Renowned for its affordable plans, colossal disk space and bandwidth size, HostGator wouldn't be a bad choice if you are looking to move your website hosting over to VPS.
- Advertisement -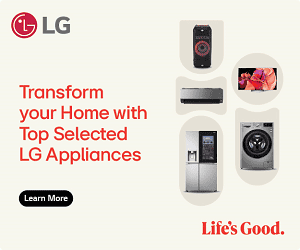 You get root access to the server which gives you total control. It is also easily scalable. No need paying for more resources than you actually need. Start small and add more resources as your website grows.
Starting at $19.95 per month, HostGator also offers one of the best VPS hosting for WordPress. For details of plans and pricing, Click Here.
4. Liquid Web VPS Hosting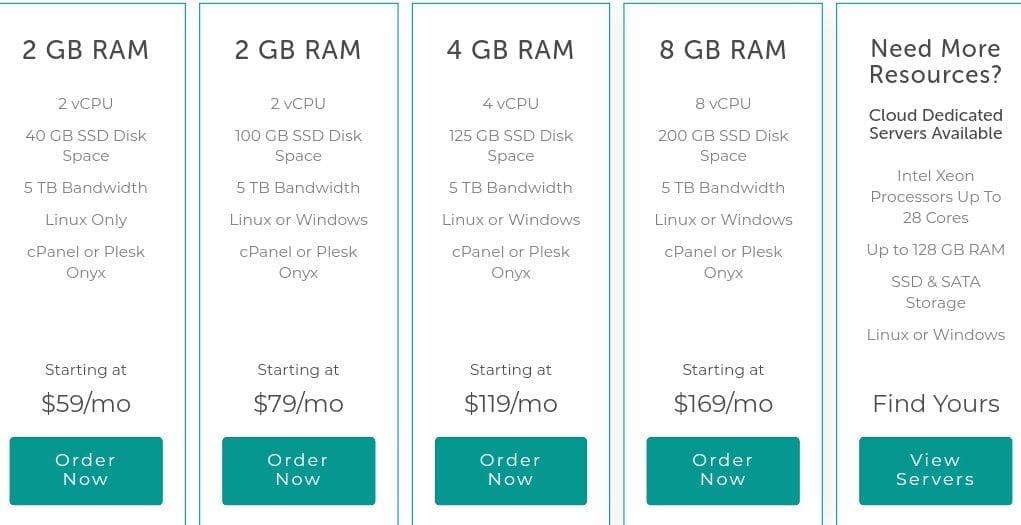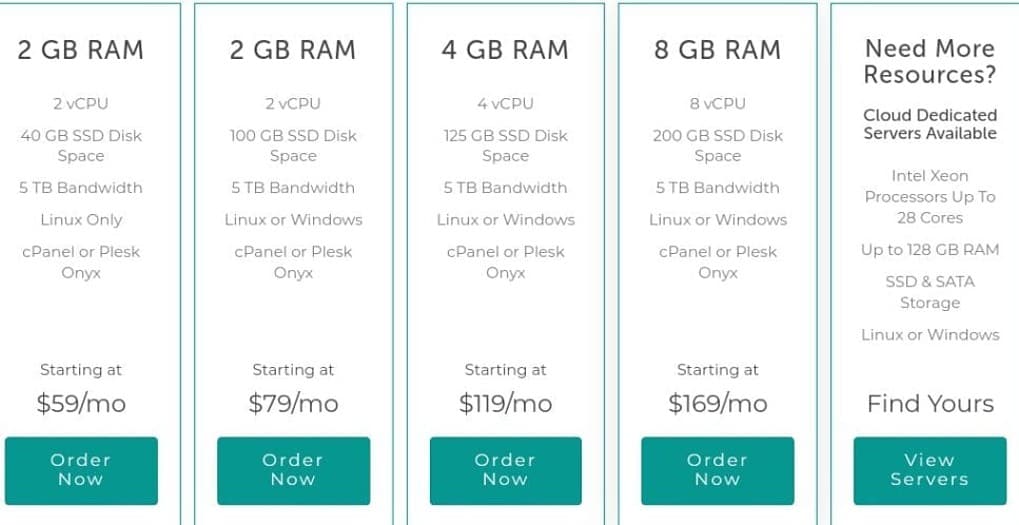 Liquid Web one of the most reliable provider of Virtual Private Servers. It plans may seem a bit pricey, but if you are looking high performance Virtual Private Servers, Liquid Web is a great choice.
You can choose between Windows or Linux hosting, though the option is not available in the entry-level plan. Every plan offers a dedicated IP, Cloudflare CDN, Integrated Firewall, DDos attack protection, Root access, root access, local backup, 100% uptime guarantee, as well as other well thought out features.
If you are looking for a virtual private server for your WordPress based website, it may interest you to know that Liquid Web's fully managed VPS, is one of the best VPS hosting for WordPress. Price starts at $39 per month. For details of plans and pricing, Click Here.
5. InMotion VPS Hosting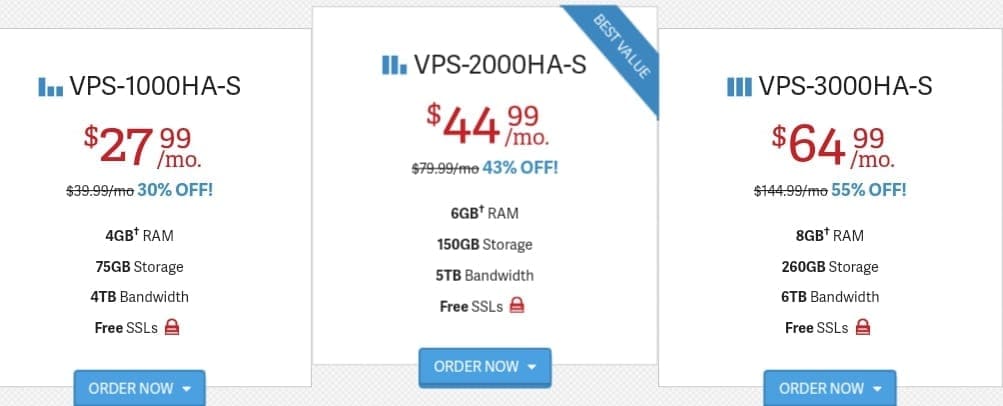 InMotion offers a wide range of VPS hosting plans. Their plans are affordable and reasonable. InMotion's least Virtual Server plan goes for $5 per month for a self managed plan, while a fully managed plan starts at around $29.99 per month for the first term and $44.99 on renewal.
The entry fully managed plan offers 4GB of RAM, 75GB storage, and 1TB of bandwidth.
See more plans in the image or on the official InMotion website.
InMotion boasts zero downtime. It also boast of optimized configurations for WordPress and PHP handing 10 times more traffic.
6. GoDaddy VPS Hosting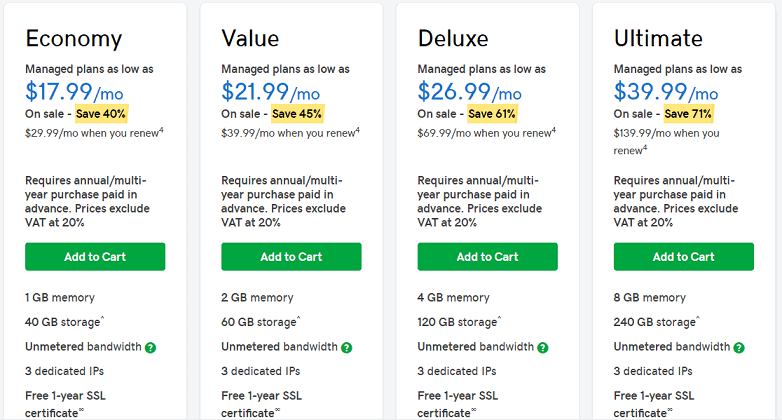 GoDaddy offers one of the best VPS hosting services. And like DreamHost, it also offers unmetered bandwidth and expandable storage. In addition, GoDaddy's Virtual Private Servers are quite affordable and budget-friendly starting at $4.99 per month for the first term ($7.99 per month for renewal).
You get root access and 3 dedicated IP addresses with each plan. GoDaddy gives you the option of Self Managed, Managed, and Fully Managed Virtual Private Servers.
You can pick self managed if you are a Pro, but Fully managed should be chosen by newbies. You can also choose between Linux and Windows Hosting. For details of plans and pricing, Click Here.
7. DreamHost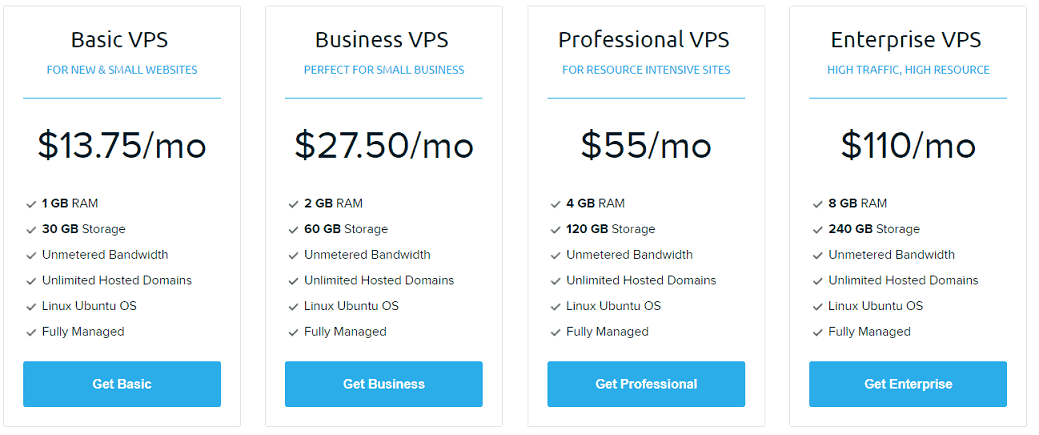 Be it for your application or website, hosting on DreamHost VPS guarantees unhindered performance, unlimited bandwidth, as well as simplistic control panel.
Prices are also appealing – starts from $10 and varies upwards depending on the storage property of the plan you opt for. You get 100% uptime guarantee. DreamHost offers one of the best VPS hosting services if you want a cheap VPS hosting.
For details of plans and pricing, Click Here.
8. HostWinds
Talk about the best hosting companies, you've got to mention HostWinds. The website boast of state-of-the-art hardware and flexible plans that won't have you breaking your piggy banks (or the real bank).
For as low as $5.17 every month, you can get your website on HostWind's Virtual Private servers. You have the option of managed and unmanaged solutions on Linux or Windows. Hostwinds id another good option if you are looking for Cheap VPS Hosting. For details of plans and pricing, Click Here.
You may also be interested in Best WordPress Plugins.
What is VPS Hosting
First, VPS is an acronym for Virtual Private Server and going by Webshostingsecretsrevealed's apt and summarized definition,
"VPS hosting = Shared Hosting + Server Root Access + Dedicated Resources + Isolated Environment. What this means is that VPS sits in between Shared and Dedicated Hosting."
The above is a geekier and technical explanation. Now let me break it down (by taking you back to the basics) — for beginner's sake.
In Shared Hosting, multiple websites are under a single umbrella (read: server) and share the same resources like CPU, RAM, storage space (HDD or SDD), and bandwidth. In Dedicated Hosting, a website has its own unique umbrella (again: server) likewise, its unique RAM, CPU, OS, bandwidth and hard drive space.
You following? Good.
Now, VPS Hosting has a stand-point is between Shared and Dedicated Server Hosting. This simply means VPS Hosting shares some characteristics with Shared and Dedicated Hosting.
Here's how: Like Shared Hosting, Virtual private servers places your website on a giant unit of server shared by other websites with each websites having their individual RAM, CPU, bandwidth, storage, and OS (as in Dedicated Hosting).
And why should you care about VPS hosting? Or is there any reason why you should consider virtual private servers for your website? Well…yes, there actually is. It has reliability and control advantage over shared hosting & and less expensive than dedicated hosting.
So if you do not want the activity of other websites to affect yours (as in Shared Hosting) or you do not have enough dough to opt for Dedicated Hosting, VPS Hosting is the perfect option for your website/business. It is more of an affordable version of dedicated hosting, so to speak.
Why Choose a VPS Hosting?
Let's say all is set for your business to go online, but one key element is missing — hosting. But that seems to be no problem. There's Google, right? You go in search of the best web hosting websites and services out there. Then the reality hits you and confusion sets in – particularly if you are a newbie to web design and hosting.
However, depending on the aim of your business, application or website, there are many common types of hosting to choose from. There are some you would come across a lot: shared hosting, Cloud hosting, and WordPress hosting. VPS Hosting is another (that seems to get people confused).
VPS (Virtual Private Server) Hosting gives you a lot more flexibility and control over your website. It gives more control over the configuration of your server with root access.
If your website require peculiar server configuration different from the default setup for shared, cloud, or managed WordPress hosting, a virtual private server will be your best bet.
The Virtual Private Server provider you choose to go for entirely depends on what you need for your business and your purchasing power. But listed above are presently some of the best VPS Hosting to use as a guide when VPS-shopping for your application, businesses and website.
Related Topics
Paschal Okafor
is
NaijaTechGuide Team Lead
. The article
Best VPS Hosting in 2023 (WordPress Hosting included)
was written by . The article was last modified:
July 21st, 2023