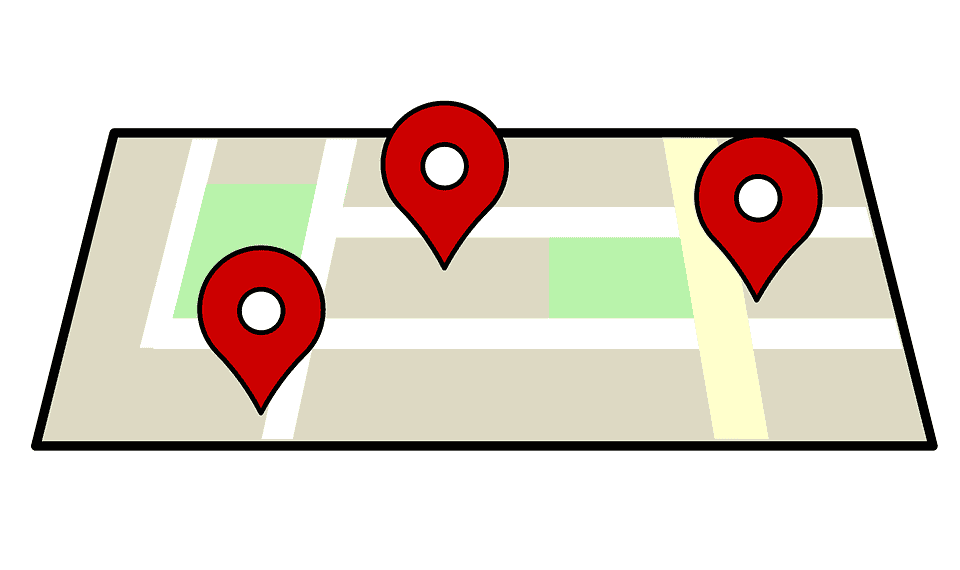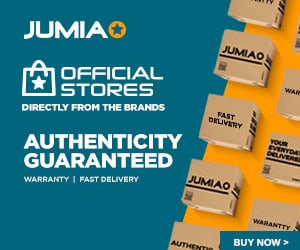 Ever feel as if your kids are acting strange or using the phone all day? Ever feel like your partner has been out of the house a lot lately for any reason whatsoever? Sometimes it becomes necessary to keep tabs on your loved ones. Be it to keep them safe or to protect oneself from getting cheated on. This is where phone tracking apps can come very handy.

Today we have for you the top 11 best tracking apps for finding someone's location in 2023. All of the apps are 100 % legal and work with great ease. This way you can monitor your target devices activity and the locations it travels to with great accuracy.
Do you want to know where your family members and loved ones are at any given time? Are you worried about online predators luring your child away? With the best phone tracking apps, you can put your mind at ease and keep your family safe.
Tracking apps provide you with real-time location updates and notifications when someone leaves or arrives at a certain place. They can also be used to monitor your children's online activities, so you can keep them away from potential dangers.
With the right phone tracking app, you can rest assured that your family is safe and secure at all times. You can also keep an eye on your spouse and partner. Keep reading to learn more about the top phone tracking apps and how they can benefit you and your family.
The Top 11 Tracking Apps to Find Someone's location in 2023
1. mSpy
Available for Android and iOS, mSpy offer location tracking features that enables you know where a person is once installed on the target's phone.
You can check whether they are or were actually in the school, the office, or the mall like they claimed. You can setup geofences to get alerts when they move into or outside the geofence.
The location tracker does not only tell you where they are at the moment, but also where they have been. It is one of the best tracking apps for finding someone's location.
You can see their text messages even the deleted text as well as their activities across multiple apps. You can see who they chatting and calling on their phone with the details of the chats as well as photos and videos they are sharing online.
mSpy even offers a keylogger that monitors every keystroke and tap as well as a screen recorder that can show you whats on their screen. This phone tracking app does not require to root or jailbreak the device for iOS devices.
2. EyeZy
EyeZy offers location tracking features that enables you tracking anyone's location once you install the app on their phone. The app will also be in stealth mode. Like most of the apps listed here it can be used as a parental control app for monitoring your kid's online activities as well as track their location offline.
However, it can also be used to find the location of anyone like a spouse or partner.
Available for both iOS and Android, this app is fully featured and does not require you to root or jailbreak the device. EyeZy is one of the best phone tracking apps if you are looking for a versatile solution. Just download the apps at the Apps Store or Play Store for iOS and Android devices respectively and you are good to go. Learn More Here
3. KidsGuard Pro
KidsGuard Pro is a parental control app that can be used to find a person's location. Available for Both Android and iOS, the app is hidden and will not be detectable. KidsGurad Pro is very convenient to use as you do not need to root or jailbreak the device. Just pick the specific app for your device Android Here and iOS Here and you could use it to find someone's location in no time.
Aside location tracking, the App can also be used to monitor activities on the target's phone. For example, you can monitor their activities on social apps including their calls and SMS. Even files they have deleted can also be tracked.
The Android App can however track more messaging apps than the iOS App. It supports tracking and monitoring on WhatsApp, WhatsApp Business, Facebook, Messenger, Line, Telegram, Instagram, Snapchat, Kik, Viber, Kik, WeChat, QQ, Tinder, etc.
You can create Geofences that tells you when the person in within a region and alerts you when they leave the area.
4. FamiGuard Pro for Android
FamiGuard Pro is an advanced phone tracking app for Android that offers users a comprehensive monitoring solution. It enables users to spy on activities of any Android phone or tablet. The app allows users to remotely view messages and call logs as well as record phone calls and capture screenshots.
FamiGuard Pro is very easy to install, so there is no need to root or jailbreak the target device. It also operates in stealth mode, meaning it operates without being detected. In addition, the app also supports real time location tracking, which makes it possible to find someone's phone location remotely.
With all these features, FamiGuard Pro proves to be an ideal choice for those looking for a reliable and trustworthy phone tracking app. It is clearly one of the best phone tracking apps for Android devices. Learn More Here
5. Localize
Localize is a unique web-based location tracking app that does not require you to even install anything on the mobile phone of the subject or even on your own device. It also works on all types of mobile phones including smartphones and old cell phones and on any mobile network.
So, how does it work?
To find someone's location with Localize you will need to know their phone number. You use Localize to send them an anonymous text message. Localize will then send the message to their phone wherever they are with a tracking link embedded in it.
Once the person taps on this embedded link you would get their current location. You can locate anybody in any country since the app has worldwide coverage. However, the target phone must be connected to the internet and have a SIM card installed for the service to work.
Localize is one of the best location tracking apps if you are looking for a solution that is less intrusive. No installation is required just visit the website, enter the target phone number, customize the message you want sent to the target, and send.
The trick is on customizing the text in such a way that it increases the chances of the target to click the link. So, you need to get creative. Note that the person will never know who sent the message. You will remain anonymous.
6. FamiSafe
FamiSafe is a parental control app that enables you track all activities on your child or any person whose smartphone you have the app installed. In fact, once installed on a phone you can get realtime location updates every few minutes. You can also create safe zones and geofences.
The app enables you see their location history so you can see they have been. Learn More Here
You may also be interested in the How to Track Wife's Phone without Her Knowing.
7. Minspy
Another product on our list is the very highly acclaimed Minspy spyware app that is available both for Androids and iOS. The app has been able to please hoards of satisfied customers and has also gained the praise of popular review platforms such as TechRadar and CNET.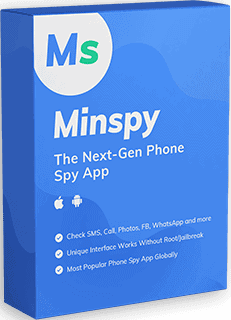 With Minspy you can track the target device, be it an Android or an iOS from anywhere, remotely. You also get other useful features such as Call Logs, Messages and social media monitoring.
Perhaps the best feature you get is the fact that you won't have to root or jailbreak your target device. The app does not require any real technical ability to operate and is very easy to use.
Stealth mode enables the app to hide itself to keep your anonymity safe. With the Minspy view post feature you can see all social media updates your target device makes.
A list of some of the best features offered is:
View Phone/ Device Location

Monitor Messages

Call Logs

Stealth Mode

GeoFence feature

Social Media monitoring

And many more
How to track someone's phone location with the use of Minspy
Step 1
First create a Minspy account using its official website. You will enter all the necessary details. You will also have to pay some amount according to your package. Setup an account on a browser via any device. You can set it up as a singular device account or a family device account for multiple devices.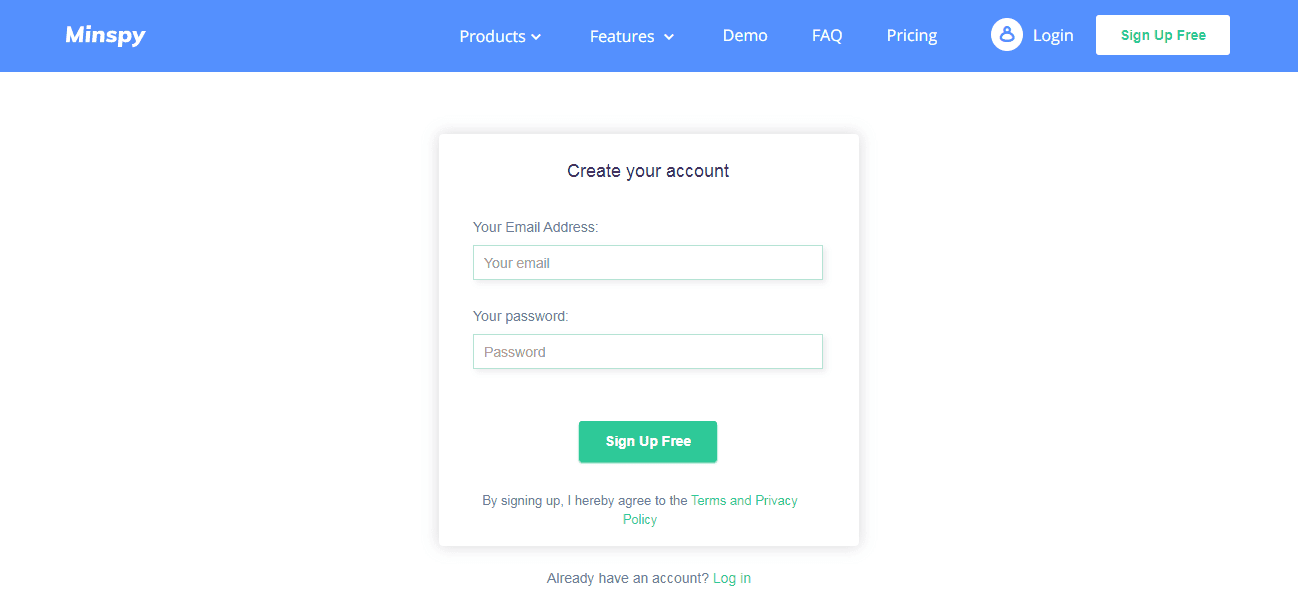 Step 2
 After creation of an account, you will download a very small 2MB file on the target android device. No spyware app in the world can work on Androids remotely.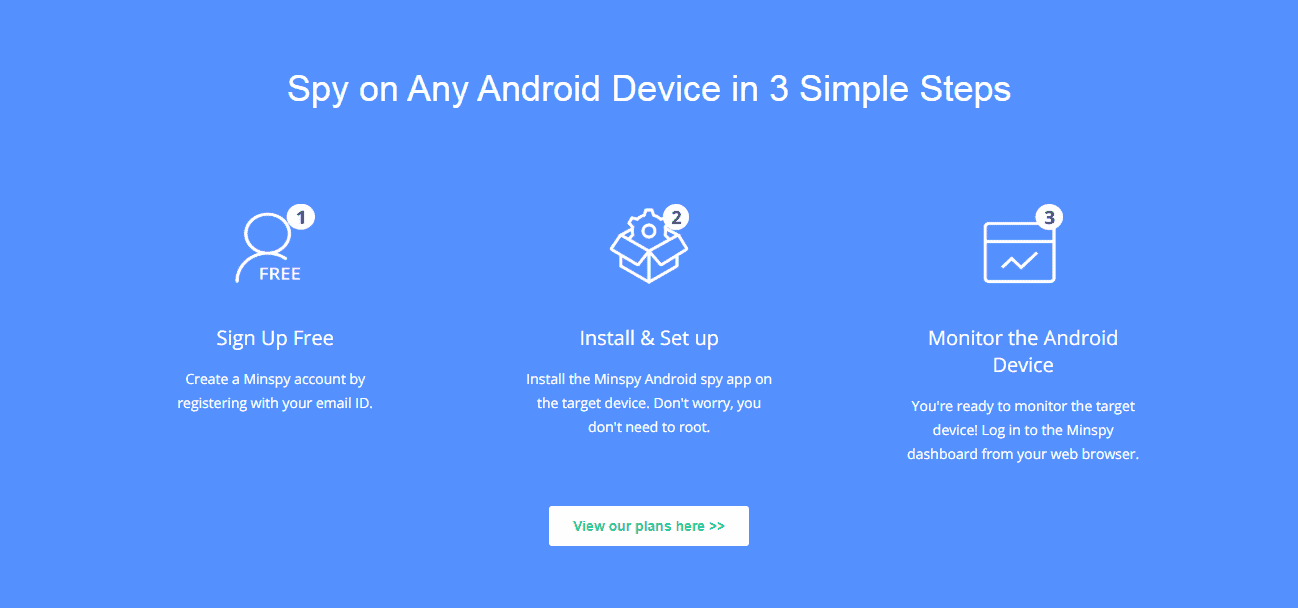 After setting up an account you can install the app remotely. You will just have to connect your Minspy account to the target iOS devices cloud storage. So, naturally you will need the target devices cloud storage credentials.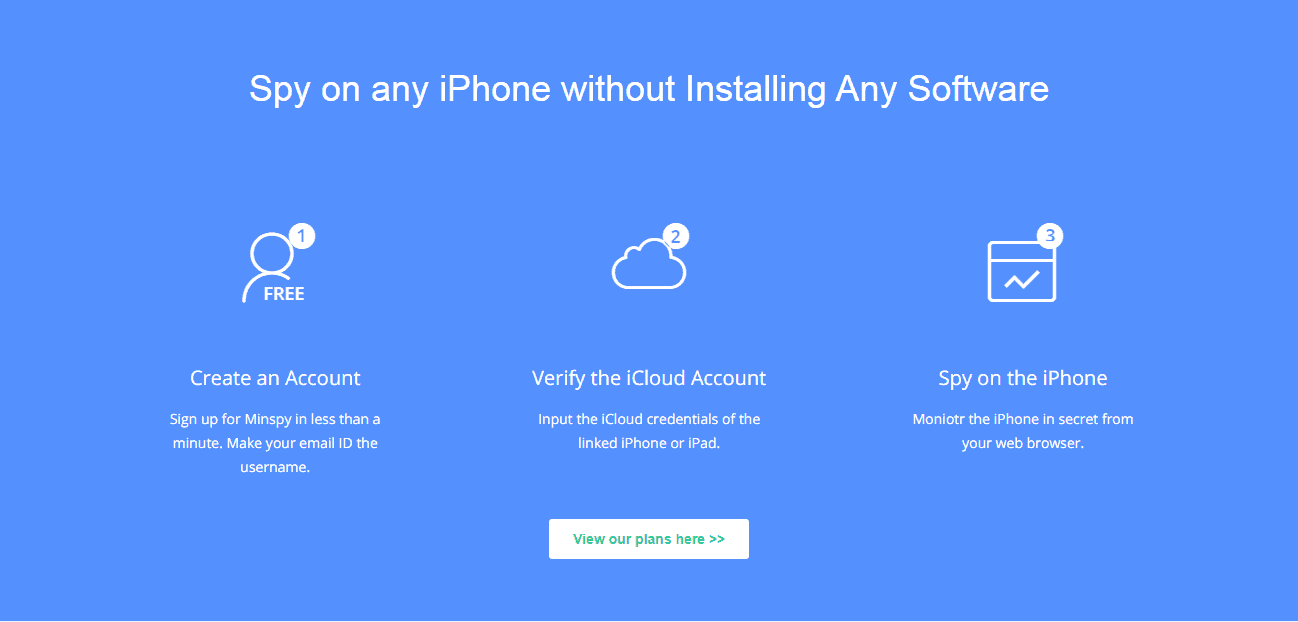 Step 3
All that is left to do is monitor the device
by logging into your Minspy account on any browser. Easily track the location
of the phone or monitor the other features also provided. All this can be done from
your online Minspy Dashboard.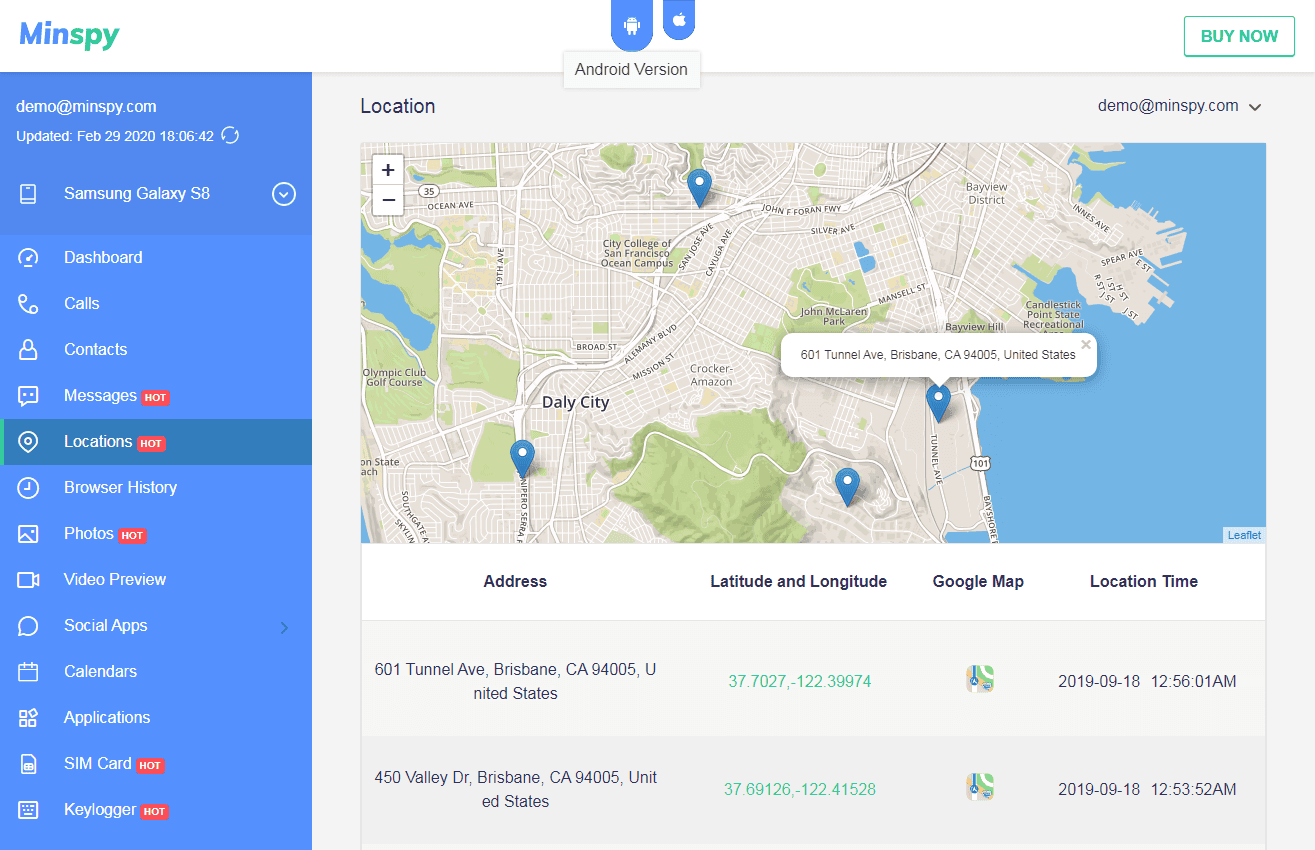 Monitoring a device just got super easy. Minspy is excellent in what it does and the reliability of the results it offers you makes this a very solid choice. This is one of the best phone tracking apps to find someone's location.

You may also be interested in the How to Track Boyfriend's Phone without Her Knowing.
8. Spyier
Spyier is yet another product on our list. It has availability in over 190 countries and has seen millions of users download it. This app can also work on both Android and iOS devices equally well.
Spyier offers some similar features to Minspy. Tracking a phone location is very easy to do after you set up an account on the Spyier Website.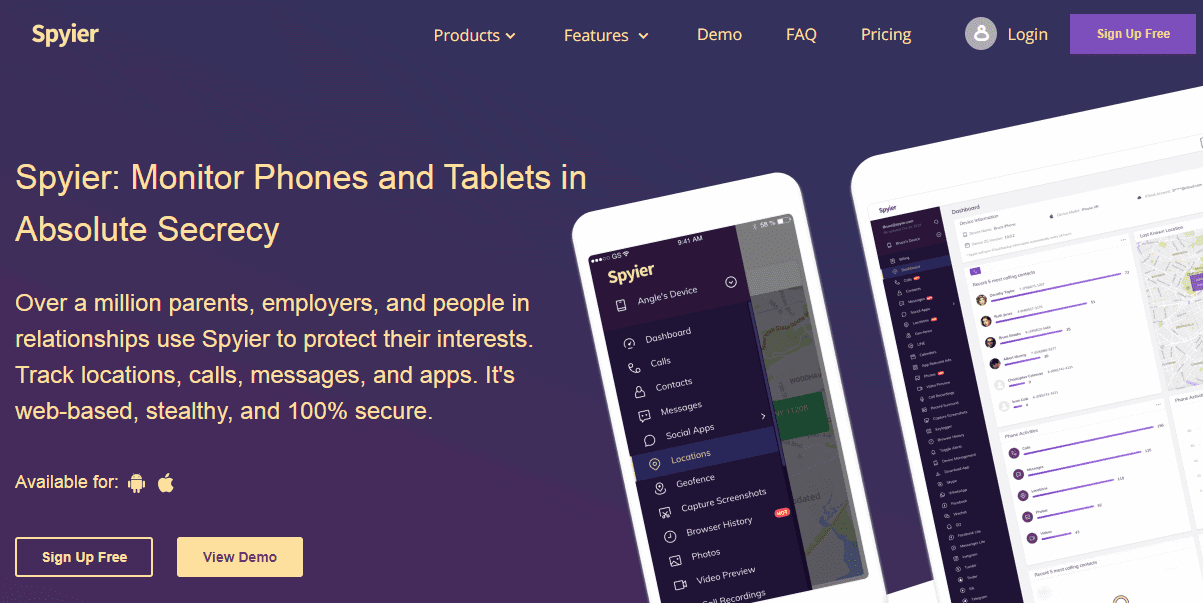 After setting up an account and connecting it with an iOS or Android device you can simply monitor its location via any browser, from the dashboard of your account.
All of this is done remotely so there is no hassle and exercise on your part. Spyier is also quite easy to use and understand, while also offering similar features.
With extremely efficient features and easy workability, it is easy to see why Spyier was included in our list of the best tracking apps to find someone's location.
9. Spyine
With some of the more popular Spying apps out of the way, we make our way to the somewhat lesser known app which is Spyine. Spyine is no slouch though; it is an extremely useful app which does everything you expect it to do.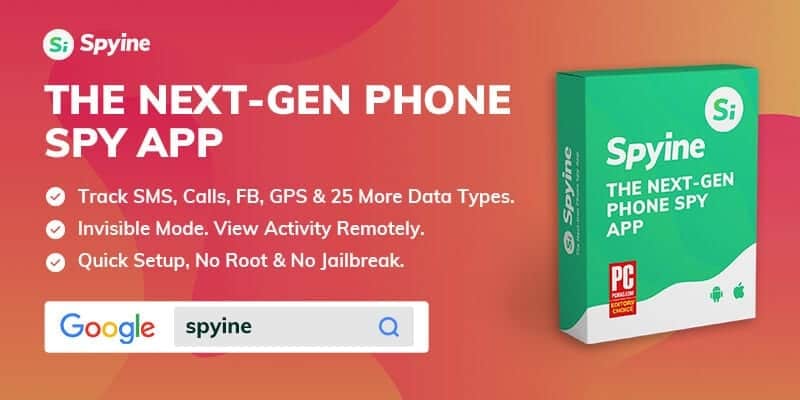 Tracking someone's location is very easy with Spyier. You will first have to set up an account on the app's website after which you will be able to use its features.
Then you can simply layback and monitor the target device from anywhere, remotely. You also get other monitoring features such as Snapchat and other social media website monitoring. This why we consider this one of the best phone tracking apps for Android and iOS.

The app works in most modern devices both Android and iOS. Solid performance along with reliability of results makes this an excellent choice to use for monitoring someone's location and much more.
10. Spyic
Spyic is another fantastic app for monitoring a target device. It can be used to monitor both Android devices as well as the iOS devices as well, like most other apps. Spyic is another app which has gained relative success in the market due to its solid performances.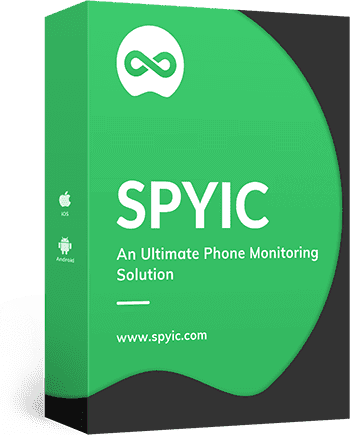 Spyic is a great way to monitor or track someone's phone location. The app offers easy connectivity to both iOS and Androids. For iOS devices, you can just set up the app without any download remotely. Monitor the target device remotely without getting caught, easy.
Spyic offers excellent features apart from location tracking of a phone via its GPS. You can also locate the Sim location, view contacts and get various other monitor features. It is a very well managed app, and it does its job the way you want it to.
11. Cocospy
Cocospy is perhaps one of the world's most famous Spying apps in the market today. Its effectiveness and popularity are very well received all over the world. The app enjoys a very good repute in the market today.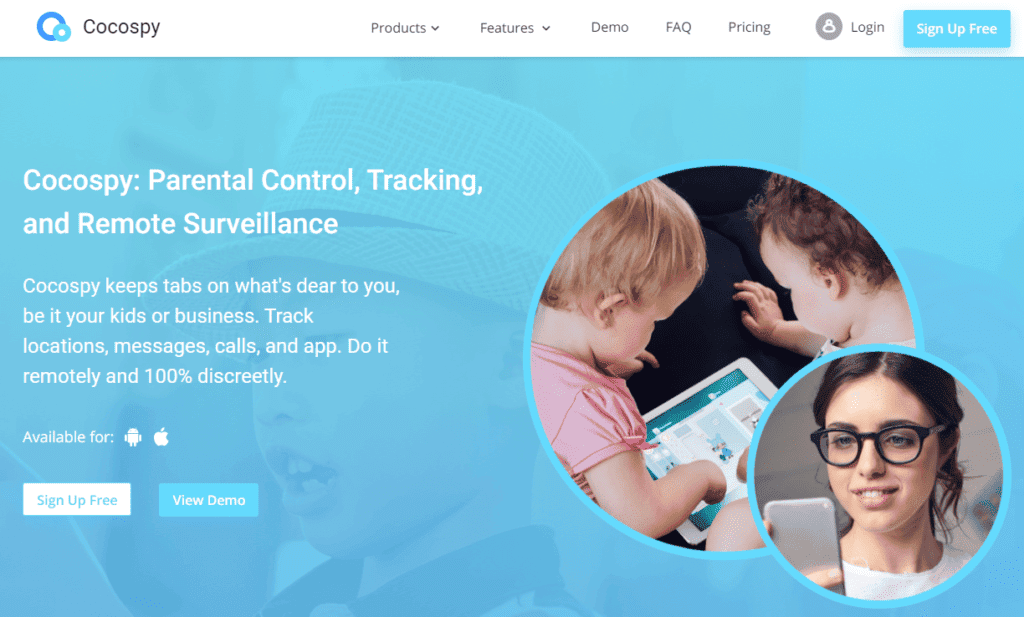 Another solid option, Cocospy offers very effective features. One of such features you get is the location tracking ability which is probably one of the most coveted features you can get in such apps.
Cocospy works well remotely, without rooting or jailbreaking the target device. Setting this up is extremely easy too. Anyone who has tried this app has surely felt pleased and satisfied with the results it offers.
Conclusion
With these Apps you can easily learn how to find out someone's location by number. In this article you will find some of the best monitoring apps for finding someone's location.
Whether you pick KidsGuard Pro, Minspy, or any of the tracking apps listed, you will sure get value for money. These tracking and monitoring apps will help you locate a person and monitor their activities on their device.
All of them will deliver you the best results so you can keep going about your life with the knowledge of what your loved ones are doing. We hope your question for how to find someone's location by number has been thoroughly answered.
Related Topics
Paschal Okafor
is
NaijaTechGuide Team Lead
. The article
11 Best Phone Tracking Apps to Find Someone's Location in 2023
was written by . The article was last modified:
January 7th, 2023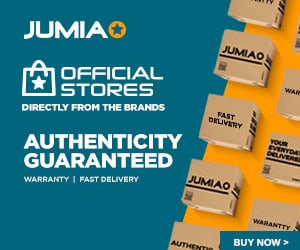 NaijaTechGuide may receive financial compensation for products/services purchased through affiliate links on this site. See
full Affiliate Disclosure Here