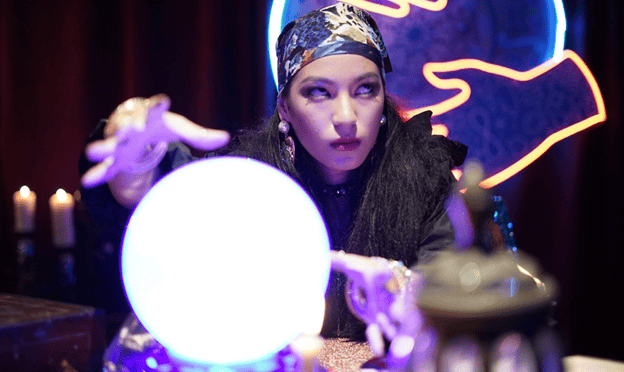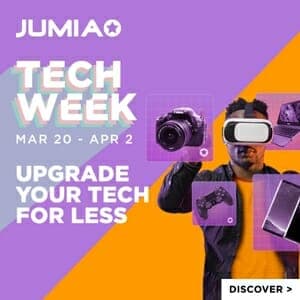 Analysts, hedge fund managers, economists, and more, all make wild speculative bets and predictions about what will happen across the broader financial market.
Sometimes, they hit the nail on the head, while other times, the predictions are just too crazy sounding to come true. Over the years, the predictions either are eventually proven, or get added to the pile of incorrect calls that soon become forgotten.
PrimeXBT research has revealed some of the wildest and craziest predictions financial analysts have ever made that eventually happened, much to the shock of the finance industry. Also, the research team has outlined a few remaining key predictions that have yet to come true or be disproven along with ways to take advantage if they do eventually occur.
Stark Stock Market Warning And Timing The Rebound Rally
When 2020 first began, the stock market was capping off over 90 years of growth and what has been the longest bull market the world has ever seen.
The S&P 500, the Dow Jones, Nasdaq, FTSE, DAX, and several other major stock indices set all-time high records in February of the year.
As the saying goes, however, what goes up, must also come down. A well-known financial analyst by the nickname Dr. Doom was calling for a major stock market crash just as indices were setting record highs.
Nouriel Roubini has made several ominous predictions over the years regarding financial bubbles, and even called the crypto bubble bursting in 2017. It is exactly how he earned his nickname.
But was Dr. Doom up to his old tricks, or was he right yet again? Weeks after calling for a 40% drop in the equities market, Black Thursday happened and the pandemic caused a panic selloff of epic proportions. The market dropped exactly 40% within days later.
Following the devastating market collapse, Fundstrat's Tom Lee made a prediction that the battered stock market would make an over 50% recovery in the weeks following Black Thursday.
The stock market surged, and the oft-wrong Tom Lee who has made bold, and incorrect Bitcoin calls in the past, completely nailed the stock market rebound.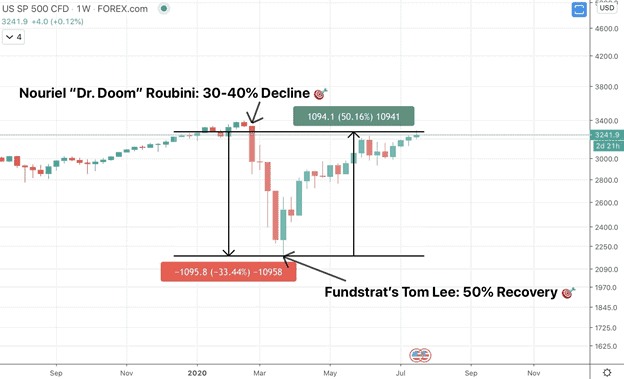 But for every correct stock market call, there's an incorrect one. Harry Dent, CEO of economic research firm HS Dent penned an entire book on a bad stock market crash call.
In 2011, the author published The Great Crash Ahead, a book on the Dow Jones Industrial Average crashing to just 3,000 points in 2013. The Dow Jones is currently trading around 26600.
Precious Metal Predictions Worth Their Weight In Gold and Silver
Golden calls are as rare as the scarce precious metals themselves, even more so.
Because precious metals are such hot commodities, especially over the last couple of years as a new uptrend took hold and economic turmoil increased, gold and silver are always on financial analysts radars when it comes to predictions.
Before the uptrend really took off, Bank of America was calling for XAUUSD to trade at $1400 per troy ounce in 2019. By July, gold had reached the target and kept climbing.
The following year, Goldman Sachs pointed to gold prices trading at $1600 an ounce, yet another prediction in the gold market we now know has come true.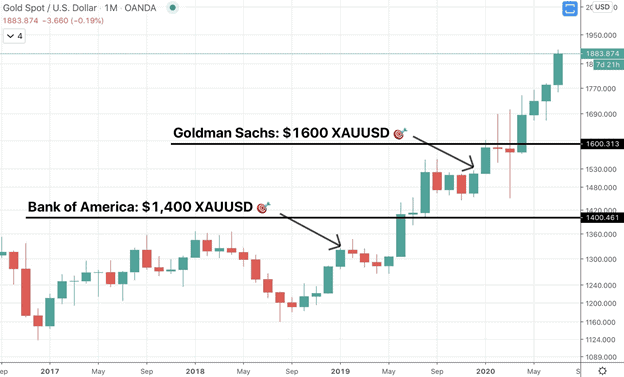 Those same analysts are now pointing to over $2,000 an ounce as investors look to the asset as a safe haven and hedge against inflation.
For every golden call, however, there's the fool's gold equivalent. In November 2012, Deutsche Bank predicted the precious metal would rise to that same $2,000 an ounce level analysts are now calling for again.
Instead gold went plummeting the month later into a downtrend that cut its valuation nearly in half to almost $1000 an ounce.
Before we move on from precious metals, we wanted to provide some silver lining to predictions in that still shining market. Metalla Royalty & Streaming director, EB Tucker made a prediction that silver would spike to over $20 an ounce this year. As of this week, XAGUSD broke out, hitting that target.
The One Analyst Who Called Oil Tanking To This Year's Lows
Wars were once fought over oil prices, but since the pandemic hit, the supply has grown to such surplus, there's now feuding over where it can be stored.
In September 2019, Goldman Sachs head of commodity research Jeff Currie suggested that oil trading could reach a price of $20 a barrel. Currie was among the few analysts that had the foresight to predict oil tanking in price, but not even Currie would have thought oil prices would have traded negative temporarily due to related storage costs.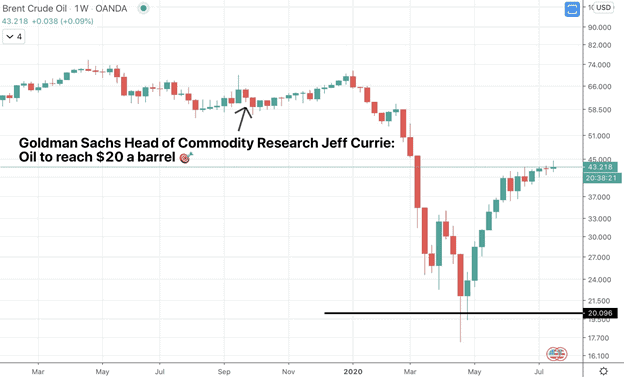 Predicting The Unpredictable Cryptocurrency Market and Bitcoin
Before Bitcoin was a well-known household name and featured on Coinstar machines in grocery stores everywhere, a pair of analysts predicted the asset's 2017 bull market that led to a full scale financial bubble.
Vinny Lingham, Founder of Civic and blockchain entrepreneur, expected Bitcoin price to eventually rise from under $1,000 to as high as $2,000 to $3,000 per BTC in 2017.
Daniel Masters of Global Advisors, predicted a slightly higher target of $4,400. The cryptocurrency went on to smash all expectations and reach $20,000 before the year was over.
Billionaire venture capitalist Tim Draper known for his investments in major tech brands, is a major Bitcoin bull. Draper called for Bitcoin to reach a price of $10,000 by 2018, a full four years earlier.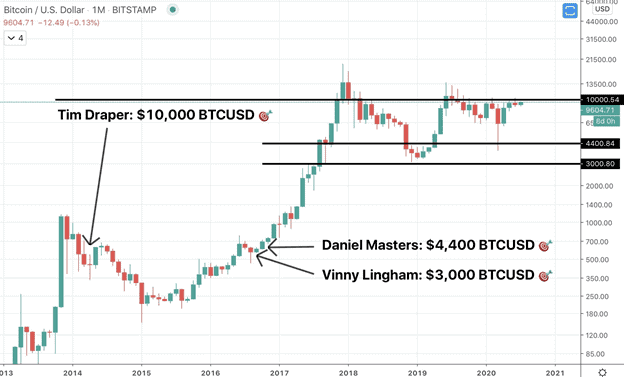 His forecast was doubled, but because it was set so far out, it proves the man is truly a visionary when it comes to investing. Draper expects Bitcoin to reach hundreds of thousands of dollars someday, potentially millions.
Not all Bitcoin price predictions that are accurate are positive. Legendary commodities trader Peter Brandt called for an 80% or more retracement in BTCUSD after that asset's parabola broke in 2018.
The result was a full 84% drawdown to the current bear market bottom at $3,200 per BTC.
PrimeXBT Research Uncovers Wild and Crazy Predictions Left To Be Proven
Future price predictions point to the stock market experiencing a 1929-style "second-leg down," gold is predicted to rise to as much as $3,000 an ounce according to some firms, and Bitcoin going up to as high as $75,000 to $100,000 per BTC during the next cycle.
Some of the more far-fetched predictions include gold reaching $10,000 an ounce according to Dan Oliver, founder of Myrmikan Capital, or Bitcoin hitting $400,000 in the future. That last call was made by Max Keiser, who expects Bitcoin to outperform gold in the face of the current monetary policy.
Bitcoin is hard capped so only 21 million BTC to ever exist. Based on this fact, Bitcoin price predictions reach in the millions per BTC.
Prepare For The Unpredictable To Take Place In Any Market With PrimeXBT
Analysts point to a sharp increase in volatility and a significant shakeup in just about every market under the sun, from forex to crypto, to stock indices, commodities, and more.
All of these assets and any mentioned throughout the above predictions are available for trading on PrimeXBT, an advanced, award-winning Bitcoin margin trading platform.
Using the advanced trading tools provided by the platform, such as long and short positions, stop loss and take profit orders, and built-in charting software from TradingView can help traders prepare for any of the unproven predicted outcomes above. It can also help traders get prepared for the unpredictable.
2020 has been a record-setting year on all accounts, providing traders with more unprecedented opportunities than ever before. PrimeXBT enables exposure to the widest variety of markets under one roof, for the easiest and most diverse portfolio management experience.
Registration takes less than a minute and could mean the difference between taking advantage of one of these wild predictions or watching as opportunities pass you by.
This article was Written by PrimeXBT Analyst.
Related Topics
Paschal Okafor
is
NaijaTechGuide Team Lead
. The article
PrimeXBT Historical Retrospective: 10 Far-Fetched Finance Market Predictions That Ultimately Came True
was written by . The article was last modified:
February 26th, 2022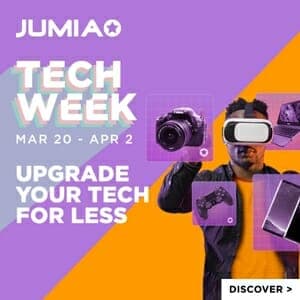 NaijaTechGuide may receive financial compensation for products/services purchased through affiliate links on this site. See
full Affiliate Disclosure Here