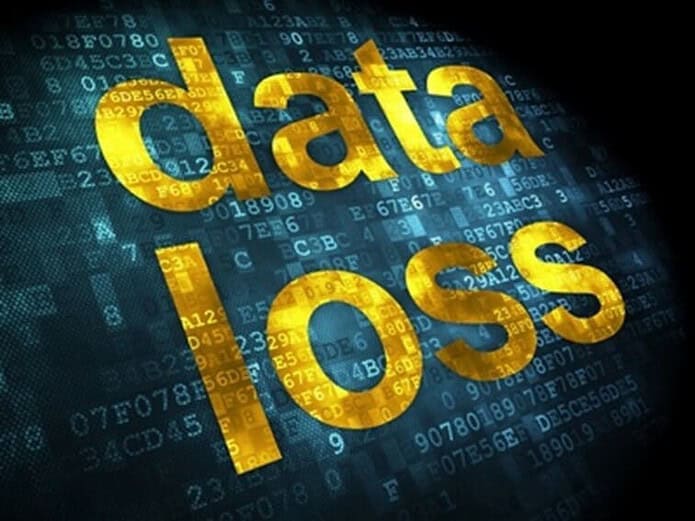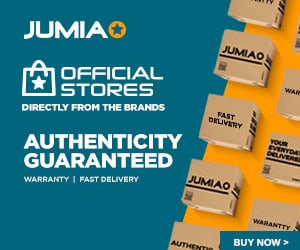 We wished nobody ever came to this page searching for the best data recovery software or deleted photo recovery app to use, but that is not to be. Data loss happens every day and can happen to the best of us at the worst of times. If you want to recover lost data, read this guide first before doing anything else to increase your chances of recovering your data without corruption and in one piece.
Part I: How Does Data Loss Happen?
There are several reasons for data loss:
-accidental deletion
-not keeping/ having backup copies
-disk failure
-file system corruption
-software corruption
-system crashes
Any of these reasons could apply to you. Sometimes, things are simply not in our control. The only thing we can do is take frequent backups. But right now, you need a data recovery software to help you get your data back quickly.
Time is of the essence here because the more you use your computer, the higher are the chances of some data overwriting the data you want to recover.
Part II: What Is Wondershare Recoverit?

Recoverit is a comprehensive data recovery solution designed and developed by Wondershare to help users quickly recover lost data, be it any device, any scenario of data loss, any file format.
Distinct Advantages Of Wondershare Recoverit
Wondershare Recoverit supports over 1000 file formats and over 2000 devices. What this number means for you is that this is one of those rare software on the planet that will help you recover data from literally anything you connect to it. Also, Wondershare has 25 data recovery technology patents to its credit!
Advanced Video Recovery
Wondershare Recoverit comes with Advanced Video Recovery specially for those very large 4K and 8K video files that are becoming commonplace today thanks to advancements in smartphone cameras and other professional-grade video cameras. What is the need for a special Advanced Video Recovery Mode?
Because those large files might not be stored in a single location on the disk physically, and that is not a problem when everything is working as it should because your operating system and file tables know what data is stored where on the disk.
But, in the event of accidental deletion or file system/ software corruption, that information is lost to the operating system. So, your large video files could become unrecoverable.
What Advanced Video Recovery Mode does is it keeps track of data, so it is able to gather and match the video data pieces stored in a scattered way on the disk better and, therefore, increase the chances of recovering large video files successfully.
Other Key Features
-recovers data in 564 data loss scenarios
-recognizes over 1000 file formats
-recognizes over 2000 devices
-tool to repair corrupted videos
-can create bootable USB drives
-has a free version.
Part III: Recover Your Lost Data With Recoverit
Recovering lost data with Wondershare Recoverit is quick and easy:
Step 1: Download Recoverit from https://recoverit.wondershare.com
Step 2: Launching the app starts in Hard Drives and Locations view. Pick where you want to recover lost data from.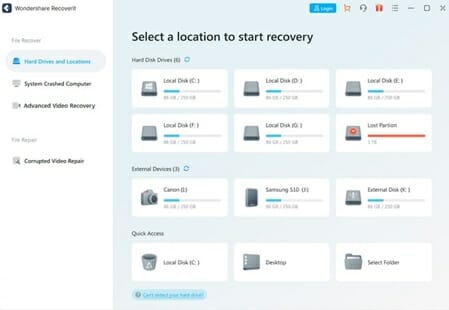 Step 3: Click Start to begin the scan.
Step 4: Wondershare Recoverit data recovery software displays what percentage it has scanned, how much time it has calculated that remains, number of files it has found during scanning in real time. Pause and Stop buttons can be used to pause or stop the scan whenever desired.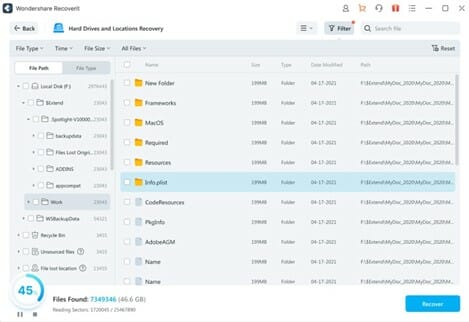 Step 5: Wondershare Recoverit lets you set filters to narrow down your scan results. This may look commonplace, but there are not a lot of software companies that offer this functionality as it is considered advanced level by many. This is another feather in favor of Recoverit. There is also the ability to search directly for a file if you remember the file name.
Step 6: You can click on the files to open the preview tool that recognizes most file formats. So, you can view your data here comprehensively as you would natively in a particular app. For example, you can look into a Word document and see those pie charts to make sure the document is the recent-most before recovering.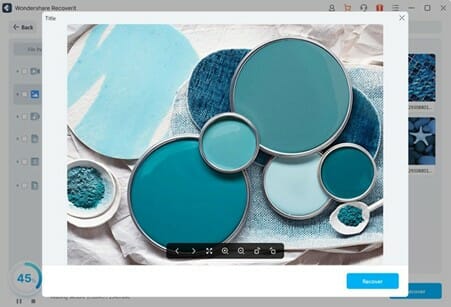 Step 7: Click Recover to start data recovery. You will get a popup to select a Save location for the file: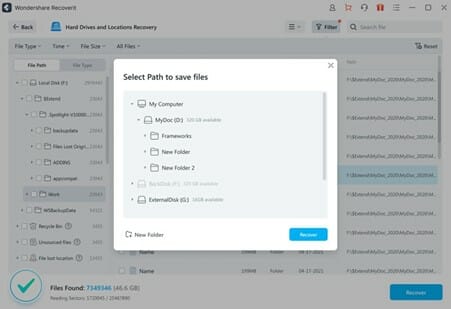 That completes the recovery process!
Bonus: Data Loss Prevention Strategies
And lastly, we want to offer bonus content to you – data loss prevention strategies to make sure that you do not need to recover data often! And when you do, you know Wondershare Recoverit data recovery software has got you covered.
Tip 1: Keep Backup Copies
Needless to say, if you have backups of your data, it is not really lost since in the event of disk failure or system crash or accidental deletion, you can simply fall back on the backup copy and continue as you were.
Tip 2: Take Frequent Backups
Again, a data backup is meaningless if all your data that is backed up is outdated. Having a fresh backup is critical. Aim for daily backups as a best practice but if that sounds too much, do not settle for anything less than weekly backups.
Tip 3: Use Cloud Services
It is an age-old advice to store your backups in different places so that any physical calamity such as fire or earthquake does not wipe off your backup copies as well, were they to be stored alongside your existing data.
In today's age, using a cloud storage is an excellent way to not only have backups stored in a decentralized way, but also to have ready access to the data anywhere, anytime. To that effect, Wondershare InClowdz is an excellent service to help you manage all your cloud accounts easily and transfer data to the cloud and download from the cloud easily.
But, in typical Wondershare tradition, there's another thing offered here that no other software does – the ability to copy/ move data between cloud accounts in a single click. That means you can create a backup in Google Drive and have Wondershare InClowdz make a copy of that data in your OneDrive account in one click!
Conclusion
Data loss is frustrating and data recovery is a harrowing experience for many given the anticipation and anxiety over the uncertainty that always clouds data recovery. While you can use a data recovery software such as Wondershare Recoverit to quickly and easily recover lost data in over 500 scenarios such as deleted photos, deleted videos or files and from over 2000 devices in a few clicks, the real aim here is to be able to avoid such scenarios. For that, there are tips you can use to ensure a data loss prevention strategy is in place for you so that your data is safe and secure at all times.
Related Topics
Paschal Okafor
is
NaijaTechGuide Team Lead
. The article
Download this Data Recovery Software and Recover all your Data Now!
was written by . The article was last modified:
August 12th, 2022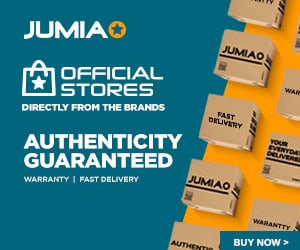 NaijaTechGuide may receive financial compensation for products/services purchased through affiliate links on this site. See
full Affiliate Disclosure Here