Have you just lost or deleted your WhatsApp messages in error? Without a backup in place this could be a real nightmare. However, there are tools like ChatsBack to help you recover deleted WhatsApp messages without a Backup on Android an iOS. Here we show you how to recover WhatsApp messages without backup.
Whatsapp is a cross-platform instant messaging app that enables you to chat freely with your friends and contacts on your mobile phone. You can send text messages, make voice and video calls, send voice notes as well as share images and documents on WhatsApp. You can also create groups and manage meetings on WhatsApp.
With WhatsApp becoming a very crucial app, it could cause panic if you accidentally delete your WhatsApp messages or they get lost after a system crash. Here we would show you how to recover your WhatsApp messages without backup.
Recover Deleted WhatsApp Messages without Backup with ChatsBack
ChatsBack is a WhatsApp recovery tool that enables you recover lost and deleted messages whether you have a backup or not. While it is great to have a backup, ChatsBack will help you recover messages even if you don't have one.
The tool makes it easy for you to recover your WhatsApp data directly from the internal storage of your device. It will enable you preview the recoverable WhatsApp data before you perform the final recovery.
If you have your WhatsApp messages and attachments backed up and synced on Google Drive and iTunes, ChatsBack can also help you with seamless recovery of the data.
While, you do not need to install ChatsBack prior to needing it, installing before you need it ensures a 100% recovery of deleted file.
This is because the app creates a history record on your local storage which means that you can easily recover deleted or lost WhatsApp messages and data from the history records without needing to download from Cloud storage.
You can also download the recovered WhatsApp data in multiple formats to your PC. Supported formats include HTML, CSV, PDF, and Excel.
For the rest of the article, we would focus on how to recover Deleted WhatsApp Messages when you don't have Backup in place.
Devices Supported by ChatsBack for WhatsApp Recovery
On major advantage of ChatsBack is that it supports multiple devices: Android, iOS, Windows, and Mac. The tool supports iOS 9.3.5 or later, which means everything from iPhone 4 to iPhone 13 is covered. Chatsback also supports Android 2.0 and above, Mac OS X 10.9 to Mac OS X 12.0, as well as Windows 7, Windows 8, Windows 10, and Windows 11.
How to Recover Deleted WhatsApp Messages without Backup
The ChatsBack app enables you recover deleted WhatsApp data in four ways, three of which requires you to have a backup in place. However, if you are reading this article I suppose you do not have a backup in place and are looking for a solution that will help you recover your WhatApp data from raw storage.
Here is how to recover deleted or lost WhatsApp chats, messages, photos, contacts, audio, video, files, and more when you do not have a backup in place. You will need to buy, download, and install the Chatsback app on your device before following the steps below:
Step 1. Launch the ChatsBack app on your Windows or Mac computer
Step 2. Choose Device Storage as the location to recover WhatsApp data from. This is the correct mode to enable the app search your device storage for recoverable data.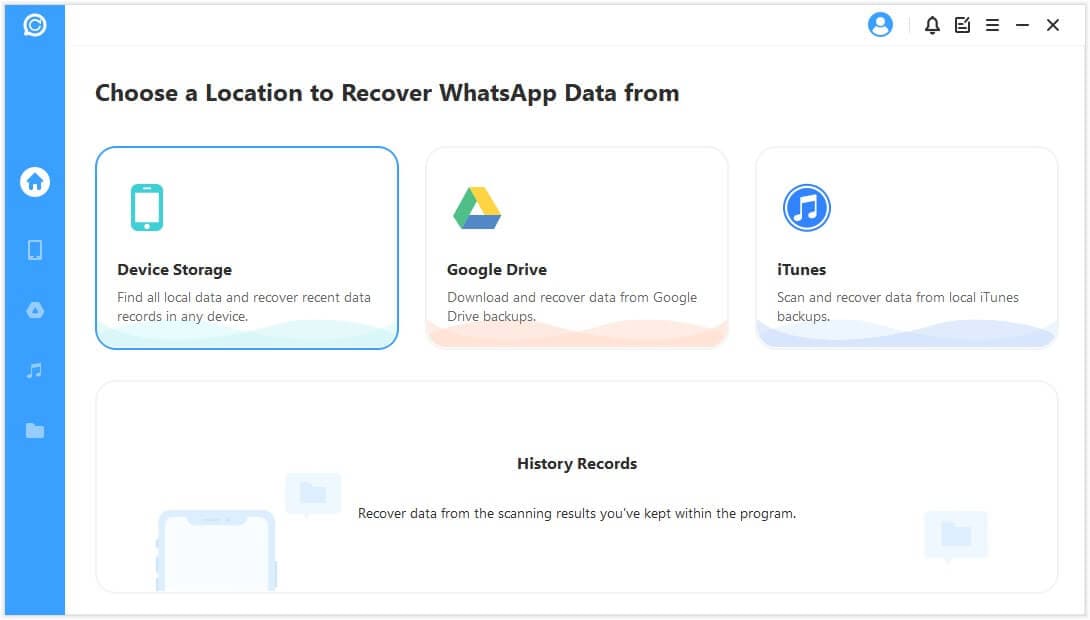 Step 3. Connect your device to the computer via USB. If you are recovering from an Android device, enable USB Debugging. For iPhone or iPad enable Trust this computer instead.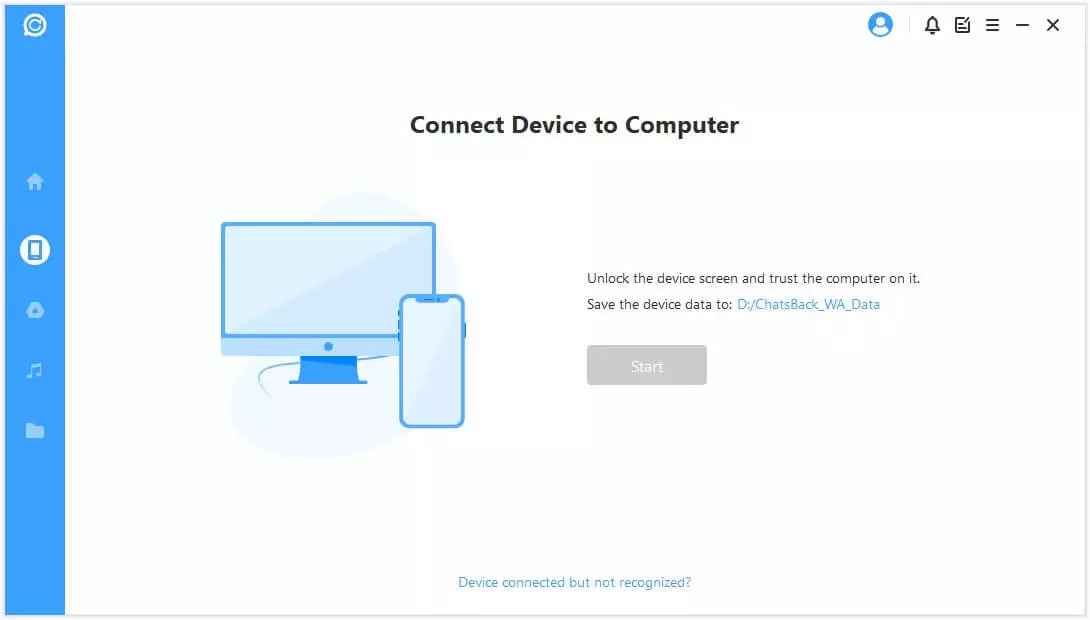 Step 4. Choose or confirm where you want the recovered data saved and click the Start button. For android devices scanning starts immediately. However, for iOS devices you will be prompted to choose the type of WhatsApp account you want to recover deleted data. Select the appropriate account type and hit the OK button.
Step 5. When scanning is complete, hit the Next button and follow all subsequent instructions. In the end the recoverable data will be displayed.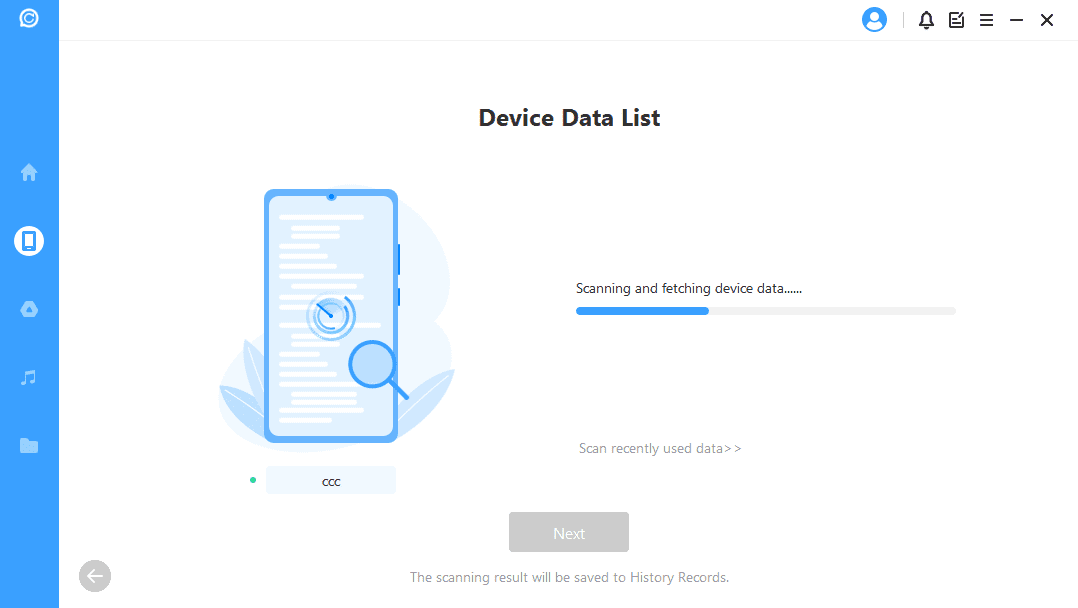 Step 6. Preview the Recovered data and select the items you want to recover.
Step 7. Choose whether to Recover to PC or to the connected Device. To recover to PC, click the Recover to PC button, select the file format you want it saved in and the location you want it saved in and click the OK button. To recover to device, click on the Recover to Device button, click the Start button and follow all the prompts. In order to recover the data to your device, ChatsBack will install an old-version WhatsApp on your device. The existing WhatsApp data on the connected device would be erased after recovery, so do a backup first.
Step 8. Login to your WhatsApp account once recovery is over to see the recovered data.
Step 9. Make a Local Backup of your WhatsApp data
Step 10. Update to the latest version of the WhatsApp app.
A lot of people are searching for how to restore deleted whatsapp messages of one contact. However, there is no way of restoring the messages of just one contact. Your solution is to restore everything. This will restore everything including the WhatsApp messages of the contact.
How to Recover Permanently Deleted WhatsApp Photos?
If you unintentionally permanently deleted a photo from WhatsApp and are struggling to recover it, you can use a third party data recovery tool like ChatsBack to try and restore the photos.
In case you do not have a recent backup or if the automatic backup feature was disabled, third-party software applications could be a potential solution. There are several reliable data recovery tools available online that specialize in recovering permanently deleted data including WhatsApp photos.
However, please note that using third-party software might involve certain risks such as data breach or loss of privacy. Therefore, it is recommended to use data recovery software from trusted sources and always keep a secured backup of your data and routinely update it.
Can I recover deleted WhatsApp messages from an iPhone?
Yes, it is indeed possible to recover deleted WhatsApp messages from an iPhone. This is a common query raised by many iPhone users who might have accidentally deleted their WhatsApp messages or lost them due to some technical glitch. The good news is that there are several methods available to retrieve these lost messages, ensuring that important data is not permanently lost.
One of the most effective methods to recover deleted WhatsApp messages from an iPhone is by using iCloud. If you enabled iCloud backup for your WhatsApp messages, you can easily restore your deleted messages by reinstalling the WhatsApp application and selecting the 'Restore Chat History' option during setup. This method will recover all your messages that were present at the time of your last backup.
Another method involves using iTunes backup. Similar to iCloud, if you have been backing up your iPhone data on iTunes, you can restore your deleted WhatsApp messages. By connecting your iPhone to your computer and selecting 'Restore Backup' in iTunes, all data including WhatsApp messages will be restored to your device.
In case you haven't been backing up your data on iCloud or iTunes, third-party applications like ChatsBack come with features that will enable you recover deleted WhatsApp messages without backup from an iPhone.
These applications can scan and retrieve deleted data from your device's local storage. However, it's important to remember that using third-party applications should be done with caution, as they may pose security risks.
Can I recover deleted WhatsApp messages from an Android Phone?
Yes, it is possible to recover deleted WhatsApp messages from an Android phone. There are a number of different ways to get this done. The most common and straightforward method is by using the native chat backup feature available in WhatsApp. You have to turn the feature on before for this method to work.
This feature automatically backs up your chats to Google Drive at a frequency set by you. If you accidentally delete some of your Whatsapp messages, you can uninstall and reinstall WhatsApp to restore your chat history from the backup.
Another method is by using third-party apps specifically designed to recover deleted WhatsApp messages like ChatsBack. A good advantage of data recovery tools is that you can recover deleted Whatsapp messages without backup.
This means that if you forgot to setup backup, a 3rd party app might just be the only way to could recover your deleted messages. These apps work by scanning your phone's internal memory or SD card to find deleted messages. However, it is crucial to exercise caution when using such applications, as not all of them are reliable or safe, and some may even infringe upon your privacy.
In conclusion, while it can be distressing to lose important messages, there are methods available to recover deleted WhatsApp messages from Android phones. Always remember to regularly back up your chats to avoid potential data loss.
There you have it. A simple way to recover deleted WhatsApp data without a backup. Hope you found it useful? Get ChatsBack today and recover your lost or accidentally deleted WhatsApp data.
Related Topics
Paschal Okafor
is
NaijaTechGuide Team Lead
. The article
How to Recover Deleted WhatsApp Messages without Backup
was written by . The article was last modified:
August 21st, 2023