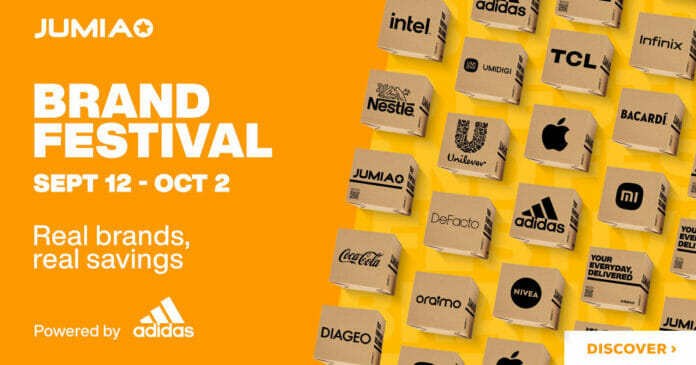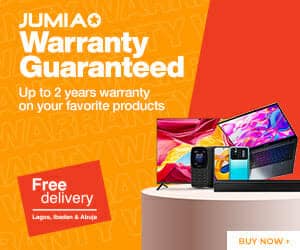 Jumia Brand Festival 2022 kicks off on September 12, 2022. Nigeria's leading online store will be offering great deals and discounts on Electronics, Fashion, Beauty, Home Appliances, Groceries, and more. During the Jumia Brand Festival Sale, leading local and international brands will offer amazing deals. Here you will find everything you need to know about the brand festival from the brands to the top deals.
Jumia Brand Festival starts on September 12 and ends on October 3, 2022. During the event you can buy at discounted prices from the official stores of leading local and international brands. Buying from official stores means you can rest assured that you are purchasing authentic products.
Top deals from brands like Adidas, Samsung, Infinix, Umidigi, Nivea, DeFacto, Nestle, Bacardi, Intel/HP, Unilever, Pernod Ricard, oraimo, Binatone, Diageo, TCL, Coca Cola, Apple, and Xiaomi will be available during the event. You also get free shipping in Lagos, Abuja, and Ibadan. Because you are buying from the official stores, the products will come with guarantied warranties.
You may also be interested in the Jumia Black Friday, Best Black Friday Deals, and AliExpress 11 11.
Best Jumia Brand Festival 2022 Deals you can Get Now
1. Up to ₦1000 Off  for Orders of ₦3000 and Above
In addition to discounts and deals available during the Jumia Brand Festival, you also get an additional discount of up to 10% (1,000 Naira Maximum Discount) with our exclusive Jumia Nigeria Voucher codes valid on Jumia Nigeria website and App now until October 2, 2022. Valid for orders of 3000 Naira and above. Also valid for all items on Jumia Nigeria website and app.
We give you ten vouchers here. These are single use vouchers, which means that once it has been used by one shopper, it can nolonger be used by another shopper. You can contact us via the contact page (scroll to bottom) or via direct messages on social media so that give you a unique voucher code, subject to availability.
Jumia Brand Festival Voucher Codes:
A-NTGb3895
A-NTG5dd28
A-NTG7a975
A-NTG1272f
A-NTGe9819
A-NTG1bf6f
A-NTG8cc0a
A-NTG347c7
A-NTG05d4d
A-NTGb7fd4
Contact us for fresh codes if these ones have been used up.
Also read Best 11 11 deals, Amazon Black Friday, Banggood 11 11, and Jumia 11 11.
2. Up to 40% Off Binatone Blenders, Iron, Fan, and More

This is one of the best September deals. You will find amazing deals on original Binatone appliances from the Binatone Official store on Jumia. You can get up to 40% off Binatone Fan, Electric Iron, Hair Clipper, Blender, Toaster, Sandwich Maker, Air fryer, Gas Cooker, AVR, Microwave Oven, Water Heater, etc. View Offers
3. Up to 15% Off TCL TVs, Refrigerators, Air Conditioners, and More

One of the leading deals during Jumia Brand Day is the 15% discount on TCL appliances bought from the official store. Keep an eye out for amazing deals on TCL branded Air conditioners, Televisions, and Refrigerators. If you a new TV for the FIFA World cup, Premier League or Champions League, you will find some of the best deals on TV from TCL. View Offers
4. Up to 10% Off Umidigi Phones, Earbuds, and More

Umidigi is one of the best exclusive mobile brand on Jumia and can find great deals on affordable android phones like the Umidigi C1, Umidigi G1, and Umidigi A11 on Jumia Brand Festival. If you need a phone right now, you are bound to find some of the best September deals on mobile phones from Umidigi. View Offers
5. Up to 10% Off Skyrun TVs, Refrigerators, Gas Cookers, Washing Machines, and More

If you are in the market for home appliances, the Skyrun official store on Jumia is the best place to be during the brand festival. The household name for affordable home appliances in Nigeria giving you up to 10% discount on its products. Checkout the store for deals on Refrigerators, Washing Machines, Televisions, Gas Cookers, Chest Freezers, Electric Kettle, Electric Fan, etc. View Offers
6. Up to 35% Off Xiaomi Phones, Earbuds, Smartwatches, and More

Xiaomi is offering up to 35% off on the Jumia Brand Day. The leading mobile brand is offering deals smartphones, earbuds, smartwatches, and more. If you need a phone or earbud right now, you will find some of the best September deals from Xiaomi. View Offers
7. Up to 10% Off iPhones, iPads, Macbooks, AirPods, and More

Are you an Apple fan? Do you need a new iPhone or iPad? You can get up to 10% discount on genuine Apple products on the official Apple Store on Jumia. Find deals on Apple iPhones, iPads, Macbook Pro, Macbook Air, AirPods, Apple 4K TV, and more. View Offers
8. Up to 30% Off Samsung Phones, TVs, Smartwatch, and More

Samsung is offering up to 30% their products at the Samsung official storage. Find deals on Samsung models like the Samsung Galaxy A53 and Galaxy A23. You will also find deals on Televisions and a number of other Electronics products from Samsung. View Offers
9. Up to 30% Off Nivea Cream, Lotion, Deodorant, and More

You can get up to 30% off Nivea beauty products. Buy the Nivea Perfect and Radiant Luminous630 anti dark marks serum and the Nivea Perfect and Radiant Luminous630 anti marks day cream SPF50 exclusively at Jumia. You will also find deals on other beauty products like body lotion, Roll-on, anti-perspirant spray, and more. View Offers
10. Up to 10% Off Coca Cola, Fanta, Sprite, 5Alive, Eva, Schweppes, and More

You can get up to 10% off Coca Cola range of drinks and beverages. Buy a pack of 12 50cl Coca Cola, Fanta, or Sprite for ₦1,530. You also get free delivery to any location in Lagos, Abuja, and Ibadan. View Offers
11. Up to 45% Off oraimo Earphone, Watch, Power Bank, and Accessories
Need a new and good quality Power Bank or a great quality wireless earphone? oraimo is offering deals on their 27000 mAh, 20000 mAh, and 10000 mAh power banks as well as their top of the line oraimo FreePod 3 wireless earbud with great quality audio output.
oraimo is also offering great deals on other mobile accessories like smartwatches, mobile chargers, portable wireless speakers, and 4G Wi-Fi Mobile Hotspot. View Offers.
12. Up to 60% Off Adidas Wears and Shoes

This is one of the highlight deals of the Jumia Brand Festival. Adidas is offering great deals on their original sneakers, tracksuits, Tee-shirts, sweatshirts, Flip Flops, and other Adidas branded products.
The is a great opportunity to buy original Adidas sneakers whether the Grand Court Base, Advantage Base, Runfalcon, Asweerun, Lite Racer 2.0, and many more. View Offers.
13. Up to 10% Off Diageo Products (Guinness Malt and Stout, Origin, Smirnoff)
DIAGEO is offering deals on their lineup of beverages and drinks. You also get free delivery to any location in Lagos, Abuja, and Ibadan. View Offers
14. Oraimo Freepods 3 TWS Earbud: ₦15,500

Need a good quality wireless earbud that you can also use to make calls wirelessly and not break the bank. The Freepods 3 is a good TWS earbud to checkout. It is one of the best September deals. You get True Wireless Stereo and Bluetooth 5.2. It can play up to 8 hours of music playback with the case providing an additional 28 hours of play time. You also get Environment Noise Cancellation (ENC).  View Deal.
15. Oraimo OPB-P118DN 10,000 mAh Power Bank: ₦7,600

This is an affordable power bank from Oraimo. This a portable power bank that you can easily slip in your trouser pocket. If you are on a limited budget, the price tag here might be within your reach. It can even charge two devices simultaneously. The power bank usually goes for around 8,000 Naira, so a 400 Naira discount is something. View Offer.
16. Oraimo OPB-P271D 27,000 mAh Power Bank: ₦18,500

This is one of the best power banks around. Available on oraimo Brand day at a price of about ₦18,500. This good quality Oraimo power bank has a capacity of 27,000 mAh and supports fast charging. With price usually ranging from 19,000 to 21,000 Naira, this is a decent bargain on this power bank that can charge your phone multiple times. View Offer.
17. Umidigi A13 Pro 6GB / 128GB: ₦90,700

This is one of the best smartphone deal. Umidigi A13 Pro features a 48MP triple rear camera and 5150 mAh battery with an impressive memory and storage capacity. The 4G phone also support NFC and comes with a built-in FM antenna, which means you will not need to plugin an headphone to listen to FM radio like most other mobile phones. View Deal.
18. Samsung Galaxy A13 4GB / 64GB: ₦90,650

The Galaxy A13 is usually around 98,000 Naira, so at a price of ₦90,650 it is one of the best Jumia Brand Festival deals for 2022. This is one of the hottest smartphones from Samsung right now and features a good camera and with 5000 mAh built-in battery, you would get a good battery life. View Deal.
19. Samsung Galaxy A03 Core 2GB / 32GB: ₦47,000
Looking for an affordable smartphone from a globally recognizable brand? The Galaxy A03 Core is one of your best smartphone deals. This smartphone usually goes for around 51,500 Naira, so at ₦47,000 it looks like a decent deal. The 5000 mAh battery is the most impressive feature. You also get 4G LTE support on both SIM slots. View Deal.
Brands like Defacto and Pernod Ricard also has some amazing deals.
These are also some of the Best September Deals.
Highlights of the Jumia Brand Festival
Brand Days
Jumia has designated a particular day for each brand. Check out the website and app for your preferred brands to discover their brand day specials. On the special day of a brand, the brand will offer amazing discounts on their products.
Check-in and Win
If you check-in to Jumia for seven consecutive days and you stand a chance to win a big prize on the 7th day.
Treasure Hunt
There will also be treasure hunt, where some big ticket items will be offer at giveaway prices with up to 99% discount on some of the items. The treasure hunt is only available on the Jumia app. There will be treasure hunt at 12 noon on September 12, September 19, and September 23, 2022.
Flash Sales
Select products will be available at a discount for a limited time. You must act quickly, as flash sale offerings are limited in quantity.
You can also checkout Black Friday Sale, Cyber Monday Sale, Christmas sale, and 11 11 Sale for your holiday shopping. For more holiday shopping, see the Best November Deals and the Best December Deals.
Here are the best January deals, the Best February deals, the Best March Deals, the Best April Deals, the Best May deals, the Best June Deals, the Best July Deals, the Best August Deals, the Best October Deals.
Going back to school? See the Best Back to School Deals and the Best Back to College Deals.
Other major deals include the Amazon Prime Day Deals, the Prime Early Access Sale, the Jumia Brand Festival, and Jumia Global Sale.
Here are the best VPN services and the best web hosting.
Related Topics
Paschal Okafor
is
NaijaTechGuide Team Lead
. The article
Jumia Brand Festival 2022 Sale, Savings, Vouchers
was written by . The article was last modified:
November 8th, 2022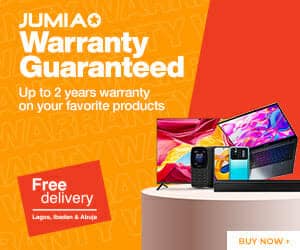 NaijaTechGuide may receive financial compensation for products/services purchased through affiliate links on this site. See
full Affiliate Disclosure Here