DSTV Stream (formally known as DSTV Now or simply just the DSTV app) is a service from Multichoice that enables you watch your favourite shows online via a browser on your desktop or laptop or with a mobile app on your smartphone, tablet, and smart TV. It is the successor of DSTV Mobile, which used the DVB-H technology to broadcast select TV shows to compatible mobile phones. DSTV Stream enables you stream live shows like Big Brother Naija All Stars, watch and rewatch your favourite movies, and even catch-up on episodes you may have missed.
Unlike DSTV Mobile that required the DVB-H technology, which meant only a few devices could support it, DSTV Stream just requires internet access and a browser or the DSTV Stream app. This means that any device that supports fast 3G, 4G, or 5G internet can support the service.
In addition unlike DSTV Mobile or even Showmax, the DSTV Stream does not require any additional subscription. Once you are subscribed to a qualified DSTV subscription plan you can start enjoying the service without any additional payment.
What you need to Access the DSTV Stream

A valid Subscription to a qualified DSTV package like DSTV Premium, Compact Plus, or Compact.
An Internet enabled PC, Mac, Android Phone, iPhone, iPad, or any Smartphone or Tablet. Some Smart TVs are also supported
A supported Browser or DSTV Stream App for Android or iOS devices as well as other smart devices. To download DSTV Stream for Android Click Here and to Download DSTV Stream for iOS Click Here
A DSTV Connect ID (easy to register, requires your smart card number)
An Internet Connection (Broadband connection like Wi-Fi, 3G, 4G LTE, 5G)
A Data Plan (Preferably an unlimited Data plan)
With the DSTV App you can watch TV shows and live TV on up to four devices, though only one can be active at a time. Now that you know what you need to access the service, let us now show you how.
How to Watch Live TV, Sports, Movies on DSTV Stream
Visit now.dstv.com on your browser or open the DSTV Stream App on your Android or iOS devices, or other supported smart devices. You can download the App at the PlayStore or Apple Store.
Login with your DSTV Connect ID. You will be required to create a Connect ID the first time you login
Search for the TV show you want to watch. You go to the Live TV section to see programmes airing now on DSTV. Catch Up enables you watch episodes of your favorite shows that you may have missed. You can also visit the TV Guide to see upcoming shows and set reminders on shows you may want to watch
When you see a TV show you want to watch, click or tap on it to get to the details page where you can either stream or download the show
Features of DSTV Stream
Now lets look at some of the value added services on the service.
Watch Live TV
DSTV Stream enables you stream live TV on your computer or mobile devices. On the live TV section of the app, you will find all the channels that are available live with the current show airing. You will also see an indicator of how far long the program has gone. Clicking on the channel will open the screen where you will then watch the live TV show.
The channels are also tagged to categories, which makes it easy to filter channels by category. Categories available include Sports, General Entertainment, News and Commerce, Music, Documentary, Children, Lifestyle & Culture, and Religion.
With live TV, you nolonger have to worry about programme interruptions during power failure or bad weather as you can continue your viewing on your mobile phone or laptop. You can now watch live TV programs including Big Brother Naija while on the move just like in the days of DSTV Mobile. You can also watch Live football matches and more.
Catch Up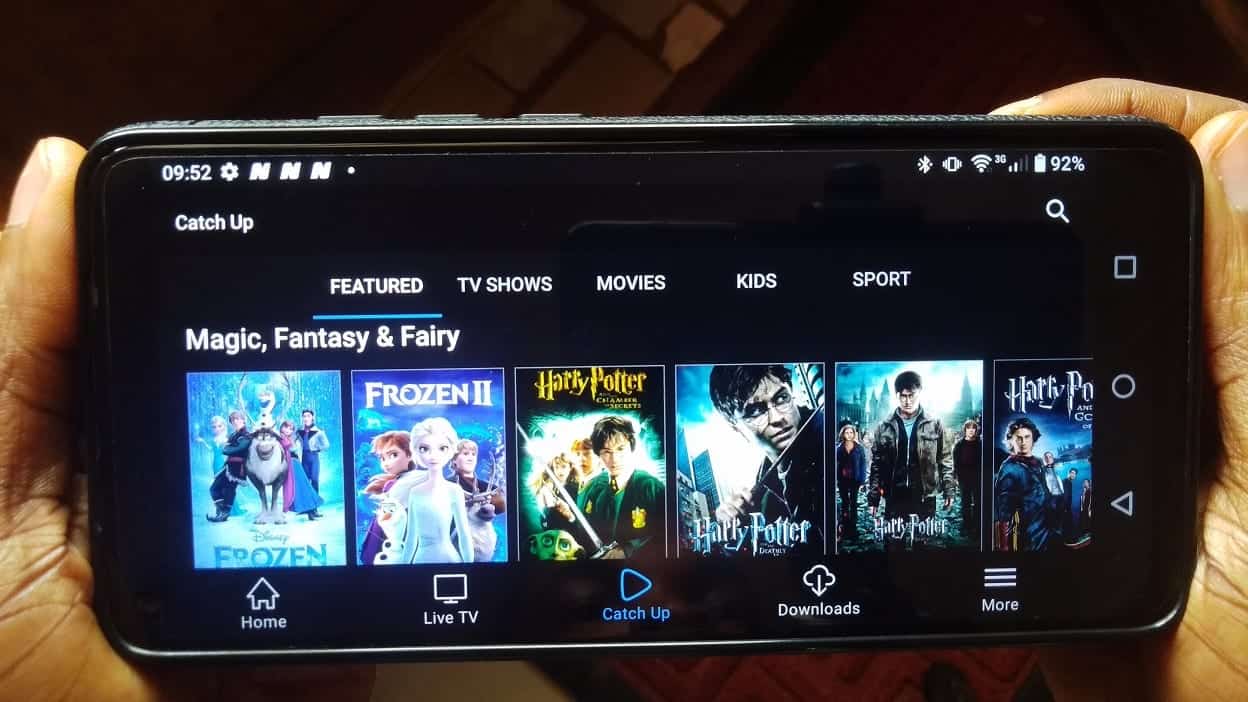 Missed any episode of your favourite show or you just want to rewatch a recently aired TV show? The Catch up section is for you. The Catch up feature keeps a catalog of popular programmes on DSTV. It is a Video on Demand service that enables you watch episodes of your favourite TV shows that aired for the first time over the last 7 to 28 days.
You can either stream the episode or download it so that you can watch offline later. However, downloads are only available on the Mobile App. When you are using a browser, you are restricted to streaming only. Shows are usually available on Catch Up within 24 hours of their first broadcast on DSTV.
Lots of Entertainment for Kids with Kids lock
Aside the children shows on Live TV and Catch up, DSTV Stream provides a special kids section with lots of shows for children.
The beauty of the kids section is that you can setup a PIN so that once you navigate to the kids section and handover the phone to your children they will not be able to navigate to other features of the app until they enter the same PIN you setup. With this, your kids are protected from potentially inappropriate content.
Full TV Guide
DSTV Stream comes with an 8-day worth of TV programming Guide. On the TV Guide, you can watch a programme live if it is currently airing live. You can also set a reminder if the programme is upcoming. If you have an Explorer decoder, you can also instruct your Explorer decoder to record an upcoming TV show via the App.
The TV Guide also provides information about each TV show like the season, episode, duration, rating, and a brief description. You will also see when the particular episode will air again on the channel.
Cast to TV or Big Screen
DSTV Stream supports Screen mirroring technologies like Apple AirPlay, Samsung Smart View, Google Chromecast. With screen mirroring, you can cast the current screen on your mobile App to a bigger screen like your laptop, desktop, or TV.
With Airplay you can mirror your iPhone or iPad screen to your Apple TV or Mac computer, while Google Chromecast is more versatile supporting both Android and iOS devices. Note that Wi-Fi is required and both devices need to be connected to the same Wi-Fi hotspot.
How to Save Data on DSTV Stream
Using DSTV Stream involves streaming or downloading of videos. This means huge data is involved. In addition, some channels on DSTV come in HD quality, which means you might need to break a bank if you choose to watch in HD.
For example, watching videos in Full HD can consume up to 2.3GB for just an hour of viewing, which might just be outregeous for most budgets in Nigeria and Africa. This is why it is recommended you use the app only when you are subscribing to a unlimited data plan or a data plan with a huge cap.
However, DSTV Stream offers a switch in settings that enables you reduce the quality or resolution of the video in order to save data consumption. In fact, you can reduce data consumption by up to 10 folds by switching to the lowest quality. According to DSTV's own data, you consume approximately 100MB per hour of viewing if you switch to the Lowest Video Quality setting.
While 100MB per hour is still huge for some budgets, it is a significant savings from Full HD quality. So, to avoid spending too much on data, it is a good idea to lower the video quality in settings.
How to Save Data on DSTV Stream with lower video quality
Go to the More Menu
Tap on Settings
Tap on Maximum Video Quality
Set the required video quality. Options: Highest, High, Medium, Low, or Lowest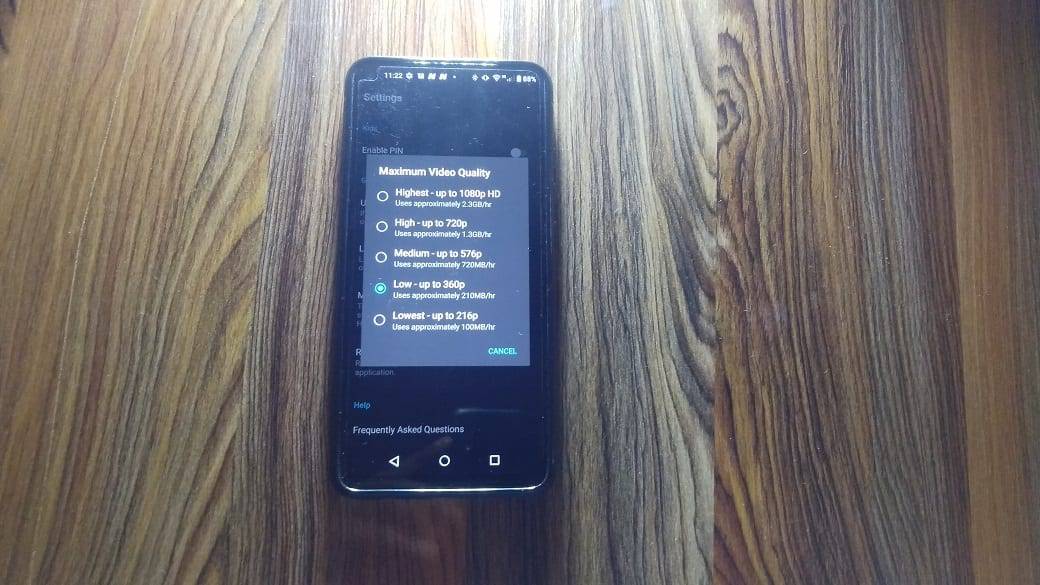 DSTV Stream also has an option for restricting viewing only on Wi-Fi networks. This is on by default. A warning will be displayed each time you try to watch while on mobile data. You will have to tap Continue to watch with Mobile data. If you want to avoid this warning, you go into the settings and toggle on the Use Mobile Data option.
In addition, there is also an option that timeout live streaming after a certain period. The default is 2 hours, but you can set for as little as 5 minutes or as high as 4 hours. This feature ensures you do not get lost in streaming. It could also be helpful if you sleep off while streaming a TV show. If you choose, you can disable this feature entirely.
To access this option, just go to the Live Streaming Timeout setting and choose the timeout duration you prefer. All these features will help you conserve data.
Which Devices can you use to Watch DSTV Stream
You can watch DSTV Stream on the following devices including Cheap Android Phones:
Android Phones running Android 7.0 (Nougat) or higher
Android Tablets running Android 7.0 (Nougat) or higher
Windows PCs via a Web Browser
Android TV devices running Android 7.0 (Nougat) or higher
Macbook or Mac Computer via a Web browser
iPads running iPadOS 13 or higher
iPhones running iOS 13 or higher
iPod Touch running iOS 13 or higher
Apple TV running tvOS 15 or higher
Countries with DSTV Stream
You can access the app in the following countries:
Nigeria
Kenya
Ghana
Namibia
South Africa
Angola
Botswana
Democratic Republic of Congo
Ethiopia
Malawi
Mauritius
Mozambique
Swaziland
Tanzania
Uganda
Zambia
Zimbabwe
Benin
Burkina Faso
Burundi
Cameroon
Cape Verde
Central African Republic
Chad
Comoros
Congo
Djibouti
Equatorial Guinea
Eritrea
Gabon
Gambia
Guinea
Guinea Bissau
Ivory Coast
Liberia
Madagascar
Mali
Mauritania
Mayotte
Niger
Reunion
Rwanda
Sao Tome and Principle
Senegal
Seychelles
Sierra Leone
Somalia
St Helena Island
Sudan
Togo
Tunisia
Zanzibar
Note that these are the same countries where DSTV Pay TV satellite services are available. You will not be able to watch DSTV Stream if you travel outside any of these countries.
How to Watch DSTV Outside, Nigeria, South Africa, Africa
Like you must have noticed above, DSTV content is only available in Nigeria, South Africa, and a number of African countries. This means you cannot stream content on the DSTV Stream app outside Africa.
So, if you are on a vacation outside these African countries or a recent migrant who want to catchup with local content, your only solution is a good VPN or a smart DNS proxy.
A VPN (or a Virtual Private Network) offers you anonymity online by masking your real location while allowing you pick any location supported by the service as your location. So, essentially they enable you bypass internet restrictions.
DSTV has been making it harder for VPNs to circumvent their Geo-Blocking. So, expect access to be off and on.
Best VPN for Watching / Streaming DSTV Outside Nigeria, South Africa, Africa
1. CyberGhost
CyberGhost is a versatile solution that enables you pick servers in Nigeria and South Africa. It supports up to 7 devices simultaneously. It supports military grade 256-bit AES encryption, split tunneling, and data leak protection.
The servers are also pretty fast. It also works well with Netflix in premium locations like the United States. Click Here
2. BulletVPN
BulletVPN comes highly recommended. In fact the service is one of the only VPN services that specifically lists DSTV as one of the streaming services it can unblock. The downside (if you do not want to pick South Africa) is that it offers only South African servers.
It is a good choice if you want to pick South Africa as your location. With 15 servers in the country, they come highly recommended by users. It supports up to 6 devices simultaneously. Click Here
3. ExpressVPN
ExpressVPN is another top rated VPN service. It is good for picking South Africa or Kenya as your location. You get a 30 day money back guarantee. You get best in class encryption with AES 256. This service also offers you the best in class privacy with private DNS. Click Here.
4. NordVPN
NordVPN is a good option is you want to pick South Africa as your location as that is the only relevant DSTV country. You can connect up to 6 devices simultaneously. For more info, Visit Site
5. Ivacy VPN
With over 3500 servers in more than 100 locations, Ivacy VPN is one of the best VPN providers as far as coverage is concerned. It is also a good VPN for Nigeria.
In Africa, the service boasts of 62 servers in 4 DSTV countries namely: South Africa, Nigeria, Kenya, and Seychelles. For more info, Click Here
6. PureVPN
This is another option with good coverage in Africa, boasting 69 servers in 4 DSTV countries in the continent, namely: South Africa, Nigeria, Kenya, Angola. PureVPN supports 256-bit encryption, p2p tunneling, and can be used with up to 10 login accounts. Learn More
You may also be interested in the Best VPN for DSTV.
How to Watch Big Brother Naija (BBNaija) free Online and on Mobile
Visit now.dstv.com on your browser or open the DSTV Stream App on your Android or iOS devices.
Login with your DSTV Connect ID
Click or Tap on the Live TV Menu
Scroll down to Big Brother Naija Channel: Live Broadcast
Tap or Click on the BBNaija item to begin streaming the show
You may also be interested in the How to Watch DSTV in the USA, Canada, UK, Europe, Worldwide.
That's a wrap on this comprehensive overview of the DSTV Stream service. Hope we got everything covered. If we missed something or you have anything to add, we would love to hear from you.
More on DSTV
Paschal Okafor
is
NaijaTechGuide Team Lead
. The article
DSTV Stream – Watch Movies, TV Shows on Mobile, Laptop
was written by . The article was last modified:
August 13th, 2023