While your high-tech iRobot Roomba vacuum cleaner sweeps your floor, it will record Wi-Fi coverage information and build a map that highlights Wi-Fi dead zones.
The popular robotic vacuums, Roomba, are about to unveil a new trick. A few years ago, they were finally able to map a home space, and currently, they have learned to highlight Wi-Fi signals. No wonder they received some of the BestVacuum reviews.
At the end of this month, January 2018, an innovative feature is expected from the Roomba vacuum cleaner. The new mobile application will involve Wi-Fi coverage mapping, and consumers will be informed about it come 23rd January.
This is how it is going to work: the vacuum cleaner will be recording Wi-Fi signals as it does its automated cleaning job. It will then create a map of the overall Wi-Fi coverage in the entire house. By taking the measurements of various points, it will pick out areas of weak Wi-Fi connectivity.
The maps will not have too many details like download and upload speeds on most speed test apps but rather the strength of the signal in decibels. So, at the end of a cleaning cycle, you will have a good gradient map.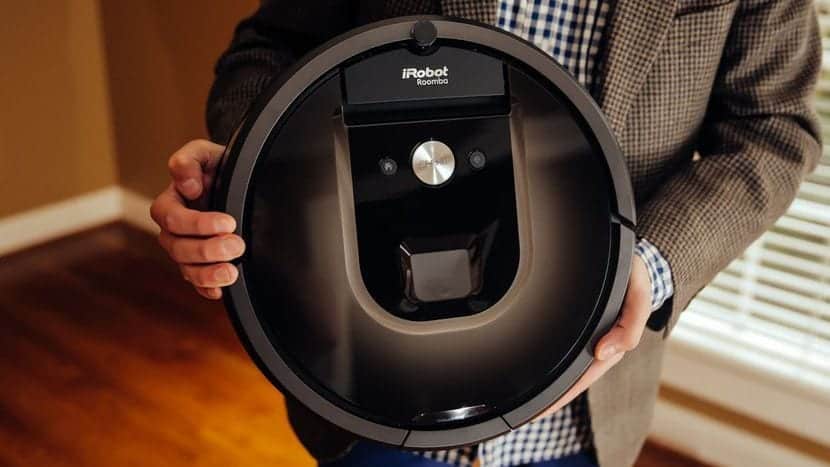 How Will The Wi-Fi-Enabled IRobot Vacuum Cleaners Help Users?
If you are considering installing Wi-Fi signal extenders for different areas of your home, this is the solution you need. You will be in a position to determine the right way to fix the Wi-Fi dead zones.
As such you will enjoy a better consumer experience as you use a connected device in your home. Your entire home will have better Wi-Fi coverage. Two coverage maps will be available- cleaning coverage map and Wi-Fi coverage map- so you can alternate the two whenever you like.
This Wi-Fi coverage mapping feature has already been tested by a few consumers and can be available in the optional Beta program. The Beta program will give Roomba users an exciting chance to try out unreleased mobile application feature before it starts rolling out in the market. Interested customers should apply since not everybody will be accepted. As soon as it reaches a bigger number of users, it will be accessible through the new Beta program which iRobot is launching this month.
Features of The Smartest iRobot Vacuums
Back in 2015, iRobots announced that visual navigation and cloud integration would change this company from the leading robot vacuum cleaner in the market to a company that develops navigation-enabled devices for homes.
And this has been confirmed by the inception of Roomba models which map the indoor environment and understand exactly where they need to go while escaping obstacles along the way.
The iRobot's Roomba 980 was the first of its kind to have both local visualization and adaptive navigation assimilated. These features assist in mapping out floors as they get cleaned.
It is the primeval cloud-connected robot from iRobot that allow consumers to manage and connect via the new HOME app on iOS or Android mobile devices. The Wi-Fi-connected Roombas are more effective than the past models. They can handle open areas which run parallel to each other.
With the help of two new sensors and iAdapt 2.0 software, Roomba vacuums can memorize the floor layout including difficult locations such as below the furniture. On its top is a small camera that navigates and maps a home.
This is different from the previous Roomba designs which used acoustic sensors, infrared, and physical bumpers to navigate the floor. There is an amazing mode (Cleaning Preference) that helps you to choose whether the Roomba vacuum should pass over the floor multiple times.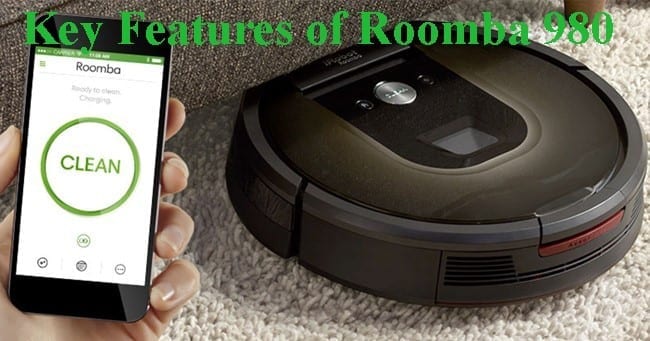 Extra Benefits
Dirt detection sensors: these are feature can detect spots with concentrated dirt and alert the Roomba, so it can work harder on those areas, for instance, the high-traffic zones. The Carpet Boost is an example of a dirt detection sensor the robotic vacuum cleaner. It commands the vacuum cleaner to apply more power in the carpeted areas.
Convenient control and schedule: with the iRobot Home app, you will be able to monitor your cleaning schedules, watch maintenance videos, and view your cleaning history.
Intelligent navigation: the smart iAdapt navigation comprises of a comprehensive suite of intelligent sensors which direct your robot vacuum around and below the furniture so it can thoroughly clean those cumbersome areas.
Cannot fall down the stairs: the robotic vacuums feature cliff detect sensors that protect the devices from tumbling over drop-offs or falling downstairs.
Filters: they help in capturing fine dust particles and debris.
The run-time is 2 hours, and the Roomba can detect automatically when the battery charge drops too low, so it can take it back to the docking station for a recharge. After recharging, the vacuum continues from where it stopped.
Compare Prices of iRobot Roomba Vacuums
Final verdict
Have you been waiting for a wireless iRobot's model that connects to Google Home and affordable at the same time? Very soon you will have a positive answer.
New Wi-Fi connected Roombas are about to flood the market and are the most self-sufficient vacuum cleaners ever. They navigate concisely through any obstacles and leave the floor sparkling clean.
Wi-Fi connected Roombas use come with double Multi-surface brushes, vacuum suction, and 3-stage cleaning mechanism that sweeps every dirt off the floor from small to big debris.
The Dirt detection option helps to spot the dirty areas and offers extra cleaning in those stubborn locations. Then, the iRobot Home app helps you to conveniently schedule your cleaning from wherever you are at any moment.
With Wifi for Roomba, you have total control on your tablet or smartphone which will act as the remote controller. The application is absolutely wireless.
Your cleaning routine will be precise, and you will get real-time information about the vacuum cleaner which you can run from wherever you are as long as there is an internet connection. By combining the embedded web server and the wireless interface, you can control your Roomba from Blackberry, Android, iPad, or iPhone.
Related Topics
Paschal Okafor
is
NaijaTechGuide Team Lead
. The article
Roomba Vacuums Will Soon Map Out Your Home's WiFi Coverage
was written by . The article was last modified:
August 23rd, 2020