The first version of smartwatches were cumbersome, ugly, and unattractive that only the most passionate of tech fanatics could consider wearing every day, but over the past couple of years, smartwatches have become more fashionable and attractive.
As more and more fashion-focused brands join the latest tech buzz, smartwatches for ladies have started to surface. Kate Spade, Fossil, Misfit Path, and Michael Kors are delving into the wearable industry. Of course, traditional tech brands are equally taking notice of the trend.
If we had tried to assemble a collection of the best smartwatches for ladies three years back, it might have been made up of a series of angry emojis and nothing else. Everything is rapidly evolving, the industry is beginning to catch up, and we currently have a bunch of sexy, enchanting and sleek smartwatches for women all over the places.
Apple is one of the first few tech companies to launch female-friendly smartwatches, and it's still the only brand to have successfully developed a smartwatch that's tiny enough for ladies with petite wrists. Meanwhile, Nokia, Samsung, Huawei, LG, and others have also started introducing attractive versions of their smartwatches for ladies.
Men's smartwatches have some set style, but the majority of the watches here come in a variety of sizes, styles, finishes, and even the option be customized with your own fabrication. Regrettably, lots of brands haven't been able to get all the necessary sports features into smaller sizes – but times are dramatically changing.
Recommended Reading: Huawei Watch Smart Watch Specs & Price
In today's post, we'll be revealing to you the five best smartwatches for ladies that are both sexy, sleek, and fashionable.
With that out of the way, let's quickly get to it:
5 Smartwatches for Ladies that are Really Fashionable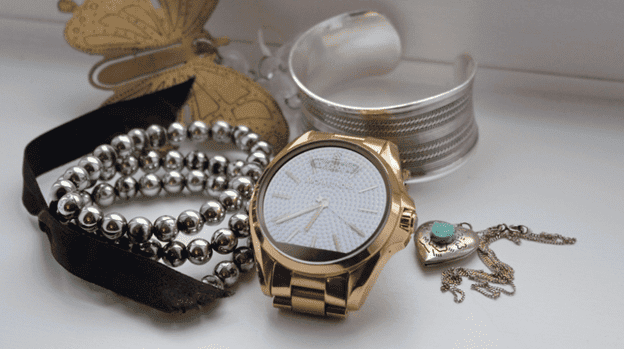 At 44.5mm, about 14mm thick and weighing over 110g, the Michael Kors Access Bradshaw smartwatch is much larger than its non-smart MK colleagues and many other women-targeted wristwatches.
But it can equally be understood as a fashion statement in a case where bigger is bolder and hence better irrespective of the fit; we're talking about "boyfriend watch" appearance.
This ladies smartwatch has some pretty customizable watch faces, which you can configure to shift from day to night. Apart from that, it also has lots of bands to select from, including four 22mm substitutable silicone straps (white, black, red, and blue) sold separately, and six pieces of 22mm leather straps (white, brown, black, red, embossed snakeskin-effect, and embossed tan) which are also sold separately.
Furthermore, the Access Bradshaw itself is equally available in a range of styles and includes eight different colors: silver, pave gold, tort gold, gold/turquoise, a metallic brown, and metallic blue. With all these, the price has reduced for some styles, therefore, ensure you put that into your decision making.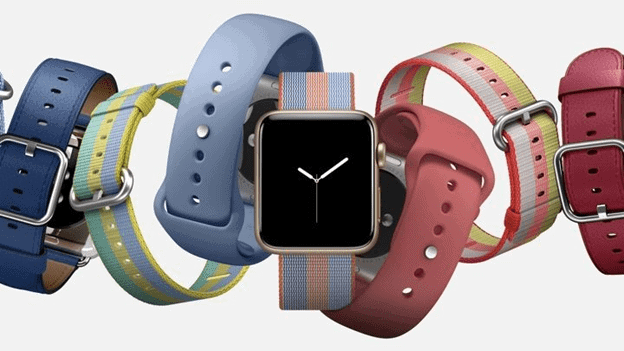 The Apple Watch is one of our favorite smartwatches, and still perhaps the best smartwatch for iPhone-owning ladies.
Now you have to pick between a couple of official options: the Series 3 with LTE or a Series 1, the new Series 3. (Outside Apple, you could equally look at the very similar Series 2). In this article, we'd focus on the latest Series 3, although it's up to you whether you want to opt for the LTE version for music streaming and calls.
It's not entirely revolutionary in design considering it appearance near identical to the original, but it's loaded with great features such as GPS and waterproofing. However, you will likely notice that it's a bit thicker than the Series 1, so try a few models on in the store in order to get a better feel for them.
As usual, the Apple Series 3 sizes is 38mm and 42mm – although you'll have to sacrifice some battery life for the smaller size – in addition to a variety of finishes and band options from Nike and nylon to the Milanese loop plus Hermès accessories.
However, it looks nothing like a traditional timepiece, the Apple Watch is still the most faultless finished smartwatch we've ever seen and can look really stylish settled on a wrist loaded with bracelets – and good enough, there's a bunch of aftermarket of Apple Watch straps to select from.
Apart from that, it also boasts native apps that run even when your iPhone isn't close to you, and key features such as messaging and notification support are more polished. Additionally, watchOS 5 will bring more functions to all models apart from the Series 1. It's a lot faster and glossy to zip around. It's not perfect though – battery life is just 18-hours of balanced use, but it's undoubtedly an enhancement on the first iterations and still a looker.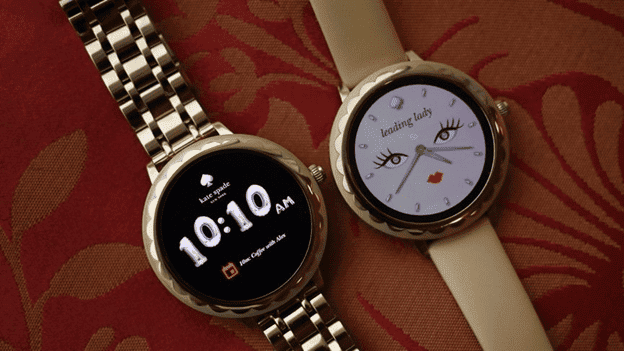 The Kate Spade's first Android timepiece features the brand's iconic pinking design that was a core part of its fitness tracker – conveying the detail around the bezel.
When it comes to tech, this ladies smartwatch comes in around 1.19-inch AMOLED display, without a flat tyre – though it still manages to be fully fortified with an ambient light sensor that helps to regulate brightness in order to save battery life.
Furthermore, the screen features a 390 x 390 resolution that is very standard for recent Fossil Group timepieces.
Finally, the Kate Spade New York Scallop is light on features, but performs its functions accurately, with lots of Kate Spade-made watch faces, which add to one of the best looking ladies smartwatches on the market right now.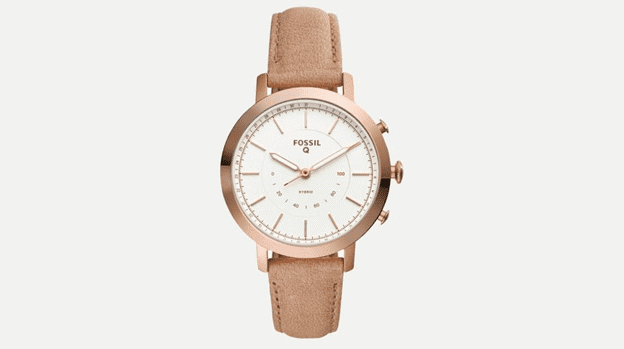 Fossil's newest slim hybrid smartwatch for ladies pretty much keeps things stylish and simple. It's incredibly light, reasonably thin at 12mm, small at 36mm, and very comfortable to wear on the wrist. Moreover, it looks nearly identical to a non-connected wristwatch.
As well as sleep and activity tracking, which can be monitored in the Fossil Q app, you can also set up vibration alerts that you can allocate to a number on the watch face. For example, if you get a WhatsApp message, the hands of the watch on the 40mm watch face could shift to the 1 o'clock position – although this does take a couple of days to get used to.
Recommended Reading: LG Watch Urbane LTE Smartwatch Specs & Price
Also cool and pretty straightforward are the features that can be set up for the 3 buttons located on the right-hand edge – remote music controls, remote selfie, and so on. However, you have to be careful with the 16mm leather straps because they get dirty quickly. We'd recommend splashing out on the metal band.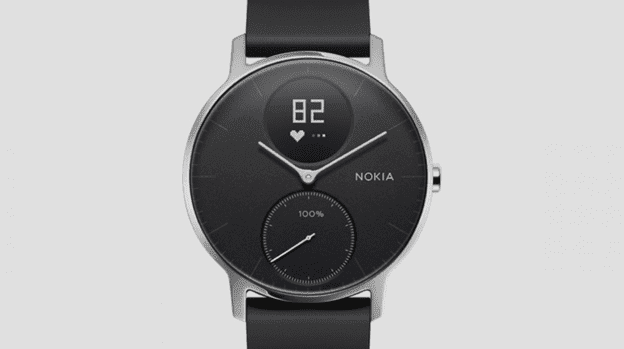 If you admire the appearance of this neutral styling, then Nokia's Steel HR (previously known as Withings) is back and worth checking out. Unfortunately, it may not be around for an extended period of time; this is because Nokia does not see a path forward for its smartwatch health division.
Nevertheless, its small circular display and activity dial stylishly sit on the analog watch face, explicitly blending in well on the all-black model.
Furthermore, the Steel HR is an excellent choice for ladies that are health conscious but are worried about putting on a gadget on their wrist. It looks similar to a regular watch, with leather, woven, and silicone strap options in a range of colors. At a thickness of 12.5mm, it does slightly sit up on the wrist but not to the extent that we wouldn't put it on.
So what're the functions of this smartwatch? Well, it tracks sleep, heart rate, counts steps, and also shows you who is calling or let you know if a calendar event is showing up. The overhauled Health Mate app is fantastic, and battery life is about 20 – 25 days, which is quite impressive if you dislike charging wearables like us.
It's available in two sizes (36mm and a 40mm version), so both are very compact and the device is water resistant to 50m thanks to the inclusion of sapphire glass. However, our only real dissatisfactions are the poorly designed charger and the absence of GPS for runners.
Recommended Reading: DSTV Now – Stream Movies, TV Shows on Mobile Devices
Conclusion
Of course, there are a bunch of other smartwatches for ladies out there, and even more on the way. Some of them will obviously look way better than the models mentioned here. This is because times are always changing, new inventions will definitely come up as time goes on. And whenever we found something worth saying, we'll certainly talk about it here.
Like I said before, one of my favorite smartwatches out there is the Apple Watch 3, which we talked about at the top of our list. There are lots of styles to select from when purchasing the Apple Watch that things can get really confusing, the same is true of with some of the other watches listed here. There are versions of the smartwatches that will unquestionably meet feminine tastes.
Are there any smartwatches for ladies that you think is missing on the list? What wristwatch do you wear on your wrist daily as a lady? Is it included here or entirely another model?
Related Topics
Paschal Okafor
is
NaijaTechGuide Team Lead
. The article
5 Fashionable Smartwatches for Ladies
was written by . The article was last modified:
February 11th, 2019