As a content marketer, you have a lot of tasks to accomplish. You need to create and manage your content marketing funnel, create amazing content, manage your outreach campaign, and as well manage a team. And on most occasions, you have to multitask to get these things done.
Here's the truth – to scale your content marketing, you definitely need tools to automate your work. You cannot do it all by yourself when it comes to content marketing. And to your best interest, there are countless content marketing tools to make your work easier.
At this point, I believe you must already know the full potential of content marketing and how it can impact your business.
Here are the 47 Best Content Marketing Tools
In this post, I reviewed over 45+ best content marketing tools to help you with your content marketing tasks. Here in the list, you will find some of the best email marketing tools, landing page tools, scheduling tools, outreach tools, keyword research tools, and many more.
Absolutely, you wouldn't be needing all the tools written here. But an average content marketer combines 5 to 7 content marketing tools depending on their task.
Not to waste a bunch of your time, lets get started with the best content marketing tools in the market; there's a lot to cover.
1. HubSpot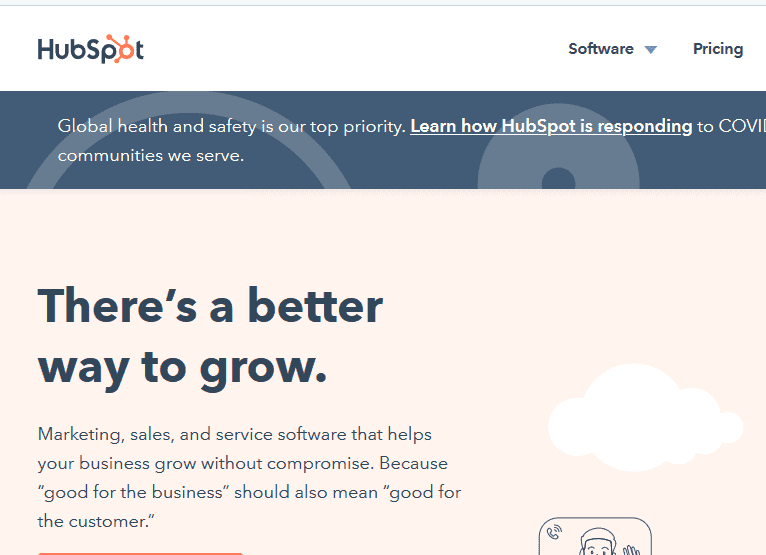 Hubspot is an all-in-one solution for marketing automation, sales, and customer experience ( CRM ). Founded in 2006, Hubspot has been regarded as the best inbound marketing tool for content marketers.
Referring to its tools as hubs, Hubspot offers free CRM hub, sales hub, CMS hub, marketing hub, and Services hub.
Each of the hubs is a tools and features offered by Hubspot software.
Notably, the forever free Hubspot CRM allows you to manage your customers at no extra cost to you.
The free CRM includes a reporting dashboard, company insights, deal tracking, pipeline management, email tracking and notifications, prospect tracking, meeting scheduling, and live chat.
The CMS is the most recent addition to the tool. Hubspot CMS is a content management system with a drag and drop interface, contact attribution reporting, adaptive testing, and SEO recommendation. For details, Click Here.
2. SEMRush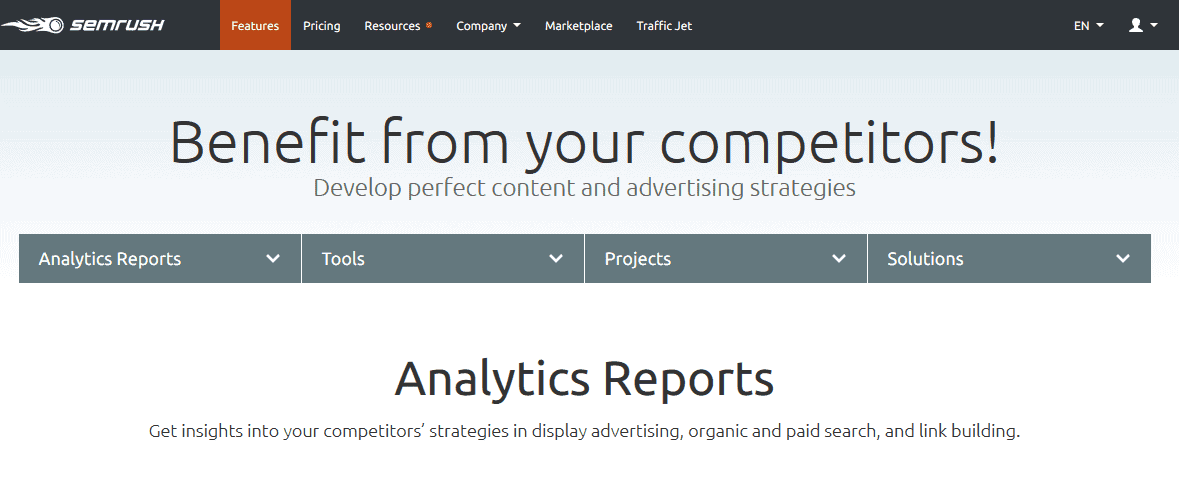 SemRush is your go-to SEO tool for keyword research and backlinks research. It is undoubtedly one of the best content marketing tools for researching content.
Best known for their keyword research tool, SemRush provides a detailed analysis of keywords with their difficulty score, monthly search volume, related keywords, and sites already ranking for the keyword.
SemRush earns the medal for being one of the best keyword research tools to use; with different filtering options available.
An important filtering feature for better and accurate research is the country filter. SemRush allows you to narrow your keyword research to a country.
When narrowing your keyword research, SemRush provides unique, different and accurate results.
To content marketers, the ability to carry out keyword research and know what your audience is search for is a plus.
The user base of SemRush includes bloggers and content marketers as the majority.
Beyond keyword research, SEMRUsh is an all in one marketing tool for content, SEO, advertising, and social media marketing.
Needless to say, SEMRush offers a backlink research tool that enables you to carry out deep research of the sites linking to your site alongside their domain authority, spam score, links gained and date, and links lost plus date.
However, SemRush allows you to run a project website that SemRush analyzes every month to give you a report on SEO performance and drawbacks.
You also get SEO site audits that enable you see if there are issues with your website that prevents it from ranking high on search engines. Some plans targeted at SEO agencies offer white label site audits.
Excellent. The cost?
SemRush presently has three standard recurring subscription plans; pro, guru, and business plan.
The pro plan costs $99.95, the standard plan costs $199.95, and the Business plan costs $399.95 per month.
And for agencies or companies in need of a custom plan, SemRush has this available as an enterprise plan. Learn More.
3. Constant Contact
Constant Contact is one of the oldest and best email marketing tools with their tools dating as far back as 1995 when it was founded.
Just like many of the other automation tools on this list, Constant Contact offers a simplified solution to email marketing automation.
Offering a drag and drop builder interface, Constant Contact is easy to use and understand.
The ability to trigger emails based on where contacts clicks on your site is a great plus to Constant Contact.
And needless to say, their segmentation feature that helps send hyper-targeted emails is priceless.
Their contact management system allows you to upload your contact list from excel or anywhere you have them stored into Constant Contact database for easy management.
And that's the strength of the tool; contact management. You don't have to keep a scattered list of contacts everywhere on the internet. All you need to do is to upload your contacts and Constant Contact takes care of the rest.
Constant Contact offers two pricing plans; Email and Email plus. Their pricing plans aren't expensive. The email plan costs $20 per month while the email plus plan costs $45 per month. Learn More.
4. GetResponse

GetResponse is an all-in-one solution for email marketing and definitely not your regular email marketing software. It does more than manage your email list, it provides a webinar solution to host webinars.
Founded in 1998, GetResponse is regarded as one of the oldest and best email marketing service providers in the industry. GetResponse has a library of email templates to help you get started with engaging your subscribers.
The tagging and segmentation tool allows you to slice and dice your list based on their interest in order to send highly targeted emails to your subscribers. GetResponse autoresponders automatically send your subscribers emails based on a trigger. The trigger could be anything from replying to your emails, buying your product, and many more.
GetResponse also houses a library of landing page templates that lets you build a landing page to collect emails from your audience. The landing page templates are advanced enough to help you include attractive offers like videos and webinars on the page.
However, where GetResponse beats the competition is its webinar hosting platform. Rare to see email marketing tools that allow you to host webinars, GetResponse does.
For eCommerce marketing, GetResponse offers abandoned carts, payment processors, automation, store, reporting, and integrations.
The abandoned carts remind customers of all abandoned carts when they're about to leave your store. The payment processor unlocks different payment gateway for integration on your eCommerce store.
Finally, the pricing plan. GetResponse offers four different pricing plans which are; basic, plus, professional, and enterprise plans. The basic plan starts from $15 per month offering email marketing, autoresponders, and many more features.
The plus plan starts from $49 per month offering all in the basic plan plus contact scoring and tagging, 5 sales funnels, automation builder, and webinar funnels.
And at $99 per month, the professional plan offers all in the Plus plan together with unlimited automation builder, paid webinars, and on-demand webinars.
Finally, the enterprise plan offers all in the professional plan together with transactional emails, account managers, and dedicated IP addresses. For details, Click Here.
5. LeadPages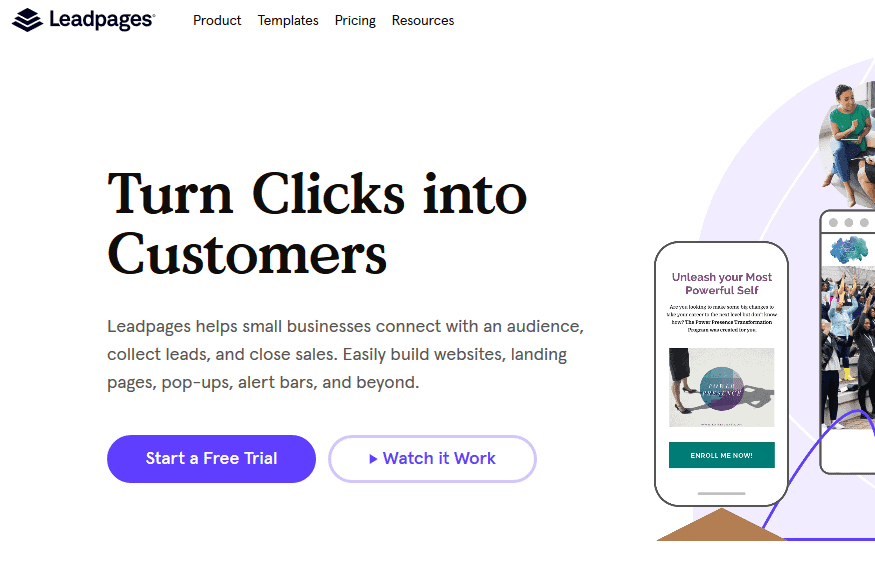 LeadPages is created for the main purpose of helping you grow your email subscriber lists. Not your regular email marketing tool, Leadpages does not support sending of regular emails to your list; but is concerned about collecting more emails. It is one of the best landing page builders.
Here's what LeadPages does. Leadpages has a library of templates for building highly converting landing pages, which you then use to collect emails from your audience. Interestingly, Leadpages has a website builder that allows you to build a custom landing page with a custom domain you own.
Alternatively, you can download the LeadPages WordPress plugin and install your lead page landing page into your WordPress site to make it easier to integrate with an already-prepared site.
The form builders are one of the greatest weapons of LeadPages. LeadPages form builder allows you to create a form with irresistible offers to draw your audience into your list.
Ultimately, Leadpages tutorials and courses will be of help in putting your lead pages in order. Their tutorial is in-depth enough to get you started easily. Learn More
6. Fiverr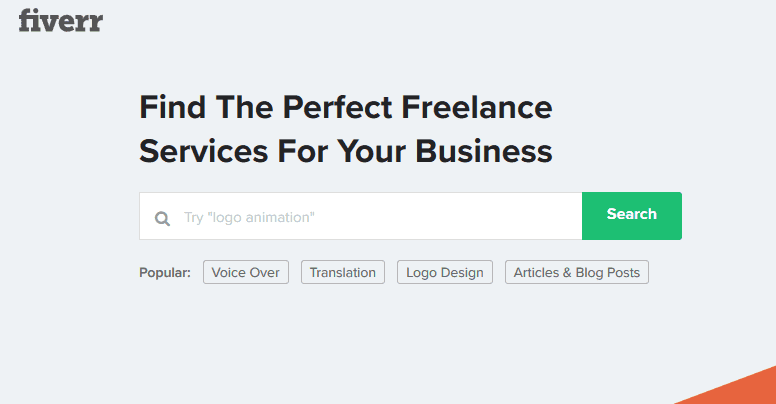 This is a freelance marketplace that serves as a middleman between freelancers and clients. Fiverr lets you hire a freelancer to help your work on or with you on a project.
As a content marketer, your task involves managing a project and scaling a business through content. If you're working on a project, then it might be necessary to hire other marketers to work with you. And this is what Fiverr does.
There are loads of services on Fiverr to help you succeed with your content marketing. You might be good in certain areas, but may have challenges in others. A tool like Fiverr will offer a pool of skilled freelancers that will deliver value and allow you focus on your own core expertise.
Fiverr offers the cheapest price for getting a task done, starting from $5. And the interesting point, Fiverr offers different categories and services to choose from.
You're not billed monthly and neither does Fiverr offer any of the services on their platform.
Small businesses and individuals are the providers of the services you find on Fiverr.
And this makes the pricing of Fiverr services different and negotiable depending on the freelancer you're hiring.
Where Fiverr comes in is to hold your payment and only pay the freelancer when you confirm that the service is okay.
That said, Fiverr offers a pro service that offers premium service by professionals and this comes at a premium price. Not the $5 service but ranges from $100 and above.
Definitely, with the Fiverr pro service, you can be sure of getting a quality job done for you. Plus, Fiverr examines their freelancers through a test depending on their niche to ascertain the level of their skills.
Definitely, Fiverr will always find its place as one of the best content marketing tools considering the great solution it provides for content marketers.
Absolutely, as a content marketer, you don't need to do all the tasks yourself. You can outsource some of your tasks to qualified freelancers and have it done for you at a cheaper price, thanks to Fiverr.
We added Fiverr to this list of best content marketing tools because it provides you with a platform to higher talent that will help you succeed in content marketing.
On Fiverr, you will find writers for your blog posts, sales copy, email copy, etc. You can also find experts that will help you with SEO, social media, editing, etc.
To Learn More about how to sell your skills or for opportunities for growing your business on Fiverr, Click Here.
7. ClickFunnels

Clickfunnels is one of the best content marketing tools and is targeted at building highly effective sales funnels. It is one of the best funnel builders available in the market. Founded in 2014, Clickfunnels was created to help you build a website and a sales funnel to boost your product sales.
The founder, Rusell Brandson, is one of the greatest content marketers with amazing results and has been the reason behind the smart increase in the sales and growth of ClickFunnels. And the achievements made in the six (6) years in the industry, is enough reason to use ClickFunnels.
Still, Wondering what ClickFunnels can do for your business?
To start with, as a content marketer you definitely need a sales funnel to help you target your audience and boost conversion rate. And that's exactly what ClickFunnels solves for you.
ClickFunnels has amazing features to help you build an effective sales funnel without having to start from scratch. There are templates and beautiful designs for your product website. Moreover, ClickFunnels isn't lacking in blogging. Websites built by Clickfunnels are well optimized for Google ranking.
Offering different solutions to convert your customers, ClickFunnels offers a one-click upsell feature that allows you to increase your customer value by adding additional products to the cart for customers.
Their membership areas let you create amazing membership pages that host your premium content or subscription content. Definitely you can sell a membership program on a one-time fee or a subscription fee.
Other conspicuous features that you can find in the ClickFunnels dashboard are sales funnel builder, affiliate center, autoresponders, follow-up funnels, and many others.
Where ClickFunnels beat their competition is their tutorials and courses for entrepreneurs and marketers. As a matter of fact, their free and paid courses are next to nothing.
Needless to say, ClickFunnels seems to have a steep pricing, but if you know what you are doing, you will get good value for money. The founder Rusell Brandson has put together this free 30-day summit that provides a 30-day action plan to help you succeed with your marketing.
If you are into coaching, you may be interested in the Perfect Webinar Secrets, which shows you how to create Webinar that sells. He also organises training programs like the DotCom Secrets Summit, where he teaches entrepreneurs how to use sales funnels to build their business. He also has a book Traffic Secrets which teaches you how to use sales funnels to build quality traffic to your website.
ClickFunnels pricing starts at $97 per month for the basic plan, $297 per month for the platinum plan, and $1497 for the collection plan, which is the most expensive plan they offer.
The last word for ClickFunnels is that it's one of the best assistants for content marketers to build effective sales funnels. Obviously, ClickFunnels is quite expensive, but you will get value for your money.
8. Grammarly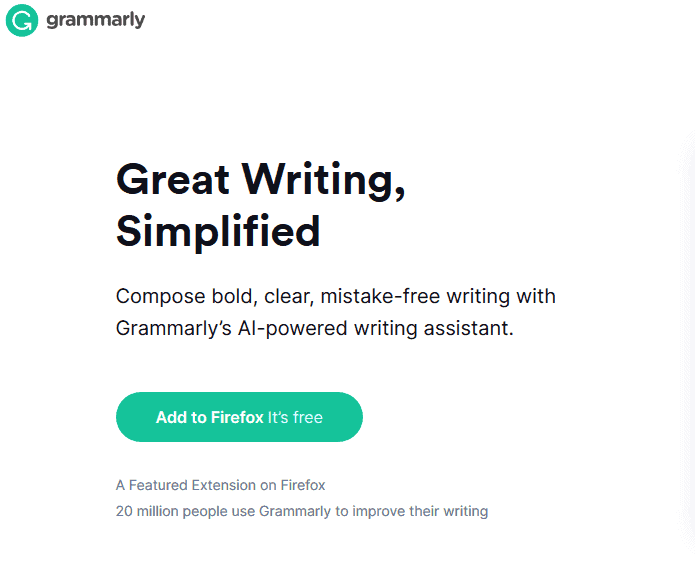 When creating content in the form of blog posts or Ad copywriting, you definitely need to double-check your sentences and blog post to correct Grammatical errors.
Definitely, if you're a content writer; you need Grammarly.
Grammarly is one of the best writing tools to have as a blogger and content marketer. It helps you to check for any grammatical errors present in your craft.
And the most interesting part of it is that you can use Grammarly free with only a few restrictions compared to the premium plan.
But as expected, the premium plan is the best for content marketers; because it gives more direct and well-optimized suggestions for your words.
Grammarly premium plan allows you to switch from US English to British English. Suitable for both nonnative English speakers and native English speakers, Grammarly allows you to check for errors in your document.
Moreover, Grammarly provides a chrome extension that double-checks your Google Docs while working online. Plus, you can upload your word document to Grammarly and check if its free of errors and mistakes.
As for pricing, the premium plan starts at around $11.66 per month. It is the best content marketing tool for checking grammar and spelling. For details, Click Here.
9. SharpSpring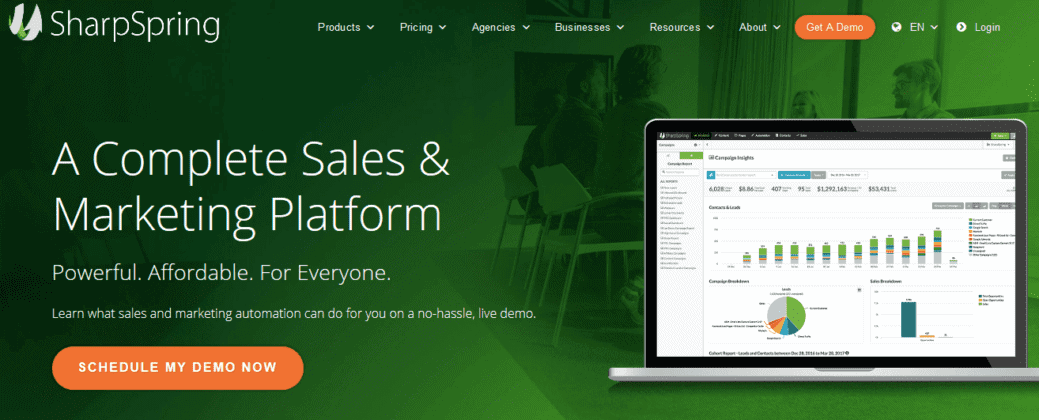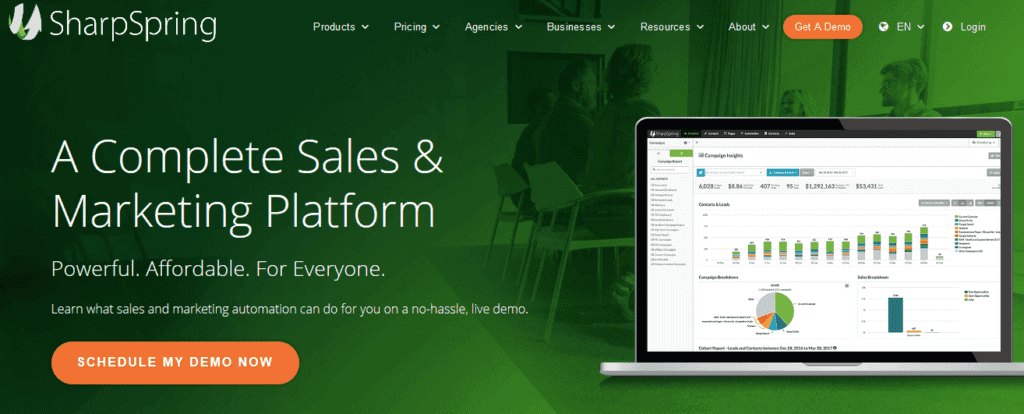 Another amazing content marketing tool you might need is SharpSpring. Founded in 1998 and one of the old marketing tools, SharpSpring has grown to become a strong alternative for its competitor, Hubspot.
Rather than being just an email tool, SharpSpring is a full suite marketing automation tool; that allows you to monitor your different marketing campaigns and also track what's working.
The ability to track what's bringing results in your marketing campaign is the foundation of SharpSpring according to its founder, Rick Carlson.
Among many features, SharpSpring allows you to send out emails, build landing pages with a library of templates, create forms, design your emails, lead nurturing, automation, lead scoring, and many more. SharpSpring offers different solutions for small businesses, agencies, and enterprises.
Notably, SharpSpring offers flexible pricing plans for different categories of businesses. They offer services for small businesses, agencies, and enterprises.
SharpSpring offers a month to month flexible billing that's flexible enough to get started easily. The month-month pricing removes the word "commitment" from the pricing, and allows you to stop using the software anytime.
For the small business package, SharpSpring offers three different pricing plans which include the basic plan that costs $550 per month supporting not more than 1500 contacts to reach out to, the second plan that supports 10,000 contacts costs $850 per month, and finally the premium plan that costs $1250 per month offering support for up to 20,000 words.
10. PerfectAudience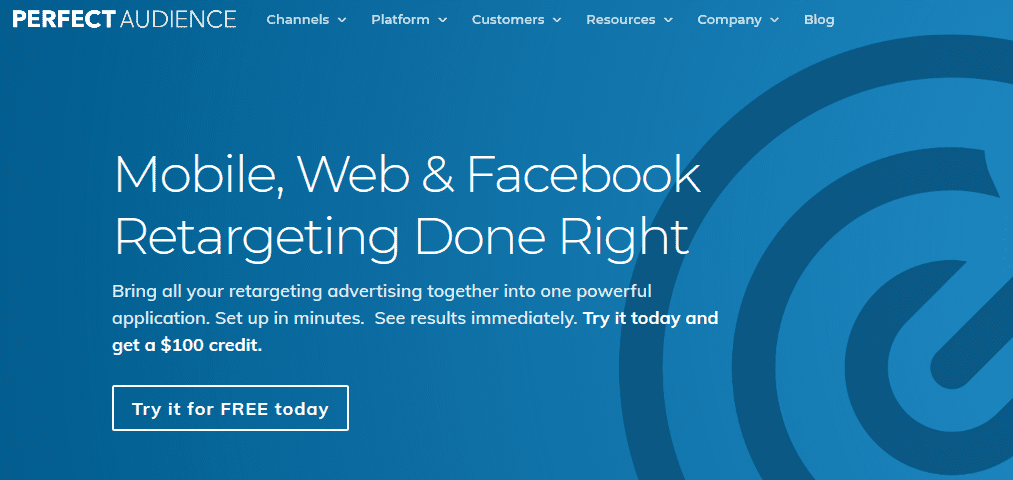 PerfectAudience is a solution born out of needs created in the content marketing space. A product by SharpSpring (parent company: NowSpot Inc. ), Perfect Audience is built to help you make the best of your paid ads.
What's more painful than your ads campaign stopping even before you're able to convert any of your audience?
SharpSpring created PerfectAudience to solve this need. PerfectAudience helps you collate all your retargeting advertising into one application.
Rather than having to switch interfaces and transferring data to collate results of your retargeting advertising, Perfect Audience helps you gather all your retargeting advertising to build that "Perfect Audience".
A perfect audience helps you to gather retargeting audiences from the Web, Facebook, Twitter, Shopify, mobile, and cross-device.
Definitely, with Perfect Audience, you can retarget lost visitors on your website with your ads and get a better conversion rate.
Interestingly, Perfect Audience is used by some of the best brands on the internet like Eventbrite, AppSumo, New Relic, 99Designs, and many more.
Surprisingly, Perfect Audience does not have a fixed pricing or a fee. Perfect Audience charges you based on the CPM you spend on retargeting ads.
In addition, they offer a two weeks free trial or a free trial until your ad spend reaches $100.
11. Buzzsumo
Not knowing what content to create, is normal for most content marketers.
Not a sign of unseriousness, but an occurrence every marketer does have. And it was on this basis that BuzzSumo was created.
BuzzSumo is one of the best content marketing tools for carrying out content research. BuzzSumo curates the best and most performing blog posts on every topic you search, giving a heads-up on the type of content to produce.
Rather than just doing a keyword search, BuzzSumo allows you to plug in a domain name ( your competitor's domain name) and then curate their best content alongside a rating of the social media shares and links.
Absolutely, BuzzSumo is one of the best content curation software to have as a content marketer. BuzzSumo helps you to discover trending topics, evergreen topics, keywords, and many more.
You can also narrow your check on the top-performing content on YouTube, Facebook, and the Web. Moreover, you can discover key influencers interested in chosen topics, and many other content researching features.
BuzzSumo is a must-have tool for an average content marketer who cannot shy away from creating contents and a bulk part of your work involves creating content.
As per the pricing , BuzzSumo offers four different pricing plans; Pro, Plus, Large, and Enterprise plan.
The pro plan costs $99 per month. The plus plan costs $179 per month. While the large and the enterprise plan costs $299 per month and $499+ per month respectively.
Definitely there are restrictions on the Pro and Plus plans. But there are only fewer restrictions on the Large plan and absolute zero restrictions on the enterprise plan.
12. MailChimp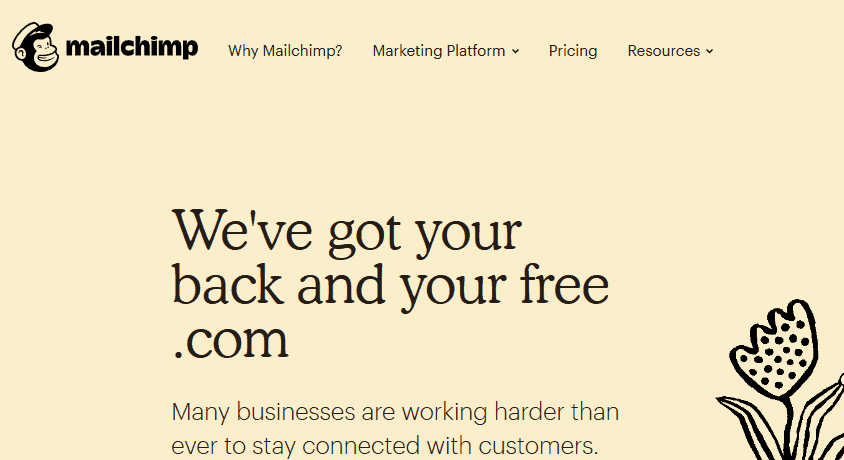 MailChimp is one of the best email marketing tools in the industry. It can also be regarded as an all-in-one solution, but email marketing remains its strength. It is one of the best content marketing tools for handling your email marketing.
Although MailChimp offers other services like running Facebook ads campaigns, Twitter ads, etc. the services aren't as good as the email marketing service they offer.
Equipped with all you need to collect and manage emails, MailChimp can be regarded as an all-in-one solution when it comes to email automation.
MailChimp allows you to manage your customers by slicing and dicing them into segments based on their interests.
For a start, MailChimp offers prebuilt segments to put your customers.
With MailChimp software, you can create signup forms to collect information, put them in segments, and then send them a targeted mail based on their interest.
And that's the major use of MailChimp as a content marketer.
MailChimp offers behavioral targeting feature that enables you to send certain messages to your targets based on set triggers.
The trigger could be purchasing equipment. Immediately after purchase, MailChimp automatically sends transactional emails to the buyer.
Other services that MailChimp offers are landing pages, postcards, shoppable landing pages, custom domains, tags, and report analytics.
As good as it sounds, MailChimp offers a forever free plan with limited functions and features.
The remaining three plans: essential, standard, and premium plan comes at a monthly fee.
The essential plan starts from $10 per month, while the standard comes at $15 per month, and finally, the premium plan costs $299 per month.
13. Mobile Monkey

One of the best content marketing tools that got its fame recently.
Not your regular tool like a marketing automation software. Mobile Monkey helps you integrate chatbots alongside live chat on your site.
Founded by Larry Kim, the founder of WordStream, Mobile Monkey lets you connect with your customers on live chat, SMS and Facebook messenger.
It can be regarded as the only tool of its own kind, Mobile Monkeys does well in providing an Omni-Channel experience for your customers.
Definitely a must-have tool for content marketers in the E-commerce niche. There's nothing better than having a live chat with your customer on your website, and then sending SMS to complete the chat.
Although sending an SMS to continue a conversation can be expensive for small businesses, the Facebook messenger is a big win for businesses.
Switching among live chat, SMS, and Facebook messenger is a blessing to content marketers.
Interestingly, Mobile Monkey offers flexible pricing plans that are affordable and reasonably cheap for the kind of value they provide for customer management.
Mobile Monkey offers the Pro plan that costs $6.75 per month, the Pro unicorn plan costs $14.25 per month and the team plan that costs $199 per month.
However, I'd not want to miss out from the forever free plan.
Absolute Yes!
Mobile Monkey offers a forever plan with limited functions. However, it's a great start to understand the tool and also see if it's a good fit for you.
Finally, Mobile Monkey is best for content marketers in the e-commerce niche and businesses selling high priced products.
14. Ahrefs

Ahrefs is your go-to backlink research tool that is second to Moz (only). It is really an industry leader in SEO and backlink research.
Ahrefs comprises amazing features and tools for effective SEO monitoring. Apart from the tool itself, Ahrefs provides advanced SEO tutorials on their blog and YouTube channel.
And that makes them a resource and a tool for every content marketer.
Ahrefs allows you to track broken links on your site, spam links, anchor texts for links, and many other SEO insights to check.
Perfect for running website SEO audits, Ahrefs gives you insights on how to better optimize your website for search engines.
A look at Ahrefs dashboard, Ahrefs has site explorer, keyword explorer, site auditor, rank tracker, content explorer, domain comparison, link intersect, SEO toolbar, and WordPress plugin.
Ahrefs pricing starts from $99 per month apart from some other features that are added as an add-on to the package.
While Ahrefs is one of the best content marketing tools for backlink research, it offers other features like keyword research, SEO site audit, search rank tracking, and content research.
15. Yoast
If you're a WordPress user or you're a blogger, then you must've heard of Yoast at least once.
For bloggers, Yoast acts as their SEO assistance on their WordPress blog.
Curious what Yoast does?
Yoast is the most popular and most downloaded WordPress SEO plugin by WordPress users. A glance at the excellent result Yoast produces will give an answer to the popularity of the plugin.
Not just an SEO plugin, Yoast SEO also helps in formatting your posts properly and improving its readability.
With more than a decade in the industry, Yoast has grown to offer different plugins as a child of its main software.
Presently, Yoast offers Yoast SEO plugin, Video SEO plugin, Local SEO plugin, News SEO plugin, and woo-commerce SEO plugin.
Yoast SEO offers different products and training each with its price tag.
The first package that includes all Yoast SEO WordPress plugins costs $159 per year. And the Yoast SEO plugin plus training courses come at $479 per year.
If you're interested in their training courses, Yoast SEO training courses come at a standalone price of $399 per year.
The regular and most used product is the standalone Yoast SEO WordPress plugin that costs $71 per year for one site.
In the end, Yoast is a must-have for bloggers interested in ranking high on search engines. For details, click here.
16. Aweber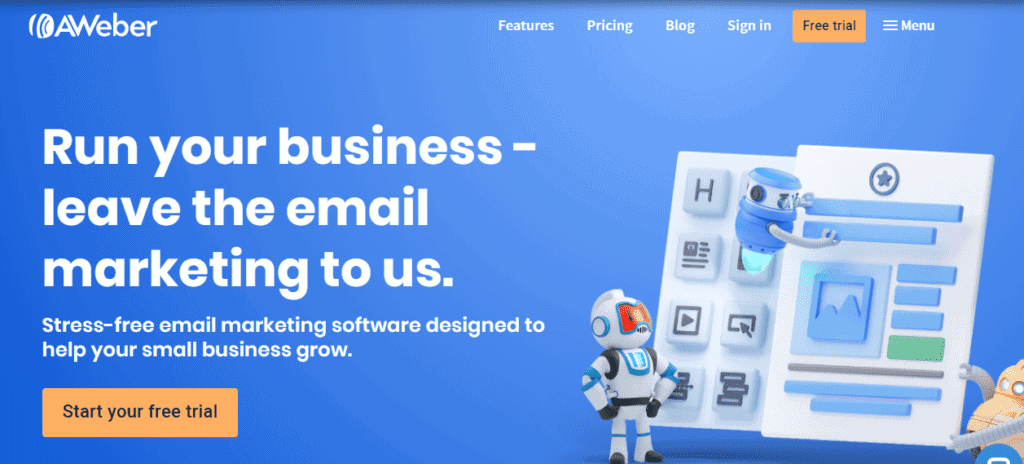 Aweber is an email marketing tool like GetResponse. Unlike GetResponse, Aweber focused majorly on majorly providing email marketing services.
To start with, Aweber offers an AI-supported designer that allows you to design beautifully branded email templates in a few seconds.
Plus, their drag and drop builder for email marketing and landing page allows you to do more (customize) with your emails without having to write a code at all.
Although designing emails isn't difficult thanks to Aweber smart designer. Aweber provides Built-in/pre-designed email templates to get you started.
Aweber offers a powerful automation tool. For starters, Aweber lets you attach triggers and flows to your emails that deliver based on actions.
Apart from email automation, Aweber allows you to segment your list based on interests and what brings them into the list. Plus, it provides detailed report and analytics of your email campaigns.
The ability to integrate Aweber with other popular applications and apps is a plus. Some popular applications Aweber integrated with are: WordPress, PayPal, Etsy, Eventbrite, Shopify, wooCommerce, and Facebook. Learn More.
17. SendInBlue


SendInBlue isn't just an email marketing tool, it's a communication tool that fosters communication and relationship between you and your customer.
Started as a digital marketing agency, SendInBlue discovered the need for a marketing tool that enhances relationship with customers, and this was the start of SendInBlue as a tool.
SendInBlue lets you collect, manage, and engage your email list with the information they need.
To start with, SendInBlue equips you with an editor and templates for signup forms. You have the option of integrating the signup form with your website. The email elements are customizable like color, images, and texts.
Just like Aweber, you get to enjoy email automation, tagging, and segmentation. SendInBlue allows you to group your list based on their interest.
However, unlike most email marketing tools, SendInBlue gives you the option of sending SMS to your customers.
While there are possibilities of your customers not receiving email notification on their phone, the SMS gets to them immediately.
18. Diib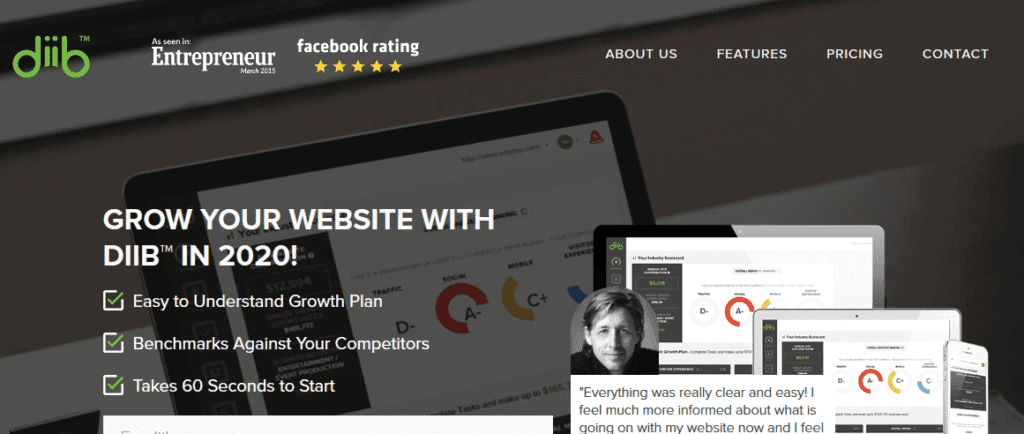 Diib is an advanced analytics tool that gives you growth insights for your website analyzing your website to see what you're doing right and wrong.
For me, understanding the problem Diib solves was high on my priority list. At first, I thought it is an analytics tool that gives insight on speed.
But getting to use the software personally, I discovered firsthand that Diib is not just an advanced analytics software that compares your site with other sites in your profile displaying areas for you to improve in.
Diib performs SEO audits to see how you're faring on Google. Moreover, with Diib you can monitor your social media accounts and get insights to grow your social media channel.
For content marketers, Diib provides an external tool to analyze your website for a better web presence, giving you instructions and suggestions in simple English you can understand on how you can earn more from your website.
Offering two pricing plans, a free plan, and a pro plan. The free plan only supports one site and does not include the SEO & keyword audit and social media channels monitoring.
The Pro plan starts at $19 per month offering all the features in the free plan plus growth plan, support up to 30 websites, social media monitoring, SEO & keywords monitoring, and 24/7 professional help anytime. For details, click here.
19. Contently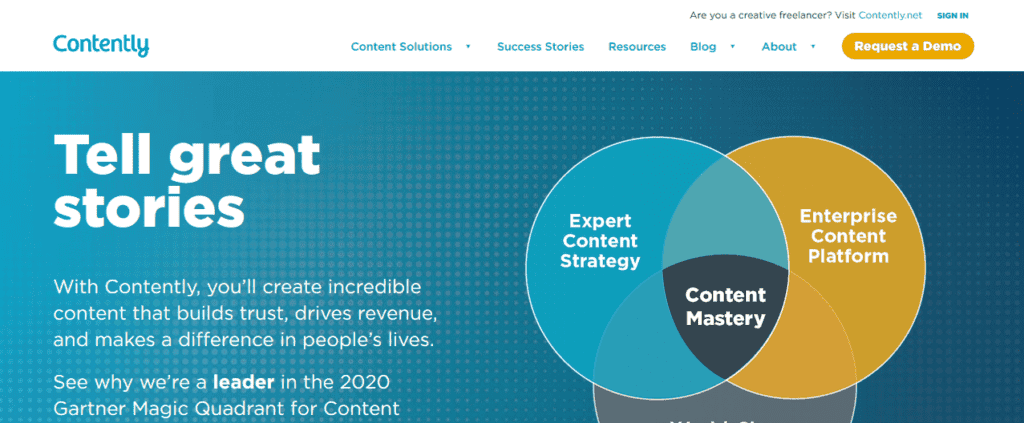 Contently is the solution for your content needs. Housing thousands of freelance writers from various niches, Contently makes it easy to hire a writer.
As content marketers, we live and breathe content. Without content we are powerless, as our gospel is good content brings results.
From blog posts, infographics, poems, press releases, videos, images, ebooks, and many more; they're all the backbone of content marketing.
And here's where Contently plays in. Contently is a content marketing agency that let you hire freelance writers for your content marketing projects.
Instead of going through the stress and risks in hiring a skilled and knowledgeable freelance writer, Contently maps you to a suitable writer for your tasks.
Moreover, freelance writers on Contently have a portfolio section that contains all their writing samples and previous projects accomplished.
Definitely, as a content marketer (read : client) you have access to the portfolio of freelance writers.
Likewise, as a freelance content marketer, you have access to a pool of high paying clients. All you have to do is set up a profile and update the profile with your previous projects. Then, Contently matches you with a suitable project that you can handle.
Looking at record, Contently has paid more than $40 million dollars to their freelance writers' community. And this is a massive revenue similar to those of Saas tools.
Definitely, even though Contently isn't a tool per se, it's a must-have for content marketers. Learn More
20. WordPress

WordPress is one of the best blogging platform for bloggers and content marketers looking to build an online business.
Not just one of the best, WordPress powers the largest share of the websites on the internet. It is undoubtedly one of the best content marketing tools if you want to build a website.
And what makes WordPress a better option for bloggers, content marketers, and entrepreneurs is the flexibility that WordPress provides.
For a start, you've the options of doing a complete redesign of your website, countless WordPress plugins to install on your website and never-ending WordPress themes to choose from.
The number of WordPress plugin creators is ever increasing which leads to more and better options for WordPress users to choose from.
However, WordPress isn't a free solution. It's a paid solution that comes at a fee depending on your hosting company and the bandwidth you use a month.
Unlike free blogging platforms like Blogger that offers a forever free plan with little flexibility; WordPress stands out and is seen as a professional tool for professionals.
Although WordPress also offers a forever free plan on their other platform, their best service so far is their paid plan; as expected.
To get started with WordPress, you need a custom domain and a paid web hosting service that you can rely on.
With so many web hosting companies to choose from ( with different price tags), the cost of starting a WordPress blog varies depending on the domain registrar and web hosting company. Learn More.
21. Canva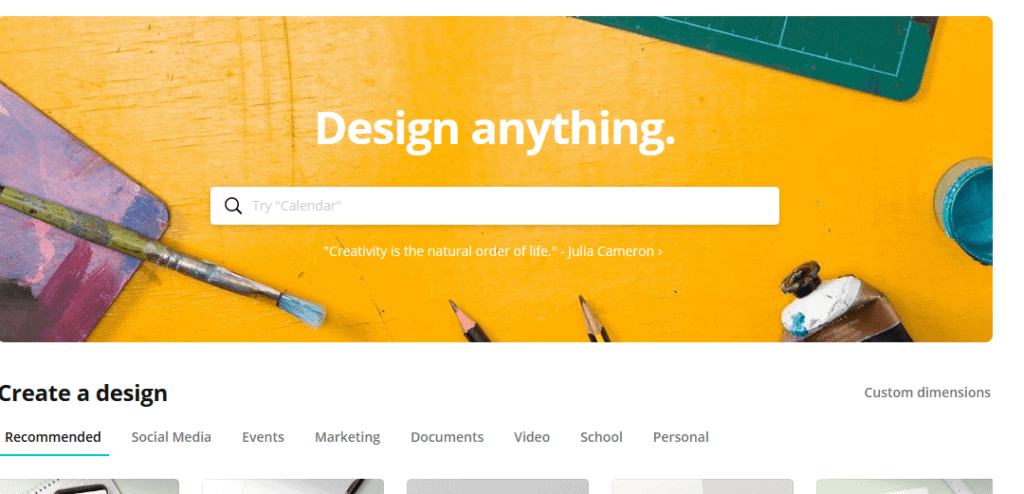 As content marketers, we are known to create different forms of content. And among many of the content we create, Infographics and images are one of the common visual content to create.
Creating an infographic can be technical if you're creating them on a desktop graphics software like Adobe Photoshop and Corel Draw. Plus, creating web images is quite different; as you need an image that's light and fit the resolution.
And that's exactly what Canva solves. Canva houses a lot of templates to create the different forms of content you need. From social media images, eBook cover, Infographics, Instagram stories, and many more, Canva has a template for nearly everything.
In essence, Canva is online graphic design software that helps you create the visual content your business needs to complement your content marketing strategy.
Multiple businesses use Canva to create infographics and social media images. Definitely, as a content marketer, it's unlikely that you have knowledge on how to use the regular graphics design software ( Adobe Photoshop and Corel Draw) and that's another solution Canva provides.
You definitely don't need any tutorial or experience in graphics design to get started with the Canva app. Canva is as simple as ABC. Everything is written in simple sentences for you to understand.
Navigating the platform isn't hard. Plus, Canva provides some free stock images to choose from and paid images as well. In addition, you have the option to choose an image format between Jpeg and PNG for the free plan.
Canva offers a free plan that gives you permission to design anything. The major restriction and setback you'll encounter on the free plan are the royal images you need to pay for. However, you can always upload your own images to Canva.
Absolutely, Canva isn't without a paid plan. Canva pro plan costs $9.95 per month offering over 60 million premium images, 1000+ fonts, brand kit, unlimited folders, resizing to any format, premium animations, and priority support.
22. Ubersuggest

Ubersuggest is a tool owned by Neil Patel. Very likely that you must have the name before. Ubersuggest is a freemium SEO tool that lets you carry out SEO research on your site. The tool allows you to perform keyword research, backlink research, SEO audit, and much more SEO analysis.
Absolutely one of the best content marketing tools for cost effective tracking, UberSuggest started as a free tool and alternative to popular tools like SemRush, Ahrefs, and Moz. However, a paid plan has been added to the tool with restrictions placed on the free plan.
For content marketers, we know how important it is to know what your audience is searching for. And with Ubersuggest, you can diagnose what keywords your audience are searching.
The keyword research includes the competitive score, the average DR of sites ranking for the keyword, and many more. Learn More.
23. ContentCal


ContentCal is a tool that provides a content marketing calendar for you to organize and plan your tasks. Founded in 2014 by Alex Packham, ContentCal was started as a social media agency which led to the online collaboration and content marketing tool.
ContentCal allows you to create a marketing calendar to plan your tasks, it allows you to collaborate with other content marketers by sharing your calendar with them.
Although new in the industry, ContentCal has gained recognition as one of the best collaboration and scheduling tools for content marketers.
To start with, ContentCal provides a product tour to let you understand what their product solves for you.
For collaboration, ContentCal provides tools to enhance collaboration with other content marketers. The approvals feature allows you to send posts for a single or multiple click approval. With tagging, you can group your content or processes for easy tracking.
Other features include pinboard, publish times, Grammarly, post previews, web clipper, and many more.
However, ContentCal isn't a free tool. They offer four different pricing plans, Pro plan, Company plan, Premium plan, and Agency plan.
The Pro plan costs $17 per month, best for individuals managing social. The Pro plan includes 1 user and calendar, 4 social profiles, and other basic features included.
The Company plan costs $47 per month supporting 2 users and calendars, and 8 social profiles. The Premium plan costs $79 per month offering all the features in the Pro plan including custom social profiles and supports more than 2 users and calendars.
Finally, the agency plan allows you to manage your client content marketing calendar all in one place. The agency plan includes onboarding, training, support priority, and other features in the premium plan. However, the agency plan comes at a custom pricing.
24. Trello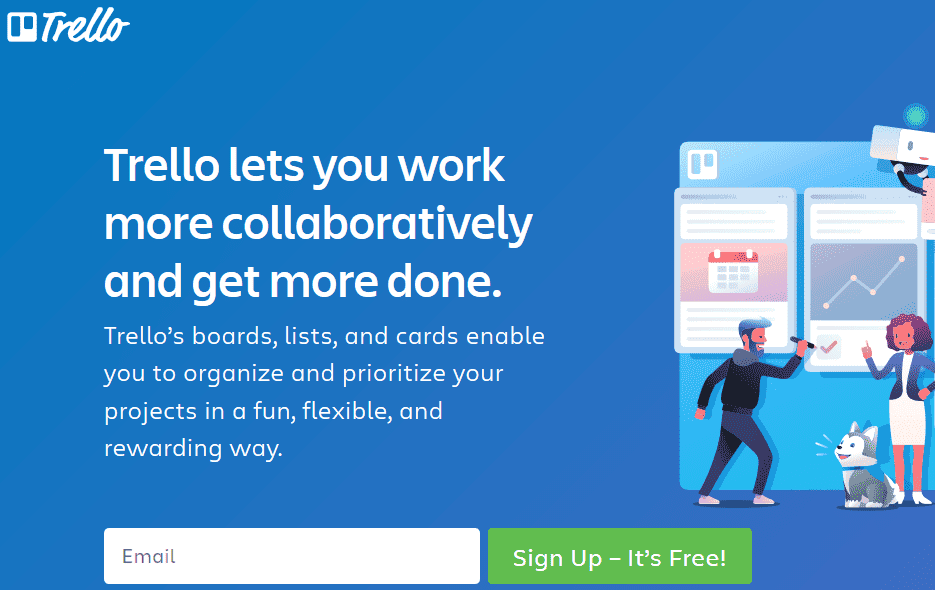 As a content marketer, we curate and share ideas with our marketing team, client and partners.
Whenever you've new ideas or content marketing strategies you'd like to implement on a project, jotting them and sharing them is the next best thing to do.
Trello is your collaboration tool for working and sharing ideas effectively with your team.
Just like CoSchedule and ContentCal, Trello helps you collaborate and plan well with your team beforehand.
And where Trello beats the competition is it's easy to use interface and amazing collaboration features present in the dashboard.
Trello provides built-in workflow automation with Butler. The automation simplifies some of the tedious tasks that collaboration requires.
For a start, you need to set a deadline when working with a team, in order to show seriousness and also Meetup with the plan. And sometimes you might need to send a reminder to your team to remind them of the close deadline.
You don't have to do this yourself. Trello allows setting due date command for the automatic reminder.
Other automation provided by Butler on Trello are rule-based triggers, custom cards, board buttons, and calendar commands.
As expected, Trello has a library of templates to choose from and get started with managing your collaboration in few minutes.
To get started with Trello is free. Not a free trial but a forever free plan. The forever free plan includes unlimited personal boards, unlimited cards, lists, 10 team boards, automation by Butler, and 2 factor authentication. Finally, the free plan does not support more than 10MG per file.
Definitely, Trello isn't without a paid plan. Trello offers two different paid pricing plans, the business plan and Enterprise plan.
The business plan costs $9.99 per month, while the Enterprise plan costs $20.83 per month.
25. Adobe Marketing Cloud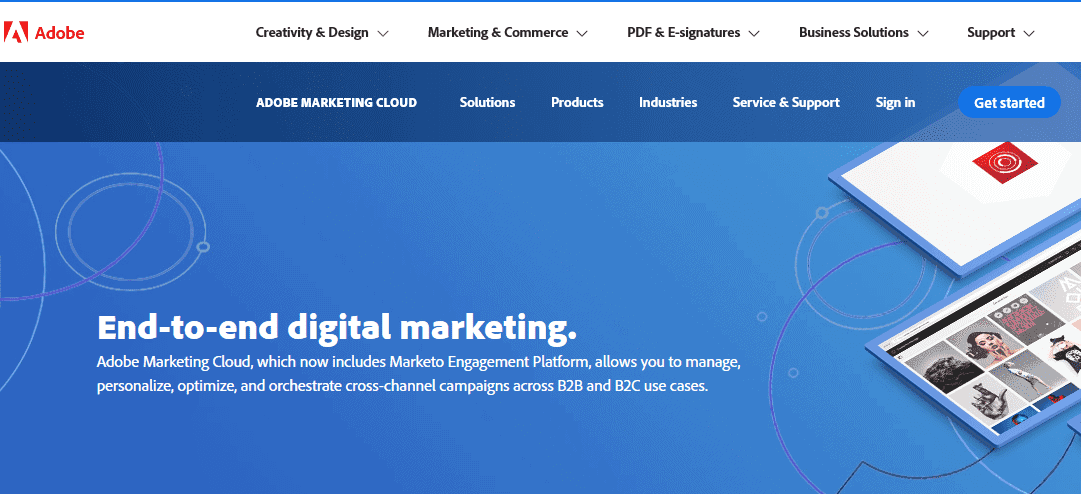 Adobe marketing cloud is adobe's marketing web analytics software. Just like Google analytics and Diib, Adobe Marketing Cloud provides web data and analysis of your website performance.
The Adobe marketing cloud makes it easy to manage content, execute campaigns, and personalization.
The marketing analytics provides analytics across all cross-channels. Learn More.
26. HootSuite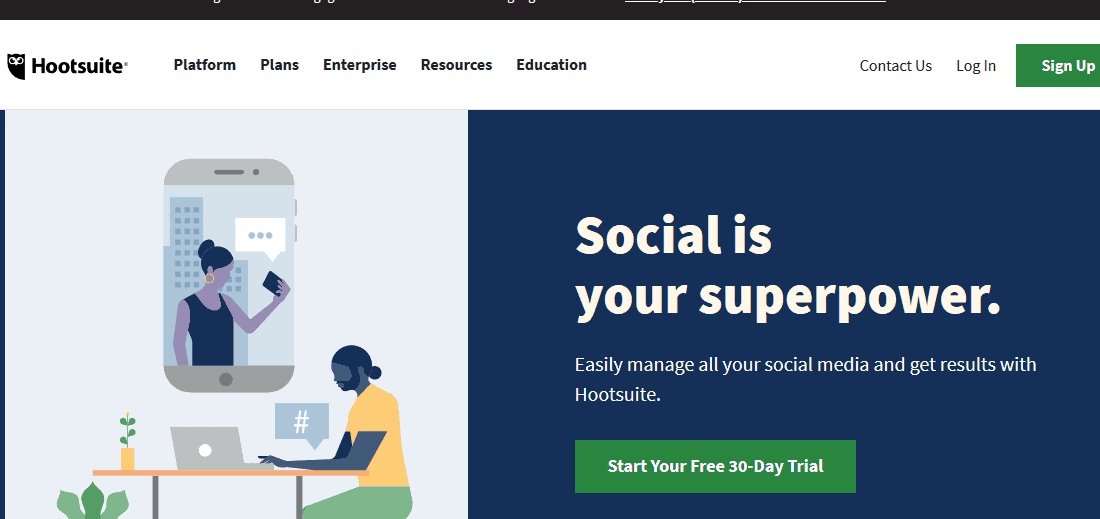 As its name implies, Hootsuite is a suite that allows you to manage and update your social media channels all from one place.
Founded in 2008, HootSuite has moved up the chain to become one of the best social media management tools available in the market.
Equipped with tools to help you track and monitor your social media channels.
Rather than logging to all of your social media channels, all you've to do is log in to your HootSuite account.
From your HootSuite account, you can then give HootSuite access to all your login details for the different social media channels you have.
And right from there, you can schedule and post updates, tweets, pictures, to your various social media channel.
As content marketers, we are already busy with our daily tasks. Adding the task of managing various social media channels can be tiring and overwhelming.
You'd rather seclude a day to schedule a full month or two months content on HootSuite and let them keep updating automatically.
Sure that sounds nice. And that's the solution HootSuite provides for all content marketers.
Other than managing your social media accounts, HootSuite provides a detailed analysis of how well your social media account is thriving in their respective channel
Plus, the analytics provided are for each of the social media channels you integrate on HootSuite.
Aside from social media, HootSuite can also serve as a collaboration tool for your team.
As good as the offer sounds, HootSuite is a paid tool. HootSuite offers four different paid plans, professional plan, team, business, and an enterprise plan.
The professional plan costs $19 per month offering essential tools. The plan supports 10 social media accounts, unlimited scheduling, and 1 user permission.
The team plan costs $99 per month supporting 20 social media accounts, unlimited scheduling, and 3 users permissions.
The Business plan costs $599 per month supporting 35 social media profiles, unlimited scheduling, and 5 users permissions.
Finally, the Enterprise plan offers custom pricing and custom solutions for large businesses.
For the professional and team plan, HootSuite offers a free trial. While the business and enterprise plans allow you to request a demo.
27. CoSchedule Headline Analyzer

Absolutely, headlines play an important role in content marketing. The headline is the magnet that attracts readers to click your content.
CoSchedule Headline analyzer provides a tool for you to run your possible headlines and pick the best for your content.
CoSchedule does this by studying successful blog posts titles. So, this is one of the best content marketing tools for writing that captivating headline. Learn More.
28. Hemingway Editor

Hemingway Editor is your best partner as a content writer. Writing of articles, blog posts, eBooks, and many more works can be interesting.
But unless you run your articles on an editor, you won't have the error-free article you need.
Hemingway Editor is a free app that corrects your sentences and spellings by highlighting them with different colors.
A yellow highlight shows a sentence is too lengthy and complex. To solve this, you need to split the sentences
Your sentence will get a red highlight if it's too dense and complex. Adverbs and weakening phrases are shown in blue for quick and easy edits. Check it out here.
29. Feedly

Feedly gives back the control to you. You are in control of the type of information you want and how you want to consume them.
Rather than getting overwhelmed by the millions of information on the internet, you can train your robot assistant, Leo to research, curate, and organize your favorite content.
Feedly is one of the best tools for bookmarking wonderful stories that cut your interests.
As content marketers, we love to read great content that cuts our interest and also adds value to use. But at the same time, we are one of the busiest set of people.
We can be buried in work for a month and not being able to keep with industry news and information.
However, with the help of a Feedly robot, we can use a tool to curate and also filter the information we digest.
Under the name Leo, Feedly robot helps you carry out the task by asking you questions based on the kind of information you love (read: interests).
Instead of being just a web platform, Feedly chooses to be everywhere and compatible with all devices. Feedly has an Android app and an iOS app for mobile users.
Although Feedly offers a free version, they offer a premium version that starts from $6 per month.
30. Pocket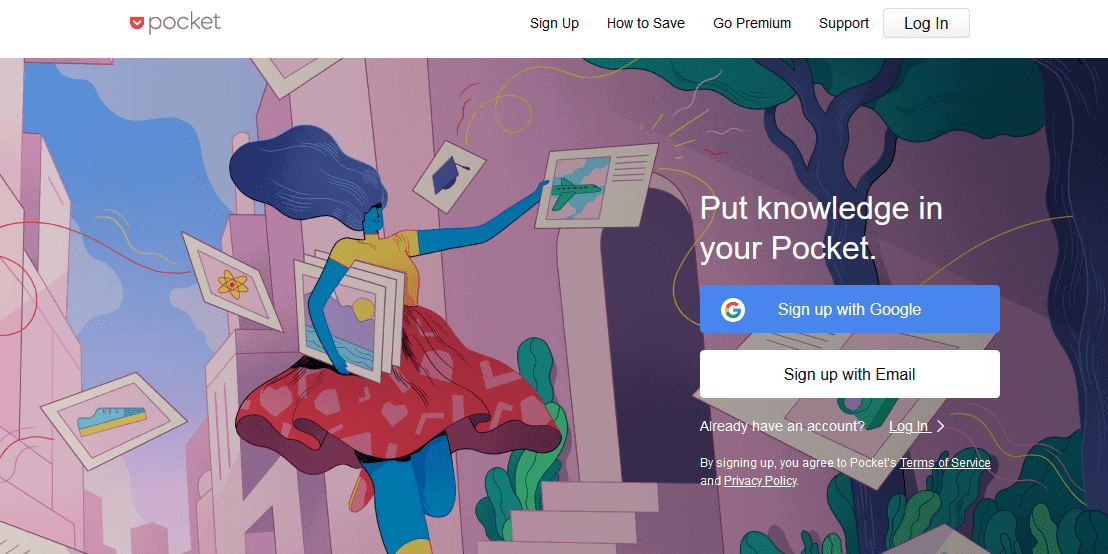 Similar to Feedly, Pocket allows you to research and save content into their app.
As expected, there are times you would come across amazing content that you'd like to read.
But you're very busy and need to get back to work. All you need to do is save the post into your pocket app.
In essence, pocket allows you to keep knowledgeable information in your Pocket.
31. Google Analytics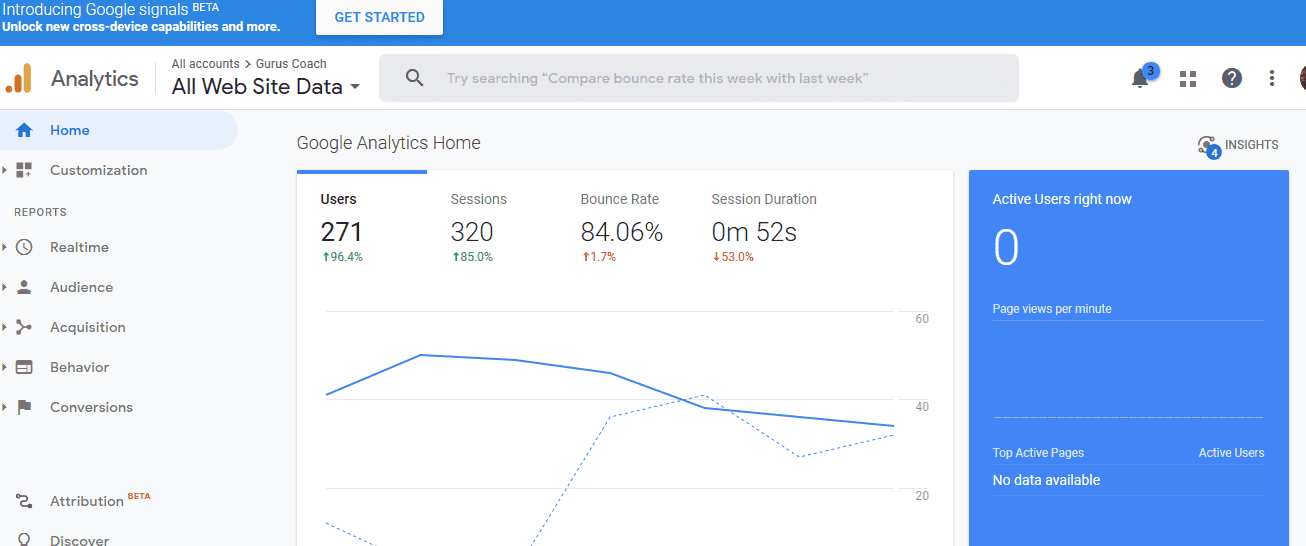 Google Analytics is the best free analytics tool in the industry. Although there is numerous analytics tools that you can use, Google Analytics provides a far better in-depth analysis for your audience.
It comes along with traffic analytics to analyze your website traffic and visitors. Google Analytics is capable of tracking the address of your content marketing.
Apart from Web traffic analytics, Google Analytics allows you to track the performance of your advertising.
Google Analytics provides you a code that you need to add to your site in order to give Google analytics permission to track your site and monitor your growth.
Their detailed analytics is a plus. Google Analytics allows you to track your customers' demographics, interests, and behavior.
Google Analytics also gives a report on conversion rates based on your goal with your web traffic.
As expected, Google analytics is a free product. You can access nearly all the features with the free plan. This is probably one of the best content marketing tools for tracking sales, activities, and events on your website.
However, for more advanced and in-depth features, Google analytics charges a small amount to access.
32. CoSchedule

CoSchedule is one of the best management tool. It provides built-in templates to plan and schedule your content marketing.
Best for bloggers, CoSchedule has a blog calendar to help bloggers and content marketers maintain their publishing schedule.
Apart from the blog calendar template, CoSchedule provides a marketing calendar to manage all your marketing tasks.
With CoSchedule, you can collaborate well with your clients and also coordinate your team properly. It is one of the best content marketing tools for organising your marketing plan and schedule. Learn More.
33. VidYard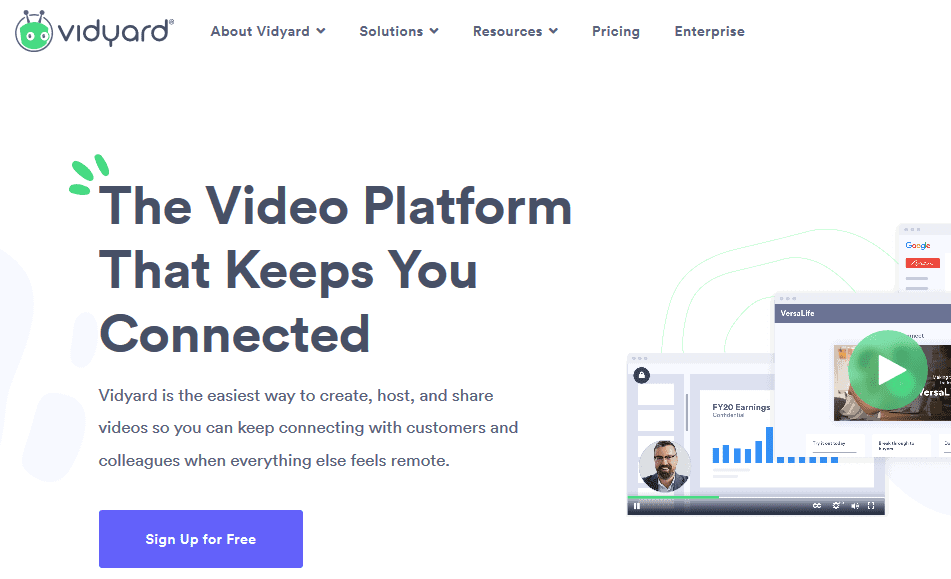 Vidyard is an online video platform that allows you to create, host and share videos with your team
Not your regular software for a webinar, Vidyard is best for business purposes that require more communication and involve a lesser number of attendees.
The Video Platform allows you to record your screen, use WebCam, edit your videos, and integrate with Gmail, Outlook, and other business tools.
Where VidYard finds applications are software demos, marketing videos, customer onboarding, customer support, analyst briefings, employee communications, new hire onboarding, project status updates, and many more business purposes. It is one of the best content marketing tools in this category.
Vidyard offers five pricing plans for businesses. The first plan is their forever free plan that does not require any payment. The free plan lets you upload and share unlimited videos, and embed up to 5 videos on your website.
The second, Pro plan, costs $15 per month and allows you to upload and share unlimited videos, embed up to 20 videos, remove VidYard branding, add a logo and CTA, and email support.
At $150 per month, the starter plan provides hosting and analytics, interactive call to action, share and embed videos, and email support.
The Plus plan costs $850 per month offering all the features on the starter plan plus A/B test thumbnails, advanced analytics, SEO, custom user permissions, and automatic transcriptions.
34. Airtable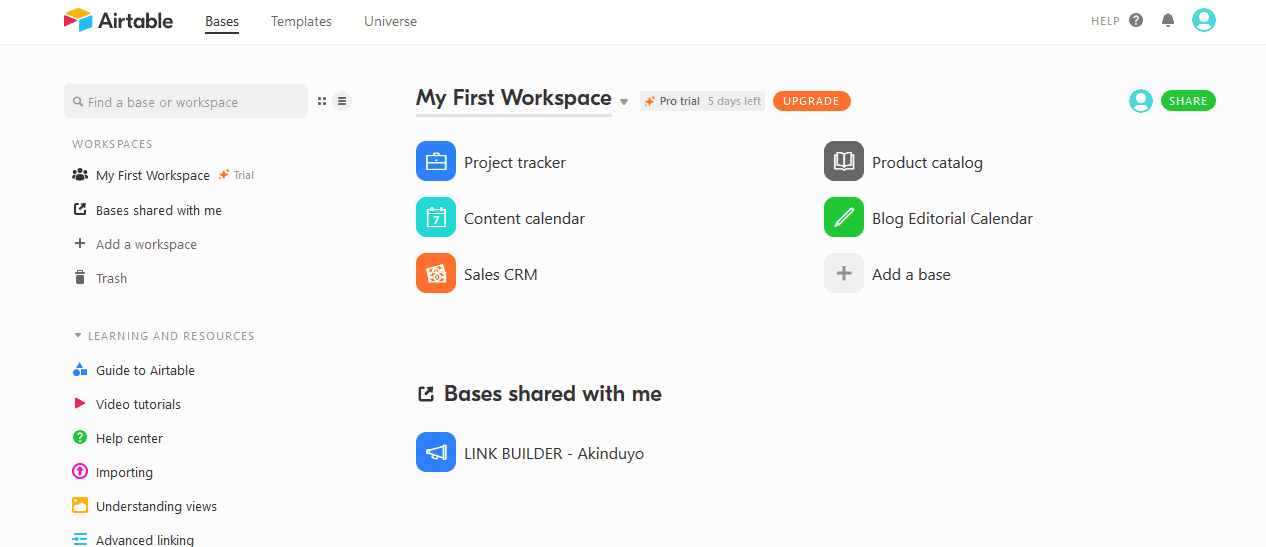 Airtable works like a spreadsheet and makes it easy for you to organize your tasks and also collaborate with your team.
The tool simplifies setting up your spreadsheet to suit your needs. Moreover, there are a lot of templates to get you started in a few minutes.
Airtable offers four different pricing plans, free, plus, pro, and an enterprise plan.
The forever free plan is a good start. The free plan includes unlimited bases, 1200 records per base, 2GB attachment per base, and 2 weeks revisions, and snapshot history.
The Plus plan costs $10 per month offering unlimited bases, 5000 records per base, 5GB attachment per base, and 6 months revision and snapshot.
The Pro plan costs $20 per month offering unlimited bases, 50000 records per base, 20GB attachment per base, and 1-year revision and snapshot. Learn More.
35. HotJar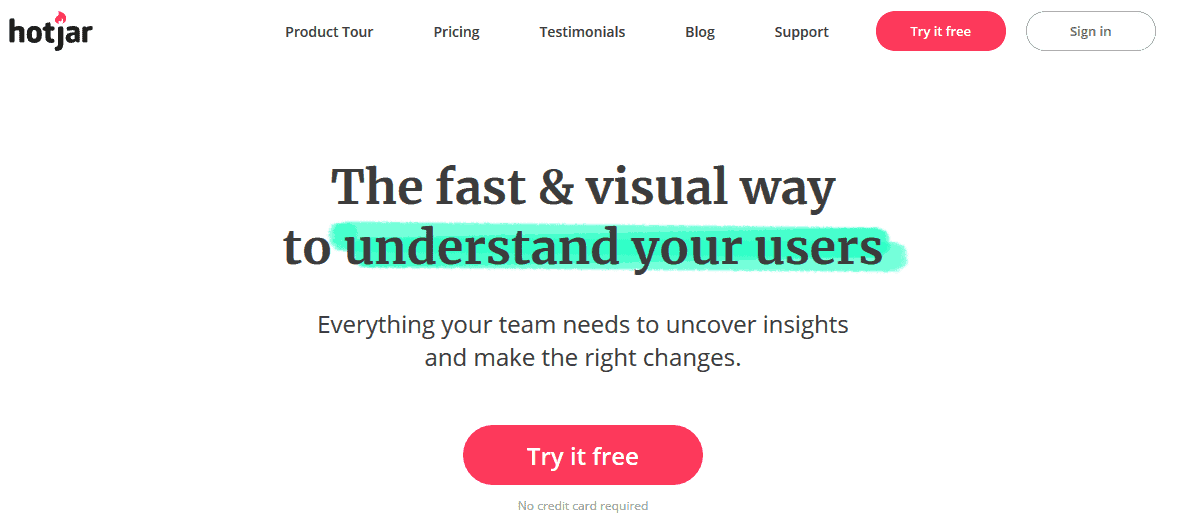 User experience is as important as the content on your site. HotJar helps you optimize your website for a better user experience.
It provides heat maps that analyze the part of your site readers are engaging with. HotJar is an analytics tool for discovering the content your readers are engaging with the most. Founded in 2014, HotJar has grown to over 550,000 websites worldwide in 180 countries.
How HotJar does this is by painting the most interacted part on your site with a color. And you get to see the content performing best and the links being clicked.
36. Google Optimize

Google Optimize is Google's conversion rate optimization tool. Built on the noses of Google analytics, Google optimize provides a more detailed analysis of your audience's behavior and helps you make the best of your traffic.
With Google Optimize, you can increase your customers conversion rate and definitely increase the value of your visitors.
Unlike other conversation rate tools, Google optimize is a free tool that doesn't charge you anything to use the tool.
37. Unsplash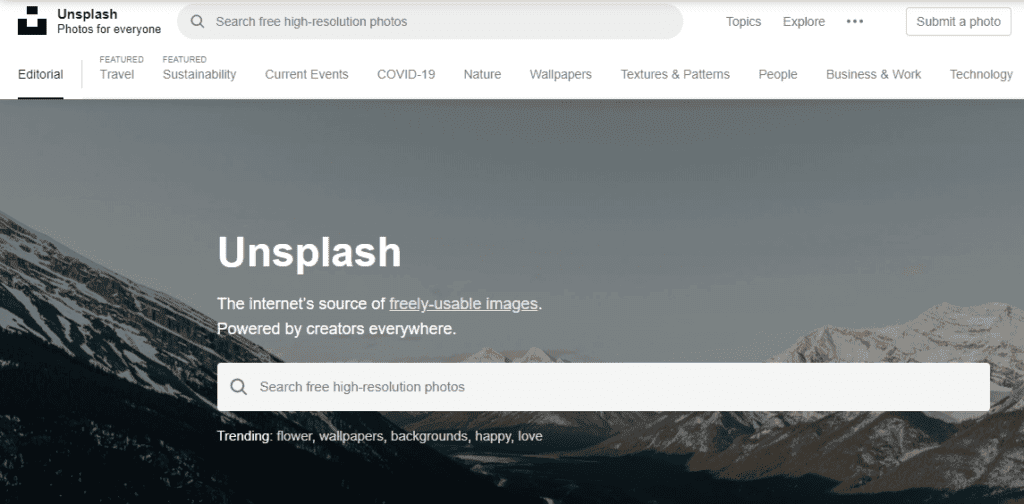 Unsplash is a platform that houses several free stock images under common creative license. With Unsplash, you can obtain high-quality images at no extra cost to you.
With over 1 million stock images, there are a lot of free images to choose from. Unsplash lets you search for images based on their keywords.
38. Evernote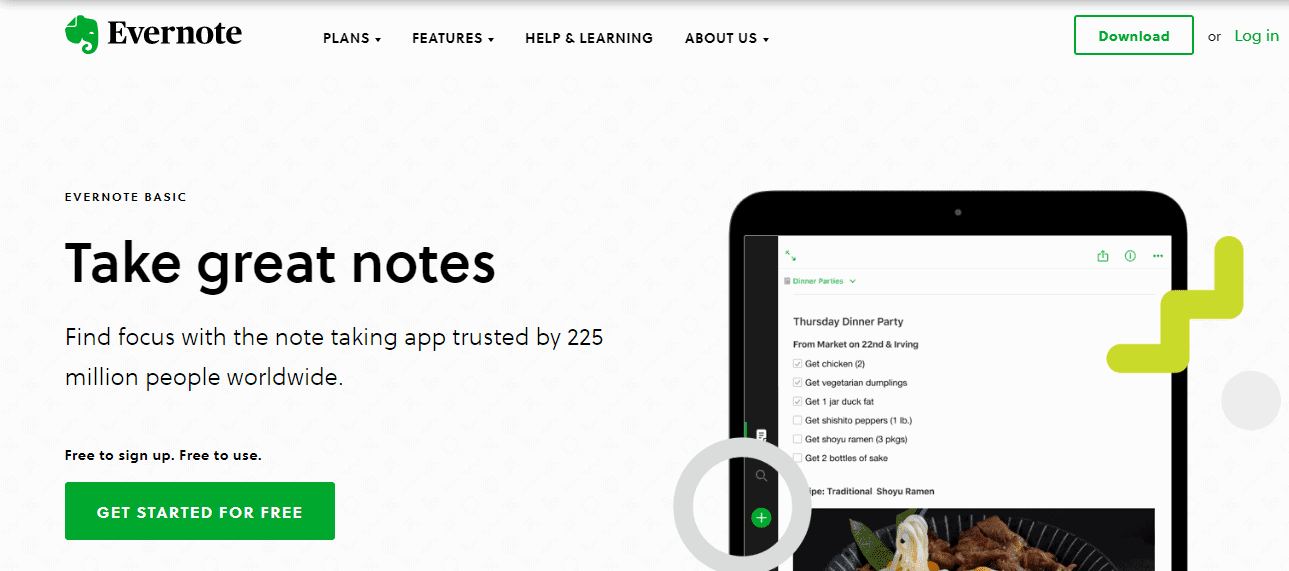 As content marketers, we value ideas. And note-taking is an essential part of our work. We keep notes for various reasons. Evernote is your tool for taking and organizing your notes.
Evernote makes taking notes easy to do and effective. Also, Evernote helps share your note easily with others, making it one of the must-have content marketing tools.
As a content marketer, you can use Evernote to jot your marketing ideas, business meetings, and also share it with your team. Learn More.
39. Adobe Photoshop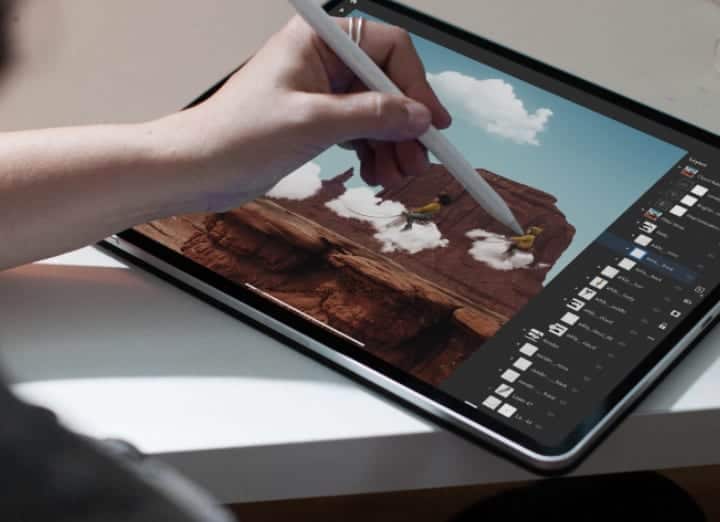 Having discussed Unsplash as the platform for getting free stock images, nothing beats designing your own imagery yourself.
If your content marketing strategy revolves around visual content, then you cannot miss out Adobe Photoshop as a tool for creating visuals.
Adobe Photoshop is a graphics design tool for creating fliers, online ads, infographics, images, and any other visual content you can think of apart from Videos.
Unlike most of the tools listed here, Adobe Photoshop isn't an online tool but software that requires installation on your computer. It is one of the best content marketing tools for imaging and graphic design.
40. GIMP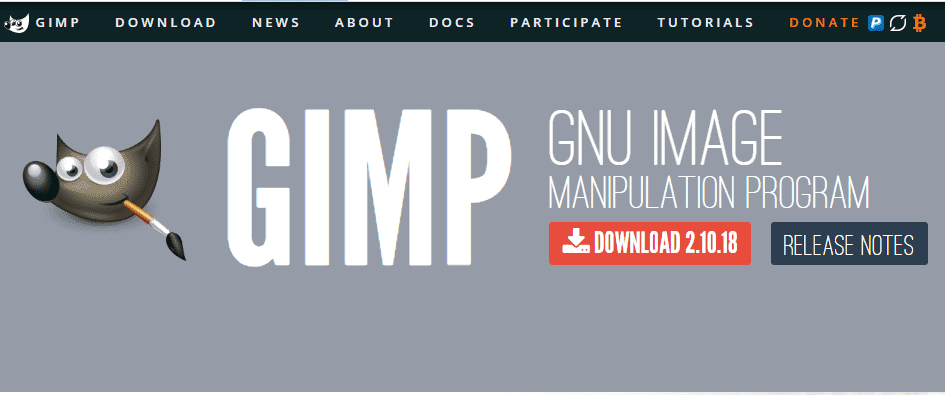 GIMP is an acronym for GNU Image Manipulation Program. Serving as a free and open-source image editor, GIMP provides tools and interface for retouching your images.
Plus, you can make free form drawing with GIMP.
Unlike Adobe Photoshop, GIMP is a simpler and free design solution. Where Adobe Photoshop has four healing brushes, GIMP has just one. Learn More
41. Easel.ly
Easel.ly is a powerful web-based tool for making visuals like infographics.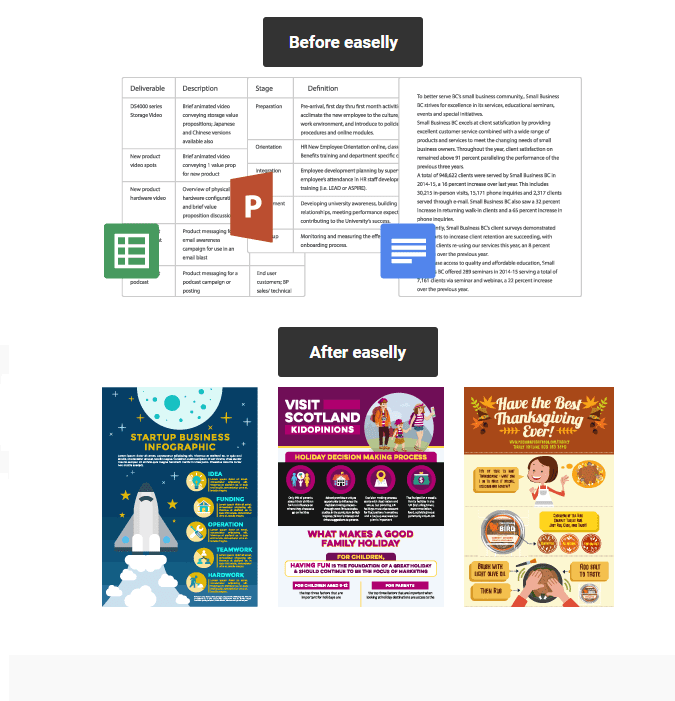 While content marketing is about creating both written and visual content, you need tools to create those content.
For visual content, infographics, Easel.ly is a good alternative and solution for infographics.
Very affordable for everyone, Easel.ly pricing starts from $2 for students. Learn More
42. SimilarWeb
As a content marketer, metrics are essential for us. Metrics help us know the result of our content marketing campaign and how our website is performing.
While I use Google Analytics for tracking my site traffic, Google Optimize for optimizing my site for a better conversion rate, there are many other metrics that we keep up with as content marketers.
One of the metrics is checking how our site ranks against our competitors. SimilarWeb provides web analytics for businesses. SimilarWeb ranks your website and shows you the keywords you're ranking for alongside how you rank against your competitors. Learn More.
43. inVideo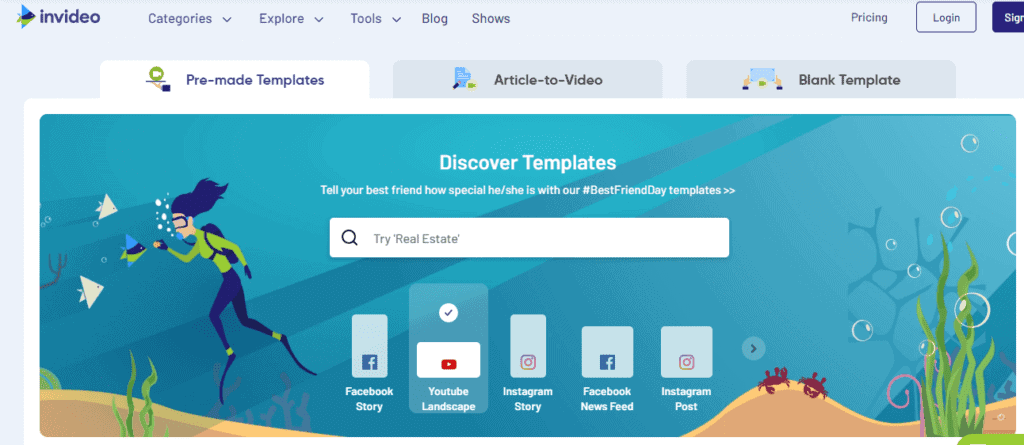 InVideo is an online video editor that helps make the best of your video content. As usual, creating great videos is essential for better engagement.
To start with, you can edit your YouTube videos before uploading them on YouTube for better quality. With InVideo, you can add intro and outro, especially into your videos. Facebook ads and slideshows are just one of the places inVideo comes in.
Plus, inVideo makes it easy to convert your YouTube videos to mp4 and mp3 with little to no stress. Pricing for inVideo starts from $10 per month best for businesses. And the second plan offers unlimited solutions at $30. Learn More.
44. Frame.io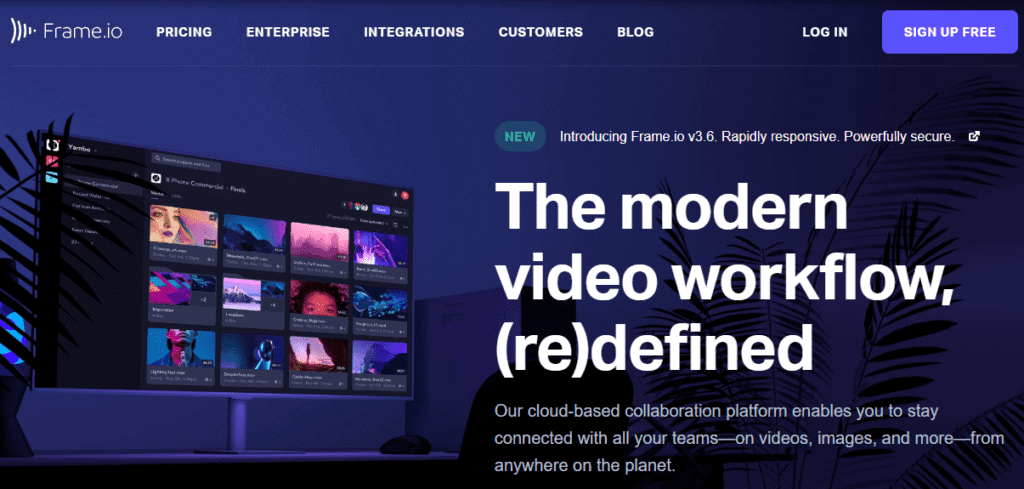 If videos are a churn part of your work, then you need Frame.io. Frame.io makes it easy to work on video projects and also collaborate with others on it.
As expected, collaborating on a video project requires sharing videos with your team and getting their feedback on it.
Before Frame.io, you'd need to save your videos in a platform like Dropbox, then email your team with the link to the dropbox. And to be frank, this sucks. Communication will be very slow because you would need to send emails and they would need to download the file and then upload it once again.
Now with Frame.io, you can collaborate on video projects easily. Frame.io allows you to upload your video on the platform, and your team or clients can view it and give their opinion right away on the platform.
In essence, if you're a content marketer and work with video projects quite well; Frame.io is a must-have for you. Learn More.
45. Zoho
Just Microsoft office, Zoho is an Indian web-based online office suite containing word processing, spreadsheets, databases, and many more tools you can find in Microsoft office suite.
However, Zoho offers many more tools for a better office experience for business owners. To start with, Zoho offers a customer management tool, webinar conferencing tool, etc
As expected, an office is always equipped with the necessary equipment and tools needed to do your regular work. For Zoho, this is true. Zoho suite is equipped with different tools for performing the necessary office tasks.
In addition, Zoho integrates well with a lot of apps both mobile and desktop apps. Zoho integrates well with sales and marketing apps, email and collaboration tools, business, finance, IT, and the Help Desk app. Learn More.
46. Systeme.io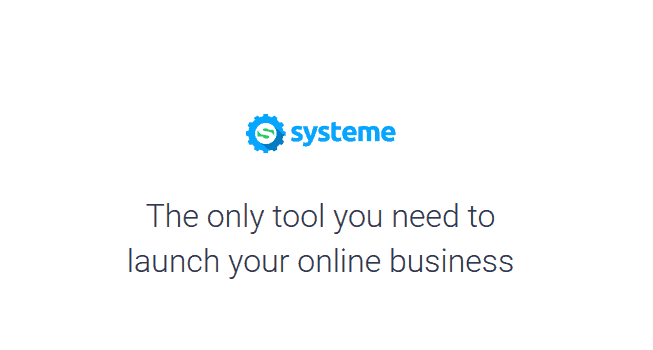 Systeme is an all-in-one business solution that allows you to manage your email marketing campaigns and also launch your membership sites all from Systeme.
Rather than being just an email marketing tool, Systeme also serves as a sales funnel builder. Systeme provides templates for building effective sales funnels, making it one of the best content marketing tools.
The email marketing features autoresponders that makes it easy to engage with your audience. That said, Systeme allows you to build paid membership sites for your online products.
Remarkably, Systeme equips you with a shopping cart solution. That said, Systeme offers order bump, payment integration, coupon codes, A/B testing, and a webinar platform. Learn More
47. UberFlip
Uberflip isn't your regular content marketing tool, Uberflip gives your content a lift by providing a better content experience.
Instead of giving your audience content in a poor experience, Uberflip packages your content and services to your audience in an attractive way.
Above are some of the best content marketing tools. You will not need them all, but a few of them in your content marketing arsenal will lead to great results.
Related Topics
Paschal Okafor
is
NaijaTechGuide Team Lead
. The article
Best Content Marketing Tools for 2023
was written by . The article was last modified:
September 11th, 2023