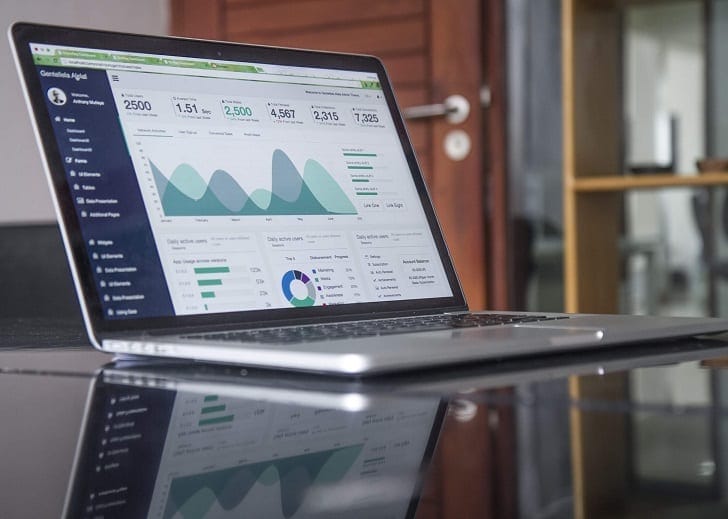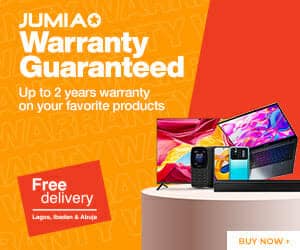 You need the best marketing automation software to scale your business fast and convert your prospects to customers.
Because, as a marketer, you already have more than enough tasks to keep you busy. And to be precise, you don't want to miss out on important marketing tasks that needed to be done.
And here's where the marketing automation software comes in. Marketing automation software helps you automate most of your marketing process to make it effective with little support from you. These tools cover designing and creating sales funnels and landing pages as well as email marketing, CRM, and other marketing activities.
I'm not referring to automating your social media updates alone, it also covers advanced marketing process like following-up on your customers.
However, the long list of options available on the internet has made the decision phase fierce. Like you want to ensure you're getting the right tool for your business.
You don't have to worry about that anymore. I have curated the list of the best marketing automation software for your business.
While some of them have their functions overlap, some only target and solve a particular type of problem.
In essence, you wouldn't be needing all the tools listed here, but a couple of them could get the job done.
Best Marketing Automation Tools for 2023

In this post, I tested and reviewed the best marketing automation tools to simplify your marketing process for you.
However, when it comes to marketing automation, there are different tools for different marketing purposes. And there are also all-in-one marketing tools that solve several problems.
In order not to waste your time, let get started into the list of the best marketing automation software for 2023.
1. Hubspot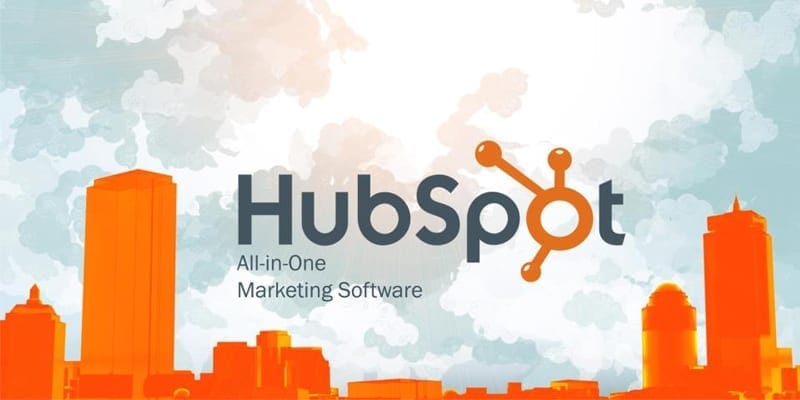 Hubspot is one of the sales crm tools that helps attract, engage, and convert audiences into repeat customers.
Not the regular tool, Hubspot is by far one of the best inbound marketing tools you can find in the market.
With their tool dating as far back as 2006, Hubspot has absolutely acquired a lot of experience in the industry which gives them an edge over many other marketing automation tools.
With their customers sparse around 100 countries and having a customer count of over 68,000, Hubspot is obviously one of the best marketing automation tools.
Their automation tool is split into hubs. To your best interest, their automation tool is split into a marketing hub, service hub, sales hub, and a free CRM tool.
Just like you figured, their marketing hub is where you automate your marketing processes. The same goes to the service hub and sales hub.
Talking of what you can achieve with the tool, Hubspot marketing tool features an email automation tool.
With the email automation tool, you can schedule emails, track emails and notifications, leverage their built-in email templates for email marketing, and many other email automation needs.
The marketing hub contains an ad management system, forms, conversations inbox, team email, live chat, conversations email, list segmentation, reporting dashboard, retargeting, and many other marketing automation tools. It also baosts of one of the best landing page builders.
While the CRM tool is a free tool offered by Hubspot to their audience, the rest of the hubs are paid tools.
But here's where it gets interesting. All the rest of the hubs work as an independent tool. The marketing hub can function on its own without the sales hub.
And most importantly, the three hubs have different pricing plans. Which means you can choose to buy the marketing hub without buying the sales hub.
And this is what makes Hubspot to be the powerhouse when it comes to inbound marketing.
Pros of HubSpot
Offers a large suite of marketing tools
Hubspot provides a free CRM tool
Their marketing hub starting plan is fair
Provides in-depth insights
Cons of HubSpot
Their premium plans are expensive
Lack of flexibility
2. GetResponse

GetResponse is a popular email marketing tool turned all-in-one marketing automation tool.
While GetResponse started as an email marketing automation tool, the tool has added new features which includes webinar hosting to their features.
It does more than manage your email list, it provides a webinar solution to host webinars.
Hereby enabling you to add an unlimited webinars feature, unlimited landing pages, and marketing automation which lets you create templates for emails based on customer actions like abandoning a shopping cart.
Their automation tool lets you create the workflows for auto-responder emails to your audience.
It was founded in 1998. GetResponse is regarded as one of the oldest and best email marketing service providers in the industry.
The tool has a library of email templates to help you get started with engaging your subscribers.
GetResponse provides a good fit for most small to mid-sized businesses (SMBs) looking for both a reliable email marketing solution as well as a start into digital marketing in general.
It offers decent though stripped- down analytics and a large selection of third-party integration options.
However, it lacks the more advanced features present in the competitors like Campaigner, and Mailchimp.
But offers a powerful workflow feature to take customers through the process of marketing automation.
Notably, GetResponse is working to extend its capabilities here, and the platform provides a good starting point for SMB marketers looking to get their digital feet wet.
Also, GetResponse offers a variety of plans. However, where GetResponse beats the competition is that it doesn't impose any email sending limits, which is becoming a common practice among email marketing services.
Apart from the specialized enterprise and nonprofit plans available, GetResponse offers WordPress integration.
The feature allows the creation of a landing page in the GetResponse landing page editor, which enables users to select a page in WordPress, assign your directory name and then publish the page.
Finally, by integrating your landing page with WordPress, you can build webinar and promotion pages as well as use pop-ups to generate more conversations.
In addition to WordPress, GetResponse also now integrates with the e-commerce platforms as a result, e-commerce data can be imported into GetResponse so users can do advanced segmentation.
3. Salesforce Pardot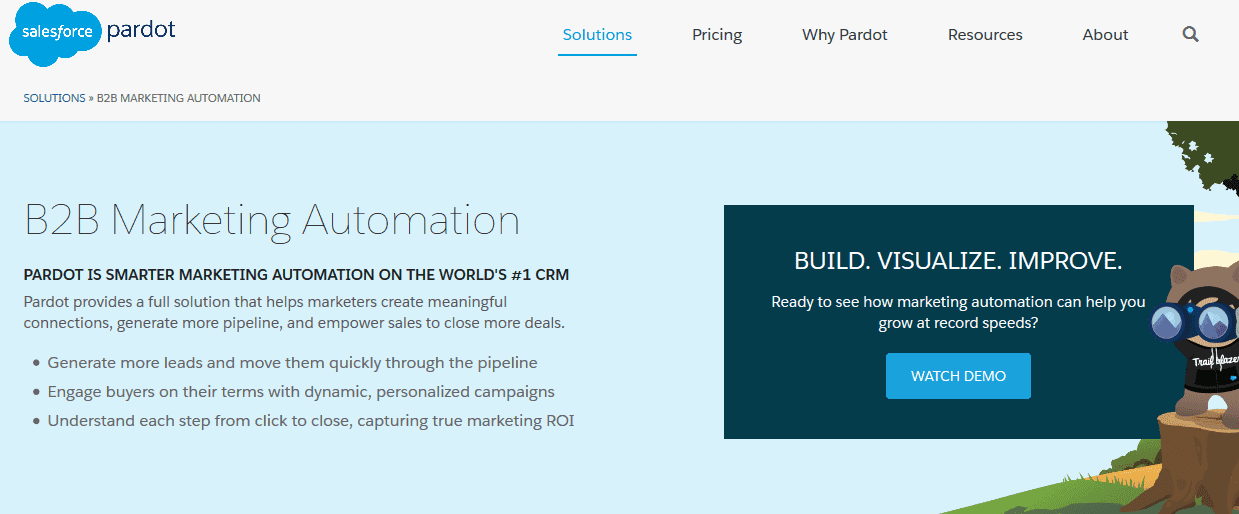 Pardot is a marketing automation software that is owned by SalesForce (the popular sales crm tool).
Founded in 2006, Salesforce Pardot has been in the business in helping small businesses attract, engage and convert their audience to leads.
Salesforce Pardot isn't short of amazing tools. Pardot offers different lead management tools like streamlined lead management tool, smarter lead generation, effortless email marketing, seamless sales alignment, insightful ROI reporting, and artificial intelligence.
The streamlined lead management tool helps you send emails based on some triggers including time and engagement style.
The tool helps you engage with dormant leads automatically. In essence, the tool will nurture and qualify your leads to help you make the best of your email list.
Where Pardot beats the competition is in their offerings. Pardot offers marketing automation for manufacturing companies and health industries which makes it a vast tool.
Instead of focusing on businesses with the internet as their home, Pardot covers physical companies like manufacturing companies.
Just as expected, their pricing plans are expensive.
Pros of Pardot
Offers marketing automation for manufacturing companies and health sectors
It's best for businesses and enterprises
Integration with Salesforce
Cons of Pardot
Their pricing plans is very expensive
Not the best for freelancers and small business owners
4. Constant Contact
Constant Contact is one of the oldest and best email marketing tools with their tools dating as far back as 1995 when it was founded.
Just like many of the other automation tools on this list, Constant Contact offers a simplified solution to email marketing automation.
But it doesn't go without the saying that Constant Contact offers some unique email marketing features for eCommerce businesses.
Offering a drag and drop builder interface, Constant Contact is easy to use and understand.
The ability to trigger emails based on where contacts clicks on your site is a great plus to Constant Contact.
And needless to say, their segmentation feature that helps send hyper-targeted emails is priceless.
Their contact management system allows you to upload your contact list from excel or anywhere you have them stored into Constant Contact database for easy management.
And that's the strength of the tool; contact management. You don't have to keep a scattered list of contacts everywhere on the internet. All you need to do is to upload your contacts and Constant Contact takes care of the rest.
Constant Contact offers two pricing plans; Email and Email plus. Their pricing plans aren't expensive. The email plan costs $20 per month while the email plus plan costs $45 per month. Learn More.
5. Campaigner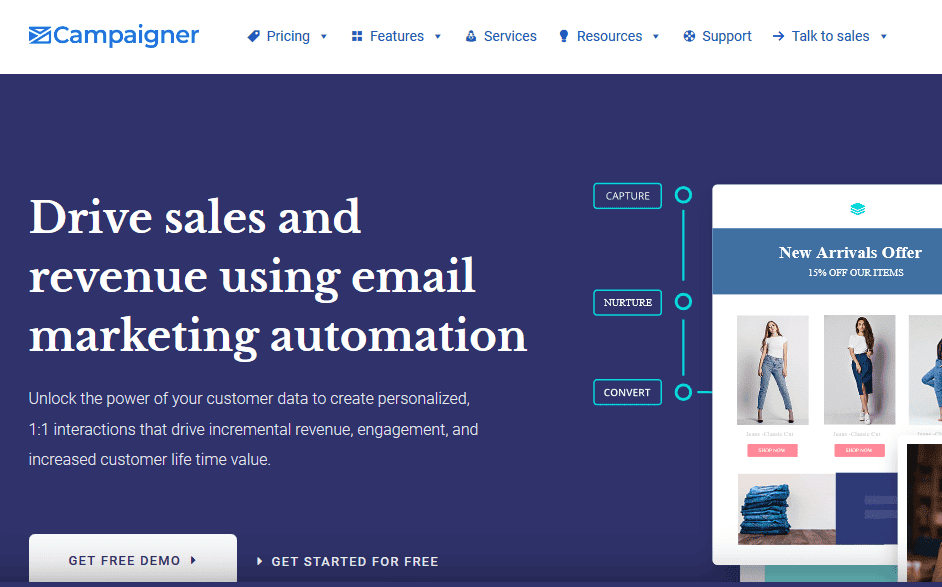 Campaigner is a popular email marketing automation software offering automation workflows and engagement tools for small businesses.
Though it is not the sexiest platform, it is very easy to use and the email templates follow suit.
Aside from that, Segmenting contacts is easy. You can create custom fields, or you can use lists to the segment. You can use email actions to re-target contacts.
Campaigner rises above its competition by offering an excellent email marketing solution at a competitive price.
Where Campaigner beats the competition is its powerful third party integrations and in depth automation.
Their 24/7 live chat support and solid reporting is also a plus to them
For all these capabilities, an intuitive interface, and a nice price, Campaigner can be considered for email marketing.
Campaigner is certainly more complex than other tools because the latter is aimed at an audience seeking only basic functionality, even though it recently announced that it is expanding its capabilities to a full-service marketing platform.
Campaigner allows you to send an unlimited number of email messages per month to your list.
With their automation tool, Campaigner allows you to create the workflow for auto-responder emails.
These auto-responders can be sent when certain triggers (or actions) occur, like a form submission or profile change.
Notably, they can be employed to reach out to highly engaged customers or those customers who have recently made or are ready to make a purchase (see the "Basic Marketing Automation" section below for more on this topic).
Marketers, however, can best use auto-responders to create welcome emails. When you sign up for a newsletter, that would trigger a welcome email to be sent to you perhaps with a 10 percent discount.
Remarkably, campaigner enables the users to embed real-time display ads in newsletters, target your subscribers based on their area, or find out where your subscribers live based on geolocation.
6. SharpSpring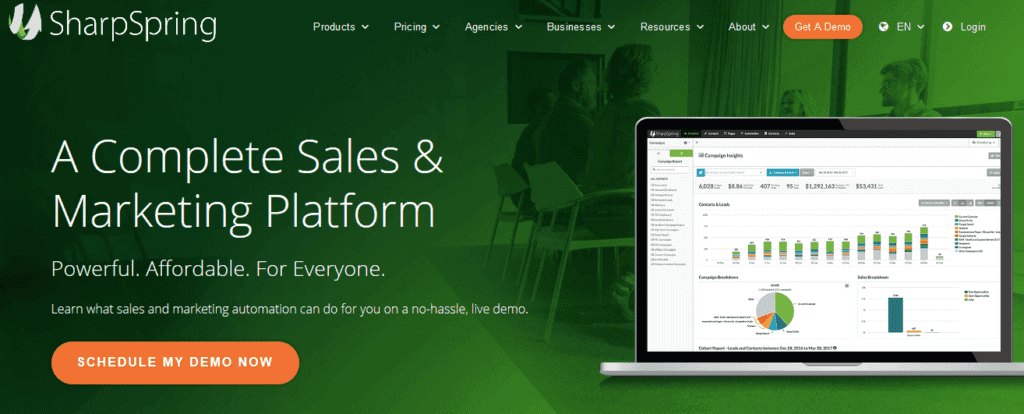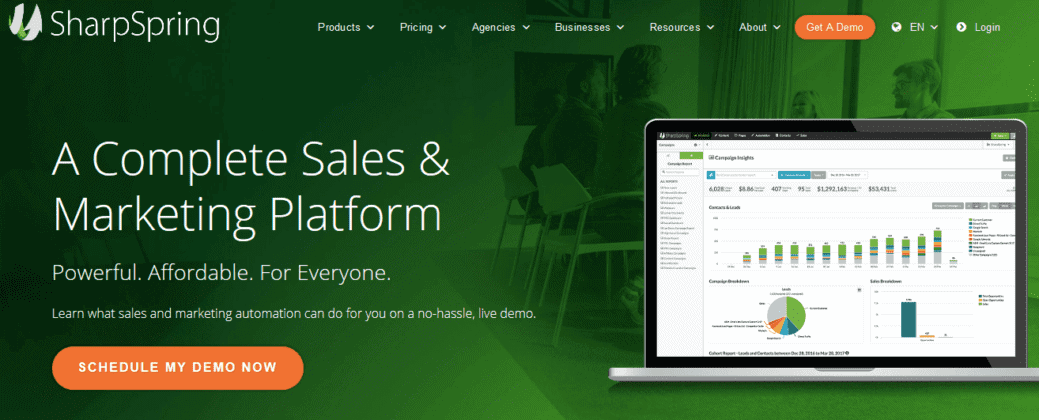 Sharpspring is also one of the best marketing automation software in the industry. However, SharpSpring isn't as popular as Hubspot.
Notwithstanding, SharpSpring has been in the industry for long. To be candid, longer than Hubspot.
Founded in 1998, SharpSpring started as an all-in-one marketing automation tool. Rather than focusing on one part of marketing automation, SharpSpring also takes after Hubspot.
SharpSpring automation tool focuses on email, forms, automation, visitor ID, CRM, Landing pages, blog, marketing analytics, and social automation. It is also one of the best content marketing tools.
To start with, SharpSpring helps you design a professional email that attracts your audience to take action. And you get all these without having any knowledge of designing and programming.
With their email automation tool, you can send personalized emails without the need of programming or coding to target your leads.
Irrespective of how large your email list is, your leads will get your emails directed to them.
Their email marketing templates will steal your gazes. SharpSpring offers unique and attractive email templates that you can use to draft your emails.
And definitely, marketing automation is not limited to emails alone. There are other marketing automation that includes social media automation, blog, and analytics.
In short, SharpSpring caters for other marketing automation tasks. With SharpSpring, you can automate your posting on social media channels like twitter and Facebook.
You can also monitor essential conversations to engage with.
Their pricing plans focus on small businesses, agencies, and large enterprises. Their small businesses start from $550 per month.
Pros of SharpSpring
SharpSpring is cost effective
It's best for agencies
Offers a visual flowchart
Cons of SharpSpring
Their pricing plans are expensive
Other than the visual flowchart, the tool can be overwhelming
7. SendinBlue


If you're looking for a unique marketing automation tool,then you can consider SendInBlue.
While the majority of the marketing automation tools in the industry lay emphasis on email marketing and other forms of inbound marketing, SendInBlue still sees the power of SMS marketing.
SMS marketing is a way of connecting with your audience at the exact time and being sure that they get the message.
While your emails will be left in the inbox until your audience opens their email before they can see your message.
But with SMS marketing, they get the notifications instantly just the same way they receive calls.
Needless to say, SMS marketing is what sets SendInBlue different from others.
However, SendInBlue doesn't lack the appropriate email marketing automation tools. SendInBlue allows you to automate your email marketing by segmenting your audience based on their engagement and interest.
Also with SendInBlue, you can send transactional emails which find its application in ecommerce businesses.
Transactional emails are the automatic emails that ecommerce brands send to their customers after purchase or in the process of purchasing a product from the store.
A typical example is a thank you email to customers after paying for a product.
Aside these, SendInBlue lets you create attractive landing pages, build signup forms, facebook ads, and retargeting.
While SendInBlue isn't an all-in-one solution for marketing automation, they perform excellently in email automation and SMS.
8. Zoho Campaigns

Zoho is an all-in-one solution tool that offers marketing tools, sales tools, finance and accounting tools, project management tools, and many other tools you need to run a successful business.
However all their products work individual with individual pricing plans. When it comes to marketing automation, Zoho Campaigns is Zoho's solution for marketing automation.
Zoho Campaigns is an email marketing automation tool that helps you automate your email process. Zoho campaigns allow you to build attractive email forms, manage your subscribers, and also run email campaigns.
Notably, Zoho campaigns offer email marketing solutions only. If you need more tools like a sales CRM tool, you'll need to buy the tool separately from Zoho suite of tools.
But if you're only concerned about your email automation, then Zoho Campaigns is equipped to help you make the best of your email list.
Zoho Campaign offers three different pricing plans; email-based plan, subscriber-based plan, and pay by email credit plan.
9. ActiveCampaign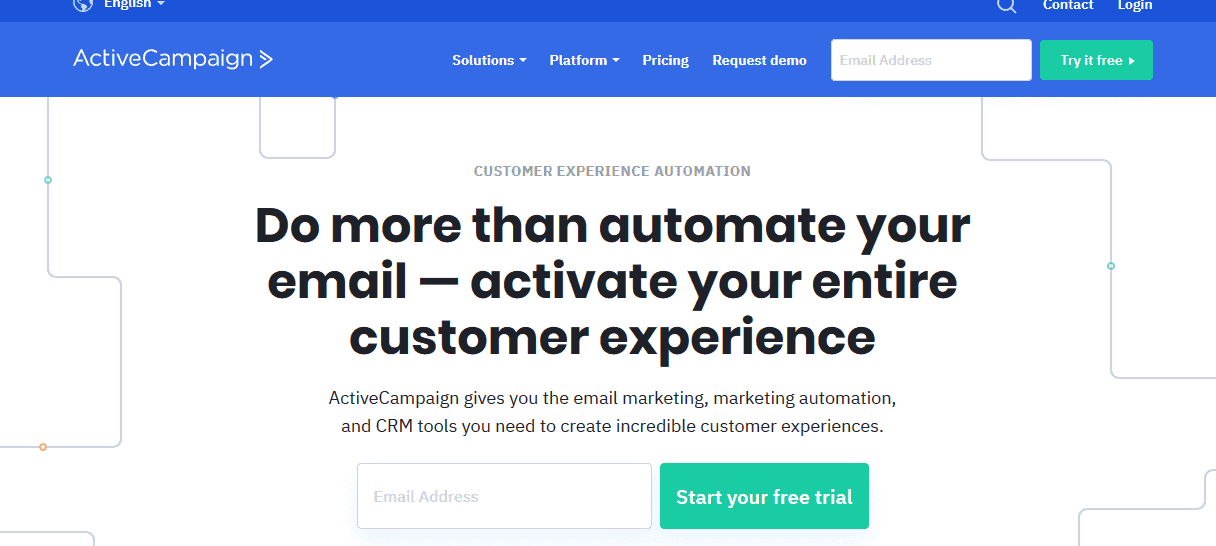 ActiveCampaign is by far one of the best email marketing automation tool in the industry.
Aside email automation, ActiveCampaign offers a marketing automation solution for small businesses and entrepreneurs.
To start with, ActiveCampaign allows you to set welcome email series for your subscribers. And what this does is to send new subscribers a welcome email on board.
You've the option of editing the content of the welcome email and also customizing it to fit your branding.
ActiveCampaign also provides a score point to identify possible leads from internet surfers.
The more engaged your contacts are with your emails, the more score points they acquire.
Contacts that reach a score point of 100 can be separated using the segmentation and tagging feature of the tool.
You can easily tag with a class name to send hyper-targeted emails to your list.
The ability to integate with other tools is priceless. ActiveCampaign gives you the flexibility of integrating with other tools.
You can integrate with your shopify store and use the abandoned cart reminder to boost sales on your store.
Although ActiveCampaign offers an advanced reporting system to track your result, it isn't easy to use.
It seems the most comprehensive part is the reporting system, but it isn't easy to navigate around.
Here are some of the pros and cons:
Pros of ActiveCampaign
Easy to use
Offers flexible and cheap pricing plans
Offers A/B split testing
Supports integrations with popular tools like Zapier
Cons of ActiveCampaign
Difficult to navigate reporting system
Their CRM is not as sophisticated as a standalone CRM tool
10. Marketo
Marketo is an American owned marketing automation software that was founded in 2006.
A child company of Adobe, Marketo offers marketing automation for account-based marketing and other marketing services like SEO and content creation.
However, where they shine is in their account-based solutions for small businesses.
The marketing automation tool helps you coordinate your sale and marketing together.
With the account-based marketing tool, you can profile leads, segment them, and also engage with them through predictive content.
Aside account-based marketing, Marketo provides lead management, email marketing, consumer marketing, customer-base marketing, mobile marketing, and revenue attribution solution.
Pros of Marketo
Marketo is an all-in-one marketing solution offering a wide range of solutions
Offers flexible marketing automation tool
Easy to use
Cons of Marketo
Poor customer service
Complicated pricing plans
Lacks a CRM tool
Shady expensive pricing plans
Marketo lacks a comprehensive analytics report system
11. InfusionSoft (Keap)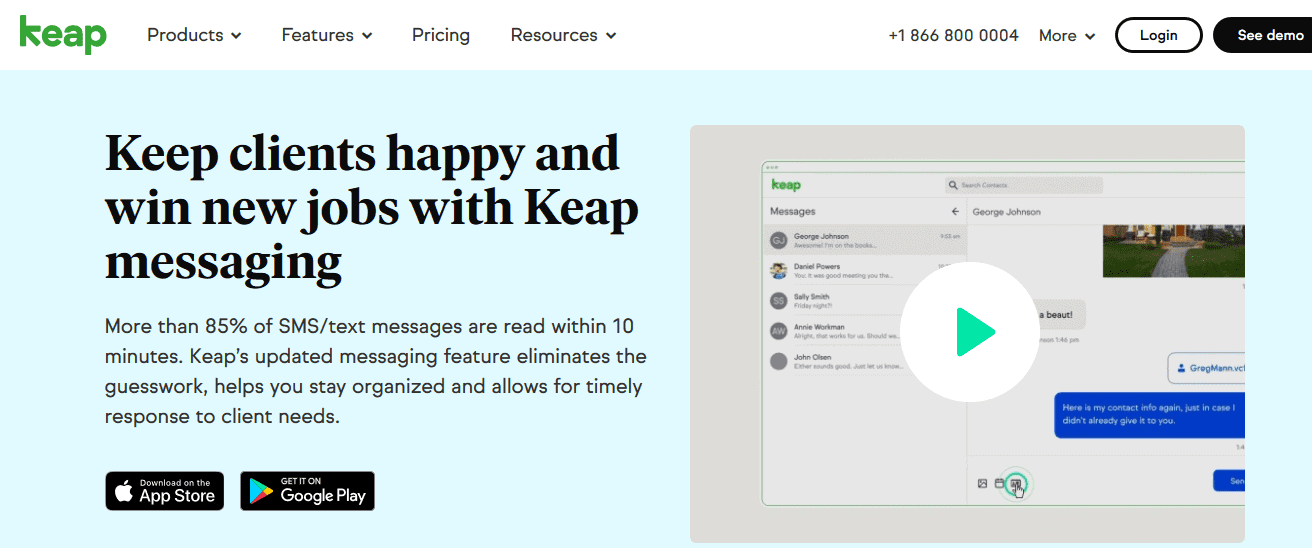 InfusionSoft is an email marketing software and customer relationship management system. Founded in 2001, InfusionSoft has since changed their name to Keap.
InfusionSoft(Keap) isn't your regular email marketing tool. Keap offers an advanced CRM tool that sets it apart from the rest.
Just like many other email marketing automation tool, InfusionSoft allows you to send automatic email sequence to your email subscribers.
A typical example sequence is a welcome email to new subscribers followed by a thank you email accompanied with an eBook.
Aside the usual automation services that we are used to, Keap goes as far as adding more features to their tools.
With Keap, you can automatically generate invoice and receive payment from clients.
You can also send quotes to your customers while Keap provides an analytics dashboard to track your activities.
Needless the ability to generate invoice, send quote, and receive payment, makes InfusionSoft perfect for service-based businesses like agencies.
And here's the best part: Keap offers a messaging feature that helps you communicate with your clients and also win more clients.
The messaging feature is not left out of the automation world. You can easily automate some part of the messaging feature by sending an automated reply to your clients while you're away.
Taking a look at their pricing, Keap offers a flexible pricing plan.
Their pricing plan starts from $79 per month for the basic plan.
But you only get to enjoy the marketing automation feature starting from the Grow plan (second plan) which costs $149 per month.
Pros of Keap
Offers a client management system to keep Clients' info
Has a user friendly and intuitive user interface
Offers advanced integration
Sales cycle management
Cons of Keap
The pricing plans are expensive
Marketing automation is not included in the basic plan
Overwhelming excessive features
12. ConvertKit
ConvertKit is one of the best email marketing automation software in the industry.
The tool brands itself as an email marketing tool for online creators. Needless to say, it isn't your regular email marketing automation tool.
During the early phase of ConvertKit, it was marketed as an email marketing solution for bloggers.
And to be candid, majority of their customers are bloggers and online course creators.
Absolutely, ConvertKit offers top-notch service for online creators.
To start, ConvertKit has a simple approach to creating sign up forms and also embedding it into your website.
Building a landing page is easy with ConvertKit. And that's because ConvertKit offers landing page templates to help you get started easily.
Plus, ConvertKit allows you to organize your email list using tags and segments to break them based on their interest and engagement rate.
Just like you guessed, having a professional email plays a lot into your brand's image. And with Convertkit email designer, you can easily get a professional-looking email to launch your email campaign with.
And here's where ConvertKit excel, integration. ConvertKit offers integration with a large pool of software and tools you need to run your business.
And that brings us to the fact that ConvertKit is definitely not an all-in-one solution and they don't try to paint themselve that.
Instead, ConvertKit provides a pool of integration for you to integrate their tool.
Among many others, ConvertKit provides integration with landing page tools, eCommerce tools, and many other tools.

Pros of ConvertKit
ConvertKit is pretty much easy to use
They provide excellent support
Tag-based subscriber system to slice and dice your list based on their interest
Provides landing page templates to get you started
Cons of ConvertKit
Limited A/B split testing
Incomprehensive report system
Offers limited customization for forms and email templates
13. OmniSend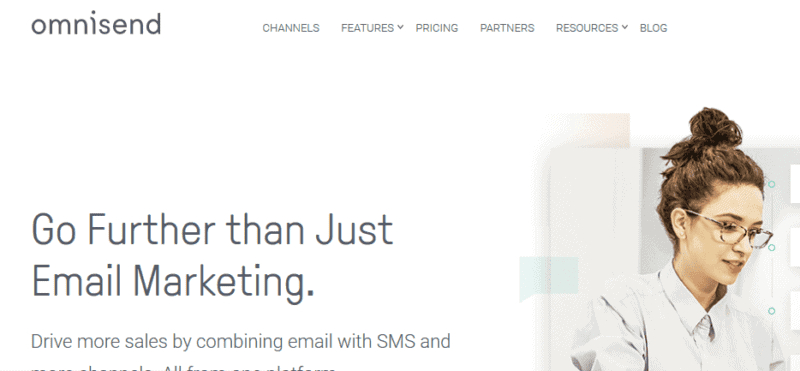 Unlike most of the other marketing automation tools on this list, OmniSend is a different and unique tool with a different selling proposition.
OmniSend is an eCommerce marketing automation tool. Founded in 2014, OmniSend started as an email marketing platform called Soundest.
Instead of targeting the general business world with the email marketing automation tool, OmniSend has decided to double-down on eCommerce companies and brands.
And needless to say, they're doing a good job in the eCommerce industry.
Offering unique email marketing feature for eCommerce brands in order to improve conversion rate and sales.
Their form builders are unique and targeted towards eCommerce by using common language like discounts and black Fridays to draw customers into their email list.
However, OmniSend does seem to include transactional emails for eCommerce companies and brands to alert their customers on the different purchasing stages.
That said, OmniSend has its strength in its workflow automation.The marketing automation tool combines email marketing, SMS, Messenger, and push notification to provide an omnichannel experience for eCommerce brands.
Lastly, their analytics dashboard provides actionable insights for improving and increasing sales.
Pros of OmniSend
Customizable email templates
Best for eCommerce companies and brands
Easy integration with eCommerce store builders like Shopify
High email conversion rate
Offers a forever free plan
Cons of OmniSend
Lacks transactional emails
14. MailChimp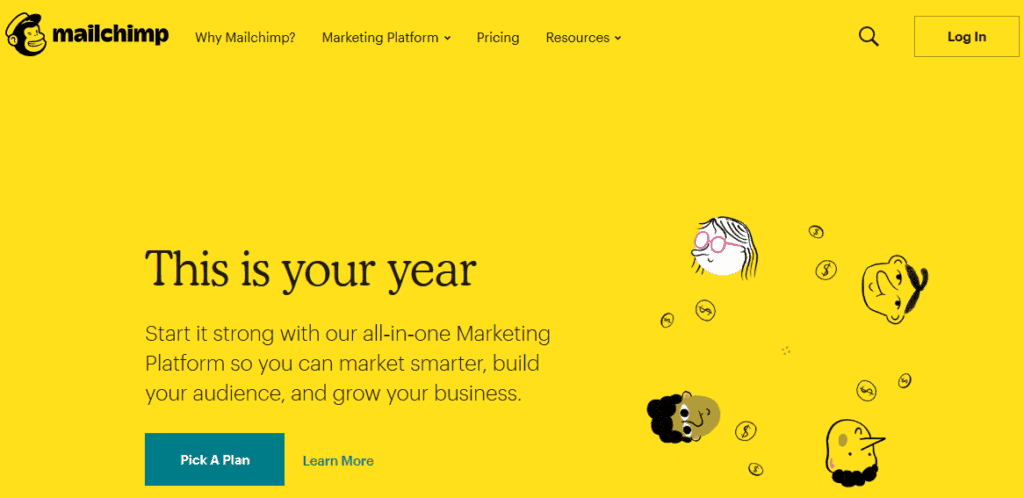 MailChimp is an American marketing automation software that provides email marketing services for small businesses.
Founded in 2001, MailChimp has grown to become an all-in-one marketing solution for businesses.
While majority of the marketing automation tools are alike in the services they offer, a few of them have unique offerings.
Just as you figured, MailChimp has some unique offerings that can be a great plus for small businesses and solopreneurs.
To start with, MailChimp offers a free custom domain for businesses to startout with their own website.
Offering all the basic email automation tools like tag, segmentation, CRM, signup forms, and many more; the tool also offer advanced features like behavioural targeting and transactional emails.
The transactional email feature qualifies MailChimp has a marketing automation tool suited for eCommerce stores.
With the transactional email, you can engage with your customers while they're in the purchasing stage.
And the forever free plan is also a great plus to the tool.
Pros of MailChimp
Offers an easy to use and understand interface
Provides transactional emails for eCommerce
Offers a forever free plan'
customizable email templates
Cons of MailChimp
Having a membership based site can be difficult
Very basic ready-made templates
You account can be suspended or cancelled if any traces of spam is noticed
15. AutoPilot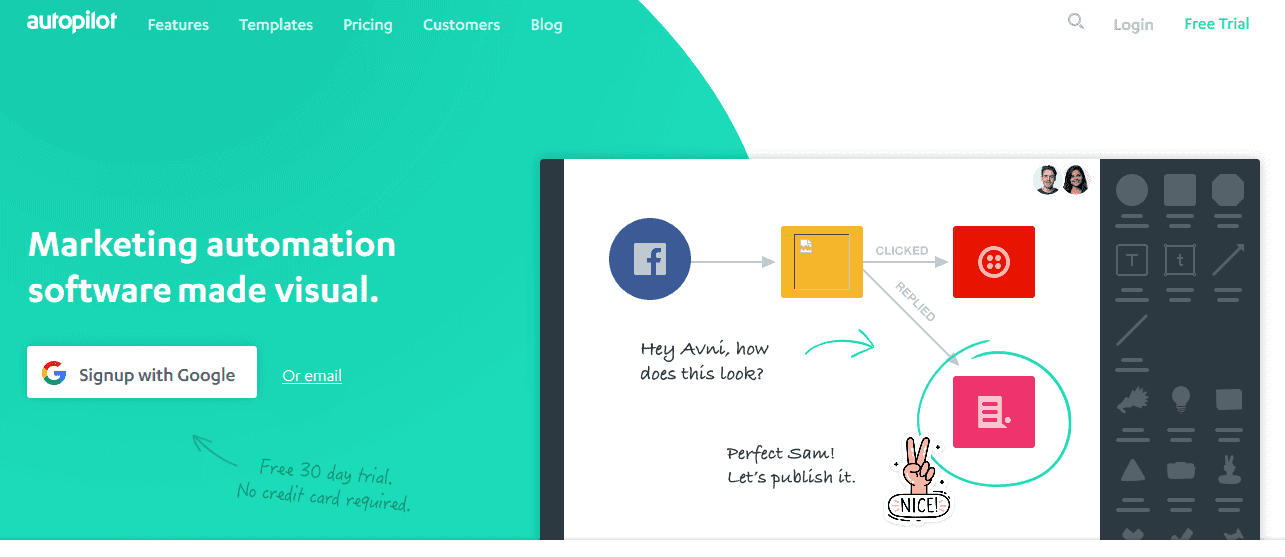 AutoPilot is one of the most visual marketing automation tools in the industry.
To begin with, the automation workflow of AutoPilot is a drag and drop visual editor that lets you build an email sequence visually.
AutoPilot can be very simple and also overwhelming for beginners but is easier to grab and understand owing to the attractive visual interface.
Basically, you can draw out the path for your customers journey and keep everything running smoothly with or without you.
And that's the joy a marketing automation tool.
All the emails can be arranged in a sequence with a trigger set alongside to trigger the emails to work.
And in order to simplify the set up process, AutoPilot provides built in email templates.
Absolutely, the tool is suitable for both online and offline businesses.
16. Drip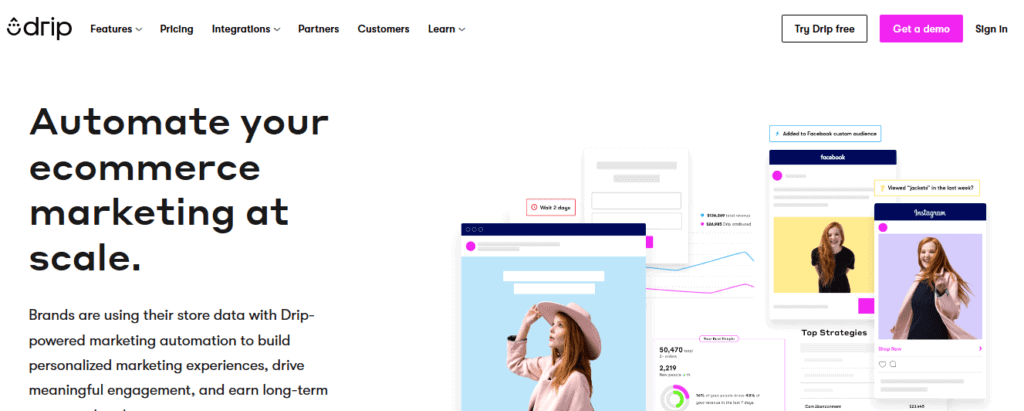 Aside from OmniSend, Drip is the second email marketing automation tool that focuses on eCommerce businesses as their target.
Looking at the automation needs for eCommerce, a good automation software must not only focus on attracting new subscribers but must also help improve sales generally.
And that's the exact direction Drip comes from.
Drip offers a segmentation feature that helps in dividing email list into different categories based on their interest and engagement rate.
And this in turn has a better result on email marketing campaigns. By splitting your contacts, you can target them based on their interest and level in the purchasing cycle.
Absolutely, their abandoned cart reminder is a deal maker for the business.
Plus, Drip integrates with popular eCommece platforms making it easy to link the tool to many of the eCommerce platforms.
However, Unlike most of the tools on this, Drip does not offer a fixed pricing plan.
Their pricing plan is very flexible and only depends on the size of your email list.
The least of their plan starts from $19 per month for not more than 500 contacts.
Conclusion
There you have it: The best marketing automation tools to take your business to the next level.
Absolutely, you wouldn't be needing all the tools here because many of them have overlapping functions.
But a couple of them will make your marketing fantastic.
So there you go.
What marketing automation tool have you used before?
I would love to hear from you.
Related Topics
Paschal Okafor
is
NaijaTechGuide Team Lead
. The article
Best Marketing Automation Software 2023
was written by . The article was last modified:
January 2nd, 2023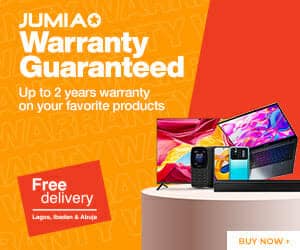 NaijaTechGuide may receive financial compensation for products/services purchased through affiliate links on this site. See
full Affiliate Disclosure Here