Techage 8CH 1080p CCTV Security System is an indoor / outdoor-ready CCTV Camera system that delivers smooth HD 1080p video at up to 60 frames per second (fps). The PoE NVR system combined with Techage IP67 camera units supports true day/night recording, enhanced by integrated infrared (IR) illumination (maximum range of 20m) – making it ideal for 24-hour surveillance of exposed outdoor locations.
Where to Buy Techage 8CH 1080p CCTV Security System
AliExpress – See Offers
For outdoor surveillance you need the Techage outdoor bullet IP camera built with Waterproof Metal housing and offers superior quality images and video with options of 2MP HD, 4MP HD, and, 5MP HD camera resolution.
The CCTV security system can come bundled with the 4 or 8 cameras, you can buy the system and the camera separately. You can also choose the volume of storage you need like 1TB, 2TB, 3TB, or up to 4TB.
Techage 8CH 1080p CCTV Camera Security System Key Specs
1920 x 1080 HD Video
NVR (Network Video Recorder)
PoE (Power over Ethernet)
H.265 Video Compression
8 Channels (up to 16 Channels via an 8 channel PoE switch)
Day & Night: IR cut filter with auto switch
2.0MP / 5MP PoE Camera (bundled or sold separately)
Up to 4TB HDD (bundled or sold separately)
Smart Video Playback
Super Infrared Night Vision
Built-in Microphone for Audio Records
90-degree field of view (Cameras)
Two-way audio with noise cancellation
Motion Detection
IP66 Waterproof (Cameras)
APP Support for Remote view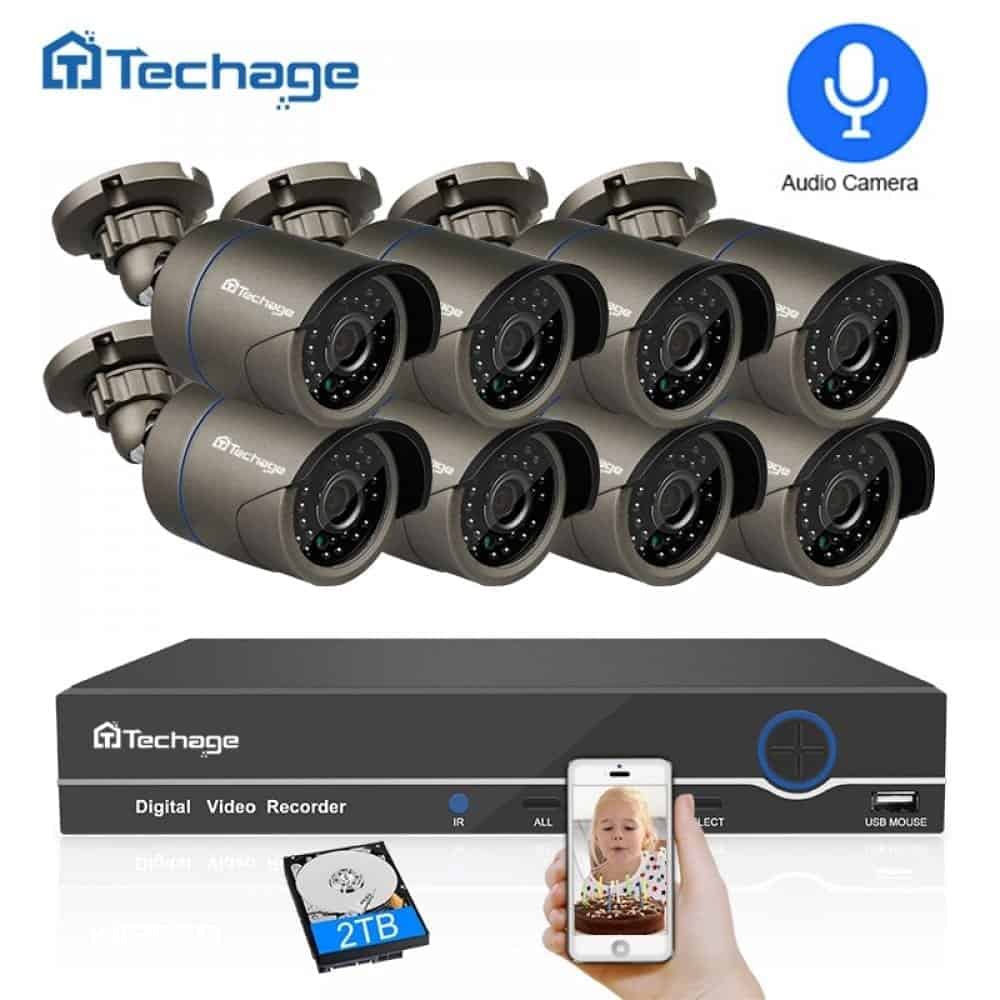 The Design
Techage 8CH 1080p CCTV Security System comes in a compact design and brings users the rest of mind and assurance of being secured. The device just looks more or less like a DVD or Blu-ray player. Depending on the camera you pick the system can be used for indoor or outdoor applications.
Outdoor cameras like the Techage 605G-AI-50 designed for outdoor applications feature a long and cylindrical shape making it ideal for outdoor use.
Such cameras offer waterproof metal housing that shields it against dust, dirt, and other natural elements. The cameras can easily be mounted with a mounting bracket, and come fitted with either fixed or varifocal lenses depending on the requirements of its intended application.
The 605G-AI-50 has a water-resistance rating of IP66 with 5MP resolution and 90° viewing angle.
Another camera that can go with this CCTV system is the Techage 508G-20. The 2MP camera also offer IP66 water resistance rating, but has a 75° viewing angle.
For indoor applications, you can go with the Techage 6708FN-DM13E-20 indoor dome camera.
You can even have a setup that combines indoor dome cameras with outdoor bullet cameras for indoor and outdoor security and surveillance.
With support for up to 8 channels there is loads of possibilities for you. You can even extend possible inputs to up to 16 channels using an 8 channel PoE switch.
1080p Full HD Video Quality
The Techage 8CH CCTV Security System supports 1080p Full HD resolution. You can use the 2MP camera with 1/2.7-inch F02 CMOS sensor that delivers images with detailed views and clear visibility in all lighting conditions or you can go for the 5MP option.
The cameras offers vivid details in 1080p Full HD video at up to 60 frames per second (fps) on your computer and streaming up to 720p to your smart device. The HD Outdoor and indoor camera ensures that facial features and fine points can be captured.
Furthermore, the fixed lens with a focal length of 3.6mm provides a wide field of view that lets you see the big picture with a large field of view.
Motion Detection
This CCTV security camera has a motion detection recording function that allows it to save the footage into a hard disk without missing any important events using the NVR (Network Video Recorder).
This high-quality motion detection can be customized and set to the level of event sensitivity you prefer for triggering alerts. Hence, you can ensure that false alarms are avoided by setting the motion detection "mask" to block areas with constant movement.
The system can detect when a person goes into a given area or when a person crosses a boundary line. It can also set-off an alarm when an intruder goes near an area.
With this 1080p CCTV Outdoor camera, you always know what's going on, even if you're behind closed doors or out of town.
You can set your camera for instant email alerts and push notifications to your mobile phone whenever motion is detected and monitor the event in real-time while it is automatically recorded onto a microSDHC memory card.
If you use a Techage camera that support two-way audio, you can communicate with people via the camera (thanks to a built-in camera and microphone), because the NVR system support 2-way audio communication.
Night Vision and True Day-Night
Techage 8CH 1080p CCTV Security System provides night vision for every corner of the house. It takes a shot and video of your home up to 50 feet even at night, thus, allowing you to see and record any night activity.
To aid night vision, the Techage bullet outdoor cameras come with white and bright LED lights. For example the 508G-20 bullet security cameras come with two bright Lamps that lights up at night when motion is detected as well as the two infrared lights.
The lamps lights up once the built-in infrared LED with a range of 10m to 20m detects movement at night. The AI camera can also detect human body motion.
The camera also features an advanced IR Cut Filter which filters some light during the day so as not to distort the colors of images. At night the filter is removed which provides excellent black and white nighttime video.
Remote Viewing
This NVR system supports mobile phone remote live viewing for IOS & Android. It has an app that allows you to access your camera and keep an eye on your home even when far away.
Based on P2P (peer to peer) technology, Techage 8CH 1080p CCTV Security System support plug-and-play installation. This gives access to the PoE camera through its web interface via Internet Explorer, and also comes with a free smartphone App (Android & iPhone) for remote view from anywhere.
To be able to utilized this feature you will need to connect the NVR system to a router via the Ethernet port labeled as Uplink at the back of the device.
The security system is very easy to install, because, it is a power over Ethernet PoE CCTV camera security system. This eliminates the need for separate power cables as with just one Ethernet cable, the camera can handle communication to and fro the camera as well as receive power. You can save yourself from the hassle and mess of tangled cables.
Compare Prices
Other Features
This camera support Two-way Audio Sound Communication if you install a camera with built-in Microphone and Speaker. This means you can be listening to intruders' conversations or communicate with a visitor at your door or gate.
Techage 8CH 1080p CCTV Security Camera also supported Windows XP, Windows 7, Windows 8, IE Explorer operating system and browser.
For storage and back up, the system supports up to 4TB HDD and network backup via a SATA port.
The NVR system support smart video playback. This is an intelligent system that focuses playback on important and eventful parts of the footage, saving you a lot of time.
You can even pick a particular face and playback only parts of the footage where that face appears.
Techage 8CH 1080p CCTV Security System Price and Availability
Techage 8CH NVR / CCTV Security Camera system price starts at around $273.99 with four bullet cameras and 1TB HDD bundled. Price can go as high as $455 for a complete system with 8 bullet cameras and 3TB HDD bundled.
Of course there are loads of other configurations, and your final price will depend on the configuration you pick. You can buy this camera at reputable online stores, leading retail chains.
Techage 8CH 1080p CCTV Camera Security System Specs
Here are a few specs of the Techage 8CH 1080p CCTV Security System:
General Features
Dimensions: 255 x 218 x 41 mm
Camera frame rate: Up to 60 fps
Resolution: 1080p Full HD (On camera)
Image Sensor: 2MP / 5MP (Camera)
IR Distance: 0-20m IR Night Vision (on Camera)
Lens: 3.6mm
Video Input: 8 Channel (up to 16 channels via PoE Switch)
Motion detection: Yes
PCS of Camera: 4/6/8PCS
Video Outputs: HDMI, VGA
Network Connection: RJ45
Recording Modes: Manual / Motion / Schedule / P2P Remote View
HDD: 1 x SATA port (support up to 4TB)
P2P Remote View: Support iOS, Android
Audio: Two-way Audio, Bulit in Mic and Speaker
Warranty: 1-year Limited Warranty
P2P App: XMEYE App (iOS and Android)
Smart Home Topic
Paschal Okafor
is
NaijaTechGuide Team Lead
. The article
Techage 8CH 1080p CCTV Security System Price, Specs and Best Deals
was written by . The article was last modified:
July 27th, 2023