Are you thinking of buying the perfect air conditioner that will not just cool your home but also add a dash of style and latest smart technology to it? You might want to consider LG Air Conditioners. This article will walk you through the 10 key reasons why LG Air Conditioners should top your shopping list.
Spoiler alert – high-end technology, energy efficiency, and exceptional customer service are just the tip of the iceberg. So, sit tight as we explore the cool world of LG Air Conditioners and why they are worth every penny.
LG Air Conditioners are renowned for their advanced technology, high performance, and exceptional efficiency. They are designed to deliver optimal comfort while ensuring energy savings, making them an excellent choice for both homes and offices. So, if you are in the market for a reliable air conditioning unit that offers superior comfort, you should be seriously considering LG.
LG is synonymous with quality and innovation. They have a wide range of air conditioners to meet varying needs and preferences. From residential to commercial, wall-mounted to floor standing, LG has it all. Moreover, LG air conditioners are designed with the user in mind, featuring intuitive controls and smart home compatibility for seamless operation.
As a company, LG is dedicated to improving the lives of its customers by providing valuable and innovative products. With LG Air Conditioners, you are not just purchasing a cooling solution; you are also investing in comfort, convenience, and peace of mind.
Key Features of LG Air Conditioners
LG Air Conditioners come packed with several impressive features that set them apart from the competition. They are equipped with the latest cooling technologies for efficient and fast cooling. LG Dual Inverter Compressor technology, for instance, ensures faster cooling while saving energy and reducing noise.
Another standout feature of LG Air Conditioners is their smart capabilities. With Wi-Fi connectivity, you can control your AC unit from anywhere using your smartphone or voice commands when paired with a compatible smart home device. This level of control and convenience is hard to match.
Moreover, LG Air Conditioners are designed to last. They boast a sturdy construction and are tested thoroughly for performance and durability. LG offers 2 year warranty on parts and labor in Nigeria. You also get 10 year warranty on the dual inverter compressor. So, when you choose LG, you are investing in a product built to withstand the rigors of time and usage.
Now that you understand what makes LG Air Conditioners unique let's delve into the 10 reasons why you should choose them.
10 Compelling Reasons to Choose LG Air Conditioners
1. Energy Efficiency of LG Air Conditioners
Energy efficiency is a key consideration when purchasing an air conditioner. LG understands this, and that is why their air conditioners are designed to deliver maximum cooling performance without consuming excessive energy.
The secret lies in the LG Dual Inverter Compressor technology. Unlike conventional compressors that turn on and off in order to maintain set temperature resulting in high energy usage each time the compressor restarts, the dual inverter compressor technology ensures that the compressor operates at variable speeds, providing precise cooling while minimizing energy consumption. As a result, LG Air Conditioners can save up to 70% on electricity costs and cool up to 40% faster than conventional models.
- Advertisement -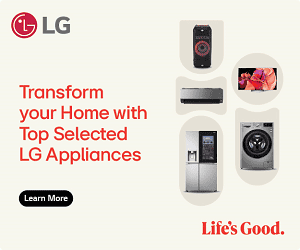 2. Innovative Cooling Technologies
LG prides itself on its innovative cooling technologies. These technologies not only ensure efficient cooling but also enhance comfort and convenience. For instance, the DualCool Technology provides fast cooling even when the outside temperature is extremely high.
The GenCool technology enables the air conditioner operate at low power, making it easy to power it with an average power generator, a feature that popular with consumers in Nigeria.
LG JetCool models like the 2HP Split AC model the LG S4-C18TZCAA offer the JetCool mode, which offer incredibly fast cooling with just a click of a button. This model also features Dual Sensing features available in LG's top of the line air conditioners.
With Dual Sensing, an LG air conditioner not only senses the temperature around the AC indoor unit, but also senses the temperature around the AC remote controller ensuring a more accurate temperature measurement for great cooling comfort.
Apart from cooling, LG Air Conditioners also feature the Plasmaster Ionizer technology, which helps purify the air in your room. It removes harmful substances and odors, providing you with cleaner and healthier air. This combination of cooling and air purifying technology is what makes LG stand out in the market.
3. Smart Control Features
Some LG Air Conditioners offer smart control features. These models are equipped with Wi-Fi connectivity, allowing you to control your AC from anywhere using the LG ThinQ app on your smartphone. You can adjust the temperature, switch modes, and even diagnose problems right from your phone.
Moreover, smart LG Air Conditioners are compatible with Google Assistant and Amazon Alexa. This means you can control your AC with simple voice commands, adding a whole new level of convenience to your life.
4. Durability
Durability is a attribute of any home appliance, and LG Air Conditioners are no exception. These units are crafted with the highest quality materials and tested extensively to ensure they can withstand the test of time.
LG's Gold Fin Anti-Corrosion coating provides a protective shield to the condenser, enhancing its durability and lifespan. Plus, LG offers excellent warranty policies, ensuring you get the most out of your investment.
LG Air conditioners are built to last. You get 2 year warranty on parts and labor as well as 10 year warranty on the dual inverter compressor.
5. Variety and Flexibility in Models
LG offers a wide range of air conditioner models to cater to different needs and preferences. Whether you're looking for a split unit AC for a small to medium sized room or a ducted system for a large commercial space, LG has got you covered.
Moreover, LG provides flexibility in terms of installation. Their split system units, for instance, offer the freedom to install the indoor and outdoor units separately, allowing for more efficient use of space.
6. Stylish
LG Air Conditioners are not just rich in features, they are also very stylish. While all LG models pleasing to the eye, the LG ArtCool Air Conditioners are exceptionally stylish offering a perfect blend of advanced technology and aesthetic appeal.
These models are known for their sleek designs and superior performance, making them a top choice for customers who value both functionality and style. Every aspect of the LG ArtCool Air Conditioners, from their innovative inverter technology to their smart cooling features, is designed to provide optimal comfort and efficiency.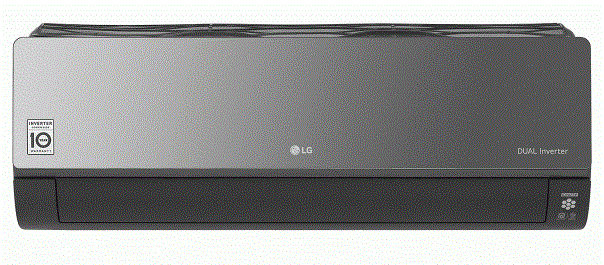 LG ArtCool Air Conditioners, like the 1.5HP model, the LG S4-Q12JARTB, are designed with an emphasis on aesthetics. They have an ultra-slim profile and a stunning mirror finish, adding a touch of elegance to any decor.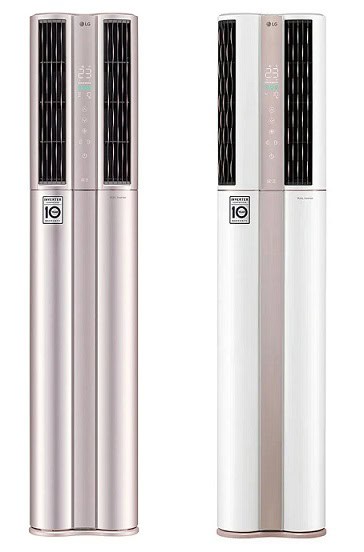 We also find the LG DualCool Premium White and even more the rose gold colored LG DualCool Premium Rose Air conditioners exceptionally gorgeous.
7. Excellent Customer Support
LG is known for its excellent customer support. They have a dedicated team of professionals ready to assist you with any questions or concerns you might have about your air conditioner.
Whether you need help with installation, maintenance, troubleshooting, or warranty claims, LG's customer support is always there to ensure your experience is as smooth and convenient as possible.
8. Positive User Reviews and Ratings
LG Air Conditioners are highly rated by users around the globe. They are praised for their performance, energy efficiency, durability, and smart features. These positive reviews and ratings are a testament to LG's commitment to providing quality products and services.
Moreover, LG Air Conditioners are often recommended by industry experts due to their innovative features and superior performance. This level of recognition and praise speaks volumes about the quality and reliability of LG Air Conditioners.
9. Competitive Pricing
While LG Air Conditioners are packed with advanced features and technologies, they are competitively priced. LG has a variety of models available at different price points, making it easier for you to find a unit that fits your budget.
Moreover, the energy efficiency of LG Air Conditioners can result in significant savings on your electricity bills in the long run, making them a cost-effective choice.
10. LG's Commitment to Sustainability
LG is committed to sustainability, both in their production processes and their products. LG Air Conditioners are designed to be energy-efficient, thus reducing their carbon footprint.
Moreover, LG is constantly striving to reduce the environmental impact of their manufacturing processes. They utilize eco-friendly materials and technologies, and adhere to strict environmental policies.
How to Choose the Right LG Air Conditioner for Your Space
Choosing the right air conditioner for your space depends on several factors, including the size of the room, the average number of people you expect in the room, and your cooling needs.
LG has a wide array of models to choose from, each with its unique features and benefits. It's essential to consider factors such as energy efficiency, cooling capacity, noise levels, and smart features when choosing an LG Air Conditioner.
Remember, the goal is to choose a unit that can effectively cool your space while maximizing comfort and energy savings.
Conclusion
In conclusion, LG Air Conditioners are a superb choice for anyone seeking comfort, efficiency, and durability in an air conditioning unit. Their innovative features, energy-saving technologies, and commitment to quality and sustainability make them stand out in the market.
Whether you're looking for a basic unit or a high-end model with smart features, LG has a product to meet your needs. So, make the smart choice today and experience the comfort and convenience of LG Air Conditioners.
For all the information about the latest and best LG Air Conditioners in Nigeria and Africa, Click Here.
Related Topics
Paschal Okafor
is
NaijaTechGuide Team Lead
. The article
10 Reasons Why you Should Buy LG Air Conditioners
was written by . The article was last modified:
November 11th, 2023