If you are considering buying a new Refrigerator or Freezer in Nigeria, LG is one of the leading brands you should have in your sights. This is because LG offers high performance refrigerators and freezers that are pleasing to the eyes, offering fast cooling and freezing and are highly rated by consumers. In this article, we share some of the Best LG Refrigerators and Freezers in Nigeria.
Most people use their Refrigerators and Freezers for long periods, sometime for more than 10 years. Add the fact that they are big ticket items, and you can understand why proper care must taken when buying these appliances.
10 years is a long time, so you need to buy a product that is durable and built to last. Since you are likely the use the refrigerator or freezer for several years it is also a good idea to buy a model that comes with as much of the latest technologies as your budget allows.
LG Refrigerators and Freezers are stylish, built to last, and offer the latest technologies that will keep your food fresh. This makes LG Refrigerators and Freezers a great choice for your kitchen. They offer high capacity with enough space to take all your food and keeping them fresh with fast cooling and freezing.
We have gone through dozens of LG models in the market right now and we present our roundup of the best LG Refrigerators and Freezers you can buy in Nigeria.
Best LG Refrigerator Overall
LG 674 Liter InstaView Door-in-Door Side by Side Refrigerator (GC-X257CSES)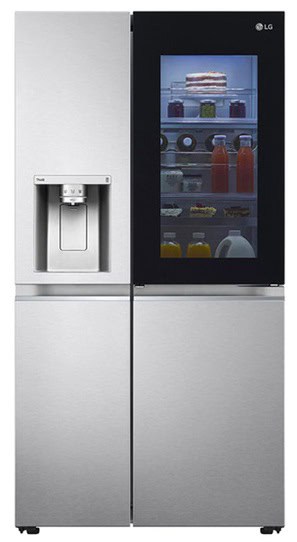 This 674 liter refrigerator is our overall best LG refrigerator in Nigeria. The 674 liter fridge offers a 416 liter cooling space and a 219 liter freezing space and does a great job of keeping your food fresh and frozen.
LG GC-X257CSES is a side by side refrigerator with InstaView door in door design. The InstaView quick access door in door compartment offers a glass cover that enables you see items in the top right section of the refrigerator without having to open the door.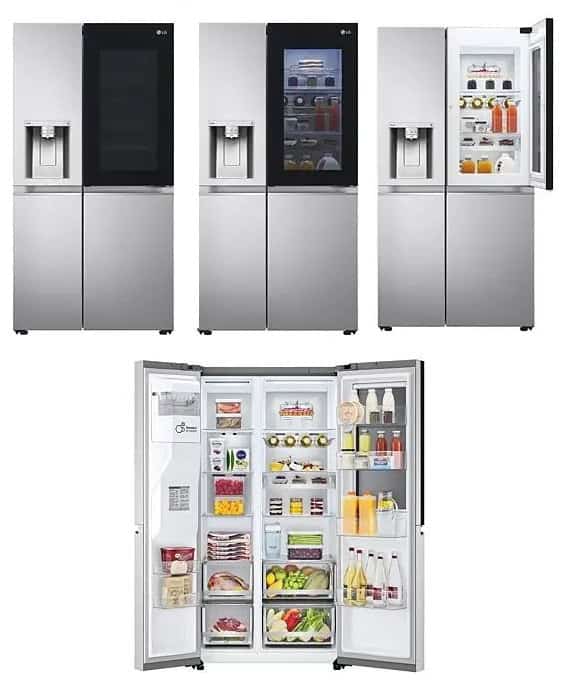 Just knock on the glass twice and refrigerator light up the inside giving you a good view of every item in the InstaView compartment without opening the door. This prevent cool air from escaping, keeping your food cool and fresh for a longer period of time.
- Advertisement -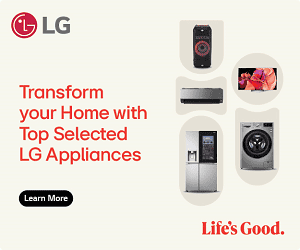 In addition, if you want to pick something in the door in door compartment, you do not have to open the entire door to grab something from the InstaView section of the fridge. The door in door design enables you open just the InstaView compartment limiting the amount of cool air that escapes and improving energy efficiency.
LG GC-X257CSES has a self-cleaning water and ice dispenser that uses UV Nano to keep the nozzles clean. The dispenser can handle water, ice cubes, and crushed ice. With HyigeneFresh+ intelligent air filter, the refrigerator gets rid of up to 99.999% bacteria reducing odor in the fridge.
All this is powered by LG's innovative Inverter Linear Compressor that offers up to 32% energy savings. LG has a lot of confidence in this compressor and offers a 10 year warranty on it.
This is one of the best LG refrigerators you can buy in Nigeria and with features like Express Cool and Express Freeze features ensuring faster cooling and freezing. Support for LG ThinQ means you can control and monitor the refrigerator. You can control the temperature or activate Smart Diagnosis from your smartphone.
Best LG Freezer Overall
LG 280 Liter Chest Freezer (GCS315SQFG)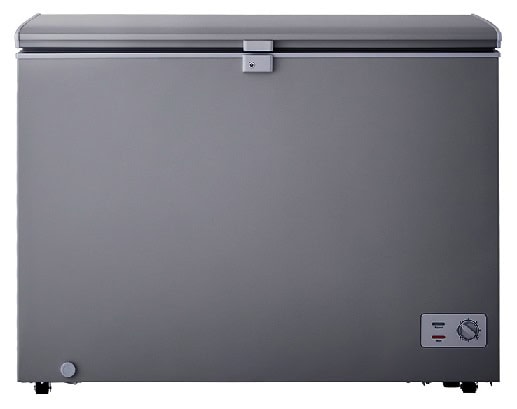 This is a compact chest freezer with a stylish design. The 280 liter freezer comes with two removable, sliding baskets for freezing light items that you want to quickly access. But perhaps its biggest selling point in Nigeria is the voltage sensitivity. The freezer is designed to work within 187V to 254V without the need of voltage stabilizers.
The freezer's 280 liter capacity will hold a decent amount of frozen food. LG GCS315SQFG has four wheels for easy movement.
You may also be interested in the Best LG TVs.
Best LG Refrigerators in Nigeria
LG 234 Liter Top Freezer Refrigerator (GL-C252SLBB)
This is a 234 liter top freezer refrigerator with a powerful and durable smart inverter compressor that delivers energy savings. The compressor comes with 10 year parts warranty.
LG GL-C252SLBB refrigerator features multiple air cooling vents in different parts of fridge to ensure consistent cooling all over. With the LG DoorCooling+ feature the refrigerator achieves a more consistent internal temperature, offering up to 35% faster cooling and reducing difference in temperature between the main compartment and the door area.
This is one of the best LG refrigerators if you are looking for good value for money. The model covers all the basics with a powerful and energy efficient compressor with fast cooling and freezing. It also features a decent capacity to accommodate items for a small household and reducing your frequency to the market if you love buying in bulk.
LG 889 Liter InstaView Door in Door French Door Side by Side Refrigerator (GR-X31FMQHL)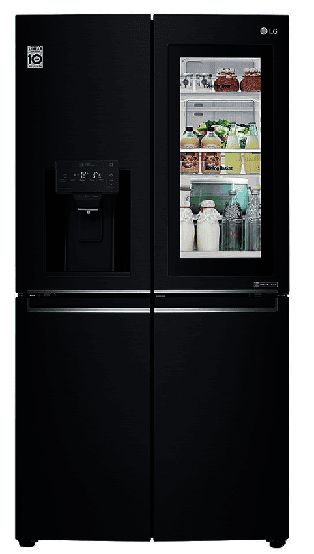 This is more or less like the LG GC-X257CSES (our overall best LG refrigerator), but it is much bigger offering more capacity for cooling and freezing. This means you can store up more food reducing your trips to the market or supermarket.
This models is powered by an advanced Inverter Linear Compressor that delivers up to 51% energy savings. It features the InstaView door in door design that reduces cold air loss and keeping your food fresher for a longer period of time.
The LG GR-X31FMQHL refrigerator features a water and ice dispenser with a self cleaning capability based on the UV Nano. It also supports Hygiene Fresh+, an intelligent air filter that eliminates up to 99.999% of bacteria in the fridge, reducing odor.
The DoorCooling+ and Multi Air Flow features ensures consistent cooling throughout the refrigerator ensuring your food is fresher wherever they are inside the fridge. It also comes with support for LG ThinQ which enables you control, monitor, and diagnose the fridge using your smartphone.
LG 438 Liter Top Freezer Refrigerator (GL-H502HLHL)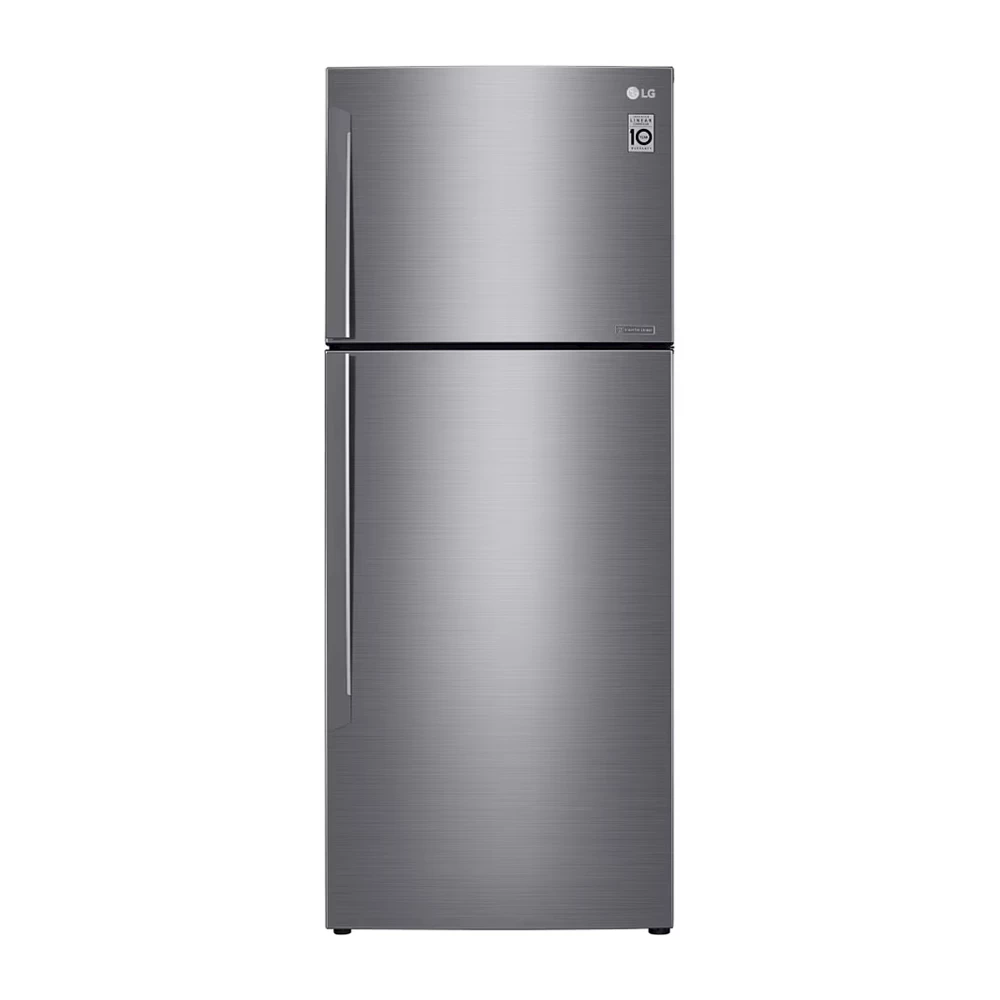 This is a great refrigerator for large households. It comes with enough capacity to keep large amounts of food fresh. It also features consistent cooling throughout the refrigerator, thanks to the Multi Air Flow and DoorCooling+ features, keeping your food fresher no matter where they are located inside the fridge.
The LG GL-H502HLHL refrigerator is equipped with an Inverter Linear Compressor that is durable and offers some energy savings. It also features a Touch LED Display, Hygiene Fresh+, and Wi-Fi with SmartThinQ that enables you monitor, control, and diagnose the fridge remotely on your smartphone. This is one of the best LG refrigerators to buy in Nigeria for your large household, especially if you prefer the top freezer design.
Also see How LG AI Powered Front Load Washing Machines makes Washing more Convenient.
Best LG Freezers in Nigeria
1. LG 190 Liter Chest Freezer (GCS215SQFG)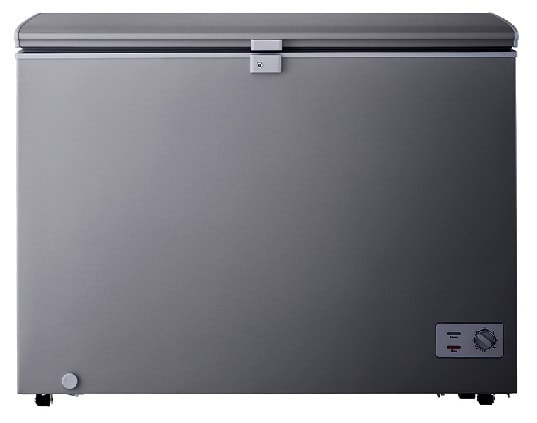 This model is more or less similar to the LG GCS315SQFG (our overall best freezer) but offers a more compact design. The 190 liter chest freezer also offers fast freezing with one removable sliding basket for storing small and frequently used items. An energy efficient LED light is provided to make finding food inside the freezer easy even at night without consuming so much power.
The LG GCS215SQFG freezer can operate between 187V to 254V. This wide voltage range makes it able to withstand voltage fluctuations without the need of a voltage stabilizer, making it one of the best LG freezers in Nigeria.
2. LG 168 Liter Standing Freezer (GN-304SQGT)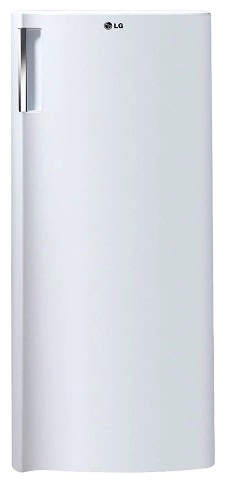 This is a great choice if you prefer a standing or upright freezer design. The 168 liter freezer provides six tempered glass shelves with each shelf capable of holding up to 150kg in weight. There are four full width racks on the door for more storage.
The LG GN-304SQGT freezer comes with a big vegetable box with a 15.9 liter capacity and moist balance crisper to keep your fruits and vegetable fresh. With the semi auto defrost feature, you can remove ice in the freezer in about 2 hours with just a press of a button.
3. LG 350 Liter Chest Freezer (GR-K35DSLBC)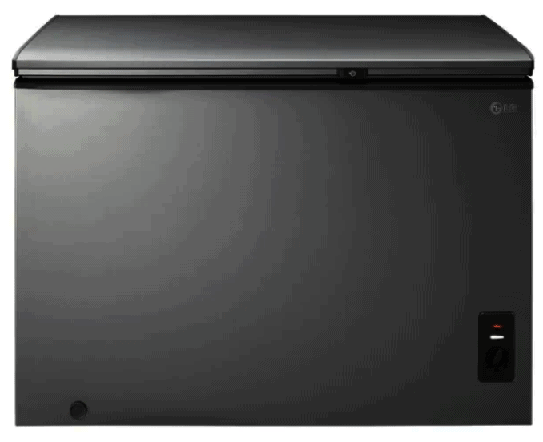 This 350 liter chest freezer offers a lot of storage space, which is great if you need a high capacity for storing frozen food. Add this to LG's claim that this freezer can maintain a temperature of between -18℃ to -1℃ for up to 5 days during a power failure and you will understand why this has to be one of the best freezers in Nigeria.
LG GR-K35DSLBC freezer supports LVS which enables it operate between 135V to 290V. This keeps it running smoothly in the face of voltage fluctuations without needing a voltage stabilizer.
A fan is provided on the door as part of the Blast Freezing features. This increases cold air circulation leading to up to 30% faster freezing speed. Like a lot of the models reviewed here the compressor comes with 10 year manufacturer warranty.
For all the information about the latest and best LG Refrigerators and Freezers in Nigeria and Africa, Click Here.
Related Topics
Paschal Okafor
is
NaijaTechGuide Team Lead
. The article
Best LG Refrigerators and Freezers in Nigeria
was written by . The article was last modified:
November 9th, 2023