Hi,
I am Paschal Okafor, the founder of NaijaTechGuide, Nigeria's number 1 technology blog.
And I am not just saying so, I have the data to back it up.
We are a consumer focused tech blog with over a million pageviews monthly. No other technology blog in Nigeria comes close. You can ask them for their data.
Here is our July 2020 Google Analytics data below: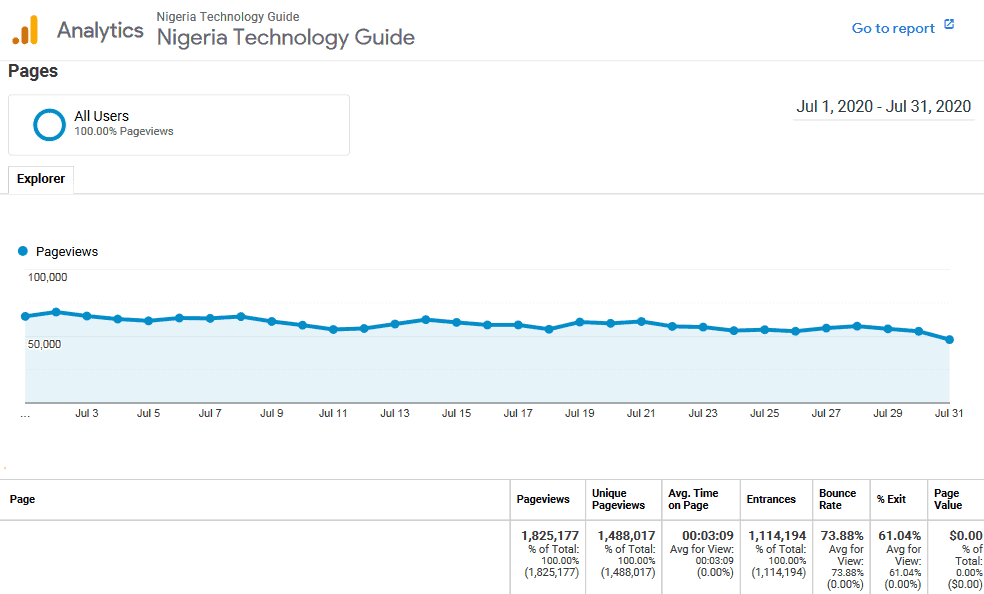 And if you think this is just a one-off, here is our Google Analytics data for 2020 so far (January 1, 2020 to July 31, 2020).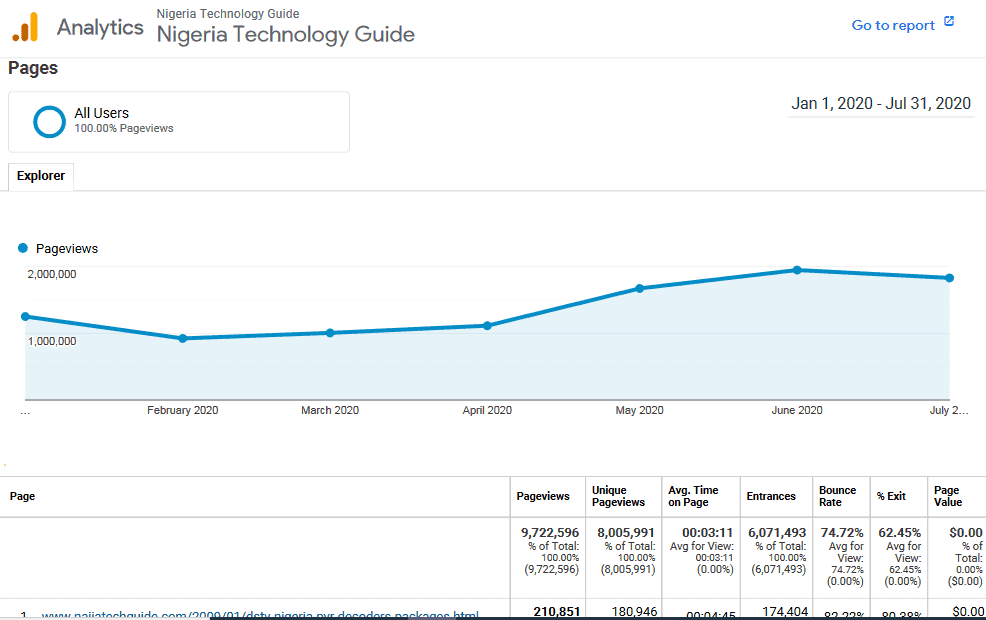 I will even go as far as showing you our data for the last five years Google Analytics data (August 1, 2015 to July 31, 2020).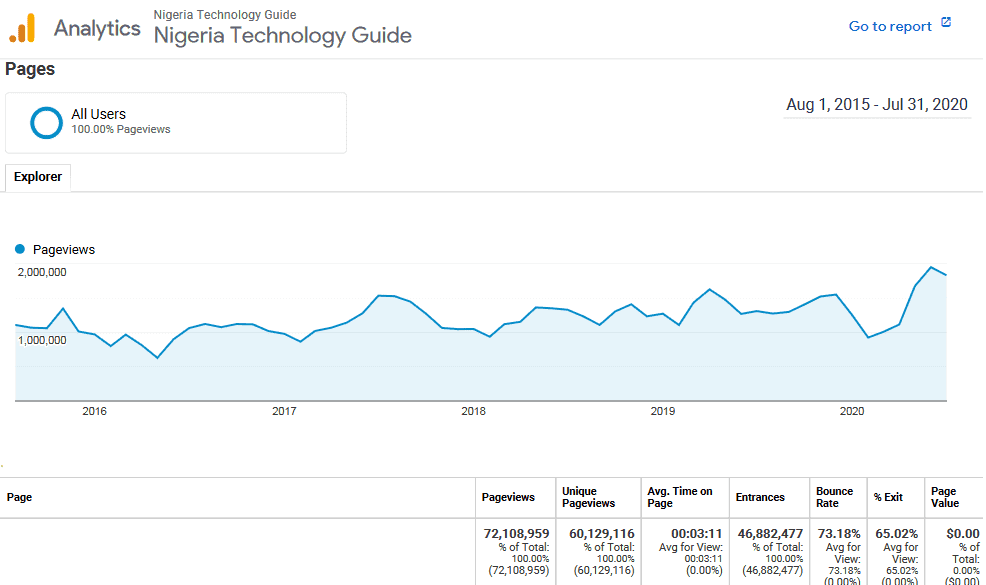 I can even go further than that because NaijaTechGuide has been in existence since December 2006 (See our monthly Archive).
In all these years, we have consistently been the leading technology blog in Nigeria. You can also checkout our Alexa Traffic Rank or our SimilarWeb Analytics.
The data above is meant to show you that NaijaTechGuide is not a fluke.
We are the best platform to tell the story of your brand especially if you are a tech brand. We cover gadgets, tech services, online services, fintech, cryptocurrencies, and everything tech.
Request our rate card below to see how we can help promote your product, service, or brand.
[wpforms id="91871″]
Our Special Offer
If you are an upcoming brand or an established brand with a new product or service in the market, you need more exposure to create more awareness and get more leads.
The problem is that just a few people know about your emerging brand or new product/service and hence only a few people are looking for you.
For example let's say you are a new mobile phone brand or TV brand, how many people buying a smartphone or TV will consider you an option in the market? They cannot consider you an option if they don't know you exist.
NaijaTechGuide has a perfect solution for you. We call it Our Special Offer.
As the largest technology blog in Nigeria and a consumer focused one at that NaijaTechGuide is best placed to give your brand or product/service that maximum exposure it needs.
We are a popular destination for consumers looking to learn more about tech and research about what to buy. With over 70% of our traffic coming from search engines, Our Special Offer is great for your brand.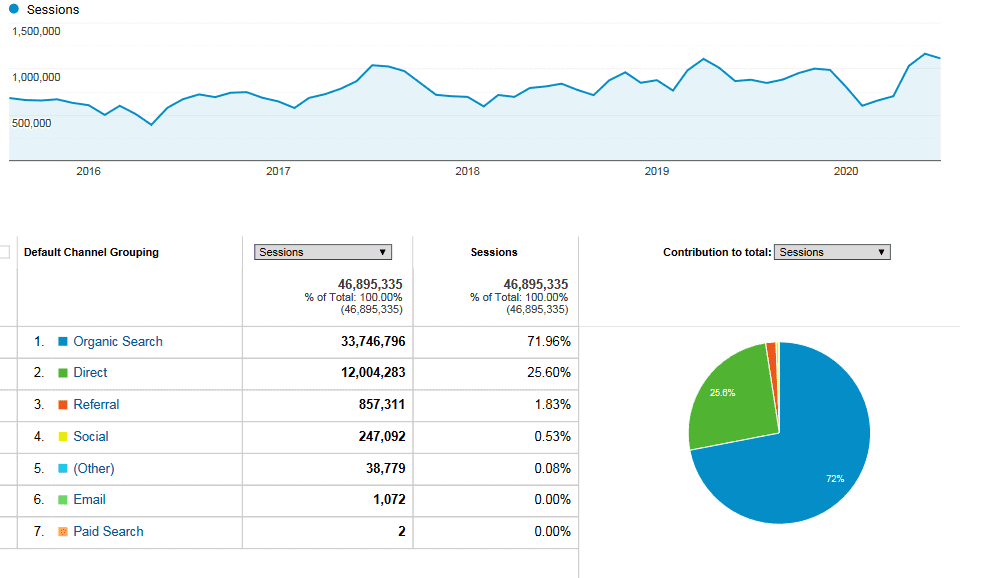 Here is what is included in the Package:
We will write three top notch articles about your brand, product, or service. The breakdown is as follows:
An overview article detailing the features, uses, and usefulness of your product
An article comparing your brand, product, or service with another popular competing brand, product, or service.
An article showcasing your brand, product, or service as one of the alternatives to the leading or the most popular brand, product, or service. This is targeted at consumers looking for alternatives to the market leader in your industry and will show you as one of the alternatives.
In addition, we will share each article to our over 100,000 social media audience and will also mention your brand, product, or service in all industry relevant recommendation pages on NaijaTechGuide.
For example, our recommendation articles written earlier this year on Best Investment Apps and Best Quick Loan Apps are already getting over 1000 pageviews monthly. That is over 12,000 targeted Eyeballs each year.
To see the future potential some of this recommendation posts, our Best Android Phones article written in 2011 got over 16,000 pageviews in July, 2020 and has consistently done around 10,000 pageviews every single month over the last 5 years. This is about 120,000 targeted eyeballs every year just from one recommendation page.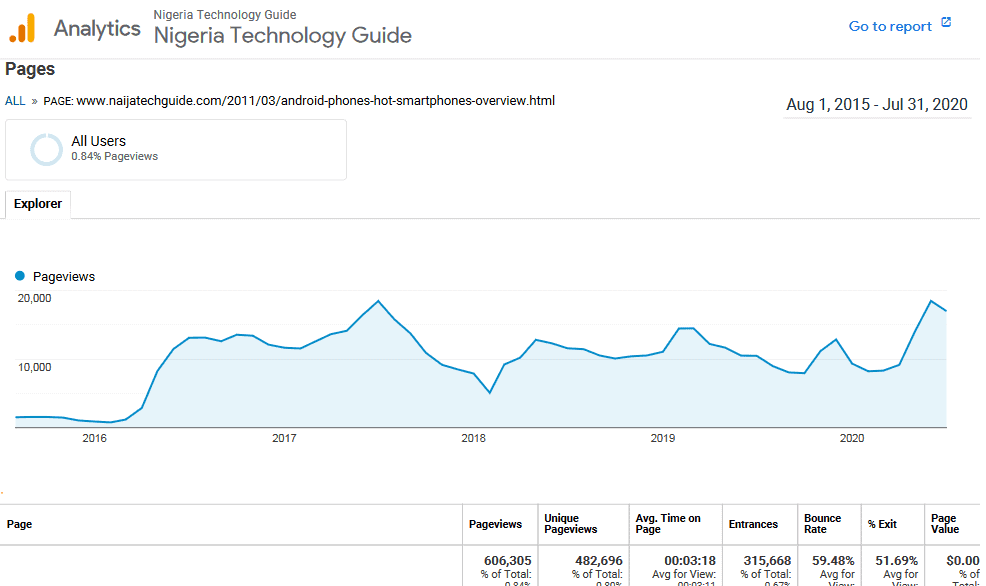 The great thing about this recommendation pages is that a lot of visitors to the page may not have heard of your brand before and being placed on it, will expand your reach.
If we do not currently have a recommendation page relevant for your industry, we will write all recommendation pages relevant for your industry free and give you priority listing for one year.
This is a great offer for you. Give your emerging brand more traction with Our Special Offer.
Cost: ₦268,750
This is a onetime investment that will deliver hundreds of leads in the coming months and years.
Provide your email address below to request for our rate card where you will also find other solutions we have for you.
[wpforms id="91871″]