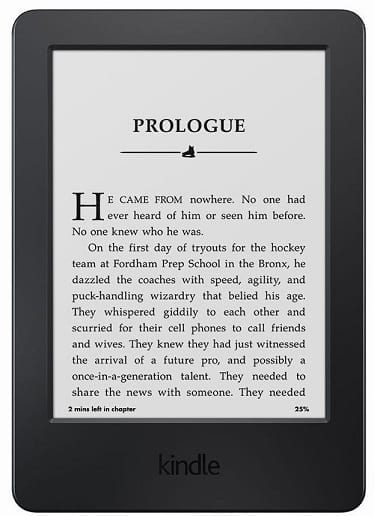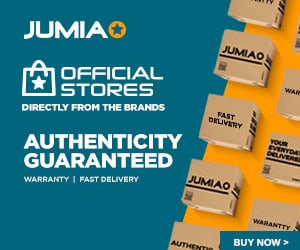 Amazon has unveiled the latest version of its bestselling Kindle ebook reader. The new Kindle ebook reader is smaller, lighter, and offers improved performance with faster page turns and better contrast. The 2010 Kindle ebook reader has Wi-Fi built-in in addition to its free global 3G wireless. Amazon Kindle now has better contrast for sharper fonts and clearer text as well as more than double the storage capacity of the previous edition. The New Kindle ebook reader will still go for $189. Amazon has also introduced a new addition to the Kindle family of reading devices, Kindle Wi-Fi, a Wi-Fi only model for just $139. The new Kindle and Kindle Wi-Fi are now available for pre-order at Amazon.com and they will ship to customers in late August.
Checkout the new Kindle Paperwhite.
Due to strong customer demand, Amazon Kindle ereader has temporarily sold out. Order Kindle now to reserve your place in line. Orders are prioritized on a first come, first served basis. Kindle orders placed now are expected to ship on or before September 4th.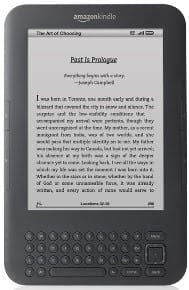 The new Amazon Kindle is lighter and smaller, which could make it feel better in the hand. Amazon has also improved on the Kindle display to make pages turn faster. Amazon Kindle also has 50% better contrast than any ebook reader in the market today. This gives a superior reading experience with sharper fonts and clearer text. Kindle ebook reader now has three font styles to choose from so you can change your font style along with eight font sizes. You can also lock the new generation Kindle ebook reader when you are not using it to protect it from unauthorised access.
The new generation 6-inch display Kindle comes in two models, with the major differentiator being the wireless technology built-in. The traditional Kindle came with 3G wireless, but Amazon has added Wi-Fi to the mix. Now there is Amazon Kindle 3G + Wi-Fi, which as the name implies comes with a built-in HSPDA modem (3G) with a fallback to EDGE/GPRS and built-in Wi-Fi 802.11b/g. The Second model is Kindle Wi-Fi, which comes with Wi-Fi 802.11b/g only, dropping 3G wireless. Amazon Kindle Wi-Fi comes with a price advantage, going for just 139 USD. A lower priced Kindle will surely position Amazon better in the ebook reader war.
The latest generation Kindle comes with more than twice as much storage as the previous model, coming with 4GB storage. Now you can carry up to 3,500 books in a lighter Kindle reader. Previous generation Kindle could only carry 1,500 books. The all new Kindle e-reader is available in graphite and white.
Amazon Kindle is a wireless ebook reader that allows you buy books at the Amazon Kindle store at a price cheaper than paper editions and have it delivered wirelessly free to your device within 60 seconds using an innovative wireless technology called Whispernet over a mobile wireless network. Amazon Kindle ebook reader runs on Whispernet over high-speed HSDPA (a 3.5G mobile cellular technology compatible with GSM) with a fallback to EDGE/GPRS (GSM cellular technology) outside HSDPA coverage. The Kindle ebook reader has global wireless capability, enabling it to deliver your purchases using Whispernet over high-speed 3G HSDPA or GPRS/EDGE networks in over 100 countries including US, UK, Norway, India, Australia, Poland, Canada, Germany, Kenya and South Africa. The new Generation Kindle ebook reader adds Wi-Fi to the 3G model, which can also be used to access Kindle services free on AT&T Wi-Fi hotspots in the United States. There is also a Wi-Fi only model.
With Amazon Kindle ebook reader there is no monthly wireless bills to worry about, all you pay for is the Kindle ebook you are downloading. Think of a book and you can have it delivered within minutes. Owners of Kindle ebook readers can also download Kindle ebooks wirelessly free outside their home country, except for customers in the United States, who will pay when downloading abroad.
Amazon Kindle ebook reader can hold up to 3500 ebooks, a lot of books to carry in 246.6 grams. At the Amazon Kindle store you have over 630,000 Kindle books to choose from including 109 out of 111 New York Times Bestsellers as well as top newspapers, magazines, and blogs. Over 1.8 million free, out-of-copyright, pre-1923 books are also available to read on Kindle. Kindle ebook reader now fully supports PDF, meaning you can read all those personal documents on Kindle reader.
Kindle ebook reader is now integrated to social media. Readers can now share their passion for books and reading with friends, family, and other readers around the world by posting meaningful passages to social networks like Facebook and Twitter directly from Kindle ebook reader.
Read More: Kindle DX Global Wireless | Kindle DX Price drop | Kindle Fire HDX 7 | AWS Technology
Prices of Amazon Kindle devices:
Amazon Kindle ebook reader with global 3G wireless + Wi-Fi – $189
Amazon Kindle ebook reader with Wi-Fi only – $139
Amazon Kindle DX ebook reader with global wireless – 379 USD
$79.99
in stock
as of 7th February 2023 2:26 pm
$89.99
in stock
3 used from $38.36
as of 7th February 2023 2:26 pm
$279.99
in stock
2 used from $223.86
as of 7th February 2023 2:26 pm
$349.99
in stock
2 used from $234.95
as of 7th February 2023 2:26 pm
Amazon has discontinued the US only Kindle ebook reader, but they are still available as second-hand items.
Accessories that you may buy with/for your Amazon Kindle ebook reader with global wireless include:
Amazon Kindle leather cover:
Amazon Kindle Reading Lights: This will enable you read in the dark.
Replacement battery: spare battery
Memory card: Increase the quantity of Kindle titles you can carry on your ebook reader.
Amazon Kindle Solar charger: Charge your Kindle ebook reader anywhere, all you need is sunlight.
Universal charger: Charge your spare battery.
Amazon Kindle is available for order, for current prices, reviews, specification, and features of this wonderful electronic reader, visit Amazon.com. You can also buy Amazon Kindle ebook reader at the store.
More about Amazon
Paschal Okafor
is
NaijaTechGuide Team Lead
. The article
Amazon Kindle with 3G + Wi-Fi arrives still 189 USD
was written by . The article was last modified:
September 17th, 2021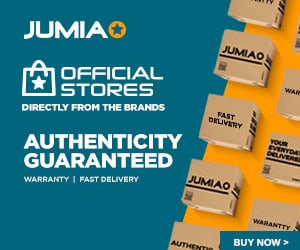 NaijaTechGuide may receive financial compensation for products/services purchased through affiliate links on this site. See
full Affiliate Disclosure Here