Luminous is a global brand of power inverters and battery. Luminous Inverter is available in capacities of 600 VA to 3.5KVA for low power applications and up to 10 KVA for commercial applications. The company also offer 3 phase inverters up to 150 KVA. 850VA to 20KVA Luminous inverter price ranges from 67,000 Naira to 1,600,000 Naira, excluding battery and installation.
Where to Buy Luminous Inverter
Jumia Nigeria – See Offers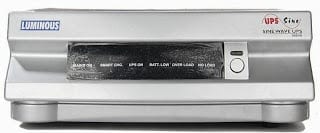 Luminous Inverters are DSP controlled offering overload and short circuit protection as well as battery discharge protection.
Luminous Inverter Price
1KVA / 12V (ECOVOLT) – ₦67,000
900VA / 12V (Zelio) – ₦106,500
1.5KVA / 24V (Zelio) – ₦81,500
1.5KVA / 24V (ECOVOLT) – ₦77,500
850VA / 12V (Solar Hybrid) – ₦60,500
1.5KVA / 24V (Solar Hybrid) – ₦90,500
3.5KVA / 48V (Cruze) – ₦235,000
4KVA / 48V (Cruze) – ₦253,000
5KVA / 48V (Cruze) – ₦528,000
7.5KVA / 120V (Cruze) – ₦684,000
10KVA / 180V (3 Phase) – ₦990,000
15KVA / 240V (3 Phase) – ₦1,365,000
20KVA / 240V (3 Phase) – ₦1,578,500
2.5KVA / 48V – 152,400 Naira
1.5KVA / 24V (Intelligent Inverter ) – 85,000 NGN
For Latest Prices, Click Here
Compare Prices
Luminous Inverter Battery Price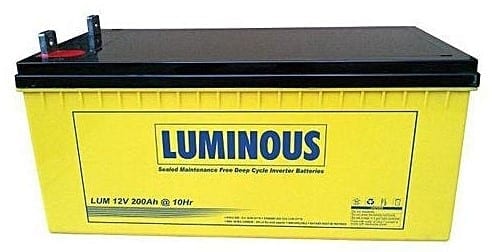 12V / 200 AH SMF Battery – 122,000 Naira – 140,000 Naira
12V / 150 AH SMF Battery – 90,000 Naira – 120,000 Naira
150 AH / 12V (Wet Cell) – 99,000 NGN
220 AH / 12V (Wet Cell) – 132,000 NGN
For Latest Prices, Click Here
Compare Battery Prices
Luminous Inverter Series
Here some popular series of Luminous Inverters:
Luminous Zelio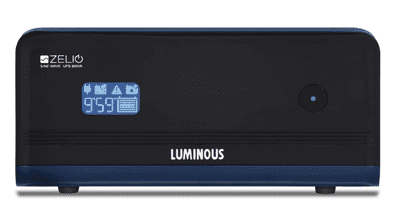 This is classified as an intelligent UPS. It can be installed in the home or office. It comes in two models: the Luminous Zelio 1100, a 900VA / 12V inverter and Luminous Zelio 1700, a 1.5KVA / 24V inverter.
They deliver pure sine wave output and can support all types of batteries. They also come with a display that shows how many hours of backup you have.
For me this a great feature because it enables you know how much battery life you have left. This is a great feature for proper battery management.
The smart display will also indicate whether you are in UPS / ECO mode, system faults, and battery water level.
Luminous ECO VOLT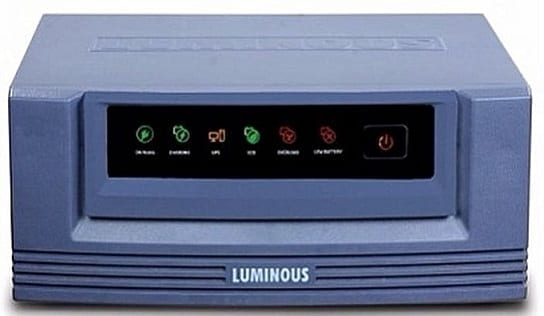 This is also available in two models Eco Volt 1050 and Eco Volt 1650 with 900VA / 12V and 1.5KVA / 24V rating respectively. It delivers pure sine wave and can take as little as 100V and up to 290V input voltage.
It supports three stage charging for efficient battery charging and battery longevity. Eco Volt supports a wide range of battery types.
Luminous Cruze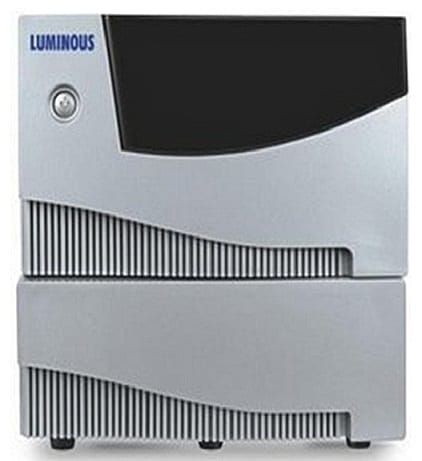 This is the standard inverter series from Luminous. It comes in a wide range of capacities making them useful in loads of applications in homes and small businesses.
Luminous Cruze Inverter is available in 2KVA / 24V, 2.5KVA / 36V, 3.5KVA / 48V, 5.5KVA / 96V, 7.5KVA / 120V, and 10KVA / 180V capacities.
Depending on the capacity you buy, the Luminous Cruze inverter can power heavy load appliances like air conditioners, Petrol pumps, etc.
It comes with an adaptive battery charging control system (ABCC), which charges your battery faster and at the same time enhances battery life by about 70%. It also has support for different types of batteries.
Luminous Solar Hybrid Inverter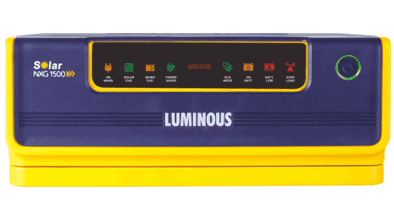 Available in 800VA / 12V and 1.5KVA / 24V capacities, the Luminous Solar Hybrid Inverter can charge the batteries using Solar panels and mains electricity.
It comes with a built-in 30 Amperes charge controller, which means you can connect the solar panel directly to the unit without needing to buy a separate solar charge controller.
The inverters feature advanced battery management that ensures your battery lasts long. The battery can be charged once the mains voltage is between 120 and 260 volts
There is also a battery reverse polarity protection, which ensures you do not mistakenly damage your inverter during installation.
Luminous Pro 3 Phase Inverter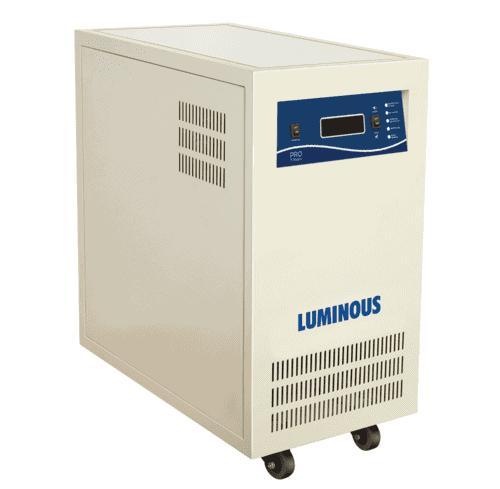 If you need high capacity inverters, the Pro Series is a great pick. Available in 10KVA and 15KVA, this is a great for offices, elevators, hotels, and business centres. It is also great for residential applications for uninterrupted power supply.
Depending on the capacity you buy, you can run air conditioners, water heater, petrol pump, etc on your unit. The indicator informs you how much longer the battery would last on your current load.
Luminous Pro features adaptive battery charging control technology (ABCC), which ensures faster battery charging and battery longevity.
Compare Prices of Inverter Systems
Luminous Inverter has grown in popularity, maybe because of its affordable prices, but also its availability and service in the country.
The inverters are marketed by Simba Nigeria, a company well known as a dealer in various classes of products. This means you can easily find parts for your power inverter across the country. This alone may be the secret of the surge in interest for Luminous Inverter in Nigeria.
Checkout Luminous Inverter Prices at Jumia. Click Here
You can buy Luminous Inverter at Jumia and Konga as well as retail outlets like CoolWorld / Thermocool in Lagos, Port Harcourt, Abuja, Enugu, etc.
Luminous inverters can be sold separately or with battery and other accessories.
Luminous inverters deliver pure sine wave leading to no humming sounds from your gadgets. It also charges your battery two times faster. Its built-in UPS means you get both an inverter and a UPS, saving space and money.
Power Related Topics
Paschal Okafor
is
NaijaTechGuide Team Lead
. The article
Luminous Inverter Price in Nigeria
was written by . The article was last modified:
February 3rd, 2022